News
PITTSFORD, N.Y. -- "There is one reason why I'm so far ahead at this point: the attitude I'm bringing and the focus that I have. But I've got one more round of golf to play." Those were Cristie Kerr's words after extending her lead in the LPGA Championship to eight strokes in the third round yesterday. At 12:40 this afternoon, her last round got underway.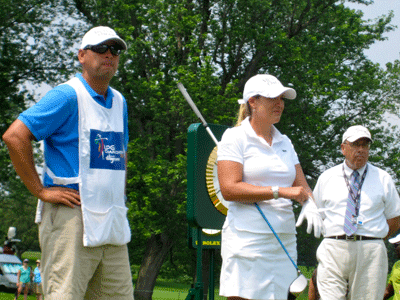 "It's very important [to me to get my name in the record books]," Kerr said Saturday. "One of the ways that we are going to get more American girls playing golf and out on tour is to have an American winning. I'm fine with carrying that burden. It doesn't bother me. That's how I got involved with the game. I was watching Patty Sheehan, Juli Inkster, Nancy Lopez, Beth Daniel, all of the greats winning tournaments, and that's what inspired me to get into golf. If there wasn't TV, and I didn't watch them on TV, I would never be sitting here."
You heard the woman. If you want your daughter to see an American winning a major, plop her in front of the TV and tune it to Golf Channel around 4 o'clock ET this afternoon.