The Loop
The last man not to qualify for the U.S. Open
SAN FRANCISCO -- A lot of people miss playing in the U.S. Open by a single stroke, but four minutes is a crueler margin. That's how close one man came to hearing his name announced at Olympic Club Thursday morning. To say the attending anxieties were complicated is to understate.
David May, a 25-year-old regular on the eGolf Pro Tour, shook hands with the other two players of the 8:06 starting time, Charles Howell III and Carl Petterson, and joined their ambling on the 9th tee. Rumor was the third name of the whimsical USGA grouping, Charl Schwartzel, might withdraw because of a neck injury. The gallery lined the ropes and May felt good standing in the clear space inside.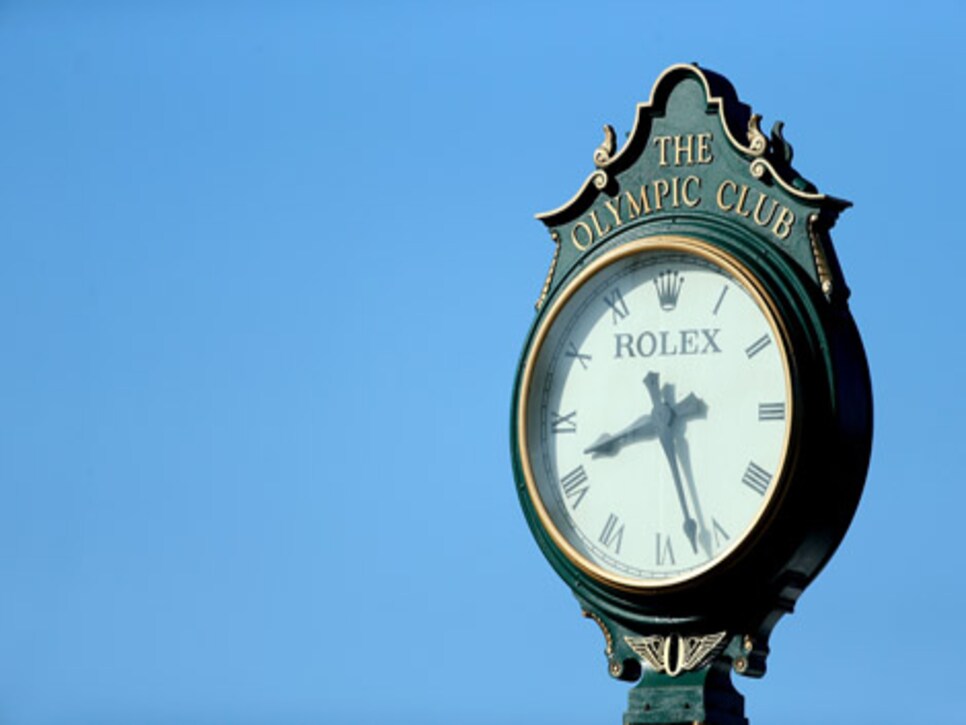 David May spent Thursday wondering if any golfers would not make their starting times. Photo by Getty Images
The Anglo-Saxon name "Charles" and its corresponding versions in other languages translates to "free man." And rightly, the 2011 Masters champ did not decide to walk down the clubhouse steps until 8:02, a mere four minutes before his starting time. It was at this moment that May's decision to start with driver or 3-wood -- on a course he had not been permitted to play a practice round on -- no longer mattered. He stepped back outside the ropes and tried to reset his emotions.
"It was sort of a big surprise because we hadn't heard that [Charl] Schwartzel was injured," said May. "I'm on the driving range and all of sudden a USGA official approaches us, and then there we are in the cart on our way to the tee."
After Jordan Spieth and Andy Zhang gained entry because of respective withdrawals from Brandt Snedeker and Paul Casey, May got the call Monday night from the USGA that he had moved from the third-alternate position to first. So he bought a one-way ticket for $450 and flew from Greenville, S.C. to San Francisco.
After the Carl-Charl-Charles triumvirate teed off, the same USGA official asked May if he wanted a ride back to the range. He said no, because the very next group, the 8:17 group of Bobs -- Robert Karlsson, Robert Rock and Bob Estes -- had a weak link. It was common knowledge in the locker room that Bob Estes' wrist was really bothering him, so they might need a David.
But Estes showed up, his wrist in a bandage. "He was super nice about it," said May. "He told me hadn't been sure the night before if he was going to play, but this morning he had made the decision he would."
Schwartzel and Estes managed respectable rounds of 73 and 74. Not until the last groups teed off at 2:57 pm was it official that May, who qualified for the U.S. Open at Congressional and missed the cut by a stroke, would not compete in the 2012 edition. As of Thursday night he was online shopping for a one-way ticket back to Greenville.
"All you can do is embrace the situation," said Tim Kay, who was set to caddie for May. "There's a benefit from just being here even if you don't get to play. Psychologically, you gain something you might be able to use for next time."
May wasn't as upbeat. "It's definitely disappointing, but it is what it is," he said. "I don't quite agree with the USGA policy of not letting alternates play practice rounds. Getting to walk the course from inside the ropes doesn't really do much for letting you know how firm the greens are or what it's like to hit out of the rough. I mean, we travel here to support their event in case there's a withdrawal and you'd think they could at least give us the benefit if the doubt."
The 36-hole Sectional Qualifier for the U.S. Open is commonly referred to as The Longest Day. But David May can tell you about another one.