The Loop
The key to the Philadelphia 76ers' surprising run? A 4-point line on their practice court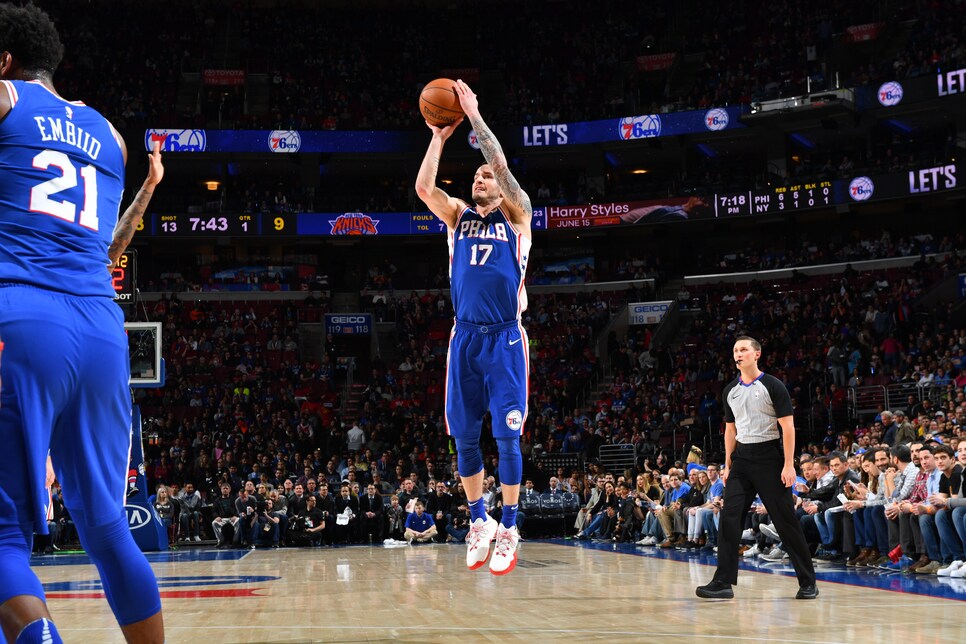 The Philadelphia 76ers and their #Process were considered a year away coming into this campaign, yet—off the back of a 16-game winning streak to end the regular season—the Sixers worked their way to the No. 3 seed in the East. It's inarguably the most surprising performance in the league, and with a core of superstars in Ben Simmons and Joel Embiid and young talent like Robert Covington, Markelle Fultz and Dario Saric, Philly should be an Eastern Conference tour de force for the foreseeable future.
But the franchise doesn't rely on fledgling firepower alone. Because Simmons is adverse 3-point shots—the (likely) Rookie of the Year hasn't attempted one all season, which goes against everything we know about modern basketball—the team had to get creative in its spacing to prevent clogging the lane. The solution, according to the Wall Street Journal? A 4-point line on the team's practice court:
"When you look at modern-day offense, and you try to play a style that I believe in and have for a while," Brown said, "you have to space the floor, you have to shoot threes and you have to create room."
Which is why the 4-point line exists in Philadelphia.
"We want to take it to a higher level and space further," Brown said. "We want to stretch the court more."
Sadly, there's no mention if the 4-point line took the team's H-O-R-S-E games to another level.
The exercise has paid dividends: the team ranked first in passes made and second in assists this season. Because the NBA is a copycat league, there's a chance other clubs will begin implementing these practices next year. Which gives hope that a real 4-point line, a proposal that's been kicked around the league's office in the past, is a step closer to coming to fruition. Considering how easy it is to hit a trey in today's game, we can dream.