News
The juicy details behind the new book about Tiger Woods: A Q&A with the authors
Jeff Benedict and Armen Keteyian, authors of the new book Tiger Woods, did a Q&A with Golf Digest by email exchange before the book's publication March 27 by Simon & Schuster. (We're releasing this Q&A in conjunction with an online book excerpt on Tiger's dealings with Bill Clinton when Tiger invited the former president to be part of the grand opening of the Tiger Woods Learning Center in 2006.)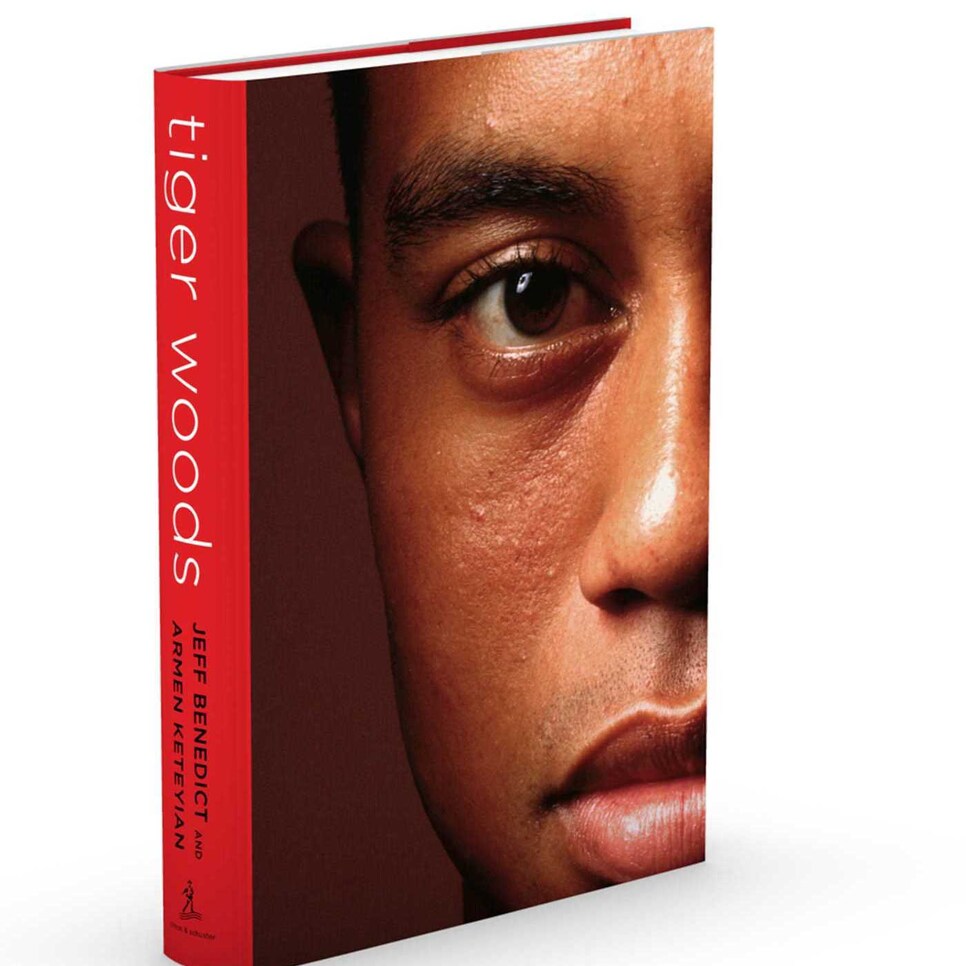 Guys, congratulations on the book. Plenty of new revelations, and incredible additional detail and insight into Tiger's professional and personal life. To start, describe the cooperation of Team Tiger—rather, the lack of it—and how you worked around it by doing more than 400 interviews.
Understandably, Tiger chose not to talk with us for the book. However, he did authorize one of his doctors—Mark Lindsay, who served as his longtime chiropractor—to speak with us on the record. In addition to being interviewed, Lindsay provided us with a written explanation—technically, a legal declaration—that is the most comprehensive statement to date on whether Tiger used performance-enhancing drugs. At the same time, we analyzed the transcripts from over 300 Tiger Woods press conferences and read virtually everything Tiger has said in print and on television. We spent a year constructing a 120-page timeline of his life. And we did most of that before we interviewed more than 250 individuals from Tiger's life. That was part of what we did to understand Tiger's mind-set and incredibly eventful life.
There's been a lot of anticipation about whether you would tackle the issue of PEDs in golf, and the treatments Tiger received from Dr. Anthony Galea as he rehabbed from one of his many surgeries almost a decade ago. Beyond what you've said above, what can you tell us about that in advance of the book's publication date?
Not much. We'd like to keep what's in the "Miracle Workers" chapter for the book.
You've reported and written a far-reaching portrait of Tiger on and off the golf course. If someone ran into you at a party today and asked, "What do you think of Tiger Woods?" how would you respond?
First, we might both answer that question differently. But we are in agreement that we think highly of him. His professional achievements are unparalleled. We see him in the same vein as Shakespeare. Someone no one had ever seen or will ever see again. What's much less understood about him—and much more compelling—is his upbringing and his personal habits, which combine to make him one of the most complicated, misunderstood athletes of our time.
And how does that compare with some of the other high-profile people you've written about?
It's difficult to compare Tiger to other high-profile athletes. Arguably, there hasn't been another athlete in the past 50 years who has been more high-profile than Tiger. Muhammad Ali and Michael Jordan are obviously right there. But they came along before the Internet, cellphones, social media and the TMZ mentality. Everything Tiger did—from the jaw-dropping heroics on the golf course to the personal problems outside the ropes—were amplified and magnified beyond anything that any athlete had previously experienced.
The NCAA famously demanded that Tiger, then at Stanford, pay back the cost of a $25 meal with Arnold Palmer. You report that before Tiger went to college, IMG had been paying his father, Earl, an estimated $50,000 a year as a talent scout on the junior-golf circuit, and that IMG ended that during Tiger's time at Stanford to avoid compromising his NCAA and USGA eligibility. You also report that in January 1996, Tiger's final year at Stanford, Earl Woods put together a budget of $27,170 for travel to events, and you quote John Merchant—a longtime attorney for the family later fired by Earl Woods—laying out how an individual offered to finance it: "I saw to it that my guy gave me the money," Merchant says. "And I got it to Earl. And Tiger participated in the tournaments." You add that no one other than Merchant was to know who had given money to Tiger. Not even Tiger. Describe how it worked.
John Merchant played a pivotal, albeit largely invisible role in Tiger's teenage years through his transition to becoming a pro. One of Merchant's most important functions was helping to finance Tiger's amateur career. As a lawyer and a member of the USGA's executive committee, he knew the restrictions and limitations on paying amateurs. So he helped organize clinics and speeches where Tiger and Earl would appear at private clubs, particularly in Merchant's home state, Connecticut. There, Tiger would put on an exhibition and Earl would give a speech. With money provided by individual club members, Earl would receive a speaking fee. That money—and we're talking tens of thousands of dollars—was used to finance Tiger's travel expenses, tournament-entrance fees, etc.
You describe how Tiger, while at Stanford, sent a break-up letter to a bewildered hometown girlfriend, the first real love of his life, that ended, Sincerely, Tiger, and eight months later apologized in another letter, which concluded, Warmest regards, Tiger. Do you think he wrote either letter? How much of that do you think came from his parents?
The letters were written by Tiger. That's clear from the handwriting. The real question is whether Tiger's parents influenced the content of the letters. In the case of the break-up letter, Tiger's ex-girlfriend believes strongly that the letter was the result of Tiger's parents. The apology letter, which is much more heartfelt, seems like it was clearly and exclusively the result of Tiger's thoughts. The second letter also had the benefit of being written after sufficient time had passed, allowing for more measured and thoughtful words, whereas the break-up letter was written in a moment of haste.
In the 1996 U.S. Amateur final, Tiger was 2 down with three holes to play and had a six-footer to win the 34th hole. (Tiger had moved his ball marker on the green to accommodate his opponent, Steve Scott, who had made a tough par putt.) You report that as Tiger prepared to putt for birdie to cut the lead to 1 up, Scott stopped him and asked if he'd replaced his mark to its previous spot. ("Woods immediately paused, stood up, and reset his ball to the correct spot.") If Tiger had putted without doing so, he would have lost the hole and the match. Tiger made the birdie putt and went on to win the title, but you report that he didn't thank Scott or acknowledge his action. What did Scott think of that, then and now?
It's fair to say that Steve Scott was deeply disappointed at the time. So was his caddie, Kristi Hommel, who is now his wife. It was a pretty bruising loss for Scott, and the lack of acknowledgment from Tiger was hurtful. However, when Tiger complimented Steve for his sportsmanship on the 20th anniversary of the match, his words went a long way to mending the past.
You quote a former nightclub owner in Las Vegas who said, "When Tiger got famous, he got mean." How so?
At that time, Tiger was spending time with Michael Jordan. The two of them had a reputation for coming across as entitled and for being stingy when it came to tipping.
And do you see a "new" Tiger today?
Without a doubt. But that's also not all that surprising. Like anyone who reaches his 40s, Tiger has changed. His body is different. His perspective has changed. There are new priorities. Plus, in Tiger's case, there is the fact that he has gone through some very difficult personal challenges. His long battle with pain has perhaps been the biggest factor in changing his outlook. Immobility has a way making a person more acutely aware of and appreciative for the simple things in life. Then consider that Tiger was the best in the world at one thing. To suddenly be unable to do that one thing is devastating. But to regain that ability is no doubt exhilarating and gratifying and, to a certain degree, humbling. Tiger's greatest achievement to date may be the fact that he has crawled out of a deep, dark hole and climbed back into contention. He's given everyone—golf fans and everyday people—a reason to root for him
You report that at one point, Tiger was one of about 100 people in the country who had a $1 million line of credit with the MGM Grand in Vegas, and that at blackjack he would "routinely play $20,000 a hand, often two or more hands at a time." What kind of a gambler was he?
A very good one. Competitive, with a mind for numbers. A "sharp," in Las Vegas parlance, meaning he won more than he lost. It wasn't unusual for him to walk away with $500,000 in winnings. And he rarely if ever chased big losses. Gamblers are rarely described as "disciplined," but that fits Tiger.
We can't skip the sex scandal. You quote one individual with direct knowledge of the promiscuous atmosphere at Earl's home after his separation from Tiger's mother, Tida, describing it as a "f------ rodeo." And after Tiger's 1995 U.S. Amateur victory, you describe a scene of Earl hitting on a young woman in a convenience store and Tiger saying, "Pop, c'mon. You can do better than that." How did Tiger's knowledge of his father's womanizing weigh on him through the years? Do you think it played a role in Tiger's later scandal?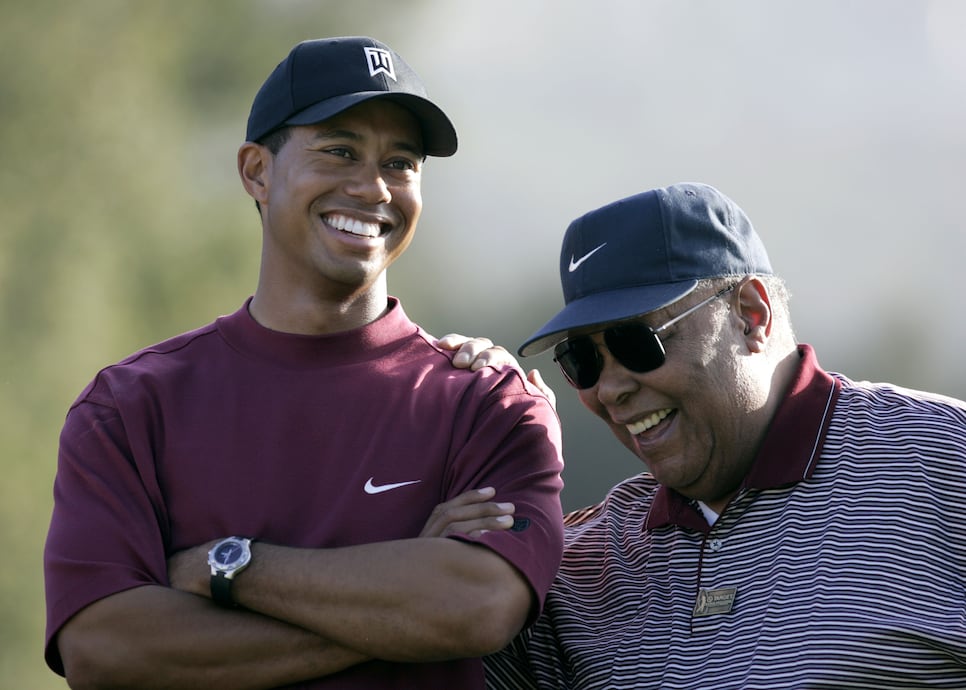 We won't weigh in on all of the particulars. Suffice it to say that Earl had an enormous influence on many aspects of Tiger's life, including his attitudes toward women. But it's also important to keep in mind that Tiger and his father were very different in some important ways. Most notably, by age 21, Tiger was a multimillionaire whose name recognition was known throughout the world. Before he was old enough to buy a drink, he had more power and influence than most Fortune 500 CEOs and high-ranking politicians. These factors can't be overlooked when looking for answers to the scandal that engulfed him in 2009.
Shortly after the Tiger scandal became public, you report that his teacher at the time, Hank Haney, ran into Charles Barkley and asked him if he'd had any idea that Tiger had been seeing so many women. "Hank," you quote Barkley replying, "let me ask you a question. I spent 10 to 15 days a year with Tiger. You spent 200 days a year with Tiger. If you didn't f------ know, how in the f--- am I going to know?" After your reporting for the book, how many people do you think really knew what was going on?
Very few. His mother and his wife were in the dark. Members of his inner circle were unaware. His high school friend Bryon Bell was helping arrange rendezvous with women. [Agent] Mark Steinberg was certainly aware of allegations involving Tiger and other women. But it's likely that no one other than Tiger "really knew what was going on."
Do you think Tiger is happy today? Do you think he'll win another major?
We think this is the happiest Tiger has been in his life. He has a girlfriend. He spends quality time with his kids. But most of all, he's finally living a life without constant, debilitating pain. In terms of whether he'll win another major, we certainly hope so. And given what we've witnessed in the past few weeks, we think he has an excellent chance.
One word to describe Tiger?
It's hard to sum up Tiger in one word. How about four? One of a kind.