The Loop
The Internet's best show, Comedians In Cars Getting Coffee, just came to Netflix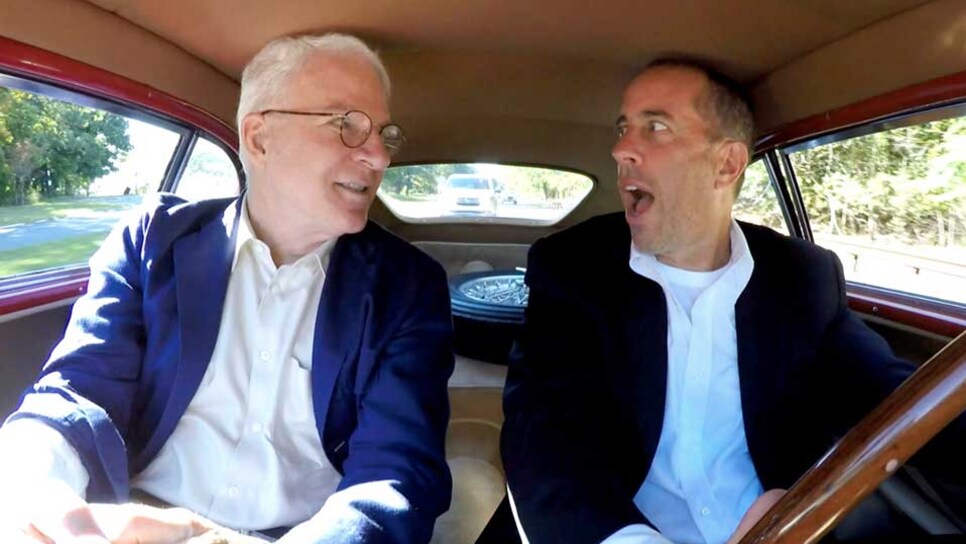 Thanks to his eponymous television program, Jerry Seinfeld is worth, oh, a billion dollars. (No, seriously.) Given the moolah he continues to rake in from syndication, no one would blame the 63-year-old if he retired to a life of Mets games and curating his world famous car collection.
And yet, he remains active on the standup scene, routinely working weekends in theaters and clubs. Moreover, he's managed to cobble together some of his passions -- automobiles, coffee, and talking comedy -- into a web show, Comedians In Cars Getting Coffee. One that's arguably the best damn show on the Internet.
If your only conduit to Seinfeld is Seinfeld, you may be in for a surprise, as the program's not built in a sitcom, joke-a-second framework. Rather, it's a free-flowing, half-baked discussion between Seinfeld and his guest, most of whom are comedians but occasionally are actors, media types and even President Obama. But, unlike a talk-show format where the audience is seated in the discussion, viewers at home are more like flies on the wall, as Seinfeld's rants and perspectives give the vibe that he doesn't care if anyone is watching. And it makes for a fascinating study.
Better yet, as of Friday, the show can now be found on Netflix. While the its entire nine seasons are available (along with new episodes), they are not listed in order, instead dispersed in categories like "First Cup, Late Night Espresso," etc. Conversely, one certainly doesn't need to digest the show chronologically to enjoy, and its 15-20 minute run times make it a perfect binge delicacy.
It won't instill quotes like "No soup for you!"or "I WAS IN THE POOL!" into your lexicon, nor will it challenge your views on life. But, like the perfectly poured cappuccino, Comedians In Cars Getting Coffee always goes down smooth.