News
The Intern Diaries: Strike a pose
How do you produce a great photo for a magazine article? Is it the subject? The photographer? The post-production retouching? All of the above? More importantly: how do you create a great conceptual golf image that's visually engaging while staying true to the game?
This little hurdle is something Golf Digest's art department and editors are constantly grazing over; the elusive balance between creativity and golf accuracy. The other day, I was invited to a photo shoot for an upcoming putting package in Golf Digest's October issue. I brought along my own camera to show you what took place (you can thank me later). I can't reveal any details of the story -- you'll just have to wait for the magazine to come out for that (and trust me, you'll want to check it out) -- but I can at least tell you about the shoot.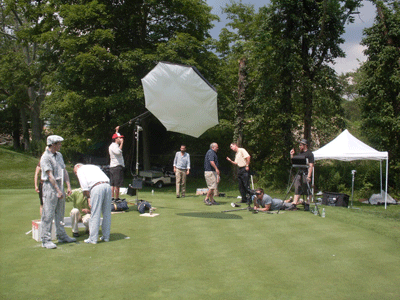 *To create the best conceptual images for this project, GD art director Ken DeLago and director of photography Christian Iooss hired NYC photographer Hugh Kretschmer, a true golf-art aficionado they've worked with before. The shoot took place at Aspetuck CC in Weston, Conn. (managing editor Roger Schiffman's home course), and Kretschmer and his team arrived from Brooklyn in a van filled with models, make-up artists, equipment and props. The models looked less Sports Illustrated Swimsuit Issue and more chess-tournament participants: in other words, they were perfect golf subjects. The 10th hole's putting green was turned into our photo-shoot set, with rolling hills and sloping fairways as the quintessential golf background. Fashion director Marty Hackel (a.k.a. Mr. Style) was also on hand to make sure a golf-fashion faux pas didn't occur.
These models weren't exactly about to have their swing sequences put on film, but the editors had still gone to great lengths to make sure they actually played golf. Sure, some of them may have embellished the amount of golf knowledge they possessed, but a little is better than nothing. In general, even if it's for a GD fashion shoot, models have to at least know how to address the ball and grip the club. We asked our models to strike a few poses -- or more accurately, proper set-ups -- and they worked hard for a good four hours. From a distance, it may have looked like a GQ shoot, but up close, it was nothing like it. Instead of feeding the models' egos with typical outbursts of "work it" and "gorgeous," GD's team was instructing with "reverse grip" and "bend at the waist, with a straight back." When all was said and done, the editorial department, photo department and art department were all very pleased with the results, models' grips and lighting included.
Yup, just another day at the office. Not a paper or computer in sight. Just sunshine, green grass, and putters.