News
The Intern Diaries: A peak into the Hot List process
I'm now in my fourth week as summer intern here at Golf Digest, and after taking a short diary break to make room for Ashley Mayo's excellent live blogging from the U.S. Women's Open, I'm back to channeling my inner Bridget Jones.
As I mentioned in my last post, I was asked to join the Golf Digest equipment editors in their testing session for the upcoming Hot List on grips (you'll be able to read the ranking in the October issue, on newsstands the second week of September). Hey, I'll take hitting balls outside on a beautiful day (blisters included) rather than doing typical intern errands such as coffee runs and file copying. (By the way, when I say typical I mean typical to other places of business, not GD typical.)
Before this experience, I hadn't the slightest idea how GD selected the products for their different Hot Lists. Maybe a group of know-it-alls deemed a select few top sellers as "the best" in a matter of minutes and that was the end of it?
As I quickly learned, nothing could be farther from the truth.
Readers may just see a tiny list in the magazine, but that tiny list is the result of hours and hours of research and testing. And yours truly was privy to one of these research sessions, or at least the fun part.
The editors invite every manufacturer in the industry to nominate any product they want, which resulted in a total of over 50 products to evaluate for this particular list. Before the performance testing could take place, the grips had to be mounted on 6-irons (all the same exact model of club -- in this case Mizuno MX-1000 6-irons with regular-flex steel shafts -- so the only differing feature was the grip), a task expertly executed by the club-repair guys at Rock Ridge CC in Newtown, Conn. Rock Ridge's driving range was also the site for our top-secret testing a couple of days later.
Once the grips had been designated into groups on the driving range, six testers (the Golf Digest equipment editors plus myself) rotated from group to group, writing down notes on things like feel, traction and sweat resistance, and giving each grip an overall grade. What types of grips did we test? If you can think of it, we tried it. Cord, half-cord, multiple compound, multiple durometer, tapered, "cushy" (or what someone referred to as "grandma grips"), etc.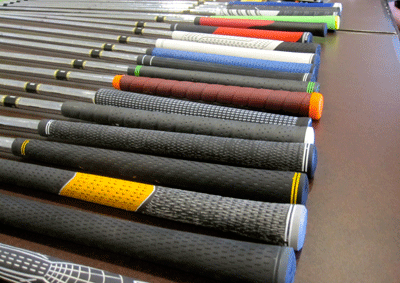 After the grades were in, the editors sat down in a conference room and tallied the votes... and yes, it got a little heated. I have come to find that there are some strong opinions on what makes a good grip. The equipment editors can get feisty to say the least.
Finally, the Hot List judges added the performance scores to the numbers they'd already produced in separate meetings (which also took hours upon hours) for technology and demand, and a final ranking was accomplished.
To be honest, I had a lot to learn about grips. In my previous grip decisions, I usually went with what felt the best. If you had mentioned traction, combined materials, tapering and thickness, my response would have been "huh?" It's safe to say I now have a very different view of what makes a good grip.
So what did I walk away with from this experience, other than tougher calluses? A deeper appreciation for the Hot Lists; a lot of research, time, knowledge and work go into those babies. Perhaps I also gained a better tan.
Until next time, grip it and rip it!