The Loop
The inspirational Dennis Walters is no stranger to comebacks
Under the glass top of Dennis Walters' kitchen table is a photo taken at Royal Salisbury GC in Rhodesia during the 1972 Dunlop Masters. This was two years before Walters was in a golf cart accident that left him paralyzed from the waist down, when he had aspirations of playing the game for a living, not giving exhibitions from a swivel seat.
Turns out, Walters played the first two rounds of that tournament with Tim Price, the older brother of a golfer who would someday become a three-time major champion and Hall of Famer, Nick Price.
Walters and Price shared their memories of that moment last week, when Nick stopped by Dennis' home in Jupiter, Fla. The International Presidents Cup captain came bearing a flag signed by players on both teams and some well-timed encouragement for the famous paraplegic golfer who shattered the tibia and fibula in his left leg on Sept. 26.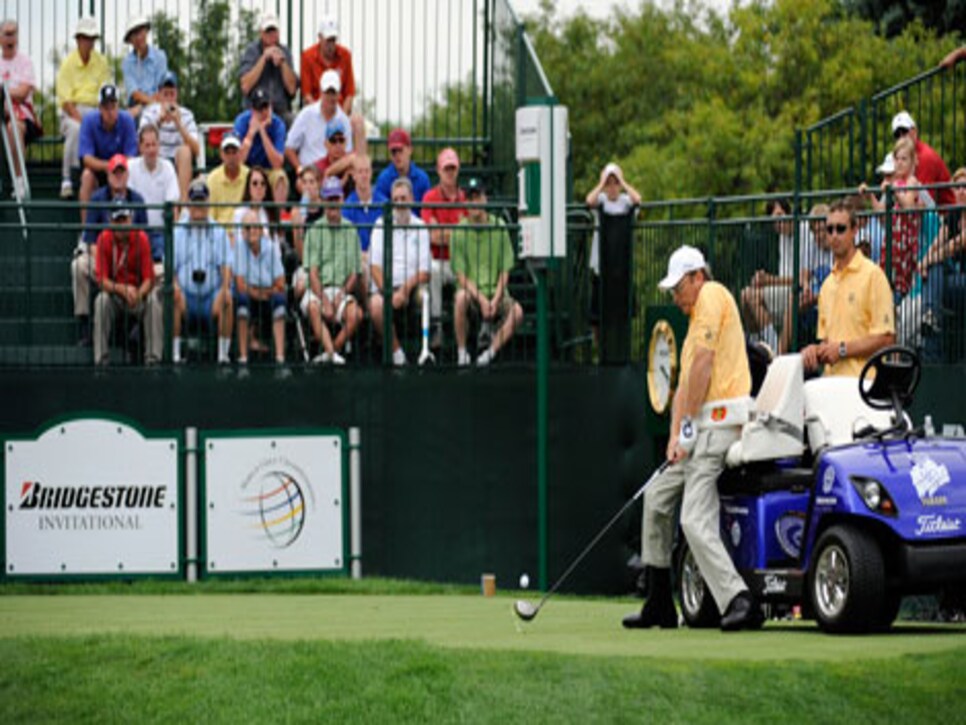 Nick walked those two rounds in Rhodesia with the then aspiring tour pro from New Jersey and North Texas State, but came to know him better during Walters' golf shows at the PGA Championship. "Knowing people care is better than any medicine you can take," said Walters, who was also buoyed by phone calls from Jack Nicklaus and Gary Player.
The hard part is not doing what Walters loves to do. This is a man who had his legs literally taken out from under him in a cart accident in 1974, and has gone on to become a Ben Hogan Award winner, the 2008 PGA Lifetime Achievement winner and an ambassador for the First Tee.
Yet once he left the hospital 39 years ago, his accident never interrupted his art of hitting golf balls. After his most recent setback, which occurred attempting to transfer between his 1969 Lincoln and his wheelchair in a supermarket parking lot, Walters has been ordered by doctors to avoid weight-bearing activities.
"In 40 years the very most I've ever taken off is three days," Walters said. "Now I have 56 days. I'm basically in a battle with time."
Walters could hear the bones break, but he did not feel a thing. He required the smallest amount of anesthesia he could receive and no painkiller when doctors performed the operation. All he kept thinking about were the 14 shows that had to be rescheduled, including one two days after the accident for Wounded Warriors in Tyler, Texas.
The time in bed got Walters thinking. He turned 64 in September and has made a nice livelihood out of an unfortunate situation. But how much longer does he want to do it? The road trips are becoming harder and harder, but he redid his vows. "I had a college roommate pass away this year," he said. "I'm sure he'd love to be hitting balls."
Doctors have given Walters a target date of Nov. 22 to put weight on his left leg. He's going to play on, scheduling another 90-pls shows in 2014, not sure of when the final swing will come. While recuperating, he's visualized himself hitting more than 500 shots with tight draws -- his trademark.
"Instead of hitting them mentally, I want to hit them for real," he says, "I'm all in."