The Loop
The Indy 500: A Primer on What a Shocking Percentage of America Will Be Attending on Sunday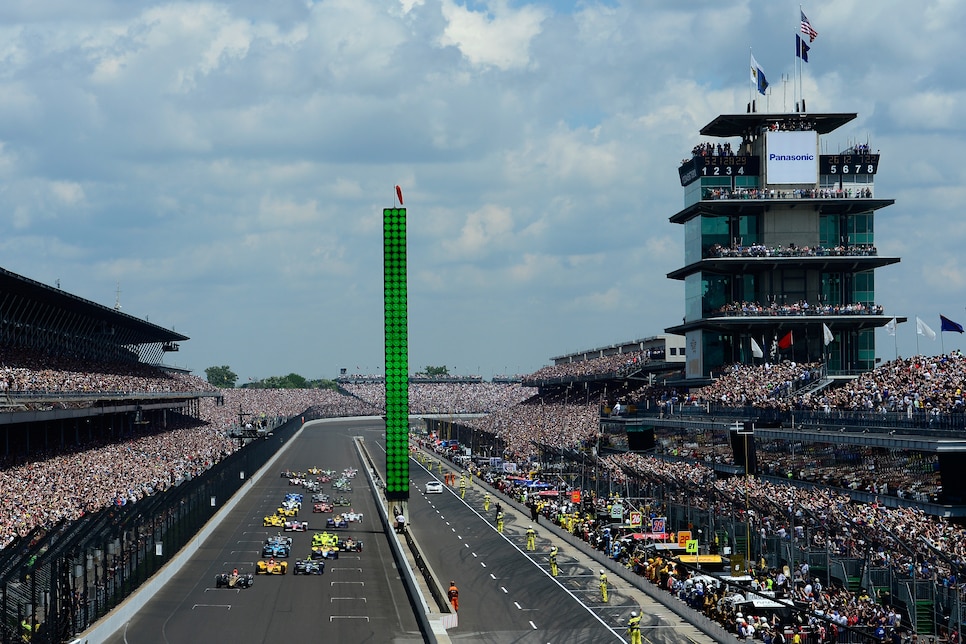 The Indianapolis 500! It's Indianapolis's biggest event, the sports pride of the state (pipe down, Paul George, you know it's true), and a very good excuse for most of here to sit in 1978-era folding chairs and drink room-temperature Hamm's cans starting at 7 a.m. on the Lord's Day.
Is this still a big deal?
WE IN INDIANA WILL HAVE YOU KNOW that the 500 is the Largest One-Day Sporting Event in the World, and also the one attended by the smallest percentage of actual athletes. Last year's plumb sold out with a crowd that reports pegged around 350,000, which meant that one out of every 1,000 people in the COUNTRY OF AMERICA was chilling inside the Indianapolis Motor Speedway. Here's what that looks like to people in space.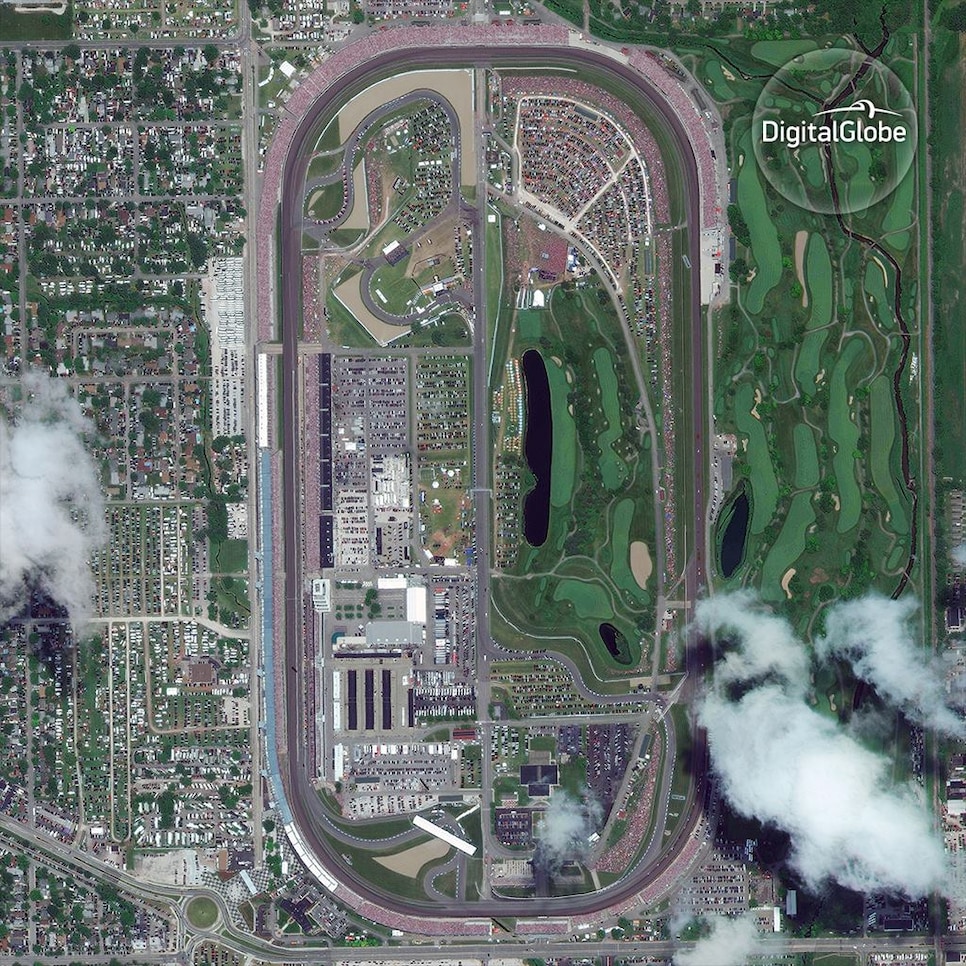 It's not easy to pee in there, is what we're saying. Well, in a bathroom anyway.
Three hundred and fifty thousand! What is that like?
It's basically the worst crowd of the year in Indiana, unless there was a Luke Bryan concert, which there probably was. Crowds begin arriving at 5 a.m. to the Speedway, which is conveniently situated in the town of Speedway, for maximum postal efficiency. Residents legitimately rent out their driveways, yards, garages and spare rooms. It is probably faster to park at Mellencamp's place and just walk.
Green flag is at 12:19 p.m. Sunday on ABC. If you're in Indiana, they might black it out, but it's best enjoyed on the radio anyway, because everything is better the way it used to be.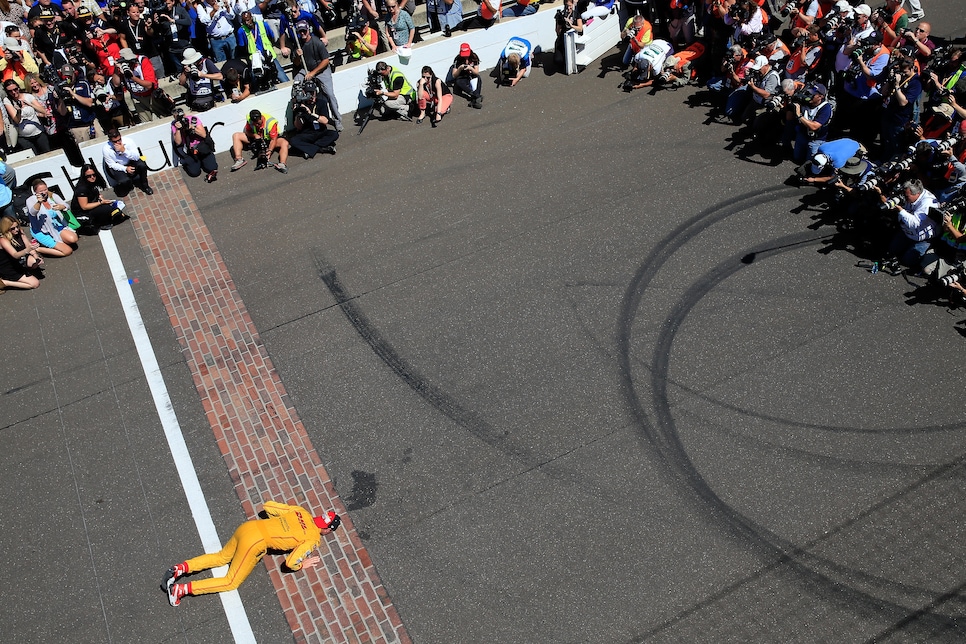 Who's the fastest driver?
Scott Dixon, a personable 36-year-old New Zealander, claimed the pole last weekend with an average four-lap qualifying speed of 232.164 mph, the fastest in 21 years. (Dixon's first lap of 232.595 was the fastest anyone has traversed the oval since Arie Luyendyk did it in 237.498, also in 1996, possibly by Apparating.)
How do pole winners celebrate?
Good question! In Dixon's case, he celebrated claiming the pole at the planet's most famous race by getting robbed in the drive-thru at a Taco Bell, where he'd gone to purchase a luxurious dinner with Dario Franchitti. Everybody was OK, and the suspects were caught, so we can all safely joke about how these highly accomplished world-class athletes drove purposefully to a Taco Bell. "I'm glad they're OK," said Dixon's teammate, Tony Kanaan. "Now obviously I can make fun of them." Also it turns out that team owner Chip Ganassi is a Twitter pro.
Dixon's associates on the front row are Ed Carpenter and Alexander Rossi, who won last year's 500 despite previously competing in about as many Indycar races as you have. But the joker's card is two-time Formula One champ Fernando Alonso, who gave the racing world a spit-take earlier this year by announcing he'd skip the Monaco Grand Prix and race in the 500 instead. Alonso is shooting for the Triple Crown of motorsport: wins at the 500, the 24 Hours of LeMans and the Monaco Grand Prix. He'll be fast.
James Hinchcliffe is known for 1.) injecting Indycar into the cultural consciousness by finishing as 2016 runner-up on "Dancing With the Stars" and 2.) surviving a 2015 practice-lap crash that sent a steel rod from his car's suspension into his legs and pelvis, resulting in his needing 14 pints of blood (which is significant, since the human body contains about 10). Marco Andretti is the grandson of the legendary racer/most enthusiastic human being on the planet Mario. When not joking about Taco Bell, Kanaan is an accomplished triathlete and veteran of the Ironman in Kona, Hawaii. And Pippa Mann is this year's only female driver; she'll start 28th.
What else happens on race weekend?
Drinking and horrible sunburns, mostly! Actually, it's spring in Indiana, so it will either be hot enough for pork tenderloins and Andrew Luck jerseys to burst spontaneously into flame, or it will be 45 degrees and pouring rain. Either way, we'll all be drunk.
Will anyone be crying openly during the pre-race festivities?
Yep. For decades, actor/damn national treasure Jim Nabors melted our hard Midwestern hearts by singing his signature "Back Home Again in Indiana," which isn't Indiana's official state song but should be (it's our version of the "Born to Run" rule). Nabors retired after the 2014 race; the song this year will be handled by Chicago Blackhawks voice-titan Jim Cornelison.
Will anyone get hopelessly drunk during the pre-race festivities?
You are describing Carb Day, the Friday before the race/Memorial Day and a day that very little work gets done in central Indiana. This year's Carb Day headliners are the Steve Miller Band and Barenaked Ladies; Keith Urban performs the following night. Last year's concerts included Kid Rock, like we had to tell you that.
Will There Be a Deeply Unusual EDM Festival In the Middle of the Race?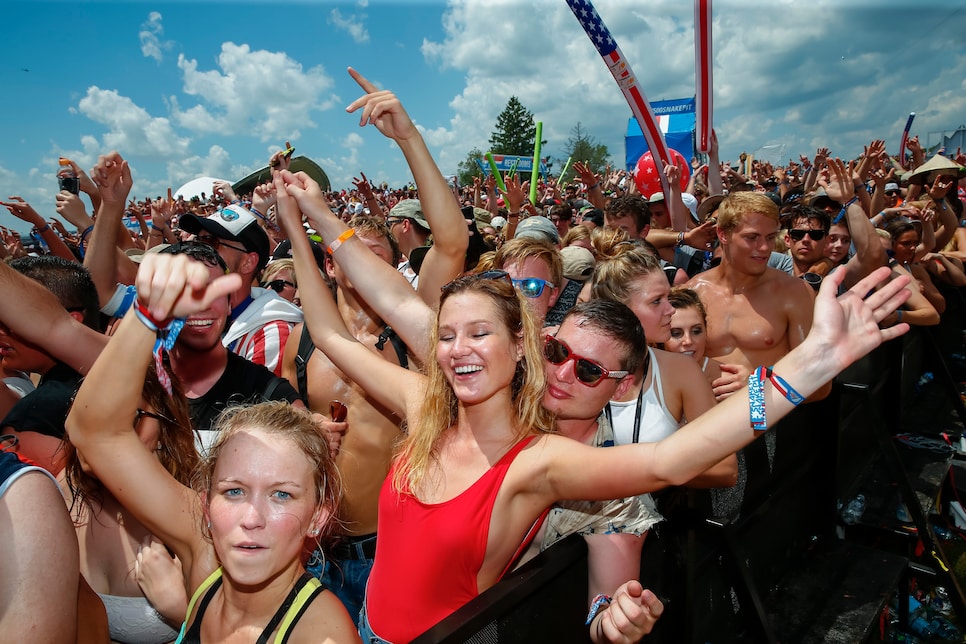 Funny you should ask! That would be the Snake Pit. Now, in the '70s and '80s, the "Snake Pit" inside Turn 3 was essentially a Coorsfest that found many people drinking bad beer in jorts, so track officials, finding the need to sweep up dozens of passed-out midwesterners every year largely unsustainable, shut it down. But several years ago, in an act of grand and utterly random rebranding, officials relaunched the Snake Pit as — of all things — an EDM festival that takes place during the race, so in the midst of the richly evocative and historic Greatest Spectacle in Racing, you have Skrillex and Martin Garrix and other acts with Zs and Xs all over their names bouncing around 30,000 millennials. Here's the weirdest part: The Snake Pit is a monster hit. Last year's Skrillex-headlined concert was a 30K-ticket sellout, and this year's, fronted by Zedd, Marshmello and Action Bronson, likely will be as well. (It's hosted by Ric Flair, because, sure, OK.) Because this is working, the Brickyard 400, which takes place at the Speedway in July, will be accompanied by a concert featuring the Chainsmokers and Major Lazer.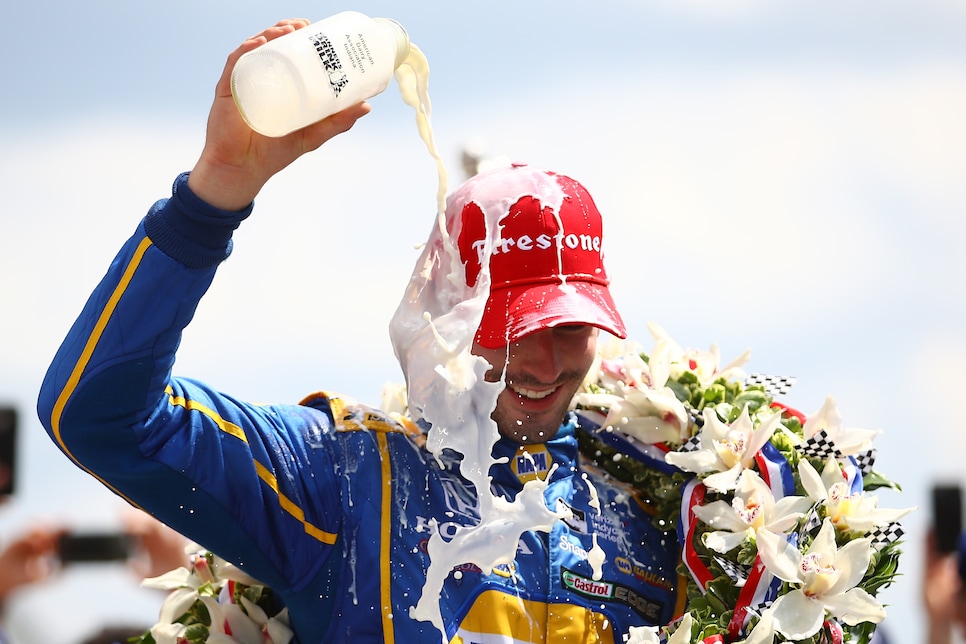 To celebrate victory in the world's most famous race, winners enjoy two key traditions: 1.) Having completed three hours in a speeding death-bathtub at speeds of 220mph, they are forced to guzzle milk, which then sits drying in their suits for the duration of a five-hour media tour and 2.) They "kiss the bricks," the yard-long stretch of actual brick that serves as a commemorative reminder of the track's original surface and is covered in a century's worth of dirt and grime. Finally, everyone goes to Taco Bell.