The Loop
The heartbreak at Merion was heartwarming to see
ARDMORE, Pa. - This was not the fault of Merion Golf Club, Mike Davis, Ben Hogan, Bobby Jones, Lee Trevino or the Philly Fanatic. In fact, it is to their great credit. This is the way the U.S. Open is supposed to be played -- as a complete test where par is a good score. Too often players, and even more so fans, confuse this country's national championship with the old Bob Hope Desert Classic and think it should be a swing-from-your-heels birdie-fest. But that's not what it's all about. To win the U.S. Open, you have to drive the ball in the fairway, hit greens, make up-and-downs when you miss greens, putt well and, most of all, maintain your composure when the course starts to kick you in the butt.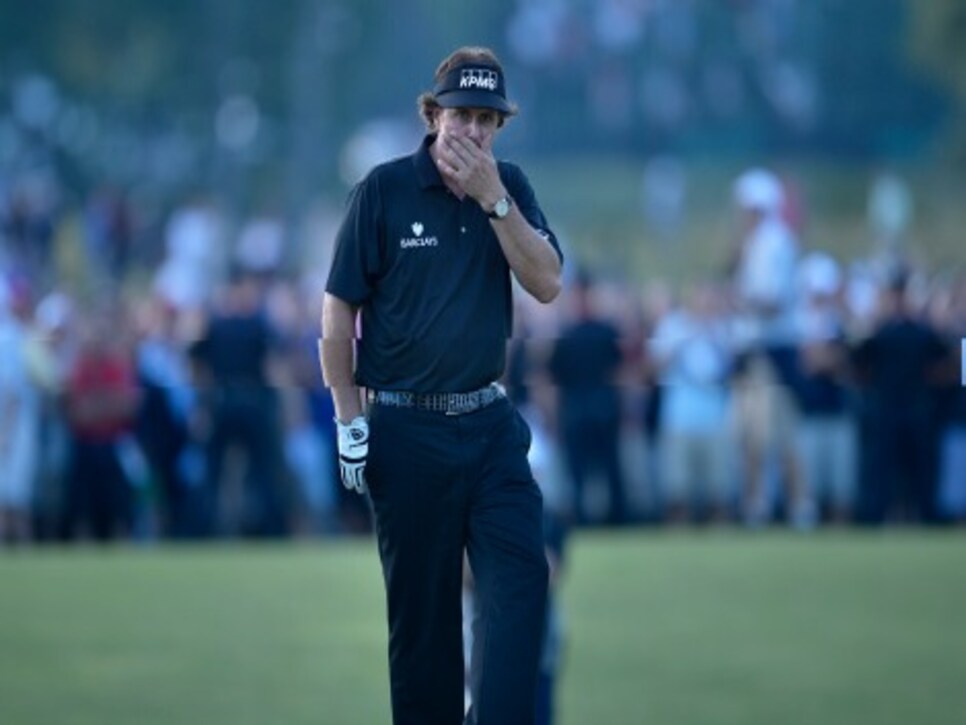 What Justin Rose did on Sunday in winning his first major championship was prove he had all the shots in the bag plus the toughness and focus to stay mentally engaged. Not everyone did. Rose closed with an even-par 70 to finish at one-over-par 281, two strokes better than Phil Mickelson and Jason Day. But Rose's round had as much to do with perseverance as it did precision. The Englishman erased five bogeys with five birdies and closed the door on Mickelson, who was playing behind him, with pars on the difficult 17th and 18th holes. In fact, Rose was brilliant on the brutal closing five holes at Merion, playing them in one-over par after hitting four fairways and the fringe 15-feet from the hole on the par-3 17th.
Related: Justin Rose, The Tour's Best Iron Player "You almost have to take par off the scorecard," Rose said. "Maybe two-over par is par for the last five holes." That is exactly the kind of mindset that wins a U.S. Open. You have to recalibrate your brain and think very differently than you do at a regular PGA Tour or European Tour event. Mike Davis, executive director of the USGA, is the guy who has been setting up the U.S. Open courses for almost a decade and he has yet to whiff. He got it right once again, turning a relatively short course into a demanding track that humbled and impressed the best players in the world. Down the stretch, the top three players -- Rose, Mickelson and Day -- played the final five holes a combined six-over par, making no birdies. No one birdied No. 18 on the weekend.
Related: A Retro Look At A Retro Course "I thought it was a great setup all week," Mickelson said after his record sixth second-place finish in the U.S Open. "I thought that the golf course was fabulous. We had weather and we had some conditions with Sunday pins, it was difficult. But I thought that it was really well done and, you know, it was ‑‑ I loved having the hard holes be really hard. And I loved having chances on the birdie holes." Rose seemed to be especially proud that he got his first major championship on such a demanding layout and one steeped in history. "Yeah, this golf course, I found that was the toughest thing," Rose said. "Because you could make birdies, you could get ahead of the card, around the middle of the course you could be one or two under. No round was safe until you played 18 holes. I think we learned that yesterday, the way I finished. I finished bogey, bogey. Schwartzel bogey, bogey. Luke bogey, double bogey. Hunter, bogey, bogey." All around the top three, others were crashing and burning. Charl Schwartzel and Luke Donald needed 42 strokes to play the front nine and Steve Stricker required 41.
Jason Dufner made a charge, getting to five under par on the day -- deeper in the red than anyone had gotten all week -- but made a triple bogey 7 on No. 15, finishing tied for fourth.
Related: Jason Dufner's Sunday run derailed late "I'm just glad I was kind of the last man standing," Rose said. "I dreamed of holing a putt to win a major championship, I'm just glad it was a two-incher." One of the great things about the victory by Rose was how much he knew about where it took place. "Yeah, this golf club is steeped in history," he said. "That really sort of hit home when I came here Monday, Tuesday, Wednesday, last week. I was able to appreciate this golf course in the quiet moments, when there was nobody around, when there weren't thousands of people here for the championship. And that's when I did fall in love with the golf course. Trevino says, 'Fell in love with a girl named Merion, just didn't know her last name.' I've been sort of joking about that all week. I feel like I established a game plan that really held true for me."
Related: In Rose, a golden generation finally delivers Rose even cited the line (first written by Jerry Tarde, now Golf Digest's Editor-in-Chief) that describes Merion as "the first six holes are drama, the second six holes are comedy, and the last six holes are tragedy. Like a good play, like a good theatrical play." That's what this U.S. Open was: high drama at its best. And that's why no one should be surprised if this course thought for 32 years to have been surpassed by technology will hold another U.S. Open as soon as a date is available. It's that good.