The Loop
The Grind: 'Yay' to Boo, a Japanese inspiration and Memorial predictions
Welcome to another edition of The Grind, where we're scratching our heads as to why Boo Weekley isn't a weekly contender on the PGA Tour. Oh yeah, that's right. Putting is part of golf. A big part. Even in his latest win at the Crowne Plaza Invitational, Boo showed how scary that part of his game remains. But when you're a ball-striking savant who hits it to within 10 feet on every hole, you can still score well. And when you do that enough on the PGA Tour, you can quietly surpass TEN MILLION in career earnings. Hey Boo, bring a little of that cash and come meet us at the nearest mini-golf course.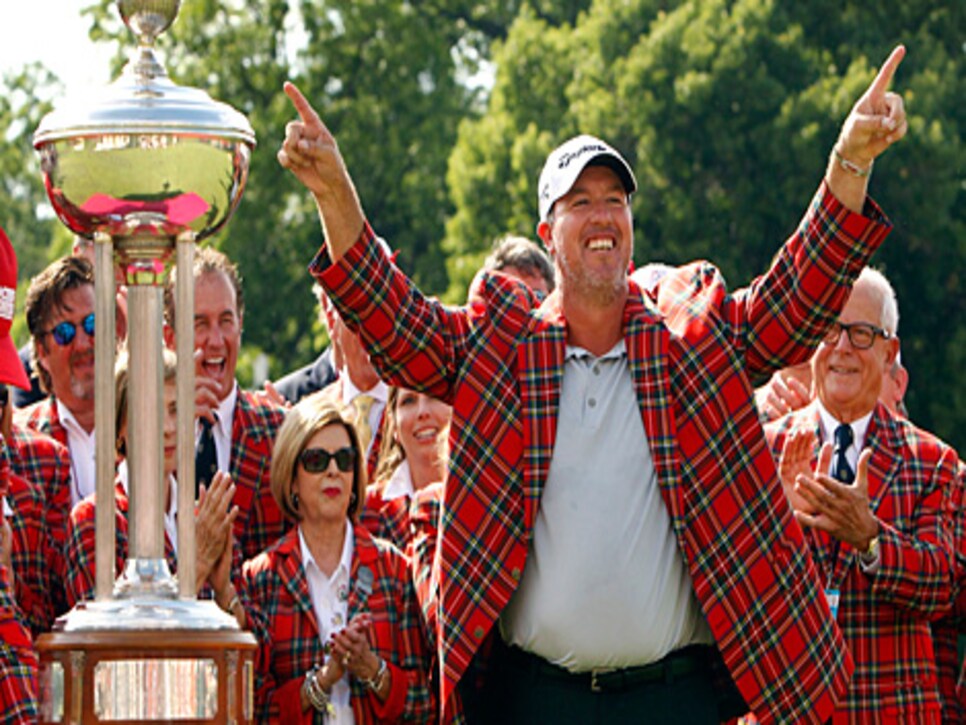 Boo knows plaid. (Getty Images)
Boo Weekley. As John Strege points out, golf needs more characters. And the man who once wrestled an orangutan certainly fits the bill. For a third time in his PGA Tour career, Weekley won. And for a third time, he took home a plaid jacket (the other two for his wins at the Heritage in 2007 and 2008). It wouldn't be far-fetched to assume those are the only three "dressy" pieces of clothing he owns other than whatever team-issued items he still has from being on the 2008 Ryder Cup team. Nike struck marketing gold with its famed "Bo knows" ad campaign centered around Bo Jackson. "Boo knows" seems like a can't-miss idea. Hang on, while we Google "copyright lawyers". . .
Matteo Manassero. The Italian prodigy now has four European Tour wins, including a victory in the tour's flagship event, the BMW PGA. He just turned 20. Why aren't people making a bigger deal about this?!
Kohki Idoki. A 5-foot-5, 51-year-old taming a 7,000-yard golf course? That should give everyone lacking distance in their golf games hope. More amazing was the fact that this was Idoki's first trip to the U.S. Something tells us he'll be back a bit more.
Tim Clark. No, the South African didn't win to give us the elusive "Grind Slam" (predicting the winner of the same event three years in a row -- copyright pending), but we appreciate his effort at Colonial. Clark flirted with the lead all weekend before finishing T-7. Now if only. . .
Bitter anchorers. Guys like Clark, Adam Scott and Carl Pettersson are lawyering up in response to the anchor ban? Really? This doesn't seem like a possibility in other sports. Imagine if Wilt Chamberlain sued the NBA for changing the rules to keep him in check? Imagine defensive backs suing the NFL for enforcing the illegal contact rule?
Lee Westwood. Forget winning a major, this guy can't even win a European Tour major. Once again, Westwood put himself in position to claim the BMW PGA Championship and once again, he came up short, this time to a player half his age. Kind of reminds us of. . .
Kenny Perry. Is this guy's hometown Elizabethtown, KY or Heartbreak City, USA? We're sorry to say it, but this guy just can't win a big one -- even on the senior circuit. The Senior PGA Championship was all but Perry's, until a late collapse left him looking up at the diminutive Idoki.
LPGA Weather. Apparently, it's not just the PGA Tour that's cursed this year. Weather was so bad at the LPGA's inaugural event in the Bahamas that the tournament used a makeshift 12-hole course Friday-Sunday to create a 36-hole event. Ilhee Lee won by shooting a, um, never mind. It's too confusing to try to figure out.
The PGA Tour heads to Dublin, Ohio for the Memorial, aka the place where Tiger returned to being Tiger last year. Remember that flop shot from behind the 16th green to vault him into the lead? Here's the clip in case you don't.
Random tournament fact: Jack Nicklaus called Tiger's shot the best he's ever seen under pressure. As great as it was, It wasn't. Unless, of course, the Golden Bear only watches his own event.
WEEKLY YAHOO! FANTASY LINEUP
We had a good showing last week with Matt Kuchar (2nd), Zach Johnson (3rd) and Tim Clark (T-7). Let's keep it going by picking Tiger Woods and three other guys this week.
Starters -- (A-List): Tiger Woods. Let's see if he can break the streak of only winning when we put him on the bench.
(B-List): Justin Rose. The Brit has three top-five finishes at Muirfield Village, including his maiden PGA Tour title in 2010.
(B-List): Bo Van Pelt. BVP has a pair of T-13s and a T-3 in his last three appearances here.
(C-List): Charl Schwartzel. Our just-a-hunch pick of the week.
Bench -- Rory McIlroy, Jimmy Walker, Jim Furyk and Rickie Fowler.
In honor of Boo Weekley, who earlier this year tried to communicate with a gator on the course at the Zurich Classic of New Orleans, here's a clip of a gator walking across a tee box in North Carolina while carrying dinner in its mouth. We're not sure if even Boo would mess with this big guy.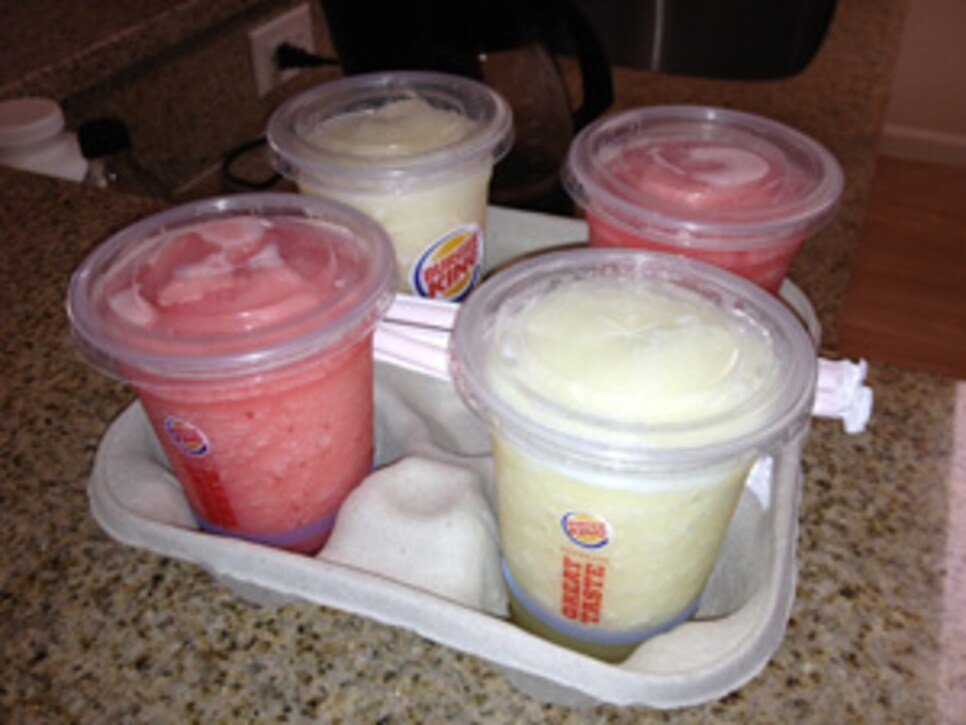 Annie Park won the NCAA individual championship, while leading USC to the team title. The 21-shot victory had about as much drama as an Adam Sandler movie. . . . Jeff Overton was disqualified at the Crowne Plaza Invitational for using a practice aid while waiting to tee off on the back nine and then complained about it afterward. Is he going to retain a lawyer, too? . . . These Burger King frozen lemonades are surprisingly tasty. They also make as great drink mixers. You can thank me later.
RANDOM QUESTIONS TO PONDER
Whatever happened to Michelle Wie?
Why isn't the Memorial on Memorial Day weekend?
Will Dustin Johnson actually play some golf this week?