The Loop
The Grind: Why Adam Scott's Masters win will really grow the game
Welcome to another edition of The Grind, where we're convinced Adam Scott might grow the game of golf more than anyone since Arnold Palmer. For non-golfy women around the country casually tuning into the end of the tournament -- or perhaps looking for "60 Minutes" -- watching the end of the Masters was a real eye-opener (Even ABC's 'The Bachelor' is wishfully targeting Scott). Guys, be aware going forward. When your significant other asks, "Is there any golf on TV this weekend?", that's really code for, "Is that dreamy Australian guy playing this weekend?"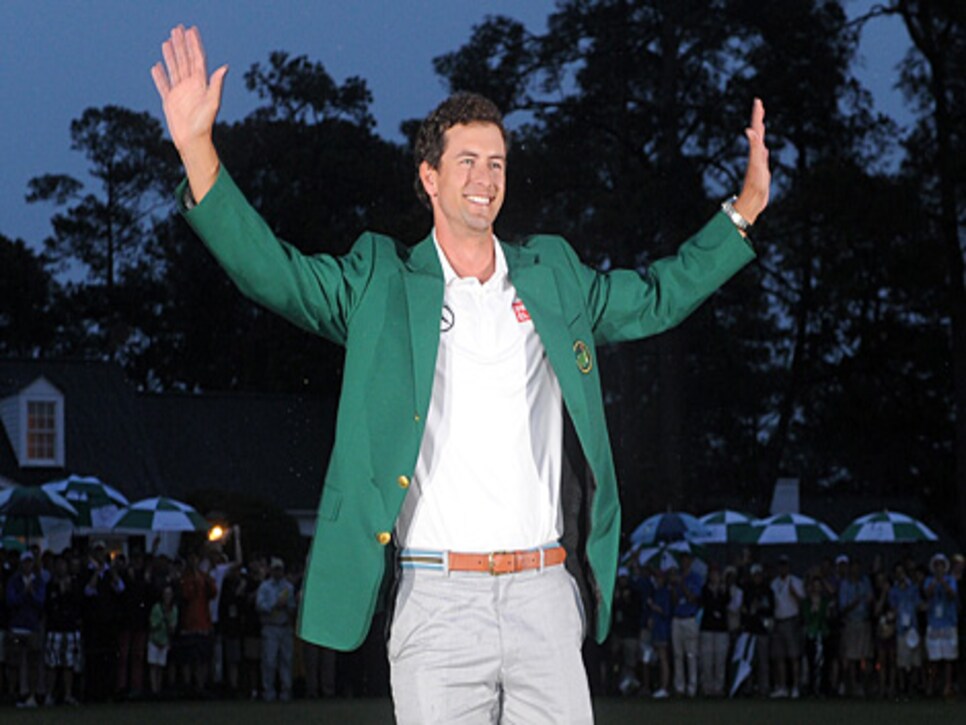 "I know I'm single, but please calm down, ladies."
Adam Scott. The Australian had plenty of guys drooling as well with that perfect swing. And after struggling on the greens all Sunday, Scott finally got that broomstick putter of his to knock a couple in when it mattered most. Good for him for bouncing back so quickly from his collapse at last year's British Open. Good for me, since his breakthrough won me GolfDigest.com's first-ever Masters fantasy draft. And again, good for the game.
Angel Cabrera. Serious question: Other than the handful of times he's either contended or won a major championship, where does this guy go? What a performance, especially under the utmost pressure. The approach to kick-in range on 18 will long be remembered, but so should his putting and that chip shot on the first playoff hole that somehow didn't drop. Cabrera couldn't pull it out this time, but he served notice yet again that if he's in the mix, watch out.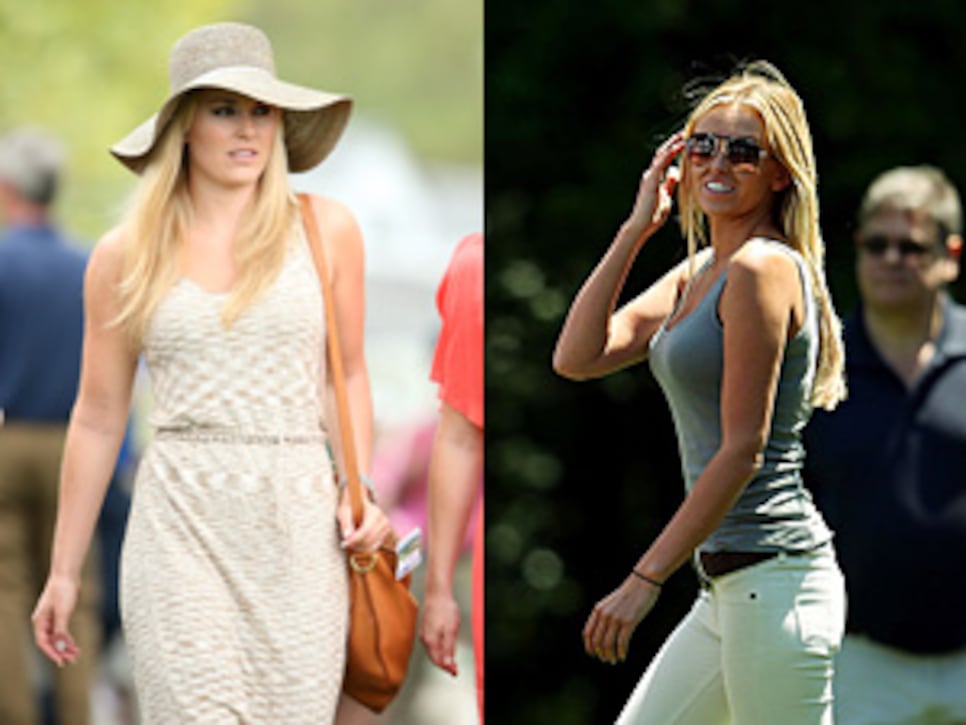 Tianlang Guan. Not even a slow-play penalty could keep the 14-year-old from making the cut at the Masters. We probably shouldn't be too surprised with anything age-related in golf after a 59-year-old Tom Watson nearly won the British Open four years ago, but still, what a remarkable performance. Two stunning stats: Guan didn't make more than a bogey all week and he didn't three-putt on Augusta National's diabolical greens once. It shouldn't be too long before Tiger Woods asks the young man for a putting lesson.
The Masters. It delivers every year, doesn't it? And now Lindsey Vonn and Paulina Gretzky (unnecessarily shown above) can say they've been! Even when most of the final round is a bit of a snooze -- we'll give the rain a lot of the blame for that -- we wind up witnessing one of the most exciting finishes ever at a major championship. Whether its the routing of the course, the setting, or Jim Nantz's hushed tones, you can always count on an exciting finish -- and a dose of depression when it's over.
Brandt Snedeker. We thought he was over final-round pressure with his gutsy performance at the Tour Championship to win the FedEx Cup's $10 million bonus, but Sneds still looked a lot like the guy who melted down Sunday at Augusta five years ago the first time he had a chance to win his first major.
Tiger Woods. Even Nick Faldo marveled at the bad breaks Woods got during the week, most notably the shot off the flagstick into the water on Friday and what he termed a "400-degree lipout" on Saturday. That being said, here's a simple request for the World No. 1 and a man who has played more rounds of golf in his life than the combined staff of Golf Digest: KNOW THE RULES!
Phil Mickelson. From adding the "Phrankenwood" to his bag to worrying about the PGA Tour's schedule leading up to the season's first major, it seems like Mickelson over-analyzed his way to a disappointing Masters finish. What will Phil and Callaway cook up for the U.S. Open at Merion? A half-putter, half-doughnut maker?
Wait, there's another tournament this week? But the Masters is over! Hmm, let's see. . . why yes, it's the RBC Heritage at Hilton Head.
Random tournament fact: Not sure if you've seen it before, but there is a lighthouse on the 18th hole at Harbour Town Golf Links.
WEEKLY YAHOO! FANTASY LINEUP
First, we started the PGA Tour Sleepers Jinx and now? The Tiger Woods Win Jinx. As has been pointed out to us by several people on Twitter, it wasn't the flagstick on the 15th hole or the incorrect drop or the TV viewer who called in, but us who cost Tiger his fifth green jacket. Simply put, when we start him, he loses. When we stick him on the bench, he wins. Every time. We'll keep that in mind the next time he tees it up. . .
Starters -- (A-List): Bill Haas. Tied with Keegan Bradley and Brandt Snedeker for the most top 10s on the PGA Tour this year, Haas is getting close to career win No. 5.
(B-List): Luke Donald. With another major disappointment in the books, it's time for Donald to refocus at a course where he finished T-2, T-3 and solo second from 2009-2011.
(B-List): Bo Van Pelt. Why does he always wait until Sunday to make his move at Augusta?
(C-List): Billy Horschel. After close calls in Houston and San Antonio, Horschel and his PGA Tour-best streak of 21 consecutive made cuts will be looking once again for his breakthrough tour win.
Bench -- Brandt Snedeker, Aaron Baddeley, Matt Kuchar, and Jason Day.
RANDOM PROP BETS OF THE WEEK
-- Thomas Vonn (Lindsey's ex-husband) is confirmed as the "TV viewer" who blew the whistle on Tiger: 100-to-1 odds
-- Brandel Chamblee is confirmed as the "TV viewer" who blew the whistle on Tiger: 2-to-1 odds
-- Jim Nantz will not scream "A Life Changer!" after the winning putt at Harbour Town: LOCK
-- You will not watch as much golf on TV as you did last week: LOCK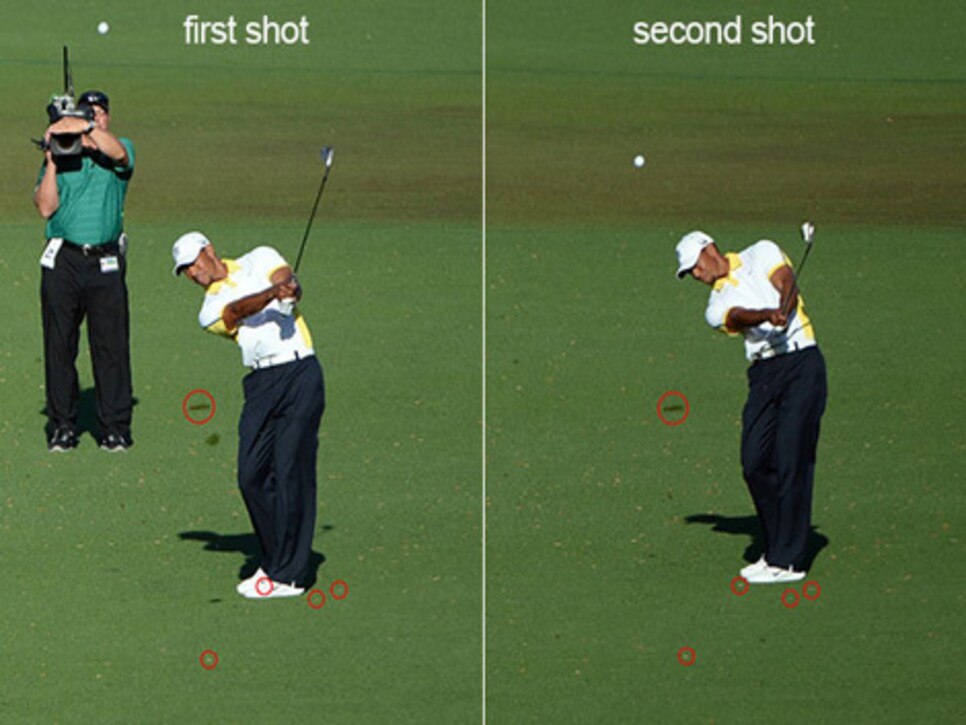 It's the story that just won't die. We thought we could move on from #Dropgate and then the Augusta Chronicle released these side-by-side photos indicating that perhaps Woods didn't violate a rule after all when he took his now infamous drop on the 15th hole on Friday. What's next? The Golf Channel's first made-for-TV movie event?
PHOTO OF THE WEEK (NOT INVOLVING TIGER WOODS)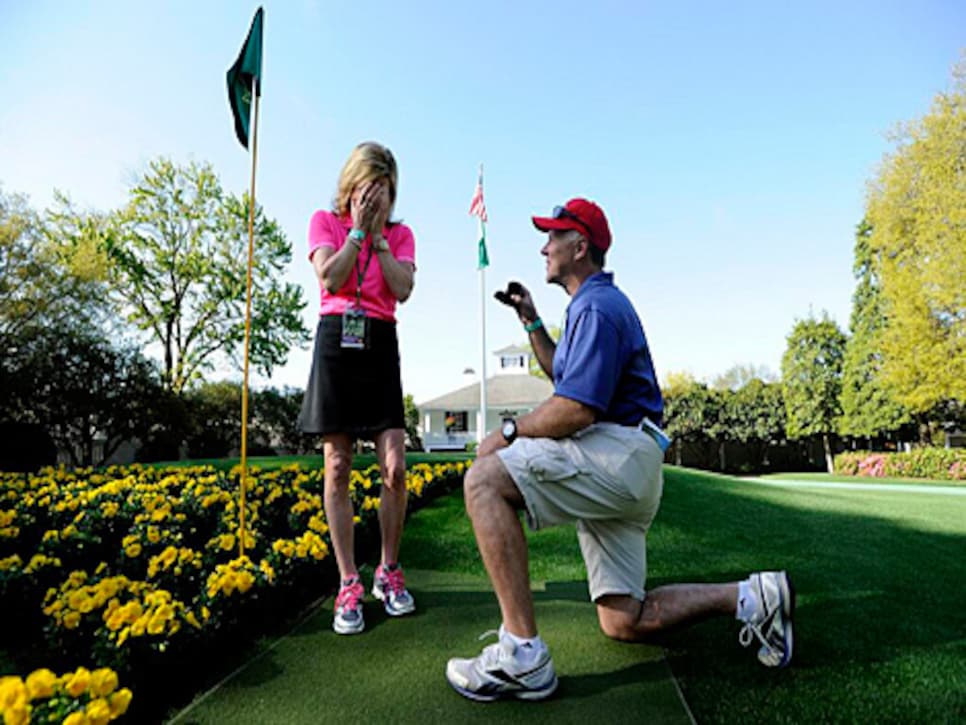 We don't know who these people are, but they seem pretty awesome. A guy proposes to his girl in front of the Augusta National clubhouse and she says yes? Very cool. We're just glad Augusta National doesn't have a rule against that type of thing.
TV ratings for the final round of the Masters were up 26%. It helps to have Tiger on the first page of the leader board, even if it's at the bottom. . . . Inbee Park moved to No. 1 in women's golf during her off week. World rankings! . . . A 14-year-old made the cut at the Masters. Sorry, but we can't say that enough.
RANDOM QUESTIONS TO PONDER
How many more years will Fred Couples "turn back the clock" at Augusta National?
Why doesn't Angel Cabrera take over those "Most interesting man in the world" beer ads?
Who wouldn't want to be Adam Scott's agent right about now?