The Loop
The Grind: Villegas shows his age, Lindsey shows her strength, and 2014's most unlikely champ
Welcome to another edition of The Grind, where we may have underestimated the excitement the week after the PGA Championship could generate. We saw an improbable run at one of the game's oldest events, a playoff at an LPGA major, history made on the Champions Tour and a crazy finish on the PGA Tour—plus two golf superstars appearing on late night TV together. In other words, we better wrap up our opening monologue and dive right in.
Camilo Villegas: A final-round 63 was good enough for a one-shot win at the Wyndham Championship as others faltered late. For Villegas, the victory ended a four-year drought. How long has it been since he won? The 32-year-old Villegas doesn't even do the Spiderman thing when reading greens anymore. I know what you're going through, Camilo. I'm 32 also.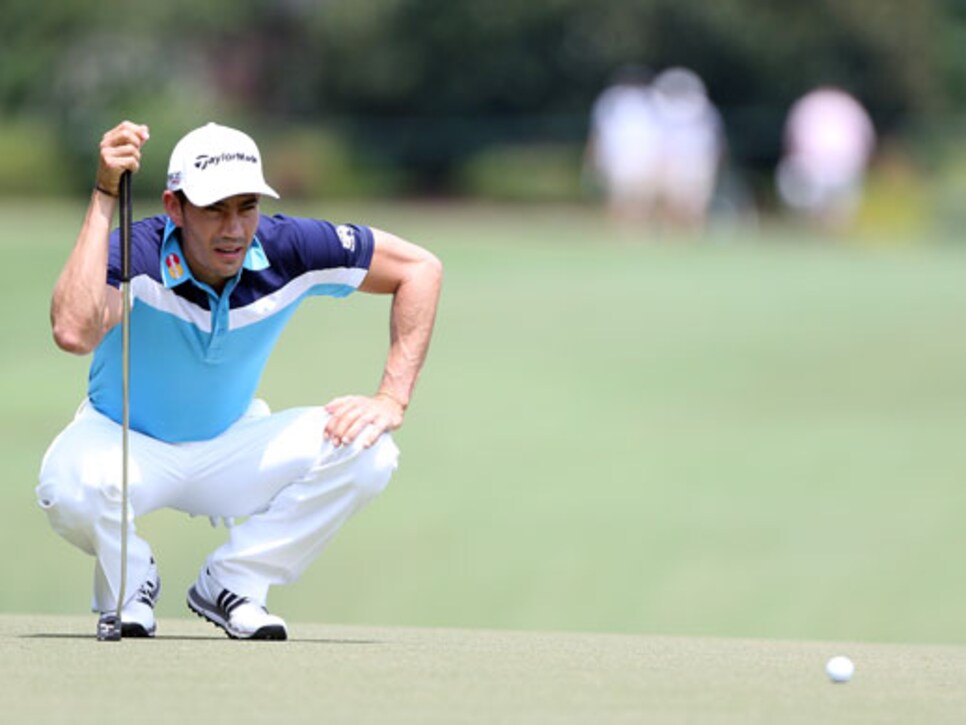 Gunn Yang: Move over, Francis Ouimet, golf has a new underdog hero. Yang, a redshirt sophomore at San Diego State who had lost his scholarship and was No. 776(!) in the world amateur golf ranking somehow won the U.S. Amateur. Just making it to match play would have been a nice accomplishment for the 20-year-old South Korean. Instead, he won six straight matches to claim one of golf's most prestigious titles and earn a spot in next year's Masters, U.S. Open and British Open. Just a guess, but he probably earned his scholarship back as well.
Inbee Park: "Winbee" was back this week in a big way, beating Brittany Lincicome in a playoff at the LPGA Championship. Park now has four majors in the past two seasons and five overall among her 11 career wins. WINBEE!
Tiger Woods: First came the announcement that he's taking himself out of consideration for a Ryder Cup captain's pick to rest. Good move for his back, his ego and for Tom Watson, who didn't need that situation hanging over his head in addition to the slim pickings he's already having to deal with. Then, Woods and Rory McIlroy appeared on "The Tonight Show" with Jimmy Fallon. Woods had a few good lines, although his tight shirt seemed to draw most of the attention.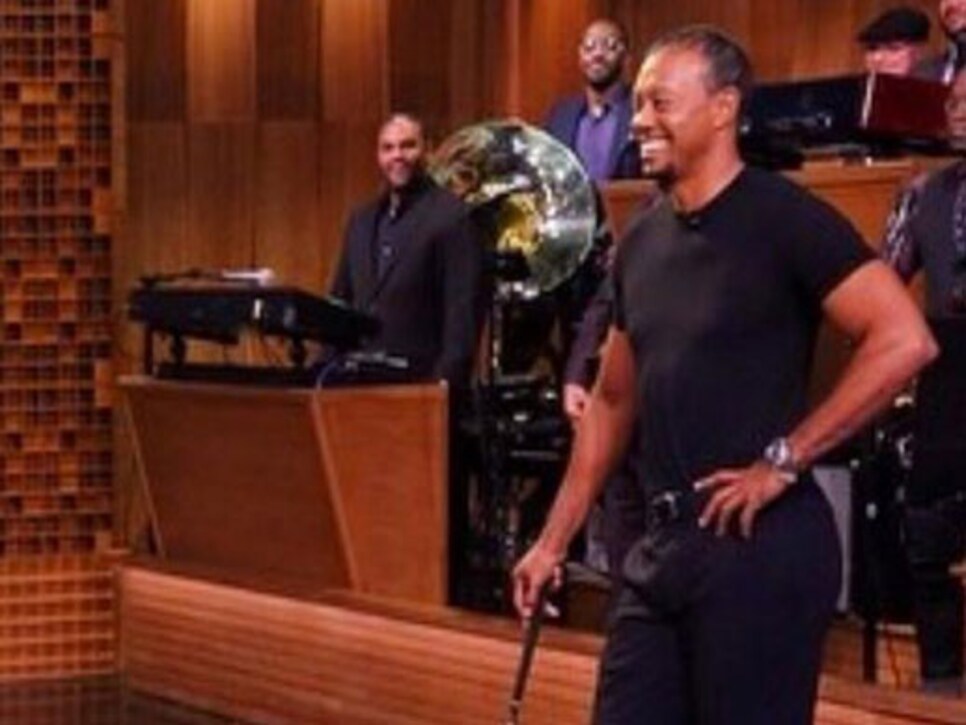 Kevin Sutherland: How do you shoot 59 with a bogey on the last hole? How do you shoot 59 and not win a three-round tournament? These are questions Sutherland has to be asking himself after going 71-59-74 to pick up one of the oddest T-7s you'll ever see at the Dick's Sporting Goods Open. Perhaps the better question is how was this the first 59 in Champions Tour history? In any matter, Bernhard Langer wound up winning. Stop us if you've heard that before.
Brittany Lincicome: The 28-year-old American played great at the LPGA Championship, but bogeyed the 18th hole in regulation to go to a playoff and then bogeyed the hole again minutes later to finish runner-up. Lincicome hasn't won in nearly three years and her lone major remains the 2009 Kraft Nabisco. She wasn't the only golfer stumbling down the stretch, though. . .
Greensboro heartbreaks: While Villegas celebrated, many others left Sedgefield CC in the dumps. Brad Fritsch, playing in the final group, only managed a 70 to drop to T-8 and end the regular season at No. 151 on the FedEx Cup list, meaning he has no status on the PGA Tour next season. Heath Slocum bogeyed the final two holes to blow his chance at a win and lose his tour card. Kevin Foley missed a four-footer on the last hole that dropped him to No. 201 and from the PGA Tour into the second stage of Web.com Tour Q School. You get the point. Even playing golf for a living has its rough moments.
The PGA Tour heads to New Jersey and Ridgewood CC for the Barclays and the start of golf's (sport's?) ultimate four-week money grab, the FedEx Cup.
Random tournament fact: Here are the last 10 winners of this event: Vijay Singh (twice), Sergio Garcia, Padraig Harrington, Steve Stricker, Heath Slocum, Matt Kuchar, Dustin Johnson, Nick Watney and Adam Scott. Which one doesn't belong. . . ?
RANDOM PROP BETS OF THE WEEK
-- Gunn Yang will win the 2015 U.S. Amateur: 1 million-to-1 odds
-- Tiger Woods and Phil Mickelson will appear on Letterman together: 1 billion-to-1 odds
-- Someone will make a ridiculous amount of money playing golf in the next few weeks: LOCK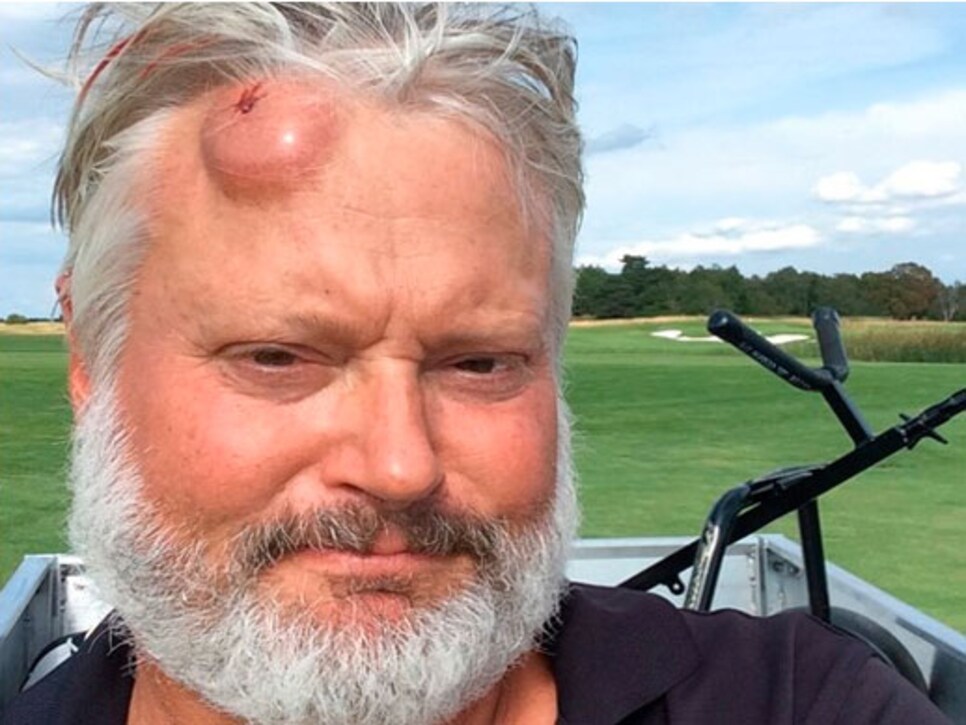 Try to avoid getting hit in the head by a stray golf ball.
"It looked really bright on TV, though, from my couch." -- Tiger Woods discussing Rory McIlroy's PGA Championship win with Jimmy Fallon. Woods managed to take a small jab at Rory, a bigger dig at himself and not rip through that shirt. Impressive.
More Tiger and Rory shenanigans! This time, they participate in the Ice Bucket Challenge for ALS:
THIS WEEK IN PRO GOLFERS AND THEIR CADDIES PUBLIC DISPLAYS OF AFFECTION
Ted Scott took to Twitter to post these generous bonus gifts from his boss, Bubba Watson.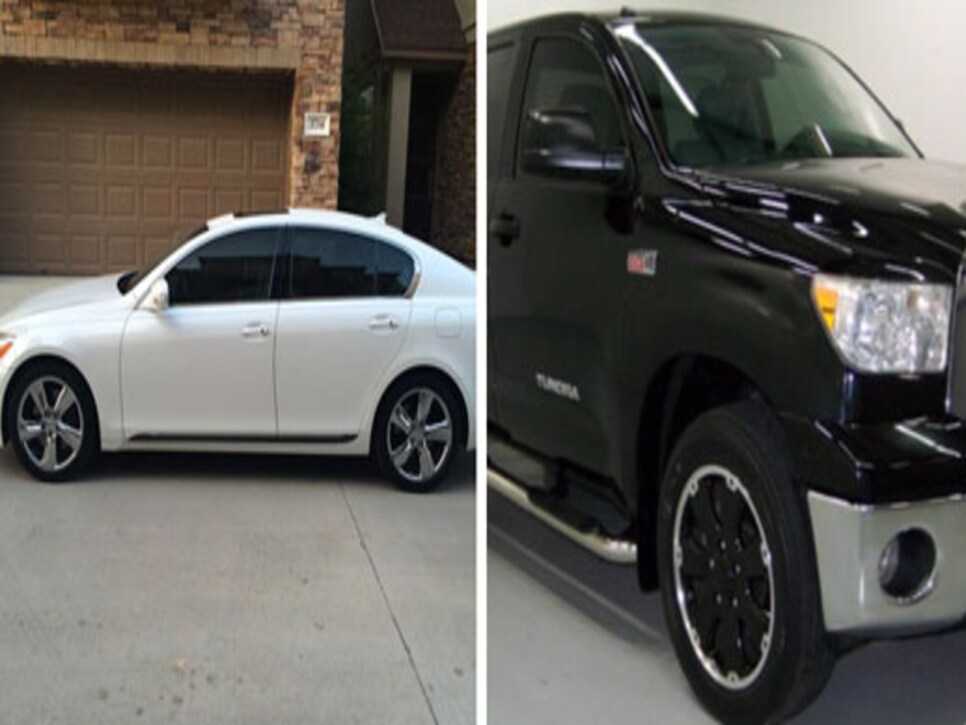 THIS WEEK IN LINDSEY VONN MAKING US LOOK BAD WITH HER TRAINING
Even a hulking Tiger has to be impressed by his girlfriend in the gym.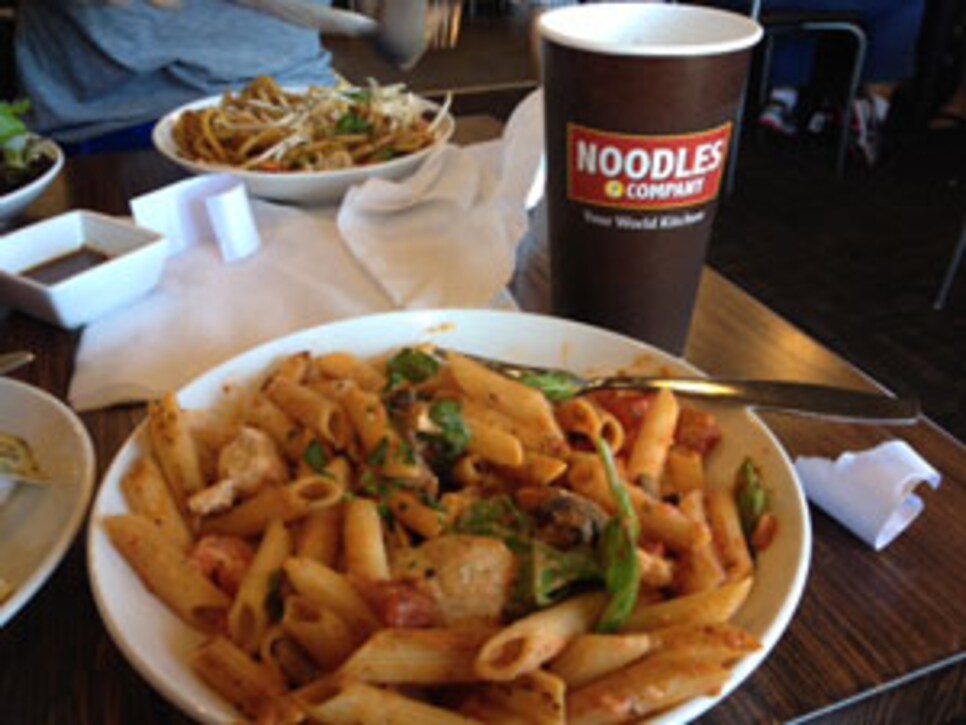 Steve Stricker is taking a few months off to rest a bad hip and back. Even the U.S. Ryder Cup assistants aren't safe from getting hurt! . . . Vijay Singh finished 12 shots behind at a tournament in Fiji. On a course he designed. Ouch. . . . Arnold Palmer had pacemaker implant surgery Monday to correct an abnormal heartbeat. Get better soon, Arnie! . . . Speaking of kings, I'm declaring Noodles & Company "The King of Casual Dining." I could eat there every day, and I probably would if there was one within 80 miles of where I live. Sigh.
RANDOM QUESTIONS TO PONDER
What will Rory McIlroy's caddie get as a bonus?
Does a hole-in-one on a par-3 course count?
How much does it cost to open a Noodles & Company?