The Loop
The Grind: Rose's big win, Phil's bigger heartbreak & why we're all wickered out
Welcome to another edition of The Grind, where the next person who mentions Merion's wicker baskets risks being beaten with one of Merion's wicker baskets. Seriously, it was fun while it lasted, but all this attention might give other clubs ideas. What's next? Birdhouses on top of flagsticks? Car tires? Wicker chairs? Probably not, but if it ever happens, NBC and Jimmy Roberts will have a field day. In the meantime, here's what we're focusing on.
Justin Rose: A 32-year-old who was once a teen phenom breaking through to win his first major? Hmm. We think we've heard that one recently. . . There was a joke going around after the FedEx St. Jude Classic that the only English winner on the PGA Tour in 2013 was Harris English. Not anymore. What a performance by Rose at the U.S. Open, especially considering he'd never seriously contended down the stretch at a major before.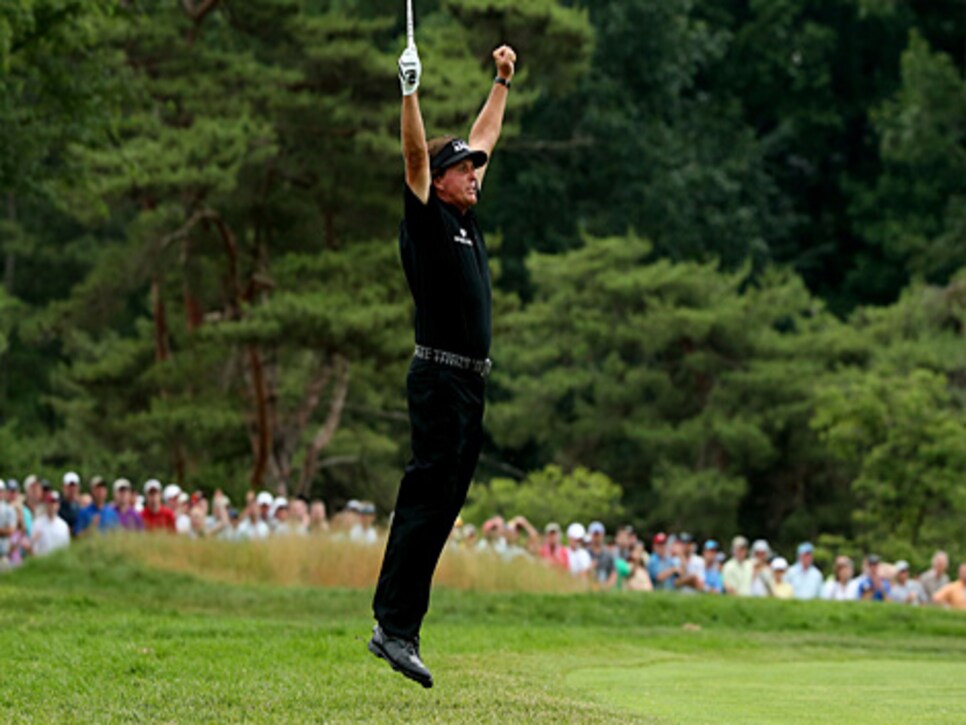 It was good to see Phil hasn't lost any of his hops. (Photo: Getty Images)
The U.S. Open: The course. The carnage. The NBC theme music. The star-studded leader board. The finish. Johnny Miller saying, "Chunk and run" every two minutes. Our favorite week of the year delivered in grand fashion.
Jason Day: Who says Jack Nicklaus' major record is safe? Day is just 25 and seems on pace to challenge the Golden Bear's mark of 19 runner-ups with his latest T-2 at the U.S. Open. Add a third-place finish at Augusta already this year and the question must be asked: Why isn't this guy contending more in regular PGA Tour events?
Phil Mickelson: Let's focus on the positive. In the last two weeks, Phil has two T-2s that bookend him seeing his daughter, Amanda, graduate from middle school. Apparently, she even gave a speech at the ceremony in which she quoted Ron Burgundy from the movie "Anchorman". What a proud papa he must be! Yes, adding to his record of runner-ups at the U.S. Open stings, but obviously, you can't have this many close calls without being a great player. That being said. . .
Phil Mickelson: I thought I had our office pool wrapped up with Jason Dufner's Sunday run and Mickelson's Miracle-at-Merion holeout for eagle on No. 10 to take the lead. But alas, it wasn't meant to be. Finishing runner-up is tough. I'll be thinking about that close call for awhile. What, you thought I was talking about Phil?
Steve Stricker: SHANKAPOTAMUS!!! Seriously, that train wreck was painful to watch. A U.S. course is tough enough, but under Sunday pressure, Stricker reminded us that even the world's best players are susceptible to weekend hacker moments. The shank OB on No. 2 virtually ended the 46-year-old's (last?) golden opportunity to win a first major. And he's already snuffed out his next chance by saying he won't play in next month's British Open. Disappointing.
Players complaining: The rough is too thick. The hole placements are too tough. The par 3s are too long. Wah. Wah. Wah. Guys, the U.S. Open is one week out of the year. Is it difficult? Sure. But there's a difference between setting up a challenging course and an unfair one. Players who hit bad shots paid the price, but players who hit good shots were rewarded. And oh yeah, enough about what par is. Everyone played the same holes and added their scores up at the end of the day the same way: 281 won this tournament, not one over.
Tiger Woods:. When Tiger won his 14th major at Torrey Pines in 2008, what odds could you have gotten that he would go (at least) the next five years without winning another big one? 1,000 to 1? 10,000 to 1? Elbow injury or not, it's getting tough to explain Tiger's disappearing acts in golf's biggest events. Even tougher is explaining why he chipped and putted at Merion like a mid-handicapper. But never fear, Woods will still be made an overwhelming favorite for Muirfield by experts like us!
The PGA Tour heads to Connecticut for the Travelers Championship, aka that tournament they usually play after the U.S. Open. We have a lot of respect for Rose, who kept his commitment to playing this week instead of taking a vacation in the mountains of cash he earned himself with his first major championship. Actually, we have a lot of respect for anyone who competed in that grindfest teeing it up again so soon.
Random tournament fact: Tim Norris owns the best score in relation to par with a 25-under performance in 1982. He's so obscure we're not even sure Google has heard of him.
WEEKLY YAHOO! FANTASY LINEUP
The day before the tournament, I talked to Rose about mudballs as he signed autographs. When our chat was over -- he did a tremendous job multi-tasking -- I thanked him for his time, patted him on the shoulder and wished him good luck. Maybe I'm not such a jinx after all. . .
Starters -- (A-List): Jason Dufner: Did you see the ball-striking display this guy put on at Merion on Sunday?!
(B-List): Bo Van Pelt: BVP has finished in the top 25 at TPC River Highlands six of the past eight years.
(B-List): Fredrik Jacobson: The site of his lone PGA Tour win in 2011, the Swede finished T-8 in his title defense last year.
(C-List): Rickie Fowler: After a respectable showing at Merion, we think the time has come for Fowler to pick up that second PGA Tour title.
Bench -- Bubba Watson, Charley Hoffman, Zach Johnson and Kevin Streelman.
In honor of Pinehurst, the site of next year's U.S. Open and U.S. Women's Open, we present this frisbee golf video the resort sent me. In it, Ken Climo, who is apparently the 'Jack Nicklaus of Disc Golf,' takes on the famed No. 2 course:
It also gives us a chance to link to this classic Seinfeld clip in which George Costanza chooses 'Frolf' over helping out Jerry.
RANDOM PROP BETS OF THE WEEK
-- A player will hit a driver on one of TPC Highland's par 3s this week: 1,000-to-1 odds
-- Sergio Garcia will have nightmares about the Philly fans at Merion: 5-to-1 odds
-- Sergio Garcia will have nightmares about Merion's 15th hole: LOCK
THIS WEEK IN DUSTIN JOHNSON-PAULINA GRETZKY DISPLAYS OF PUBLIC AFFECTION
Unfortunately, we didn't cross paths with Paulina at Merion. We're guessing she's not a fan of walking around in the mud. But we do know that she and DJ are still an item thanks to this tweeted photo of the two of them kissing their dog goodbye before heading off to Germany: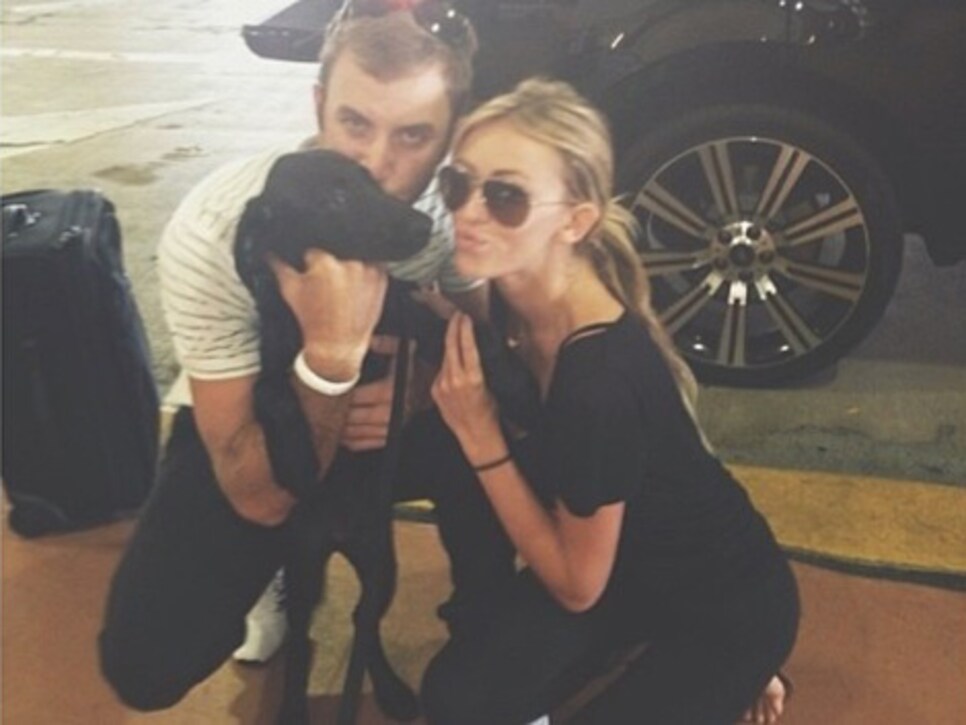 BAD JOKE ALERT: Apparently, DJ likes big dogs both on and off the course!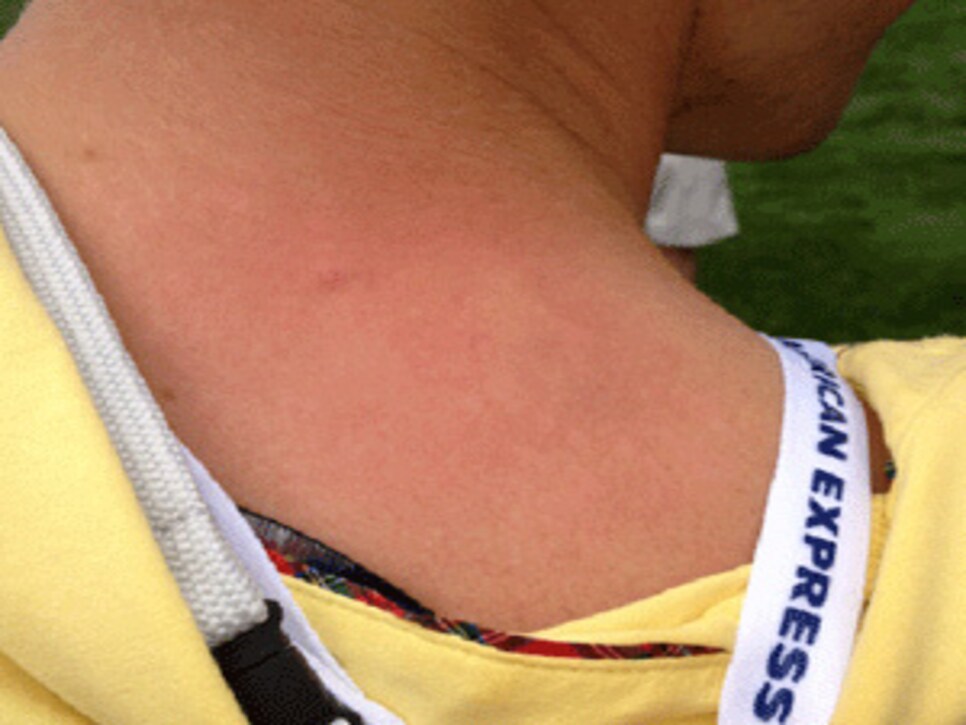 RANDOM QUESTIONS TO PONDER
Will Phil Mickelson ever win a U.S. Open?
Will Tiger Woods ever win another major?
Will any player ever wear octopus pants in a major again?