The Loop
The Grind: Chunking Tiger, hidden baboon, John Daly's big week & Paulina's baby shower
Welcome to another edition of The Grind, where we wonder when the Royal Family is going to get out to a PGA Tour event. That happening -- even at a tournament like the Sanderson Farms Championship -- certainly seems more plausible than the weird dream we had over the weekend. In it, Tiger Woods couldn't chip, a golfer dressed in a red shirt and black pants beat the 14-time major champ straight up by SEVEN shots, and he lost by 26 shots to a 21-year-old on his former home course. Crazy . . . right?
Jordan Spieth: For a second straight week, Spieth looked like a man among boys despite being, well, still a boy. The 21-year-old phenom tore apart Isleworth Golf & Country Club to finish 26 under par and beat a small, but elite field by 10 shots. Spieth remains stuck on one official PGA Tour win, but his back-to-back victories in the off-season -- by a total of 16 shots -- makes him the hottest golfer on the planet entering 2015.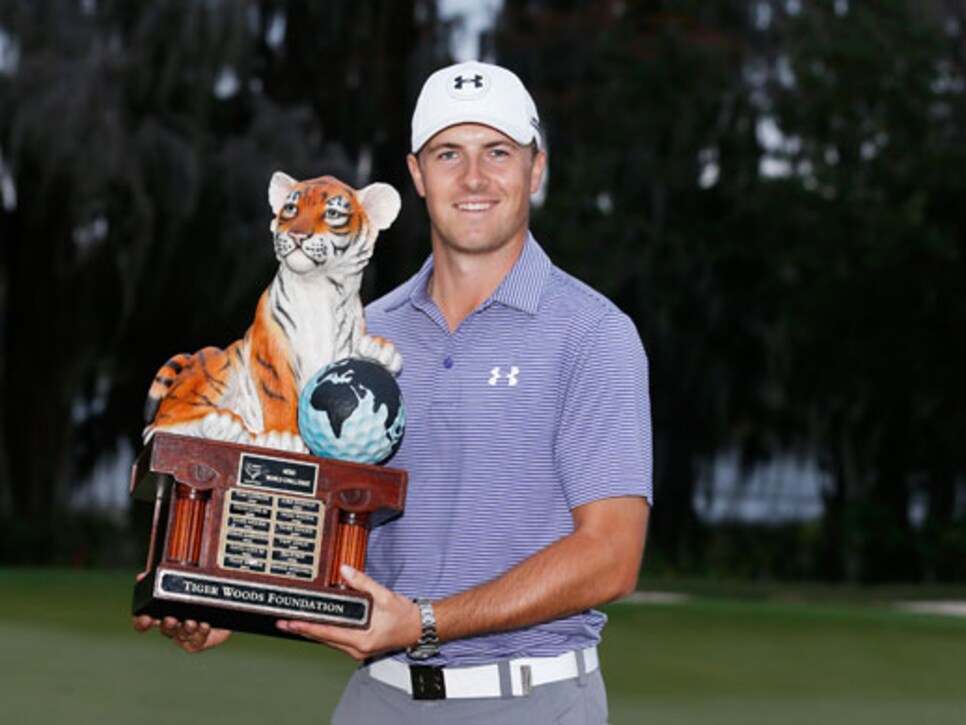 That trophy, though . . .
Cheyenne Woods: It wasn't all bad for the Woods clan. Tiger's niece came up big under intense pressure at LPGA Q School, earning her tour card for the first time. More impressive was Woods bouncing back from a 79 on Day 2 with rounds of 67, 71 and 70 to finish T-11 and earn one of 20 available spots. After, her uncle called to congratulate her. Aww. Get ready for a lot more Woods family stories like that in the new year.
Other LPGA Q School success stories: Karlin Beck chipped in to end an 11-hole playoff to grab the final tour card. Clutch! But we're most happy for Nannette Hill, who finished T-9 to lock up full playing privileges on the LPGA Tour for the first time after sitting out 2011 and 2012 with elbow injuries. Hill also happens to be a rare fellow graduate of Pelham High School and Wake Forest University. I better be getting a lot more shots the next time we play.
John Daly: You could argue that no one had as good of a week as Daly. First, he proposed to longtime girlfriend Anna Cladakis and his Loudmouth-wearing partner in crime said, "Yes." Obviously. Then, he went out and won the Beko Classic in Turkey for his first victory in more than a decade. The $8,000 (no, that's not a misprint) winner's check probably doesn't cover the cost of the rock, but hey, anything helps.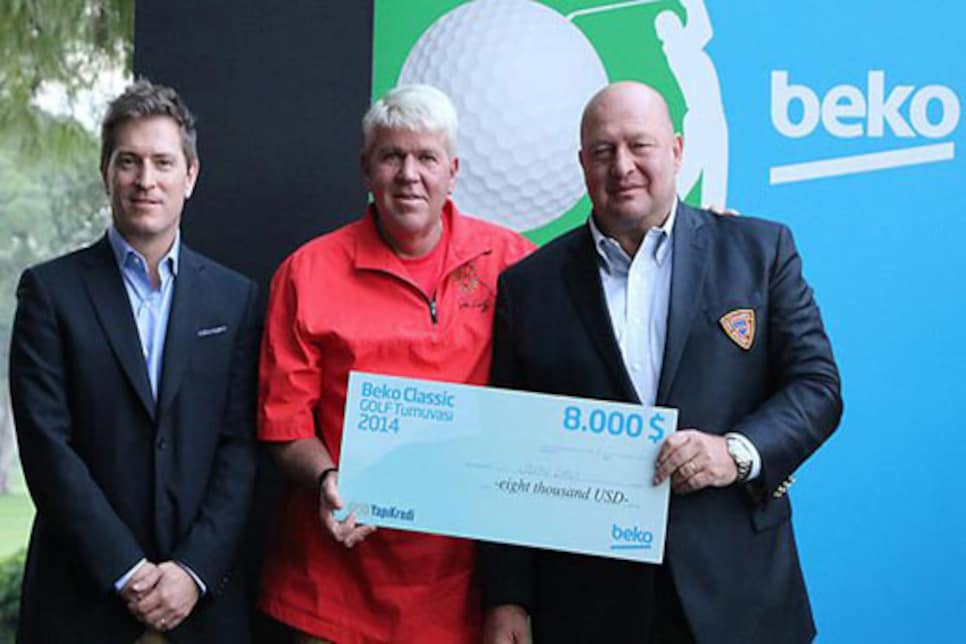 Tiger's latest comeback: Yes, he was rusty. Yes, he was using a "new" swing. And yes, he was even playing sick. But c'mon. My boss would be embarrassed if he chipped like that. Tiger's repeated chunks were a big reason why he finished tied for last place, but on the bright side, he finished. Woods' "new" full swing under Chris Como looked pretty good and he seemed to be swinging aggressively without pain. If Woods works hard enough, maybe his niece will have reason to give him a congratulatory call at some point in 2015.
Keegan's belly putter: Bradley ditched the long putter and didn't miss a beat at Isleworth finishing T-3. Afterward, he called it "one of the biggest tournaments of my career" and indicated he would keep the shorter putter in the bag for 2015 even though the anchor ban doesn't begin until 2016. Good choice by him and a good sign for others who are scared of losing their putting crutches.
Rory's winter coat: Good lord this thing was ugly: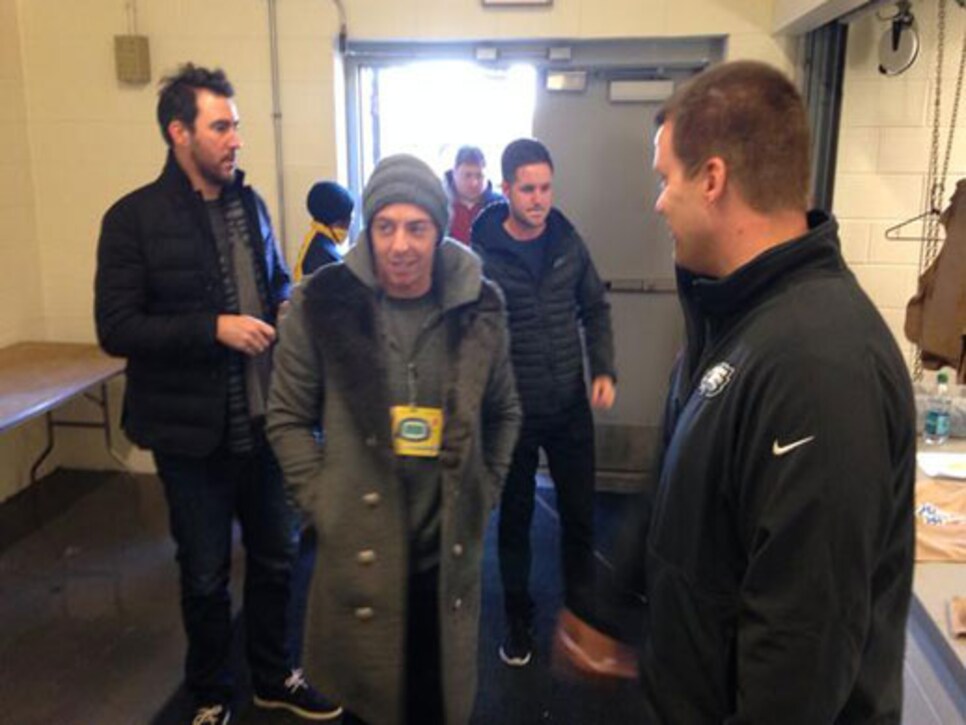 At least, it looked warm. But seriously, Rory, you need to up your coat game. Even Justin Verlander is giving the "I'm not with this guy" look.
This week's small-field, made-for-TV event is the Franklin Templeton Shootout, aka the Shark Shootout for fans of alliteration.
Random tournament fact: Fox Sports -- including event host Greg Norman -- will take its first crack at broadcasting golf, so it's somewhat of a practice round for next year's U.S. Open. As they say in show business, "Break a leg, guys."
RANDOM PROP BETS OF THE WEEK
-- Rory McIlroy will wear that coat in public again: 1 million-to-1 odds
-- Jordan Spieth will win the 2015 Masters: 16-to-1 odds (Actual odds for the No. 4 favorite behind Rory, Tiger and Adam Scott)
-- Tiger Woods will be practicing his chipping a LOT over the holidays: LOCK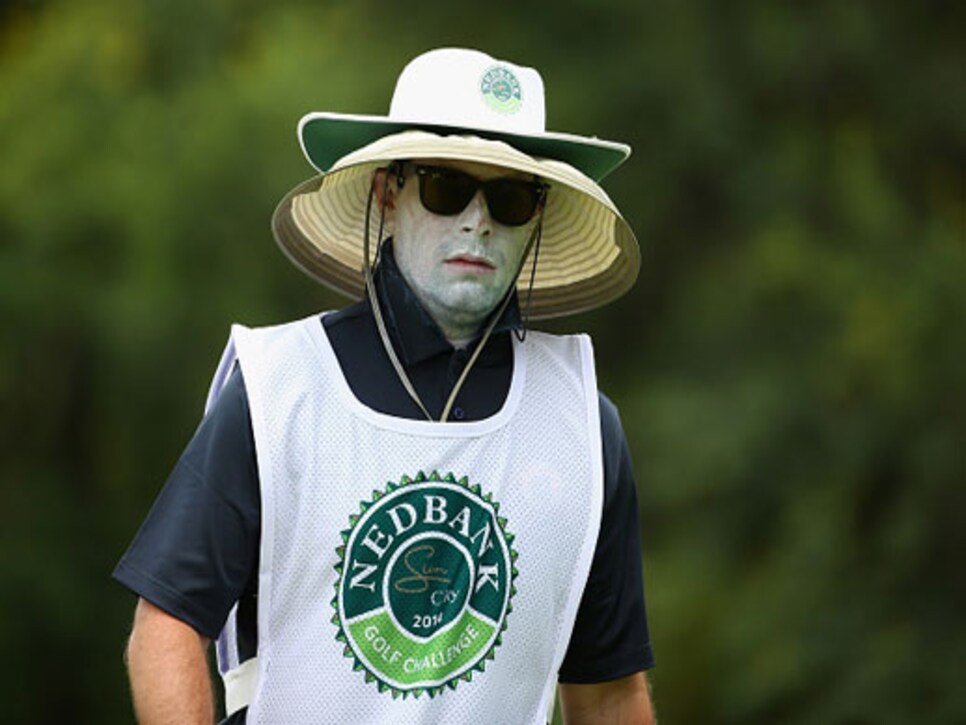 Introducing Jonas Blixt's caddie, Zak Williamson. We are big advocates of protecting yourself from the sun on the course, but was the second hat really necessary?
THIS WEEK IN NATALIE GULBIS DOING YOGA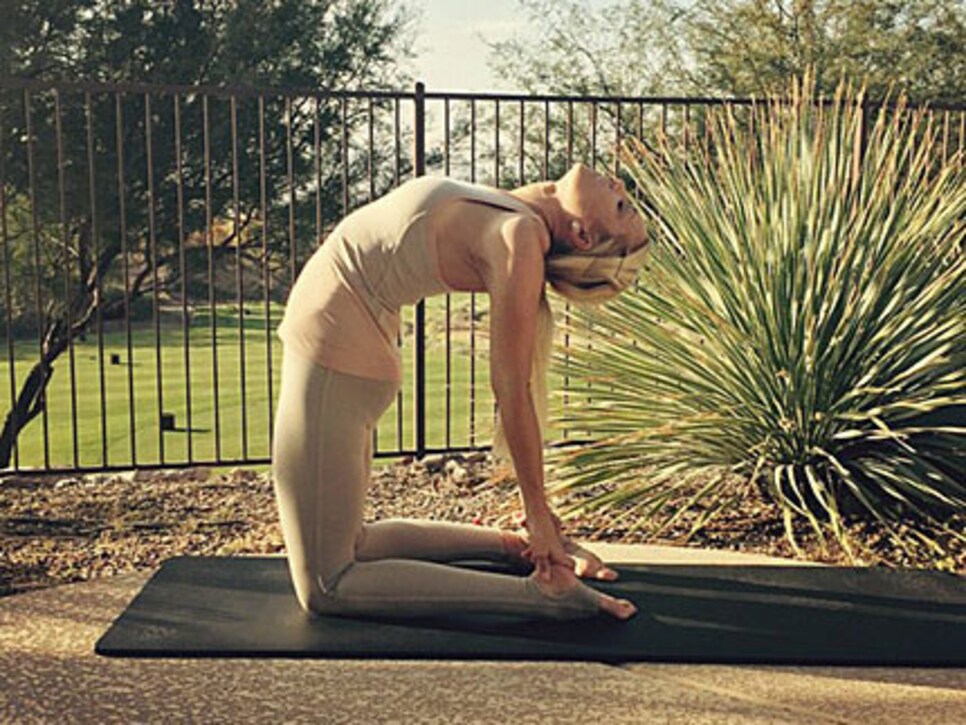 "He'll probably win the Super Bowl the day before, so not sure he'll play." -- Jordan Spieth on why he might not be paired with Dallas Cowboys quarterback Tony Romo at the AT&T Pebble Beach National Pro-Am. Aww, that's cute. Does Jordan still believe in Santa Claus, too?
And then there was this video got a lot of play after Golf Channel's "Morning Drive" showed it on Sunday:
"Baby shower with the love of my life," Paulina wrote on Instagram. Nice to see our favorite couple looking so happy. And here's another one of pregnant Paulina and friends from the fun day: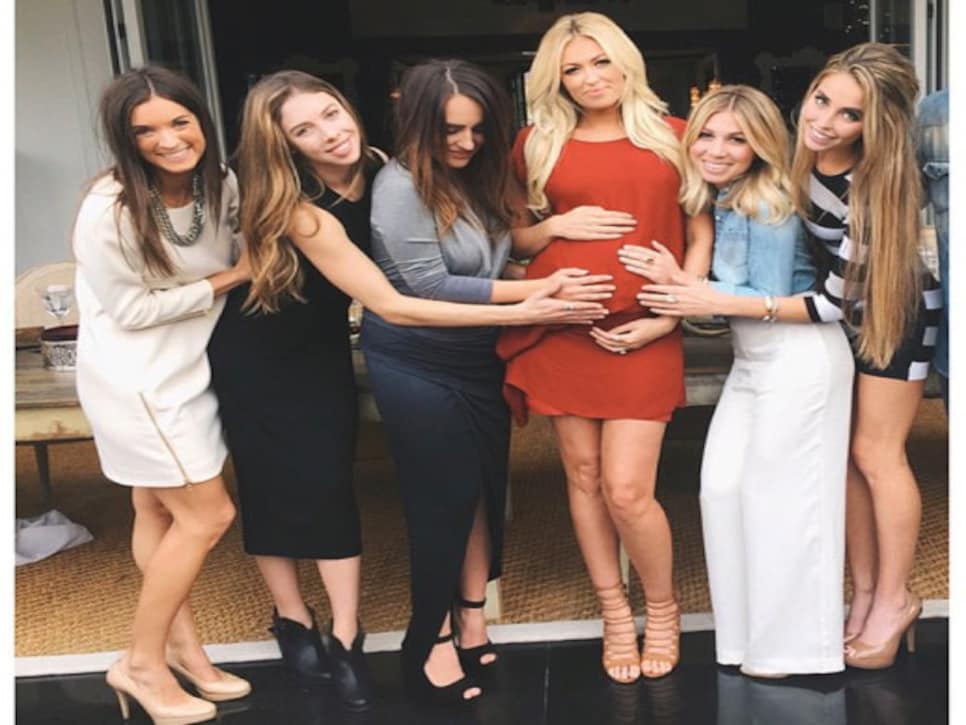 Alison Lee, a sophomore at UCLA, will turn pro after being co-medalist at LPGA Q School. Good for Lee, bad for the Bruins. . . . Danny Willett shot a final-round 66 to top Luke Donald at the Nedbank Challenge, the European Tour's season opener. Willett's key to success was good putting and avoiding baboons. . . . Madison Bumgarner, not Rory McIlroy, was named Sports Illustrated's Sportsman of the Year for 2014. Yeah, but which 25-year-old has an uglier winter coat? . . . Jacksonville Jaguars kicker Josh Scobee shot 67 just days after kicking a game-winning field goal against the New York Giants. OK, so maybe he had the best week of any golfer. . . . At some hibachi restaurants, the chef continually sprays you and your friends with sake throughout the meal at no extra charge. These are the best type of hibachi restaurants.
RANDOM QUESTIONS TO PONDER
How much sake did we drink on Saturday?
Were any other PGA Tour WAGs at Paulina's baby shower?
What pants will John Daly wear to his wedding?