The Loop
The Grind: The Bear Trap bites back, Paula's "miracle" putt, and golf's new magic number
Welcome to another edition of The Grind, where we apologize to last week's golfers for poking the bear -- "the Bear Trap", that is. We usually think the three-hole stretch at PGA National gets too much hype, but it was well deserved this time, creating back-nine carnage that must have made even USGA officials jealous.
Speaking of which, could you imagine a U.S. Open there? The water. The heat. The GATORS. The only time it hosted a major the winning score was one under and that was just a friendly PGA Championship. Something tells us Mike Davis and the boys in blue blazers could do a lot better than that. Oops, sorry again, pro golfers. We shouldn't have opened our mouths. . .
Russell Henley: In nine prior events this season, Henley's best finish was 27th -- in a 30-man field. But there he was on Sunday, birdieing the first extra hole to best a rare playoff foursome and win the Honda Classic. Henley only has two top-five finishes in his young PGA Tour career, but both are victories. We're happy for you, Russell!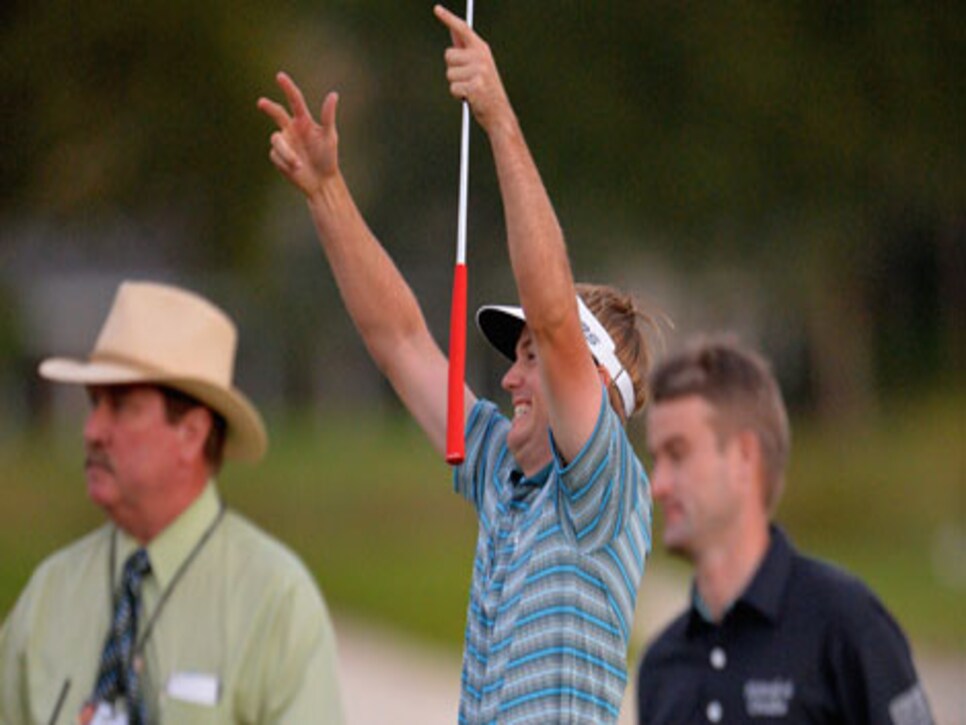 Paula Creamer: DID YOU SEE THE PUTT SHE MADE TO WIN?! OK, so you probably have by now. A few times. Still, it deserves all caps. Creamer rammed in a 75-footer to stun Azahara Munoz and pick up her first LPGA win since 2010. We're really happy for you, Paula!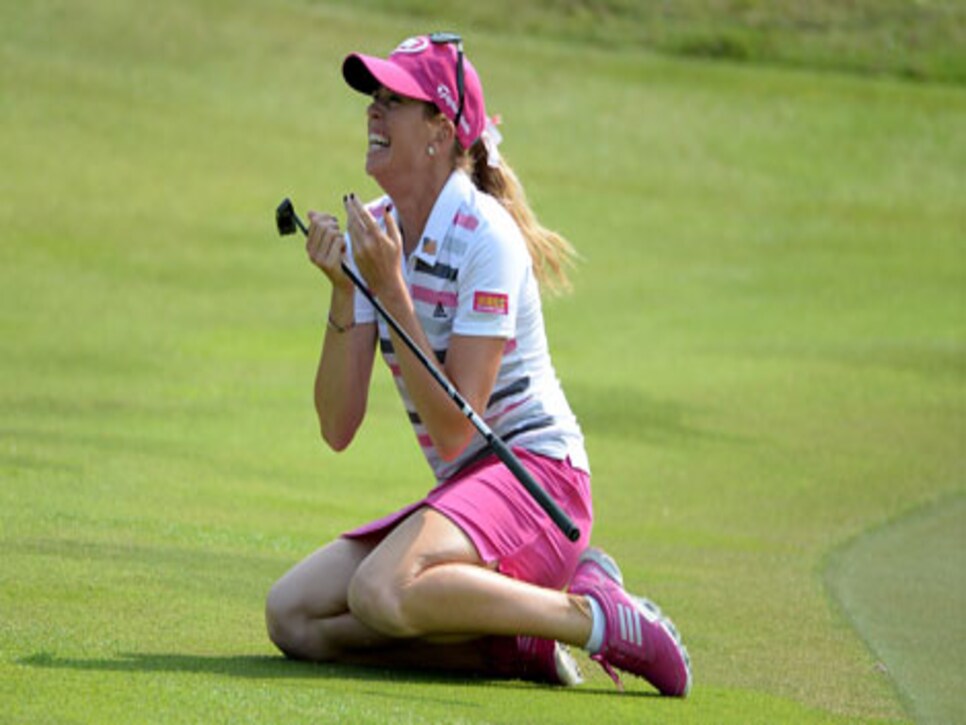 Ryan Palmer: Golf's other Palmer is probably upset he let such a good chance for a fourth PGA Tour title slip away and, well, he should be. Still, this was Palmer's second runner-up of 2014 and he's on his way to perhaps his best season on tour. But yeah, Ryan, you should have won by at least three shots.
Rick Baird: To steal a line from "The Social Network," a 59 isn't cool anymore. You know what's cool? An 18. That's right, an IT Manager from Charlotte shot a perfect score of 18 at mini-golf. In competition. The historic event, only the third ever recorded, was recently documented by Grantland (If you have seven minutes, it's well worth your time). Does this guy offer putting lessons?
Rory McIlroy: If Palmer should have won by three shots, Rory could have won by twice that. After all, he had a four-shot lead at one point during the final round on a course where he's won. Plus, his three closest challengers weren't exactly Hogan, Nelson, and Snead. McIlroy's slump is a thing of the past, but his PGA Tour winless drought is now at 17 months and counting.
Back injuries: Have you ever injured your back? It's the worst. So we feel for Tiger Woods like we felt for Phil Mickelson earlier this year. Getting old sucks, and a bad back is part of the reason why. That being said. . .
Tiger Woods: Even before Sunday, Woods wasn't exactly dazzling us with his play. A 65 playing in Saturday's first group off (playing partner Luke Guthrie matched him) was a good sign, but he spent most of the first two days testing the limits of the PGA Tour's Shot Tracker. Woods could also lose his No. 1 ranking this week if No. 2 Adam Scott wins and Woods doesn't finish in the top five. Woods has held the top spot since winning the Arnold Palmer Invitational last year and for 673 weeks overall. 673! That's three weeks shy of being ranked No. 1 for exactly 13 years.
Brendon de Jonge: Through three holes of Saturday's third round, de Jonge was at 12 under and just a shot behind leader and playing partner Rory McIlroy. Then, golf happened. He made one birdie over the final 33 holes (he had made 17 in the first 39 holes) and shot 16 over to finish T-63. We hope the "Bear Trap" nightmares don't linger long.
The PGA Tour's Scary Swing goes from the "Bear Trap" to the "Blue Monster" with the WGC-Cadillac Championship at Doral. Sorry, make that Trump National's Doral Blue Course. The Donald brought in architect Gil Hanse for a major overhaul of the Miami track and this will be its first big test. No pressure, Gil. PGA Tour players aren't fussy about the golf courses they play.
Random tournament fact: We double checked and PGA Tour players are fussy about the courses they play.
RANDOM PROP BETS OF THE WEEK
-- Tiger Woods will be doing a full Navy SEALs training regimen this week: 1 million-to-1 odds
-- Golfers will be mostly complimentary about the new "Blue Monster": Even odds
-- Donald Trump will declare Trump National's Doral Blue Course the best of its kind: LOCK
"I felt like I had a golf ball throwing it into the ocean." -- Miami Heat superstar and aspiring golfer LeBron James after his 61-point outburst against the Charlotte Bobcats on Monday night. Sounds like a lot more fun than hitting a golf ball into the ocean.
Natalie Gulbis has been doing her crunches.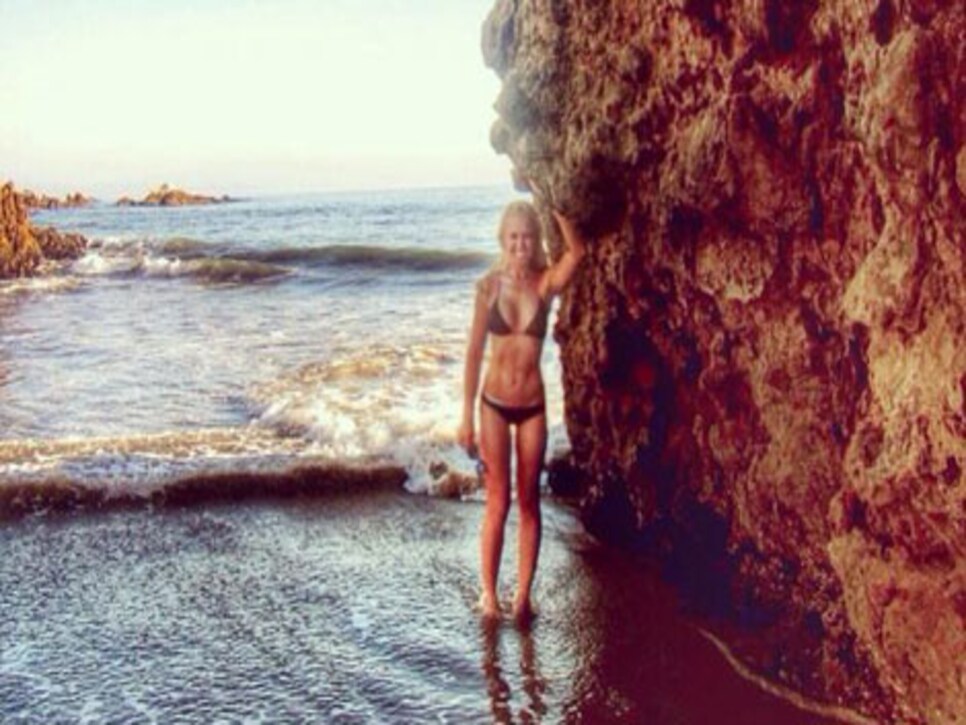 PHOTO OF THE WEEK (NOT INVOLVING NATALIE GULBIS IN A BIKINI)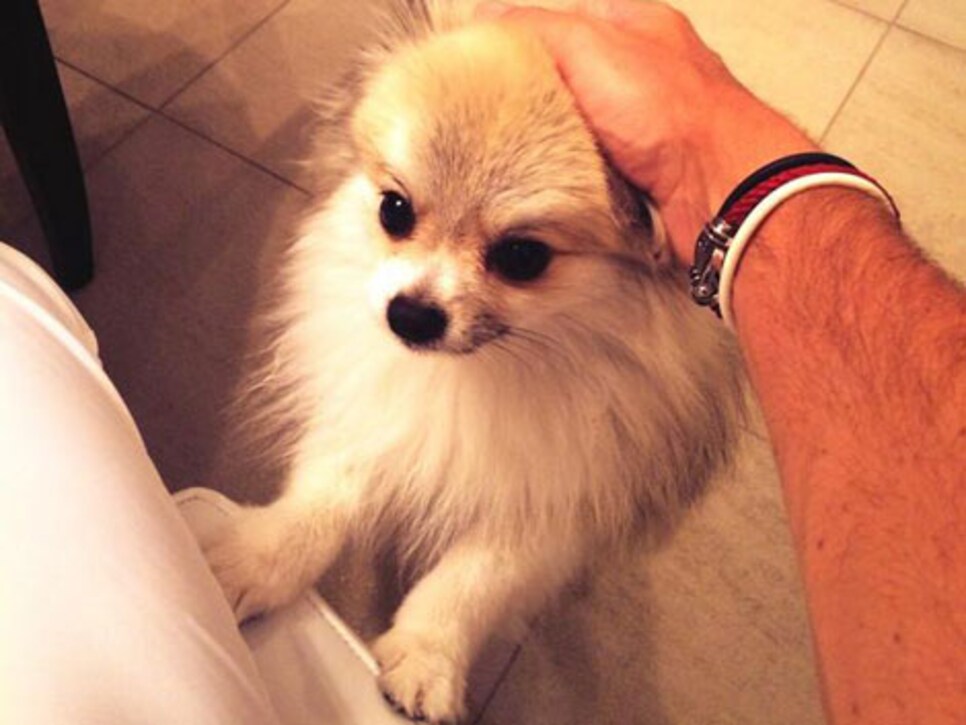 "This little guy didn't care what happened today! He was just happy he got some of my dinner! Onwards and upwards!" Rory tweeted following his playoff loss at the Honda Classic. Awww.
THIS WEEK IN PAULINA GRETZKY-DUSTIN JOHNSON AMANDA DUFNER-JASON DUFNER PUBLIC DISPLAYS OF AFFECTION
With DJ and Paulina going silent of late on Instagram, we turn to another loving couple. Amanda snapped a photo of her and Jason going out in Miami and of the surprise flowers he got her.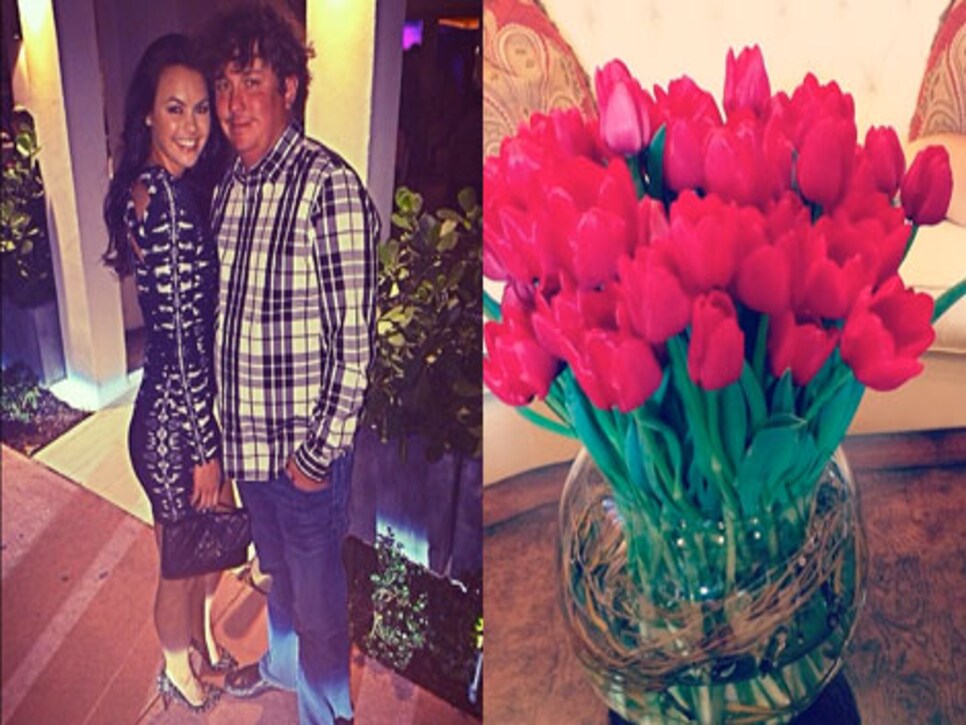 What a romantic! This guy is more suave than he looks.
How could it be anything other than Paula Creamer's "miracle" (great call by the announcer, by the way)? The only thing better than the putt itself was Creamer's reaction. We could watch this all day. In fact, we sort of did on Sunday. . .
Ross Fisher won his first European Tour title in four years at the Tshwane Open. Try saying "Tshwane Open" five times fast. . . . Stanford junior Patrick Rodgers, the nation's No. 1-ranked amateur announced he'll turn pro after this season. A Stanford golfer making it big on tour? Talk about a pipe dream. . . . Graeme McDowell's wife, Kristin, is expecting a daughter at the end of August. In other words, just after the four majors are over. Perfect timing! . . . There was a golf scene in HBO's True Detective this week, but it didn't involve celebrity golfer and now Oscar winner Matthew McConaughey, but rather co-star Woody Harrelson. Why do we mention this? Because it's an excuse to mention McConaughey and True Detective again.
RANDOM QUESTIONS TO PONDER
Who is True Detective's "Yellow King"?
What's up with golf's "(Sunday) Red King"?
Has "King James" broken 100 on the golf course yet?