The Loop
The Grind: Tiger tames TPC Sawgrass, Island fever spreads & "Nelsoning"?
Welcome to another edition of The Grind, where we've got island fever and the only prescription is... more islands! Island fairways? Fun! Island tee boxes? Pretty! Island drop areas? Cruel and fun! Imagine making a player who has already dunked a ball in the drink get into a boat and row his own way out to a solitary spot to his his next shot? Johnny Miller would have a field day! Alas, for now we'll have to settle for the excitement TPC Sawgrass' 17th hole provides us on a yearly basis. And that's not such a bad thing.
Tiger Woods. Now he's winning on courses where he's never been comfortable? The rest of the tour is really in trouble. Woods' latest win was his biggest since his return from his 2009 scandal. It also gave him four wins in a season at the earliest point of any season in his career. Of course, Woods himself has said he only characterizes a season as great if he wins a major, but he still has three more chances to make that happen in 2013. Would you bet against him?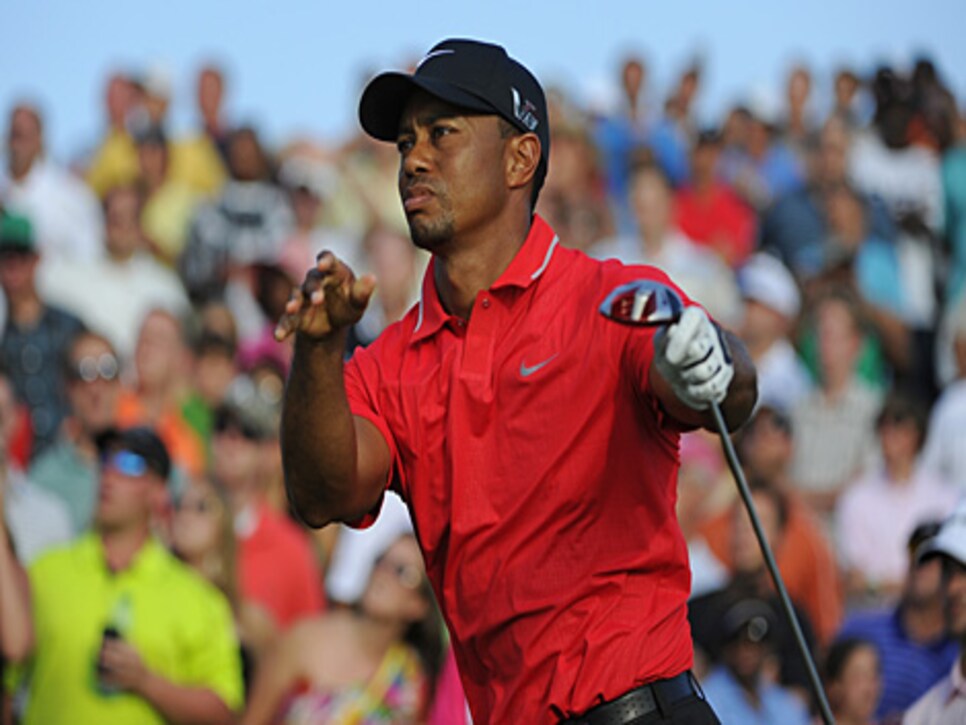 One word, two syllables: Swagger.
TPC Sawgrass. It may not host a major, but it always seems to provide major drama. No. 17 gets most of the attention from fans, but there are plenty of other spots on the course that get the attention of the players. How exciting is the Pete Dye track? Sunday proved that even a Tiger Woods three-shot lead on its back nine isn't safe.
David Lingmerth. Where did this guy come from?! Even as he entered the final round tied for the lead, the Swedish rookie remained an afterthought to most prognosticators. Yet it was Lingmerth who remained the last man standing in the latest Tiger vs. the field competition. If he can hang in like that under those circumstances, it would probably be wise for golf analysts to start practicing pronouncing his name correctly (Hat tip to Swedish colleague, Stina Sternberg). Johnny, like in your name, the "H" is silent.
Sergio Garcia. This could have been a week where the Spaniard punctuated his return as one of the game's elite players. Instead, he further solidified his reputation for both whining and coming up short in the big spot. After his controversial comments towards Woods on Saturday, Garcia had a stunning meltdown over the final two holes. We feel a little bad for him, but we feel a lot worse for his caddie, whose big payday sunk with those three water balls at the end.
People complaining about TPC Sawgrass. There was a lot of talk about how there weren't a lot of drivers hit there, especially over the weekend. While that's true, guess what? It's 2013 and players can now hit 3-woods farther than they used to hit the Big Stick. Hey, no one is stopping these guys from pulling out the driver. Also, doesn't this somewhat contradict the complaints that these guys are hitting it too far off the tee?
Vijay Singh. Here are the bullet points: Singh admits to using a banned substance, the PGA Tour comes under fire for not acting quickly, Singh is eventually cleared of a doping violation on a technicality, then sues the tour for damaging his reputation. Say what? Sorry, Vijay, but A) This doesn't seem to make much sense (Or does it?) and B) What reputation?
The PGA Tour heads to Dallas for the HP Byron Nelson Championship. Last year Jason Dufner won. Of course, he became much more famous when he returned last month for media day and by accident started a craze that became known as "Dufnering."
Random tournament fact: The late, great Byron Nelson tried to start a fad called "Nelsoning"* in which he would show up to parties randomly posing like he'd just struck a perfect golf shot. Sadly, it never caught on since none of his fellow pros at the time could tweet about it.
*Not true. But maybe we could start that. . .
WEEKLY YAHOO! FANTASY LINEUP
It's great to see our jinxing power is in full effect. First, Tiger Woods made it four-for-four in 2013 when we don't pick him. Second, unbeknownst to Sergio Garcia, we picked him to win at TPC Sawgrass, just adding to the list of things working against him. In other words, he had NO chance when he stood on that 17th tee tied for the lead.
Starters -- (A-List): Jason Dufner. The defending champ also finished T-8 in 2011.
(B-List): Keegan Bradley. Coming off a disappointing week, it'll be nice for him to return to the site of his first PGA Tour title.
(B-List): Marc Leishman. The Australian has contended at the two biggest events of 2013. It's time to take notice, especially at a course where he has three top 12s in four appearances.
(C-List): Jason Day. Has finished in the top 10 all three times he's teed it up at the TPC Four Seasons, including earning his lone PGA Tour title in 2010.
Bench -- Padraig Harrington, Jimmy Walker, Matt Kuchar, and Jordan Spieth.
We enjoyed this clip of journeyman PGA Tour pro Todd Fischer having fun with the fans at No. 17 during a practice round. Fisher purposely shanked multiple balls into the pond, while a stunned crowd probably wondered how the heck this guy ever got into the field. Our favorite part is when someone else on the tee says, "Give him a bad [ball]." Fischer also wins our award for "Well-Orchestrated Ruse of the Week."
THIS WEEK IN DUSTIN JOHNSON-PAULINA GRETZKY DISPLAYS OF PUBLIC AFFECTION
A sore subject this week. I was hoping to see the two in person, but after missing them on Day 1, what did DJ do? He withdrew for a second straight week (this time for his back, last week it was his wrist) and took off before I had a chance to stalk..um, make that follow them.
THIS WEEK IN TIGER WOODS-LINDSEY VONN DISPLAYS OF PUBLIC AFFECTION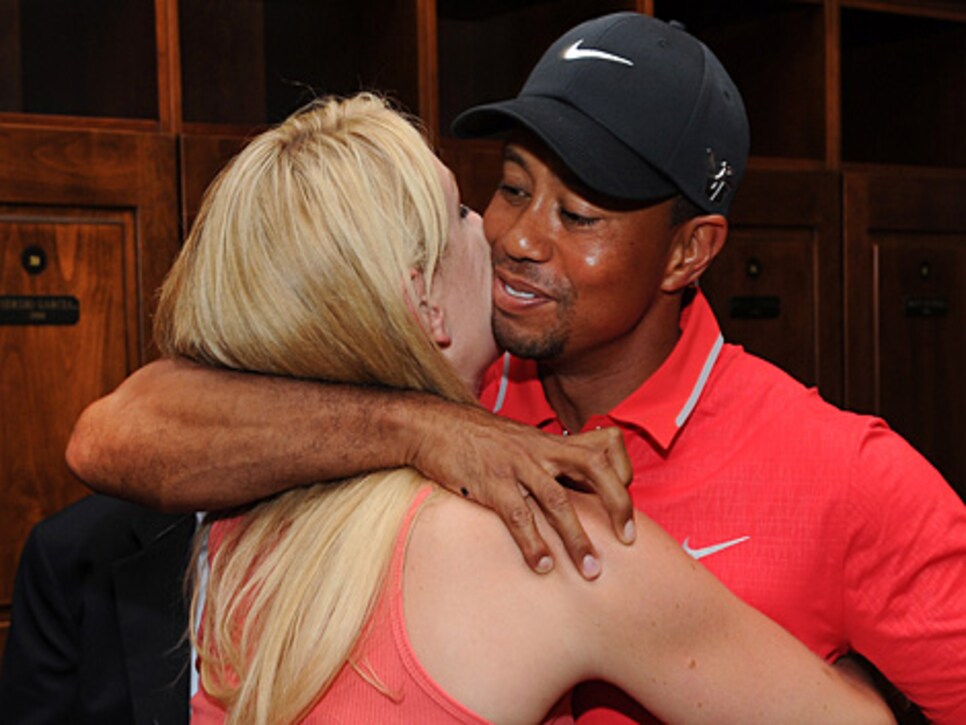 That didn't look awkward or anything. . . Hey, don't feel bad, Lindsey. Tiger's post-victory celebration with caddie Joe LaCava wasn't very smooth, either.
RANDOM PROP BETS OF THE WEEK
-- Sergio Garcia will ever willingly watch a replay of Sunday's finish: Million-to-1 odds
-- Official odds Tiger Woods will win the U.S. Open: 3.5-1
-- Unofficial odds everyone is giving Woods to win at Merion: LOCK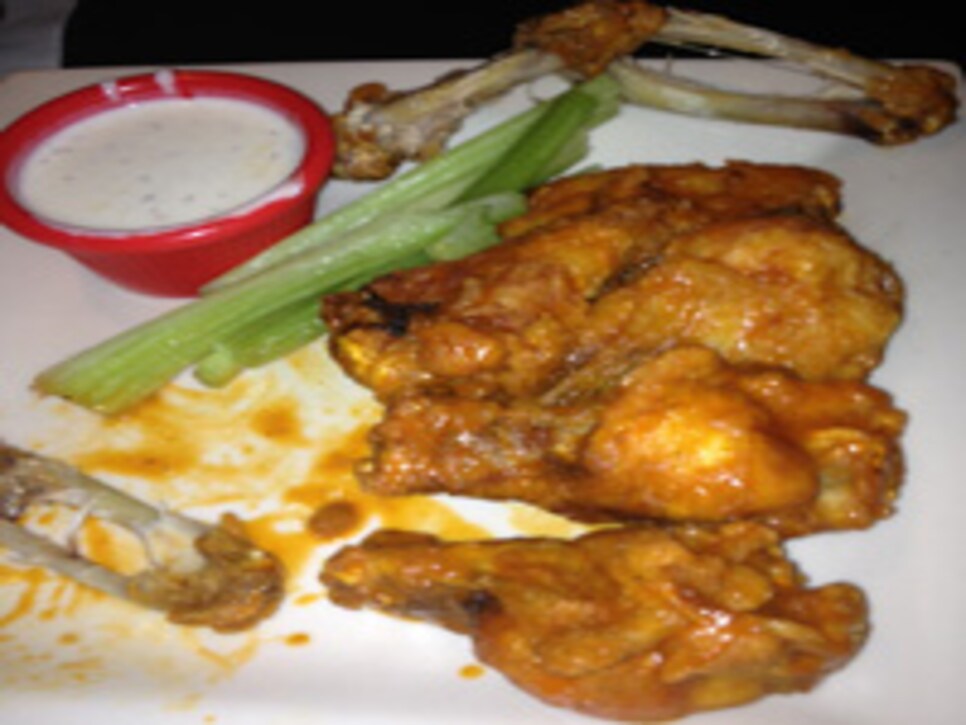 For a second straight tournament, Tiger Woods is having a drop he took questioned. Weird. Controversy never seems to follow this guy. . . . Billy Horschel's PGA-Tour best cut streak of 23 came to an end when he didn't make it to the weekend at the Players. However, I ran one of the great (disturbing?) streaks in the world to 15. I ate at the same Chili's all FIVE nights for a THIRD year in a row during my stay in Ponte Vedra Beach. Top that, Cal Ripken! Pictured are the tasty "Wings over Buffalo," which only have 68 grams of fat.
RANDOM QUESTIONS TO PONDER
Why isn't there a Chili's within an hour of me?
Why aren't there more island greens?
Where can I place a bet on Tiger?