The Loop
The Grind: Tiger "Swooshes up," DJ dresses down, & Bay Hill picks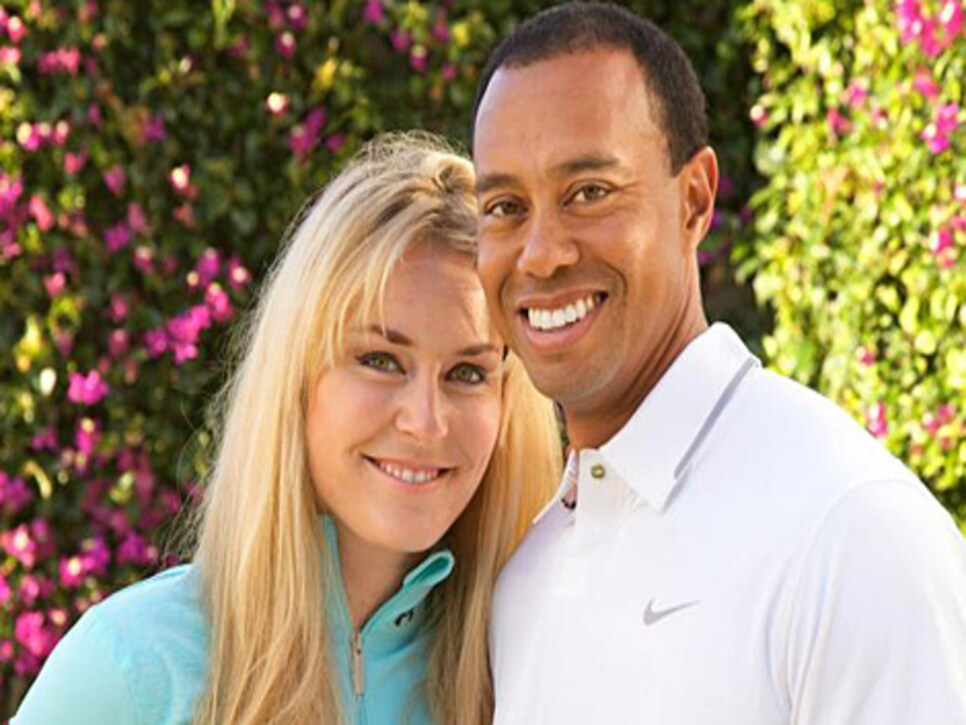 Notice how Lindsey's Under Armour logo is tough to see? Very smart, Nike...
Welcome to another edition of The Grind, where we nominate Tiger Woods as the best company man of all time.
Is there ever a situation in which he's not wearing Nike? If "Suit up" is a popular cry for men changing into dress clothes (Thank you, Neil Patrick Harris), then "Swoosh up" may as well be Tiger's fashion motto. His new photos with girlfriend Lindsey Vonn? Nike. When he goes to a sporting event? Nike. Even in this grainy pic of him at a Las Vegas night club, Woods is wearing one of his Sunday red golf shirts. We wouldn't be surprised if the suits he wears to the Ryder Cup gala are hand stitched by Phil Knight himself. Hey, whatever makes him happy. And apparently, Vonn, despite the fact that she's sponsored by Under Armour, makes him happy as well. Or maybe he just hasn't noticed that yet. . . In any matter, here's what else we've noticed: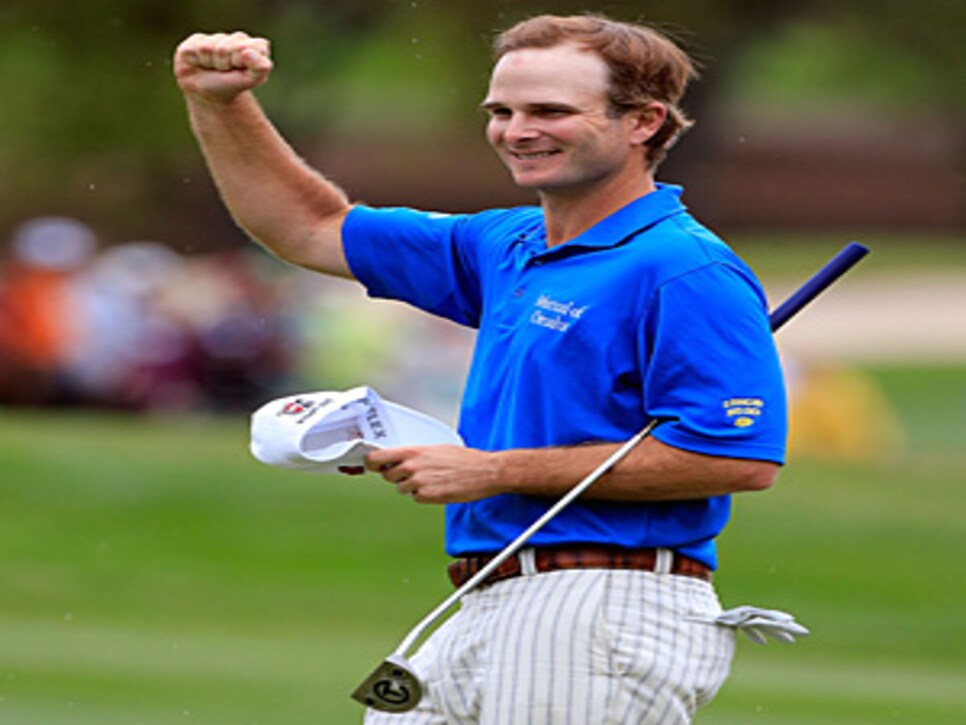 Kevin Streelman. March Madness may officially start this week, but we've already had our first major upset, as Streelman picked up his first PGA Tour title in his 153rd start. How bad were things for this journeyman? Well, from the pictures, it appears he resorted to taking a pair of Phil Mickelson's pinstripe pants.
Stacy Lewis. The new No. 1 in women's golf didn't just pick up another title, but she won after overcoming a two-stroke penalty that stemmed from a TV viewer phoning in to inform officials that her caddie had tested sand in a bunker on Saturday. Lewis thanked the person for calling in because she said it served as extra motivation. Is she from the same planet as the rest of us?
Tiger and Lindsey. OK, so the whole going public on Facebook with staged photos was a little cheesy, but good for them for making it official. Maybe more than anything, a solid relationship is what Tiger needed to really get back on track. As long as he can control his competitive spirit from racing Vonn down the slopes, of course. . .
Innisbrook. I was disappointed when I played the resort's Copperhead Course this past summer, but I blamed that on being dumb enough to take a golf trip to Florida in late July. However, I was almost as disappointed when I watched some of the world's best players take on the track in prime conditions. PGA Tour players seem to really like this course, but other than the snake statue that marks the start of the closing three holes dubbed the "Snake Pit," I didn't find anything about it very memorable.
Big names. With a watered-down field, several of the game's top players were in perfect shape to pick up a PGA Tour title heading into the weekend. But by Sunday afternoon, Adam Scott, Sergio Garcia, Jason Dufner and others had let that opportunity slip away. The result was Kevin Streelman having to track down Boo Weekley, who had posted a 63 more than three hours before. Not exactly what NBC had hoped for.
The PGA Tour concludes its Florida Swing at Bay Hill for the Arnold Palmer Invitational presented by MasterCard, aka one of those tournaments that Tiger always wins.
Random tournament fact: Woods' emphatic hat throw upon sinking the winning putt here in 2008 was the best cap spike in Florida since Steve Spurrier and his often-abused visor coached the Gators.
WEEKLY YAHOO! FANTASY LINEUP
Starters -- (A-List): Sergio Garcia. Garcia has six top 10s in 11 tries here. Psst. That guy we have on the bench, though, has seven wins here and has won both times this year we've put him on our bench. . .
(B-List): Jim Furyk. The Grinder is still having problems on Sundays, but he's playing fairly well in 2013 (coming off a T-7 in Tampa) and has three straight top 11s at Bay Hill.
(B-List): Webb Simpson. The Wake Forest product hasn't had much success at this Wake Forest legend's event, but we think that's due to change. He's also due for a win with six top 20s in eight starts so far in 2013.
(C-List): Ian Poulter. It's tough to pass on Poulter while he remains eligible as a C-List play -- especially when he finished third here last year.
Bench -- Tiger Woods (PLAY HIM), Justin Rose, Kevin Na and Ryan Moore.
RANDOM PROP BETS OF THE WEEK
-- Lindsey Vonn will come onto the 18th green to congratulate Tiger if he wins: 10-to-1 odds
-- The Arnold Palmer that Arnold Palmer is drinking will be delicious: LOCK
CELEBRITY/ATHLETE WE'D LIKE TO PLAY GOLF WITH
Steve Carell. The last three movies I've seen are Lincoln, Silver Linings Playbook, and. . . The Incredible Burt Wonderstone. Let's just say only one of these was not, um, incredible. Carell was brilliant as the clueless boss Michael Scott on the Office for seven years, but no one has had a more hit (Crazy, Stupid, Love, The 40-year-old Virgin) or miss (Evan Almighty, Date Night) run of late when it comes to movies. His latest venture falls in the latter category. Steve, let's hit the links and talk. I'm not sure your agent knows what he's doing. Ohhh, you got paid as much as $15 MILLION to be in that? Never mind. . .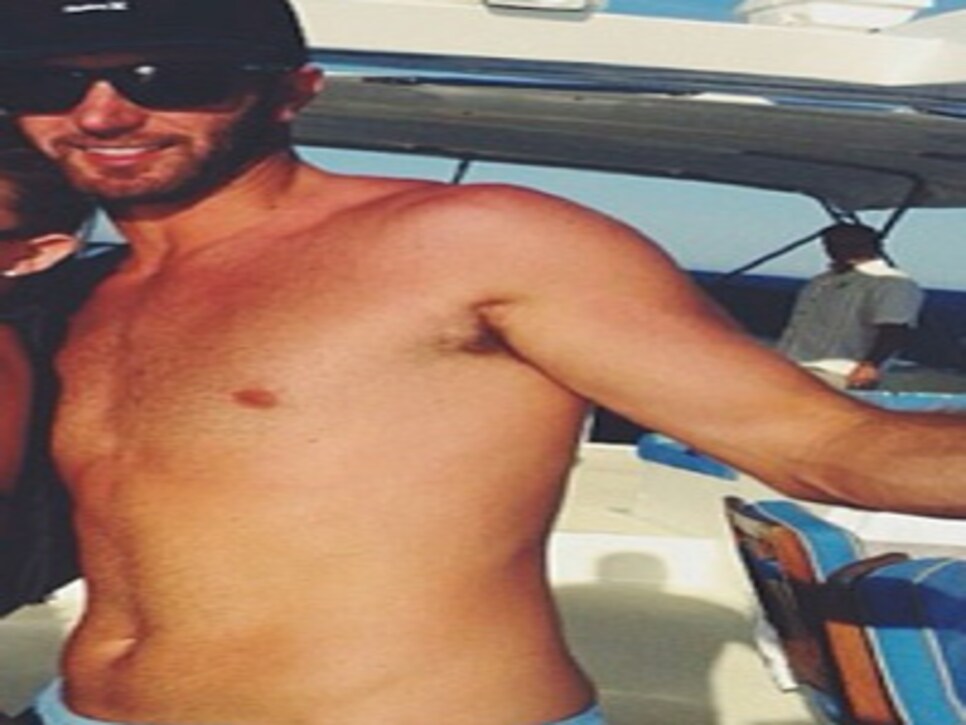 I've been getting some complaints about my pictures (mainly of Paulina Gretzky) demonstrating some sort of gender bias, so I'm going to try to be fair here. Just check out Dustin Johnson enjoying a trip to Cabo. This guy must workout. Looking go--, sorry, I can't do this. Paulina! I miss you! Below is what the photo looked like before I cropped it: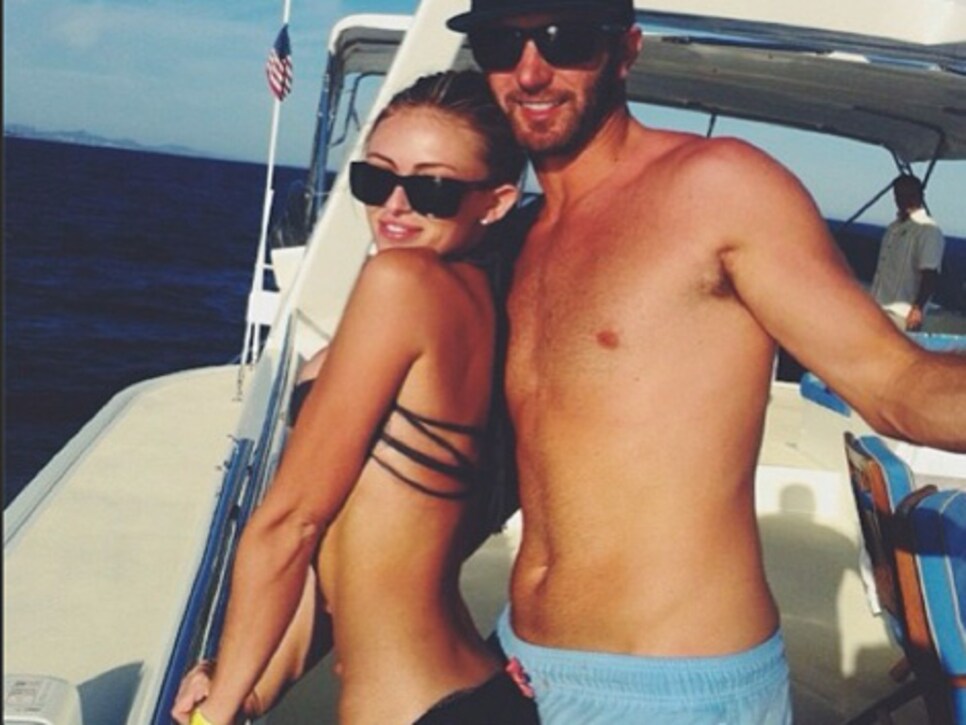 Ahhh, much better. By the way, colleague Stina Sternberg raised a great question recently: do Paulina and DJ have someone follow them around just to take pictures? If so, where do I apply for the job?
FREE MARCH MADNESS ADVICE
It's that time of year for me to enter way too many NCAA pools and burn way too much money. Yay! But since I did correctly pick Kentucky to win it all last year (Who didn't? They had an NBA team), a lot of people have been asking for my Final Four picks. And by a lot of people, I mean my mom and my grandma. But here they are: Florida, Louisville, Indiana and Wisconsin. In the finals, I have the protege, Billy Donovan, topping the mentor, Rick Pitino. In other words, you should probably stay away from the Gators and Cardinals. Speaking of gators. . .
This is an old video, but considering it happened on a Tampa golf course, it seems appropriate. Oh yeah, it's always an appropriate time to watch awesome footage of two alligators wrestling: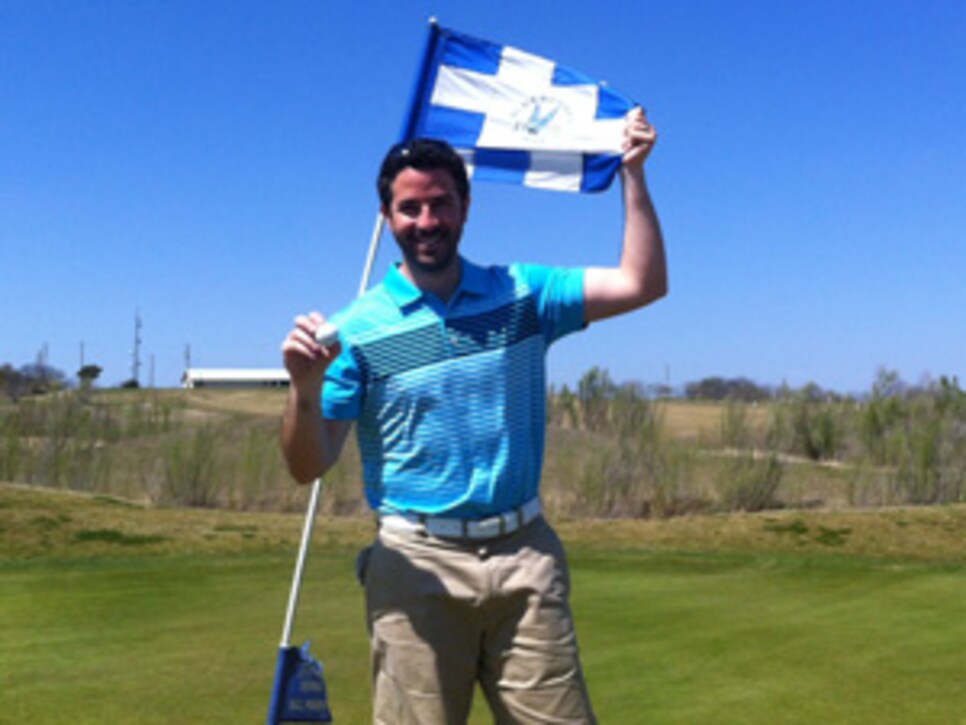 What's the good news about a guy falling down an 18-foot sinkhole in a fairway? It got Dave Shedloski to write this fantastic piece on the course. . . . Tiger Woods had a funny new commercial come out. Take a wild guess what company it was for. . . . My college buddy Jim lives in Austin, Tex., and recorded his first hole-in-one over the weekend in 80-degree weather. Congrats, Jim, but yes, I'm extremely jealous. Not only do I not have an ace, but it's still SNOWING here in the Northeast.
RANDOM QUESTIONS TO PONDER
Why do salads taste so much better when they're chopped?
Will I ever have a hole-in-one?
Will Golf Digest's headquarters ever move to a warmer location?