The Loop
The Grind: Tiger gives us hope, Kuchar keeps winning & a DLIII tattoo?
Welcome to another edition of The Grind, where we'll never feel bad about shooting a 44 for nine holes again. Tiger Woods reminded us that no one, even the game's most dominant player ever, is immune to a rough day on the golf course. So there you have it: Tiger Woods, man of the people.
Matt Kuchar. The only question is when will this guy win a major? A week after a runner-up at Colonial, Kuchar became the only person not named Tiger Woods to win twice on the PGA Tour this year. And his last three wins (Memorial, World Match Play and the Players) haven't exactly been the Reno-Tahoe Open. Luke Donald topped our ranking of the best current players without a major following the Masters, but we don't need to crunch any numbers to know Kuchar owns that title. For now. . .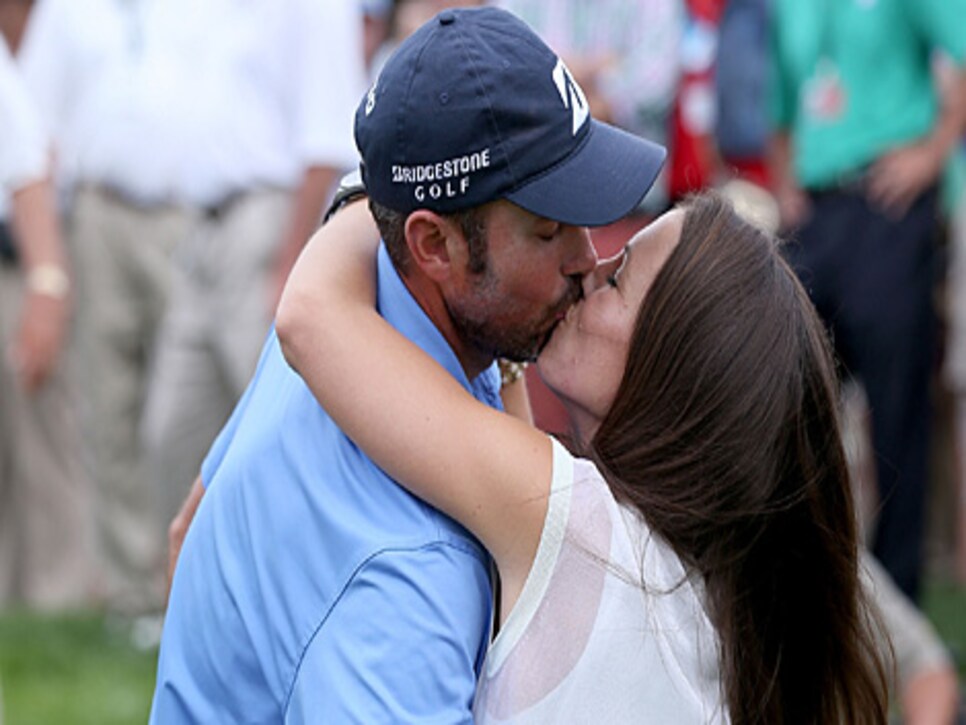 Life is good for Matt Kuchar right now. (Getty Images)
Karrie Webb. The Australian was victorious on the LPGA for the first time in two years by rallying to win the ShopRite Classic. We've always liked her since she helped us win a crude golf fantasy league while we were still in high school. True story.
U.S. Open qualifying: No one punched their ticket to Merion by parring the back nine using only a 7-iron like Kevin Costner in "Tin Cup," but there were still plenty of great stories. None more so than 18-year-old Gavin Hall, who birdied his final four holes to earn his first U.S. Open appearance.
"Spikegate". Lee Janzen should have known better than to show up to his sectional qualifier wearing metal spikes, but why are there different rules for what shoes golfers can wear at different events? Especially since the old-school steel cleats can be worn in the U.S. Open itself? The USGA should either allow them or outlaw them across the board and get rid of this gray, er, metal area.
The "Summer of Guan". Making the cut at the Masters -- a tournament the 14-year-old actually qualified for -- and even at the Zurich Classic was a great story. But now the story is being cheapened by more appearances, missed cuts and taking spots from pros trying to make a living. Besides, doesn't he have a science project that's due?
Tiger Woods' act. Nice try, Tiger. What, you don't like being considered a lock to win every tournament you tee it up in? Woods struggled mightily at Jack's place, but he's not fooling us and he's certainly not fooling Vegas oddsmakers as we approach the U.S. Open. He is still the overwhelming favorite at Merion and he'll have long forgotten about this blip come next week.
CBS. We've complained about the 30-minute (sometimes longer) gap in final-round coverage when CBS takes over from the Golf Channel before, but at least college basketball filled the void earlier in the season. On Sunday, while the final threesomes played their opening holes, CBS aired a riveting special on golf dads. We're sorry, but we get enough sap from Jim Nantz once the actual coverage starts.
The PGA Tour heads to Memphis for the FedEx St. Jude Classic, the final event before the U.S. Open. Dustin Johnson is the defending champion, but he also returns as the tour's reigning champ when it comes to spending time on a party boat.
Random tournament fact: Memphis holds a special place in our hearts since its NBA team, the Grizzlies, plays in an arena that is affectionately known as "The Grindhouse." Need we say more?
WEEKLY YAHOO! FANTASY LINEUP
Starters -- (A-List): Charles Howell III. With nine top-25 finishes and a couple of close calls already this season, CH3 is our pick to finally pick up career win No. 3 this week.
(B-List): Scott Stallings. If you need a guy to finish T-4, Stallings is your man. His latest at Memorial gives him three such finishes in 2013.
(B-List): Josh Teater. The 34-year-old has three top-10s this year. Perhaps more impressive, though, is the fact that he made it through qualifiers for both the U.S. and British Opens in the past two weeks. (UPDATE: Teater was a late scratch, so we'll move Fredrik Jacobson from the bench into this slot.)
(C-List): Robert Karlsson. The Swede has never won on the PGA Tour, but he has two playoff losses in Memphis.
Bench -- Brandt Snedeker, John Merrick, Cameron Tringale and Billy Horschel (In for Jordan Spieth, another late WD).
In case you missed it, this trick-shot video is INCREDIBLE: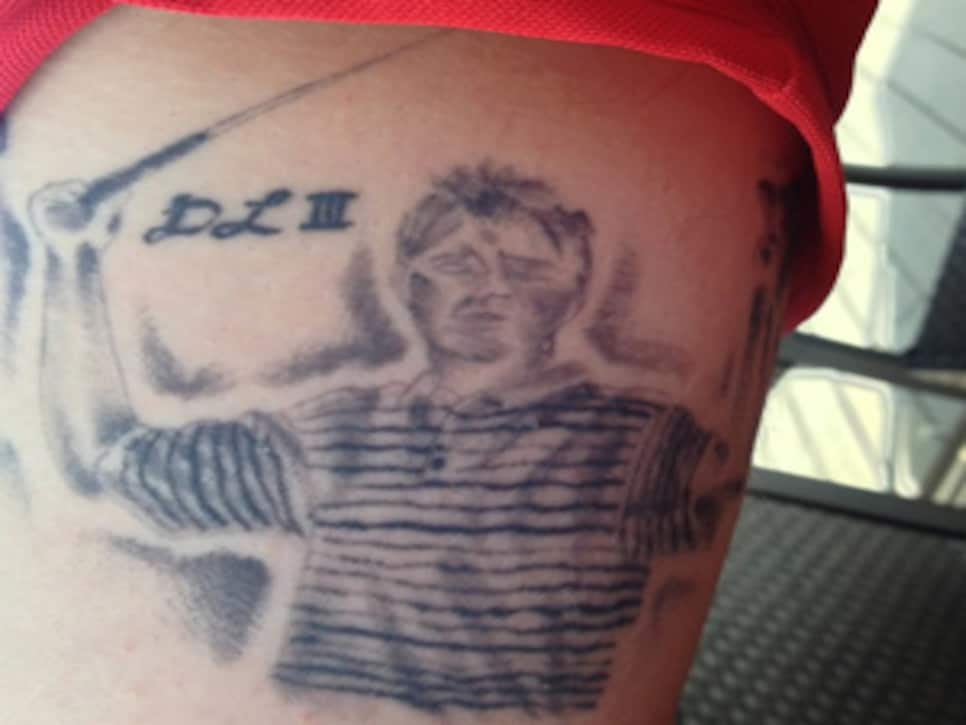 Some dude named Alex (I swear it's not me!) wrote into Deadspin with this pic of a Davis Love III tattoo. Has there ever been a more random tattoo? Unless of course, 'Alex' is just a code name for a golfer who was really desperate to earn one of Love's Ryder Cup captain's picks last year. It all makes sense now. . .
RANDOM PROP BETS OF THE WEEK
-- Phil Mickelson will help Tianlang Guan with that science project: 5-to-1 odds
-- Dustin Johnson will actually play four rounds of golf this week: 10-to-1 odds
-- Somewhere, Tiger Woods will be practicing his putting. A lot: LOCK
THIS WEEK IN DUSTIN JOHNSON-PAULINA GRETZKY DISPLAYS OF PUBLIC AFFECTION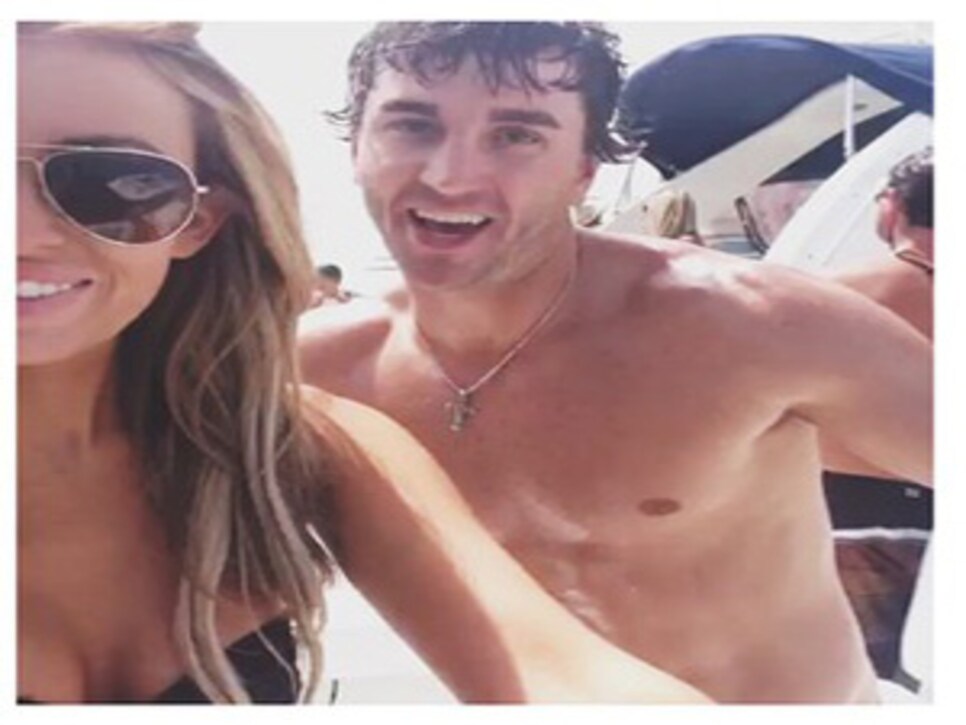 Aww, how cute. Wait a minute, that's not Dustin! Nope, it's his brother, Austin. Does this mean the DJ-PG relationship is headed toward some sort of tragic soap opera-like ending? Probably not. Last week, Paulina called the trio "The 3 Amigos" and this week, she posted this photo and wished Austin a happy birthday. No, he just likes being a third wheel and who can blame him? The guy basically lives on a beach drinking tropical drinks all day.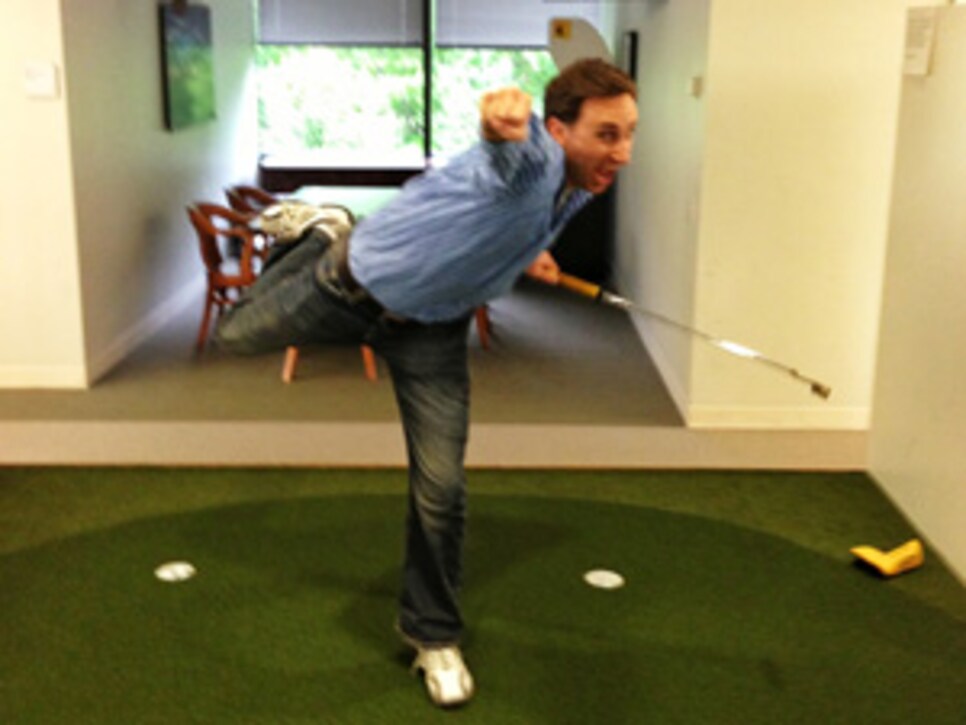 RANDOM QUESTIONS TO PONDER
Why isn't Phil Mickelson on Twitter?
Will the traffic by my work exit ever be finished?
Does someone really have a Davis Love III tattoo?