The Loop
The Grind: Broken windshields, too much Guan and a historic streak on the line
Welcome to another edition of The Grind, where we've had this week circled on our calendars all year. No, it's not the U.S. Open, but it is Crowne Plaza Invitational week, and that means we'll be trying to extend our improbable streak of predicting the past two winners at Colonial.
In other words, we're going for the "Grind Slam" (Copyright pending). And while a fantasy golf achievement may not garner the notoriety of the Grand Slam or the Tiger Slam or Byron Nelson's 11-tournament winning streak, it should because prognosticating the sport is only getting more difficult. Have you watched a non-Tiger PGA Tour event lately?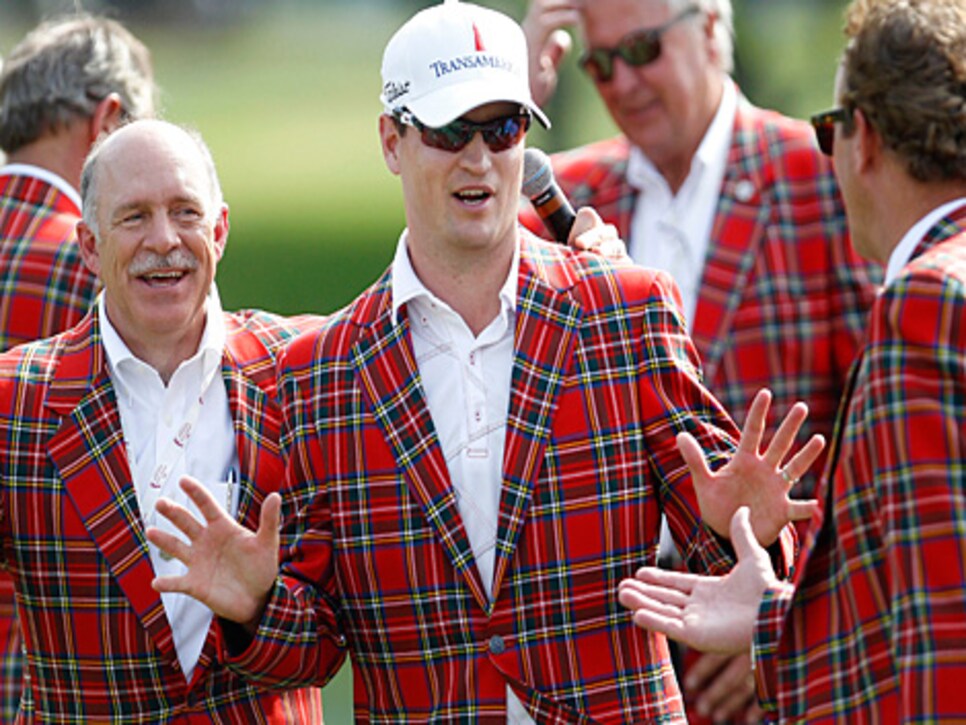 "Guys, this isn't even close to my ugliest jacket."
Sang-Moon Bae. We're especially happy for the latest surprise winner on the PGA Tour. Why? Because no one has ever been a victim of more bad geography jokes in history.
Oklahoma State golfers. First, Peter Uihlein picks up his first professional win at the Madeira Islands Open. Then another former Cowboy, Morgan Hoffmann earns his best PGA Tour finish with a T-5 at the Byron Nelson. Rickie Fowler better watch out or he might not be the most famous orange-wearing tour pro soon.
American women golfers. Stacy Lewis became the first U.S. woman golfer to win the LPGA's Player of the Year in 18 years last season, but she has company. Cristie Kerr won earlier this season and last week Jennifer Johnson picked up her first LPGA win in Alabama. Add in popular and talented players like Paula Creamer, Natalie Gulbis, Michelle Wie and Lexi Thompson and there's no excuse for U.S.-centric fans not to watch the LPGA anymore.
Martin Kaymer. Remember this guy? He's German? He won the 2010 PGA Championship? He was ranked No. 1 in the world? He sunk the winning putt at last year's Ryder Cup? Well, the 28-year-old finished T-5 in Dallas, perhaps indicating a return to the glory days way back when he was 26-27.
Anchored putting. USGA President Glen Nager couldn't have said it any better when he stated "It can never be too late to do the right thing." Golf's founders may not have had the foresight to see this becoming an issue, but we're pretty sure they never envisioned guys putting with broomsticks tucked into their chests, either.
Cruel timing. We're happy 14-time winner and longtime golf announcer Ken Venturi was elected to the Hall of Fame before he passed away, but we're sad he was passed over long enough to the point he was unable to attend his own induction ceremony. If golf can elect players who are still in their prime, why does it wait so long to give others their proper due?
Guan's latest sponsor's exemption. It was fun while it lasted. Tianlang Guan dazzled us all by making the cut at the Masters and the Zurich Classic before finally coming up short at the Byron Nelson. But now he's getting an invite to the Memorial, a limited-field event, as well? We're sorry, but enough is enough, especially when he's taking away precious spots from tour pros. Not to mention, Jason Dufner has probably seen the inside of a classroom more than this 14-year-old over the past couple months.
As mentioned, the PGA Tour stays in Texas for the Crown Plaza Invitational. Last year, Zach Johnson overcame a red-hot Jason Dufner (Dufsanity!) and a brain cramp on the final hole to win. ZJ received a two-shot penalty when he didn't move his mark back to its original spot before holing his final putt. Good thing he did or we would have had #Markgate on our hands!
Random tournament fact: Like the RBC Heritage, the winner at the Crowne Plaza Invitational dons a plaid jacket. Unlike the Heritage, this event can claim that Ben Hogan wore its ceremonial piece of clothing five times. Advantage: Crown Plaza Invitational.
WEEKLY YAHOO! FANTASY LINEUP
While we have an incredible two consecutive correct predictions here, we also have a heartbreaking streak of two straight weeks our pick has shared the lead late on Sunday before coming up short. Hopefully, Mr. Hogan's spirit will put us over the top. Again.
Starters -- (A-List): Tim Clark. A former runner-up here is our pick as we look for the unimaginable trifecta. He also happens to be one of the most vocal supporters of anchored putting. Fight for what you believe in, Tim!
(B-List): Zach Johnson. Coming off a disappointing week, it'll be nice for him to return to the site of his first PGA Tour title.
(B-List): Matt Kuchar. The "Matt Kuchar Rule" states this guy can't have two bad performances in a row. Maybe we need to change that to he can't have four mediocre performances in a row. . .
(C-List): Kevin Streelman. A winner in Tampa, he is quietly the hottest player on the PGA Tour not named Tiger Woods with three straight top-six finishes.
Bench -- Jason Dufner, Fredrik Jacobson, Bo Van Pelt and Rickie Fowler.
Mike Miller, an up-and-coming amateur who I had the pleasure of covering when he was in high school, had quite a day last week. Playing in a pro-am, he made two eagles and a hole-in-one that won him a two-year lease on a Lincoln. But then this happened when he tried to imitate Rich Beem's celebration for winning a car with an ace in 2007: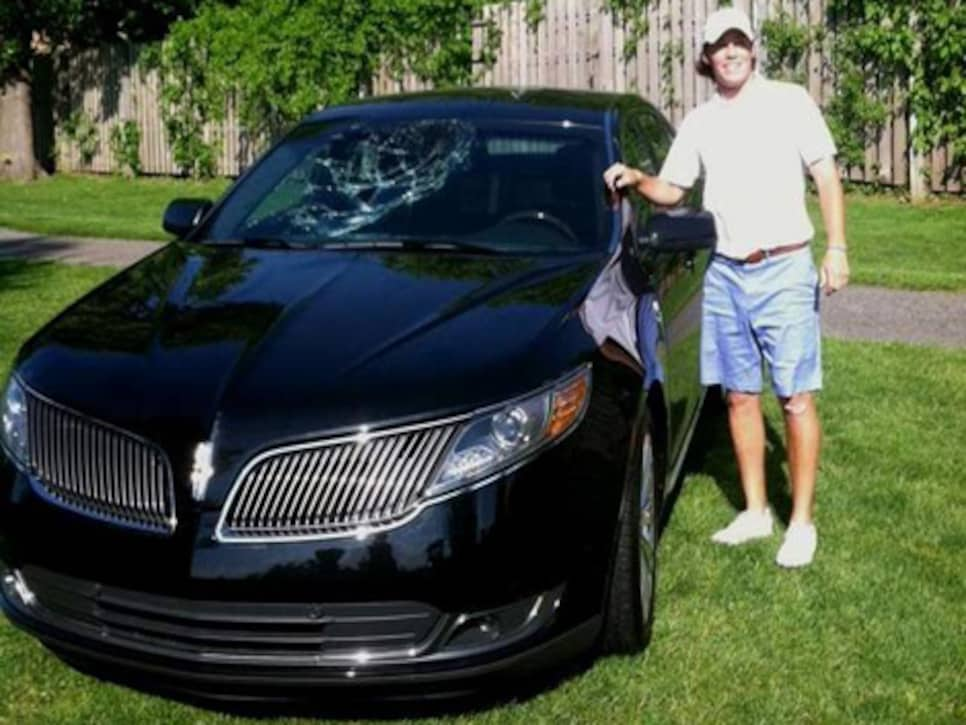 In the words of Ron Burgundy after jumping into the bear pit at the end of Anchorman: "I immediately regret this decision."
Nicolas Colsaerts had to take relief from a toilet during the Volvo World Match Play. No, seriously. And yes, this will probably be the easiest video to choose for this spot all year.
RANDOM PROP BETS OF THE WEEK
-- Zach Johnson will get penalized again for putting from the wrong spot: Million-to-1 odds
-- Tim Clark will win now that we've boasted about our streak: TEN Million-to-1 odds
THIS WEEK IN DUSTIN JOHNSON-PAULINA GRETZKY DISPLAYS OF PUBLIC AFFECTION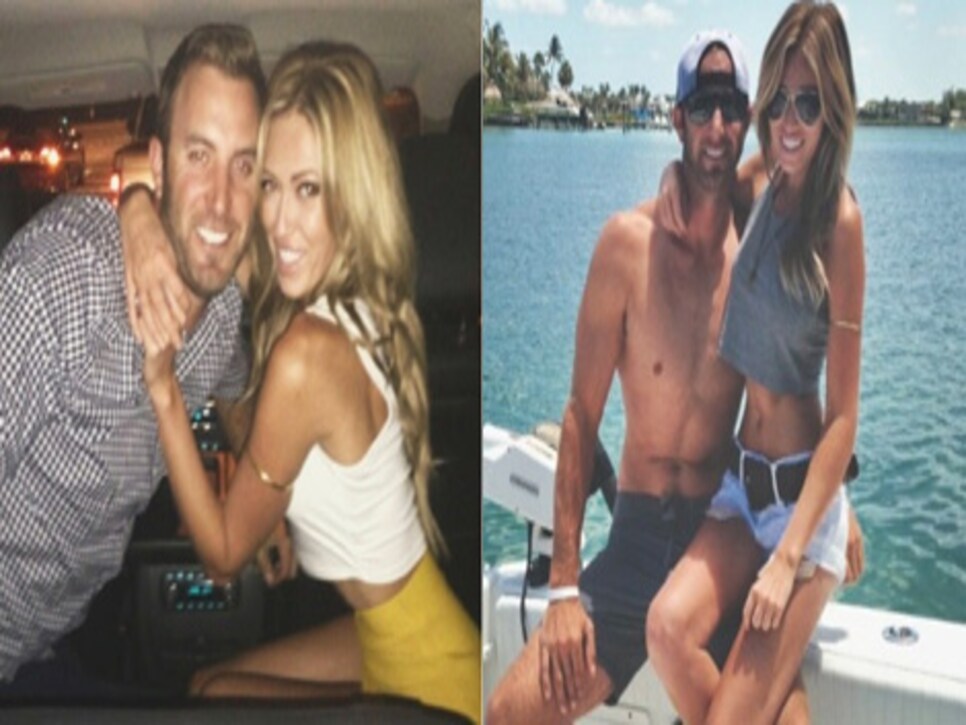 Two observations: 1. I think I have that shirt. 2. Is that a bracelet around her arm?
THIS WEEK IN TIGER WOODS-LINDSEY VONN DISPLAYS OF PUBLIC AFFECTION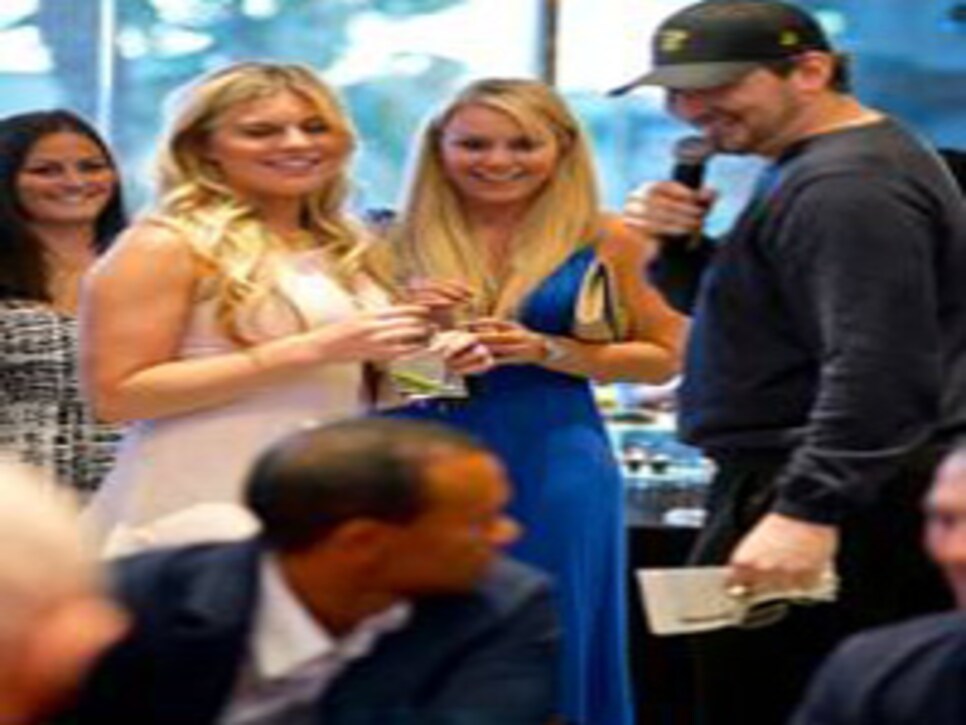 Lindsey watches Tiger play poker during his Tiger Jam charity event in Las Vegas. Hey, it's not much, but perhaps when it comes to Tiger, Vegas and girls, the less we see and hear, the better.
Tiger Woods doesn't plan on making nice with Sergio Garcia. Good, it gives us more to talk about. Now if only the USGA would pair them together next month at Merion. . . . This week marks the 10-year anniversary of Annika Sorenstam's historic round(s) at Colonial. Something tells me Vijay Singh isn't throwing a party at his house for people to come and watch the new Golf Channel documentary. . . . [#image: /photos/55ad71aab01eefe207f68416]|||blog-chocolate-cookies.jpg|||
These chocolate chip/chunk cookies from Costco are the best chocolate chip cookies EVER. Um, make that second best. Sorry, mom!
RANDOM QUESTIONS TO PONDER
Would Ben Hogan have liked Twitter or fantasy golf? (Nope)
Does Vijay Singh have any regrets? (We hope)
Will Tim Clark make the "Grind Slam" a reality? (Not a chance)