The Loop
The Grind: The man, the myth, the Mickelson, royal babies & Canadian Open picks
Welcome to another edition of The Grind, where we had a dream that Phil Mickelson shot one of the greatest final rounds ever to win the Open Championship. Wait, that actually happened? Seriously, as unpredictable as pro golf has become, there have been three certainties the past two decades: Death, (high) taxes -- something Phil addressed earlier this year -- and Phil Mickelson being a non-entity at the British Open. Whoops. Better make that two certainties.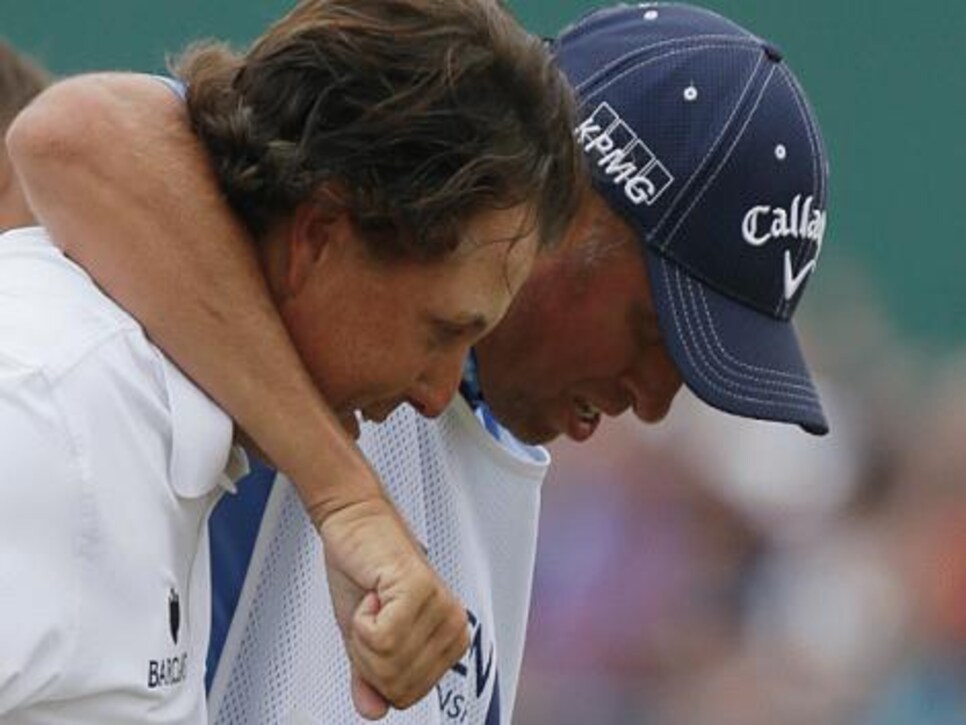 Phil kept his emotions in check after his win. Bones? Eh, not so much.
Phil Mickelson: How good was that? A final-round 66 while others hacked their way out of Muirfield's hay and bunkers? After Thursday's round, Mickelson tricked everyone into thinking he might not be 100 percent engaged by complaining about the R&A's setup of the course. But then he hung around until finally making his move late on Sunday, providing a knockout punch  with birdies on four of his final six holes. Even Muhammad Ali would be proud of that rope-a-dope performance.
Muirfield: Outside of a few questionable pins, most notably on Thursday, the course played fair and tough. Mickelson pleaded with the R&A to set the course up so the best players could win. Whatever they did worked. Muirfield's leader board down the stretch was chock full of A-list names and it produced yet another Hall of Fame winner. In the nine-course rota, only St. Andrews is slated to host an Open Championship every five years. Perhaps this links deserves the same treatment.
Phil Mickelson: He gets two spots this week because, well, that was a legendary effort. It's amazing, but at 43, he's playing the best golf of his life. In a little over a month, he's won the British and Scottish Opens, and come agonizingly close to capturing the U.S. Open. What will Phil do next? Win the PGA Championship? Win the "Mickelslam"? Miss his next five cuts? Become an astronaut? The possibilities are endless with this guy.
Lee Westwood: The stars seemed aligned for Westy to finally get his first major, but the Brit came up short once again. Despite an eighth top-3 finish in a major in the past five years, he remains 0-for-62. To his credit, he handled his latest close call well. Then again, he's had a lot of practice.
Tiger Woods: As predictably good as he used to be in the biggest moments, he's now as predictably bad. The lost weekends at major championships are piling up and despite putting himself in position through 36 holes to end his five-year drought, Woods still hasn't been a serious factor on the back nine Sunday since returning from his 2009 scandal. Despite his four wins on the PGA Tour in 2013, something is still missing mentally in majors. There's just too much evidence to ignore at this point.
Hunter Mahan: For a second straight major, Mahan found himself in Sunday's final group. And for a second straight major, he shot a final-round 75 and wasn't a factor down the stretch. A T-9 followed by a T-4 at the U.S. Open is pretty solid, but those finishes also could have been a lot better. Oh, and his bogey on the final hole of regulation dropped him out of the top six and cost me a few pounds. Thanks a lot, Hunter. With that money I could have actually afforded to buy something at the Open Championship merchandise tent.
The PGA Tour heads to Ontario for the RBC Canadian Open. Sadly for our neighbors to the north, a Canadian has won the country's national championship only once in the past 99 years.
WEEKLY YAHOO! FANTASY LINEUP
Starters -- (A-List): Brandt Snedeker: Where's that guy who was the hottest player in golf to start the season? He returns this week with a win.
(B-List): Luke Donald: At least he should be well rested after a short week at Muirfield.
(B-List): David Hearn: The Canuck opened this event with a pair of 68s last year before faltering over the weekend. He's also coming off a playoff loss at the John Deere Classic.
(C-List): Charl Schwartzel: It's been too long since the South African has won on tour.
Bench: Graeme McDowell, Daniel Summerhays, Bud Cauley and Hideki Matsuyama.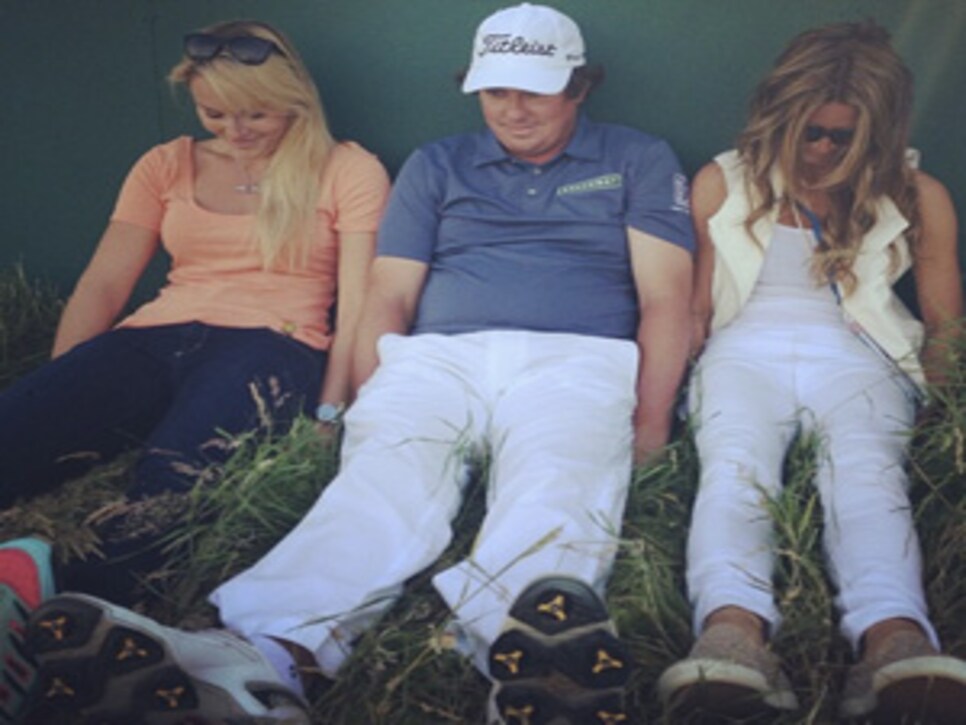 Lindsey Vonn and Fred Couples' girlfriend, Nadine Moze, get a lesson in #Dufnering from the master of the move himself, Jason Dufner. Good form, ladies!
We should have expected some Phil Mickelson magic after he pulled off this shot in a Monday practice round at Muirfield:
If you don't think he took a few bucks off playing partner Scott Piercy by pulling off this shot, you don't know Phil Mickelson. Speaking of gambling. . .
RANDOM PROP BETS OF THE WEEK
-- Prince William and Kate Middleton will name the royal baby Phil: 5-to-1 odds
-- Phil Mickelson is feeling so good about his golf game that he'll wager his claret jug in his next practice round: 2-to-1 odds
-- This week's tournament won't be as exciting: LOCK
Woody Austin picked up his first PGA Tour title in six years at the Sanderson Farms Championship. Wait a minute, there was another PGA Tour event going on last week? . . . Harris English was sitting behind me in coach on our flight back from Edinburgh. This, even after a T-15 at Muirfield and a recent win in Memphis. My man! . . . I wasn't a big fan of Scottish food, but these mouth-watering muffins from the media center helped sustain me through a long week. I had at least one six days in a row, a streak my colleagues suggested could rival my eating at Chili's each of the last 15 days I've spent at the Players Championship the past three years.
RANDOM QUESTIONS TO PONDER
How many majors will Phil end up with?
How many majors could Phil have ended up with?
What was Phil's drink of choice from the claret jug? Man, that must have tasted good.