The Loop
The Grind: Ted Bishop's exit, Halloween costume ideas, and the pressures of celebrity golf
Welcome to another edition of The Grind, where we suggest being Ted Bishop if you're looking for a last-minute Halloween costume. Just wear a lot of USA-themed golf clothes and come armed with an outdated sense of humor. Bonus points if you rent a golf cart (make sure the party's venue isn't walking only) and chauffeur around an inflatable Tom Watson. OK, so you'll probably have to explain it to everyone even if you pull off the entire look. But when you win that first-place prize in the costume contest and recoup about one tenth of the money you spent, it'll be sooo worth it.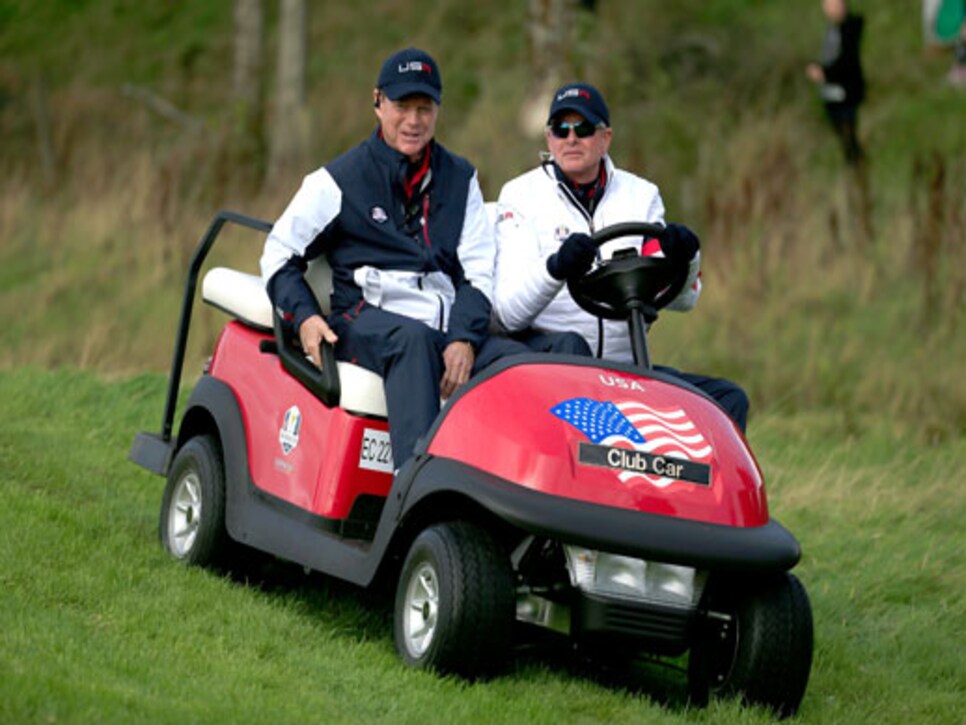 Robert Streb: Last week, it was Ben Martin. This week, it was Streb's turn to pick up his first PGA Tour title. The wraparound season, everybody! No, but seriously, congrats to Streb, who just two years ago finished No. 126 on the FedEx Cup points list following his rookie season. After putting on the putting performance of his life at the McGladrey Classic, he now boasts a two-year exemption and will get to cross off playing Augusta National from his bucket list in April.
Thorbjorn Olesen: On the other side of the world, this young Danish star held off young French star Victor Dubuisson to win the Perth International and claim his second European Tour title. Just another guy the U.S. has to watch out for in future Ryder Cups.
Streamsong: I had the good fortune of visiting this new golf oasis in Florida -- I had the better fortune of visiting it for work -- and it lived up to its billing. I slightly preferred the Blue Course (Tom Doak), but the Red Course (Bill Coore and Ben Crenshaw) was close behind, and there could be more being built in the near future. Keep it on your buddies trip radar.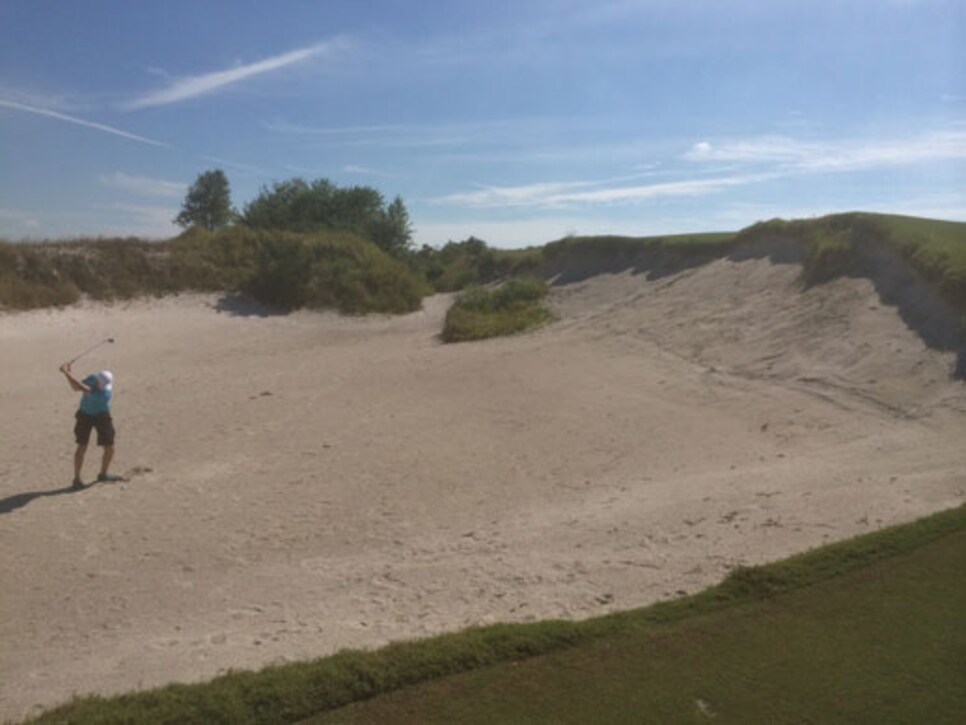 That's me hard at work escaping from a nasty fairway bunker on Streamsong Red's 15th.
But since we're big Jessica Alba fans, we don't want you to get the wrong impression. She's also serious about her golf. Look at her go after it with the driver!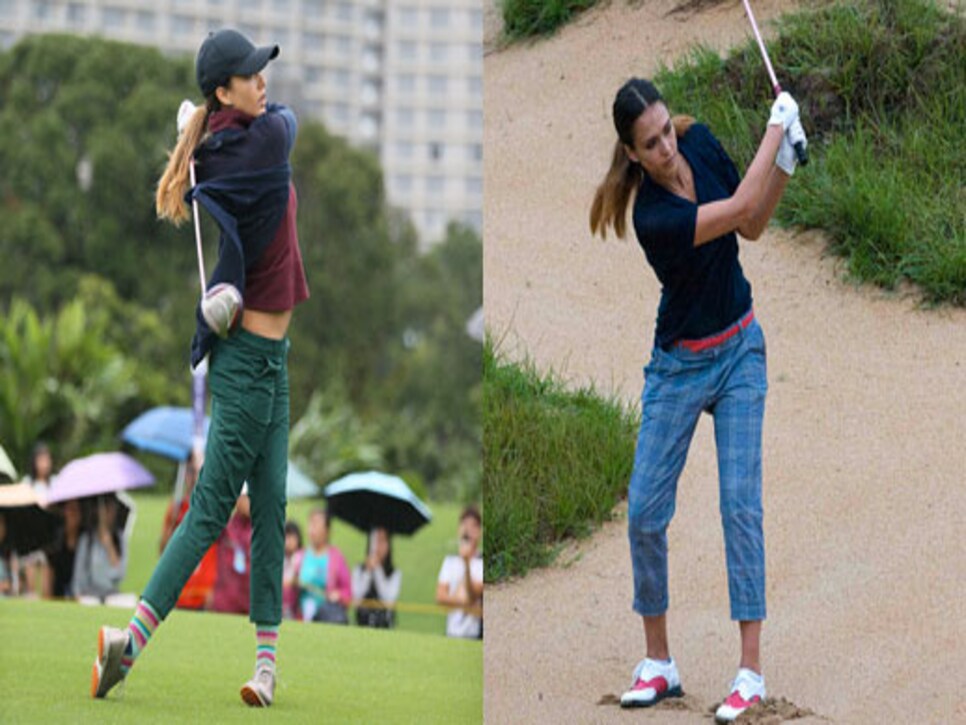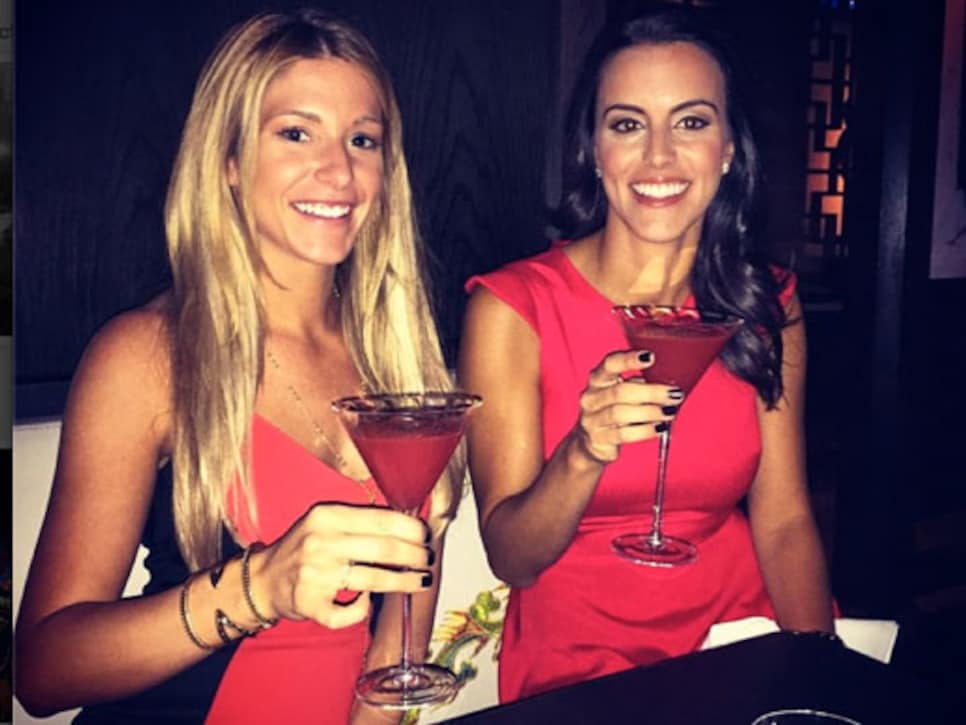 Apparently, Jillian Stacey and Diane Donald have similar tastes. And no, those are not Ryder Cup-issued matching outfits.
"'You're going to shoot, you know, 63, 64, and you're going to win.' Perfect motivation, right?" -- Robert Streb on what his confident wife told him before the final round. Sounds like we need to consult Mrs. Streb for fantasy golf advice.
THIS WEEK IN LINDSEY VONN MORGAN PRESSEL MAKING US LOOK BAD WITH HER TRAINING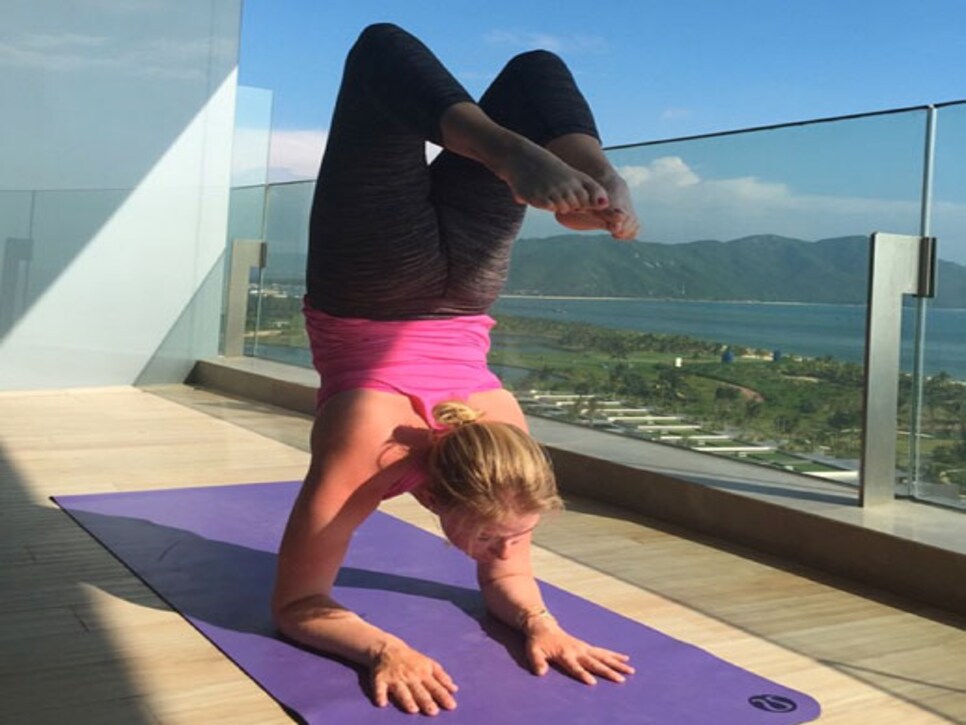 This is the longest "four-foot putt" ever made. By far. Love the dad's "You gotta be kidding me, you gotta be kidding me!" call as well.
The Days' son, Dash, dressed as Spider-Man. Yep, the Days win Halloween 2014.
The worst break of the week happened to pro mini-golfer Nuno Cunha at the World Crazy Golf Championships. Watch the clip to see a ball bounce out of the hole and to learn how to handle adversity. . . . South Africa's Lee-Anne Pace won the rain-shortened Blue Bay LPGA. Pace won on the Ladies European Tour the week before. It's safe to say she's having more luck on the course of late than Nuno Cunha. . . . Stacy Lewis had her 21-week reign at No. 1 ended by Inbee Park. Something tells us Lewis will get over it. . . . Congrats to our own Dan Jenkins for winning the Old Tom Morris Award. By our count, that's the 7,832nd award of Jenkins' illustrious career. . . . And finally, a PSA: Don't forget to put sunscreen on the back of your arms!
RANDOM QUESTIONS TO PONDER
What's the proper etiquette for airplane armrests?
Do more people dress up as Superman or Batman for Halloween?
Is it too late to become a professional mini-golfer?