The Loop
Smylie Kaufman shines, Lexi shows off her tan lines, an MLB star's golf drama, and our own "Back To The Future" connection
Welcome to another edition of The Grind, where we're not as surprised as everyone else with how the fall season has unfolded thus far. Yes, two relatively unknown 23-year-old rookies have won the first two events, but they've been on our radar for ages. OK, by ages, we mean a few weeks. But still, we have proof in our "9 PGA Tour Sleepers To Watch This Season," which included Emiliano Grillo and Smylie Kaufman. So, there's no excuse. We literally told you to watch THESE GUYS! In other words, that slideshow is basically what that sports almanac was to a young Biff Tannen in Back To The Future II.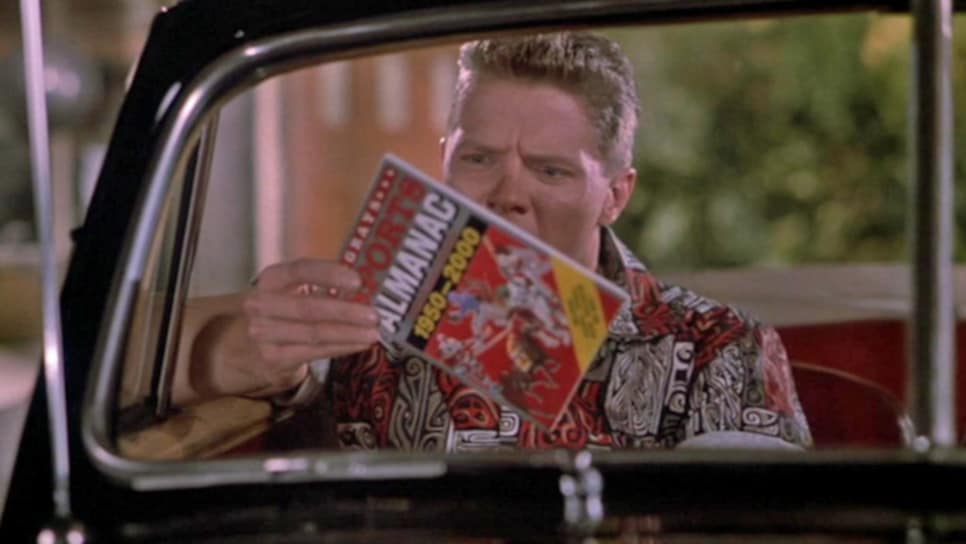 What are we telling you this week? We'll get into all that after we finish patting ourselves on the back.
Smylie Kaufman: If last week's winner, Emiliano Grillo, sounded more like a long-lost member of the Three Tenors, this week's victor could pass as a villain in "Boardwalk Empire." Smylie suckered everyone in with three decent days of golf before the LSU Tiger did something that Tiger has never even done by firing a Sunday 61 to win his first PGA Tour title in just the second start of his rookie season. You're 23, you're a millionaire, and you essentially have job security for the next three years. What's not to, um, smyle about?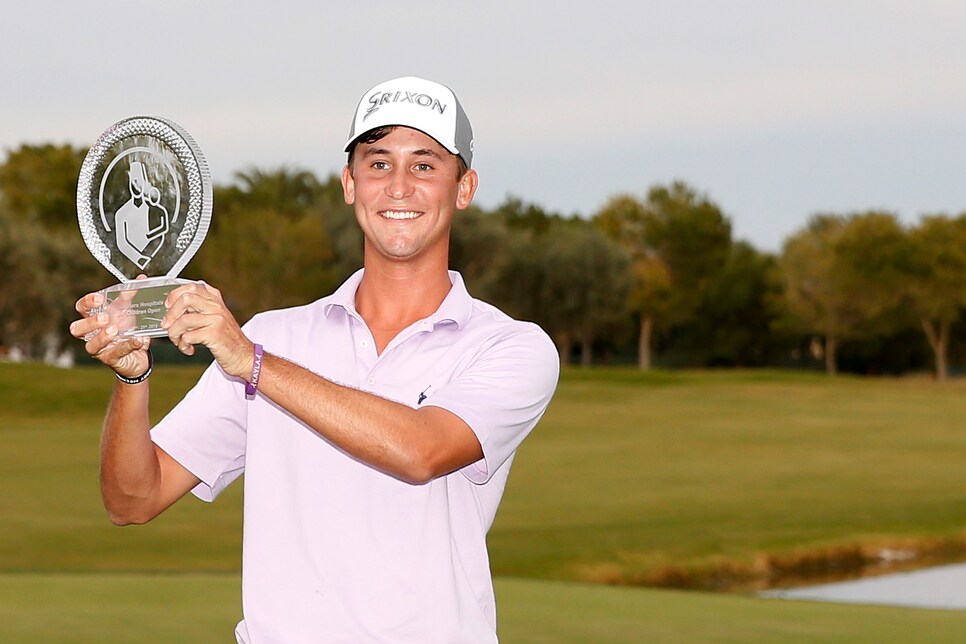 Lydia Ko: The LPGA Tour must be laughing at the PGA Tour's so-called "youth movement." A week after 20-year-old Lexi Thompson won her sixth career title, 18-year-old Ko captured win No. 10 in Taiwan. By NINE shots. Ko moved back to No. 1 in the Rolex Rankings with her fifth victory of 2015 and she now has more wins before turning 19 than all other female golfers in history combined.
Yoenis Cespedes: The star outfielder of the New York Mets caused a bit of controversy when he played golf at Medinah (When in Chicago, right?) before Game 4 of the NLCS against the Cubs and then left the game in the second inning with a shoulder injury. Now, he's causing more by saying he's planning on playing golf before World Series games. How can you not root for this guy?
Tiger Woods' brand: Now down to No. 351 in the Official World Golf Ranking, somehow Woods remained No. 1 on Forbes' Fab 40 List of most valuable sports brands. The magazine calculated Woods' name as being worth $30 million, nipping No. 2 Phil Mickelson at $28 million. LeBron James and Roger Federer tied for third, so go golf! Oh, and Tiger got to see the new James Bond movie before it came out. So yeah, he's still got some serious pull.
Tiger Woods' back: Woods gave a post-surgery update, and, well, it wasn't much of an update. More than five weeks after undergoing a second operation on his back, Tiger said he hasn't started rehab yet and has no timetable for his return. He hinted that he might wait to come back until he's pain free and that could take "over a year."
Jeff Van Gundy: On the heels of the possible Yoenis Cespedes injury, ESPN's Ian O'Connor tweeted that the ABC basketball analyst and former New York Knicks coach traded former Knicks star John Starks in 1999 (a devastating event in my life) in part because he brought his golf clubs on road trips. Considering the NBA's reigning MVP, Steph Curry, and Finals MVP, Andre Iguodala, played golf during Golden State's championship run, perhaps, it's best for Van Gundy to stick to TV.
Kevin Na in the clutch: So much for experience! Na has played in the last two PGA Tour events and lost to rookies in devastating fashion both times. Of course, it would help if these other guys didn't birdie the final hole of regulation both times, but Na had his chances. After losing in a playoff in Napa, he was tied for the lead in Vegas with two holes to go before flubbing an easy chip on 17 and lipping out a birdie putt on 18. Na now has eight career runner-up finishes versus just one win. We dig the effort, though:
Getting hit below the belt: Na had a better week than this guy, though. Jacques Kruyswijk of the Sunshine Tour tried a recovery shot from behind a tree and instead wound up creating an America's Funniest Home Videos-esque blooper that will follow him around for the rest of his career.
The PGA Tour heads from the West Coast to the Far East for the CIMB Classic in Malaysia, aka that event you're never quite sure counts as an official tour event.
Random tournament fact: It does count as an official PGA Tour event! And Ryan Moore, aka The Mayor of Malaysia, has won both times since that happened.
RANDOM PROP BETS OF THE WEEK
-- Another PGA Tour pro loves Malaysia as much as Ryan Moore: 1 MILLION-to-1 odds
-- Kevin Na will finish runner-up again: 5-to-1 odds
-- Jordan Spieth will be on that Forbes list soon: LOCK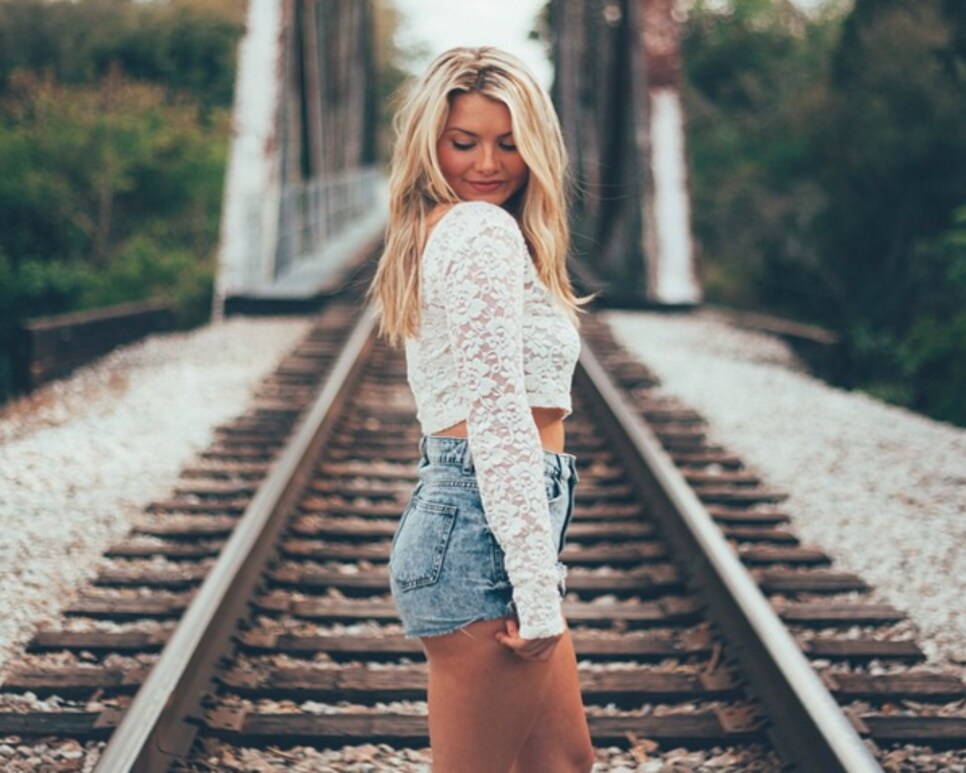 VIRAL VIDEO OF THE WEEK (GREAT SHOT DIVISION)
This past week was the greatest week in viral golf video history, which is why we're breaking this section up into four categories. We already highlighted the painful below-the-belt shot, but there was also this miraculous recovery shot pulled off by an amateur in Scotland:
VIRAL VIDEO OF THE WEEK (TRICK SHOT DIVISION)
Apparently, this is how the University of South Florida women's golf team practices its hand-eye coordination:
VIRAL VIDEO OF THE WEEK (ANIMAL ENCOUNTER DIVISION)
Hockey players are tough. We get it. But what NHL great (and NHLPA Hockey '93 legend) Jeremy Roenick did last week was just stupid. Check him out trying to tackle a GATOR on the golf course for some reason:
VIRAL VIDEO OF THE WEEK (FAIL DIVISION)
We saved the best video for last. Some lowlife was caught on video stealing another man's golf clubs, but when he tried to make his getaway, he tripped on the sidewalk and fell on his face. Now that's justice:
THIS WEEK IN NATALIE GULBIS LEXI THOMPSON MAKING US FEEL BAD WITH HER TRAINING
First, Lexi showed off the guns:
Then, Lexi showed off the tan lines:
We're not sure which are more impressive.
THIS WEEK IN PAIGE SPIRANAC BEING PAIGE SPIRANAC
Here's Paige looking intense in this photo from her shoot with Callaway:
And here's Paige looking less intense in this (bathrobe?) selfie:
Paige also dropped a great pearl of wisdom on Twitter:
As big fro-yo supporters, we can't argue with that.
THIS WEEK IN DUSTIN JOHNSON-PAULINA GRETZKY KEEGAN BRADLEY-JILLIAN STACEY-DOG PUBLIC DISPLAYS OF AFFECTION
"That was so much more stressful than playing. It felt like I was watching LSU." -- Smylie Kaufman, on waiting out the final round in Vegas to see if his closing 61 would hold up to win the tournament.
Turns out, Matt Kuchar didn't need Tiger as a partner for the Bridgestone Americas Golf Cup, winning the event instead with some dude named Justin Hueber. Following his win in Fiji last week, it looks like Kuchar may be overtaking Fred Couples as the King of the Silly Season. . . . Justin Rose won the Hong Kong Open for his first European Tour victory in 15 months. Fellow countryman Ian Poulter only finished T-29, but is now eligible to play in next year's Ryder Cup. Thanks, Rich Beem. . . . U.S. Mid-Am champ Sammy Schmitz took down his GoFundMe page after he raised $25,000 for Masters expenses in less than three days. Brilliant move, Sammy. . . . And congrats to Jerry Tarde for winning the 2015 Golf Digest Editor's Putter at Pound Ridge Golf Club. And no, we didn't just let him win because he's our magazine's Editor-in-Chief. Perhaps more impressively than Jerry winning the annual event for a record seventh time, was that a group of golf writers/editors actually cleaned up this well for dinner.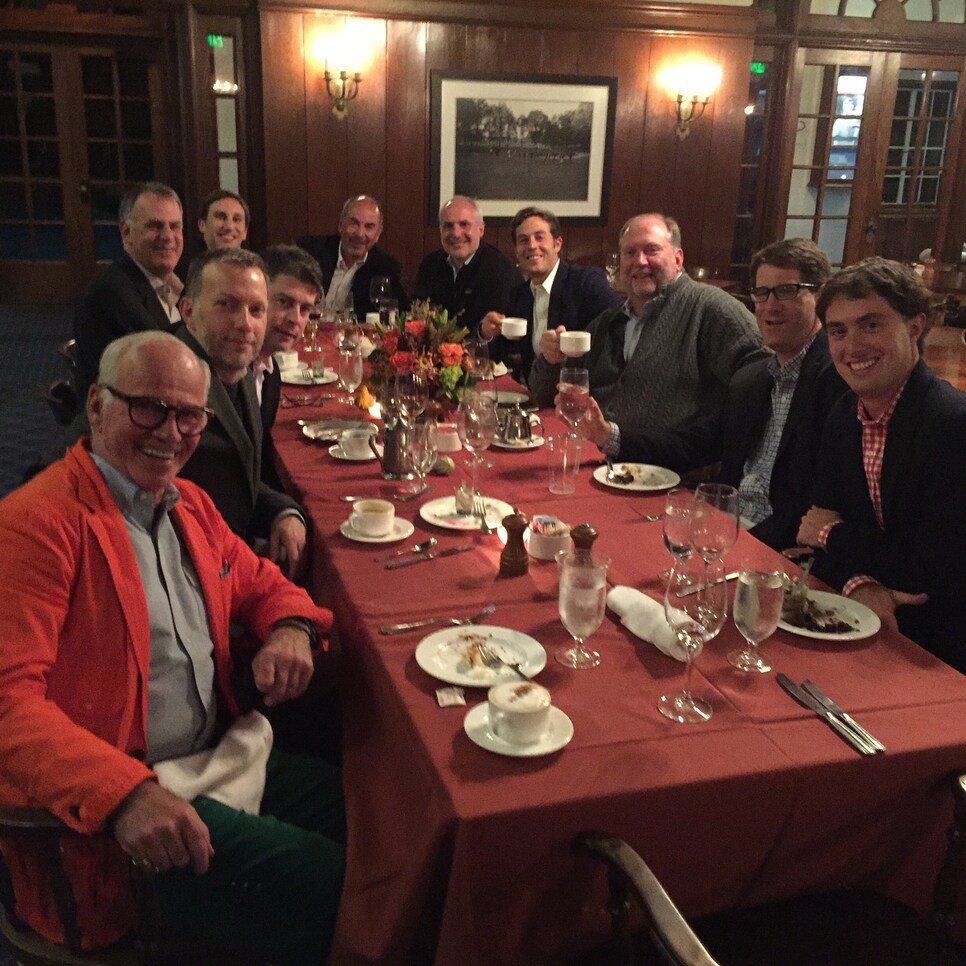 RANDOM QUESTIONS TO PONDER
Will I ever win the Editor's Putter?
Why isn't Jeremy Roenick in the NHL Hall of Fame?
Does anyone want to GoFund my next golf trip?