The Loop
The Grind: A Ryder Cup reality TV show, Tiger's terrible jeans, and Lexi shows off her guns
Welcome to another edition of The Grind, where we feel a Ryder Cup reality TV show should be in the works. You've got players sweating out if they're going to be in the lineup. You've got WAGs. You've got old-school captains ruling with an iron fist and scoffing at team gifts. You've got the Europeans partying their faces off. You've got WAGs. You get the point, NBC. Hey, it couldn't hurt ratings. . .
Oliver Wilson: The 792nd-ranked golfer in the world holding off No. 1 at the Home of Golf to win his first European Tour title. That's the premise of an over-the-top Hollywood script, right? Well, it actually happened at St. Andrews over the weekend when Wilson, 34, edged Rory McIlroy by a shot to win the Dunhill Links Championship. Wilson's best European Tour finish this season had been a T-40 and his best performance on the Challenge Tour was a T-17 in Kenya. The term "upset" doesn't do this one justice.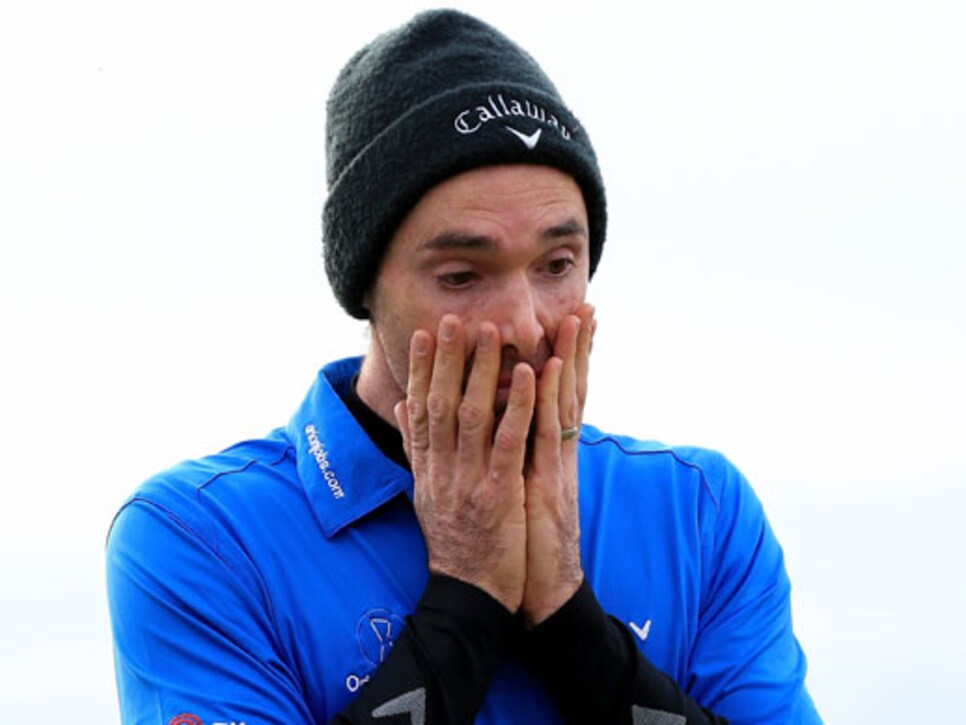 Yes, Oliver. You really won.
Tiger Woods: After a disastrous season Woods is concentrating on finding other ways to be productive. First, an announcement was made about the opening of his new restaurant, The Woods Jupiter: Sports and Dining Club, was announced for some time in 2015. Then came word that he's making serious progress on Bluejack National, a private golf course he's designing. The man's got to pay the bills somehow!
Rory McIlroy: After a Ryder Cup celebration that we can only imagine, we're impressed McIlroy even made it to his Thursday tee time at the Dunhill Links. And after a shaky 73, a 68-64-68 finish nearly earned him another win. Yes, he putted into the infamous "Road Hole bunker" on No. 17, but he also then got up-and-down from that death trap to save bogey. In all, it was a great effort. Plus, he had this fun moment involving his dog head cover and an actual dog on the tee. Awww.
Steve Williams: Speaking of caddies, with his retirement having garnered too much attention already, Williams thrust himself back into the spotlight by saying he'd be open to a reunion with Tiger Woods. First of all, LOL. Second of all, Woods has a caddie in Joe LaCava. Bad form, Stevie. Sounds like this "retirement" isn't set in stone. This guy might turn out to be the Brett Favre of caddies.
The PGA Tour returns after a full two-week break at the Frys.com Open. Yep, by Sunday evening we'll have a new FedEx Cup points leader.
Random tournament fact: Jimmy Walker won this event last year for his first PGA Tour title after 187 starts. Twelve months later, he's now a three-time tour winner and a Ryder Cupper. Just a reminder that a lot can happen in a year.
RANDOM PROP BETS OF THE WEEK
-- Tiger and Phil will combine for ONE top 10 again next season: 1 million-to-1 odds
-- Tiger will invite Sergio Garcia over to his restaurant: 10 million-to-1 odds
-- Steve Williams won't be doing "the caddie dance": LOCK
Holy WHITE BELT/MOM JEANS ALERT!
"It's all really hard to believe . . . it's a dream come true to win a tournament as St. Andrews because three, four weeks ago my career was looking pretty grim. It's just amazing what is possible playing professional golf." -- Oliver Wilson.
Brandt Snedeker goes skeet shooting. With a 4-iron.
Like she does with her husband, Jason, Amanda put aside the Alabama-Auburn rivalry to break bread buffalo wings with Charles Barkley (and Jason Dufner's agent, Ben Walter). Much more surprising is the Chuckster not finishing off those last few. . .
THIS WEEK IN LINDSEY VONN LEXI THOMPSON MAKING US LOOK BAD WITH HER TRAINING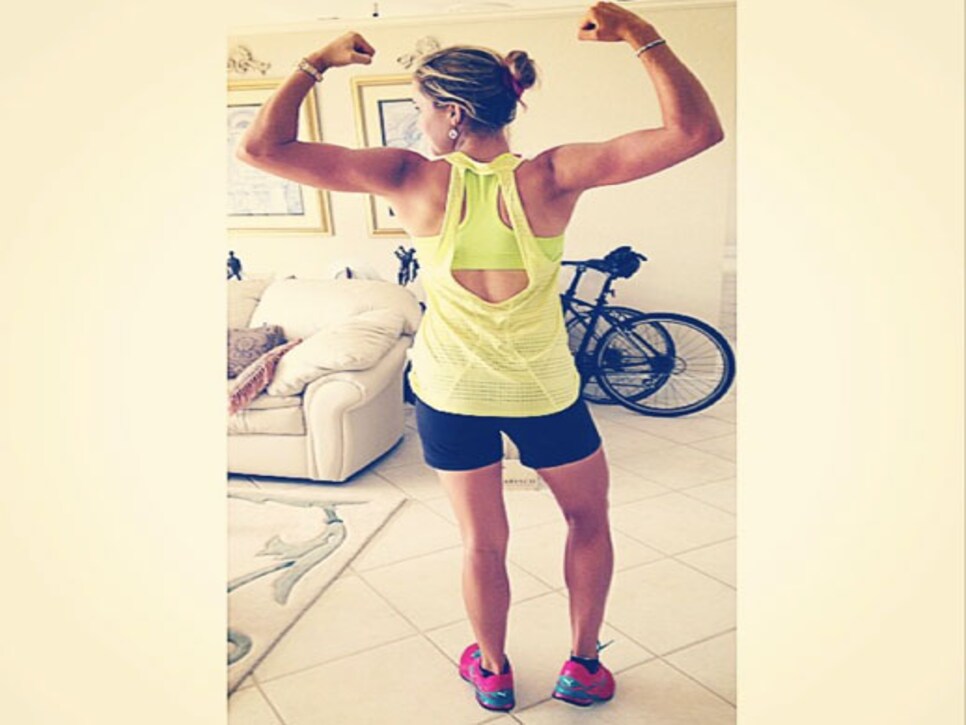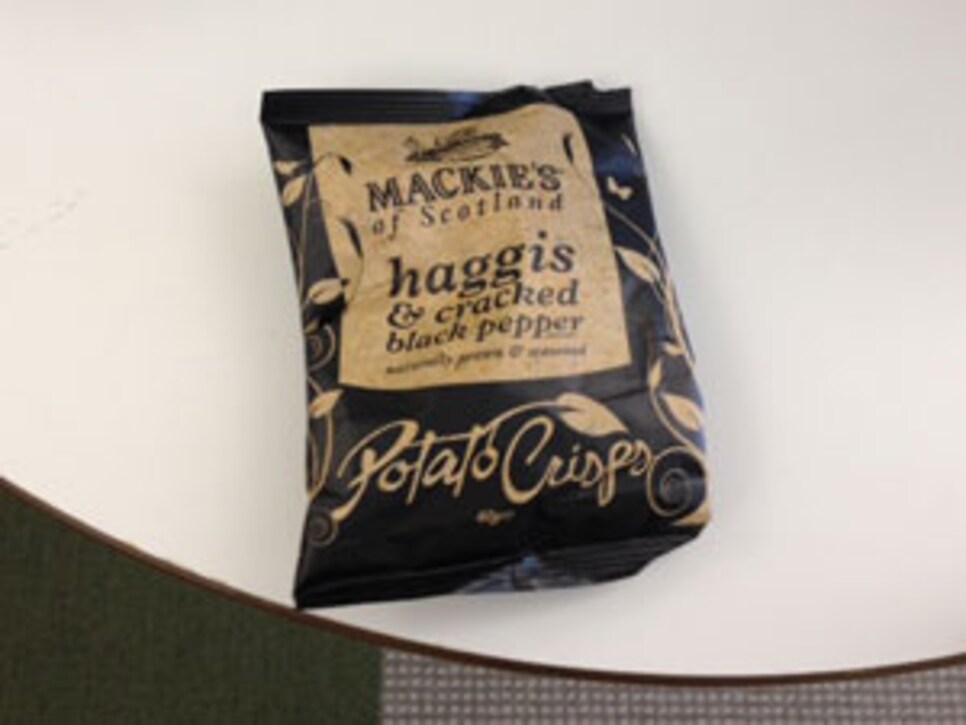 Bill Haas was Tom Watson's third captain's pick before Webb Simpson pleaded his case. Too bad. With Haas, the U.S. only loses 16-12. . . . Paul McGinley was named European Tour Player of the Month despite not hitting a shot. This actually happened. . . . A sixth grader golfer, Ben James, committed to play for the UConn men's golf team in the fall of 2021. This actually happened, too. I mean, this is ridiculous. He picked UConn over my alma mater, Wake Forest?! . . . This bag of haggis and pepper potato chips has been sitting on our office communal table since I returned from the Ryder Cup in Scotland. The previous record for free food going unclaimed in our area was 17 seconds.
RANDOM QUESTIONS TO PONDER
Has Webb Simpson thought about going into sales after golf?
Better golfer: Amanda Dufner or Charles Barkley?
Will anyone ever eat those chips?