The Loop
The Grind: A dejected/divided Team USA, a pregnant Paulina, and golfers in kilts
Welcome to another edition of The Grind, where unlike a lot of these other second-guessers, we know we would have been a great Ryder Cup captain last week. Why? Because we stayed at a Holiday Inn Express in Scotland. And look, we can walk through the tunnel to the first tee at Gleneagles waving to the crowd and wearing an earpiece, too.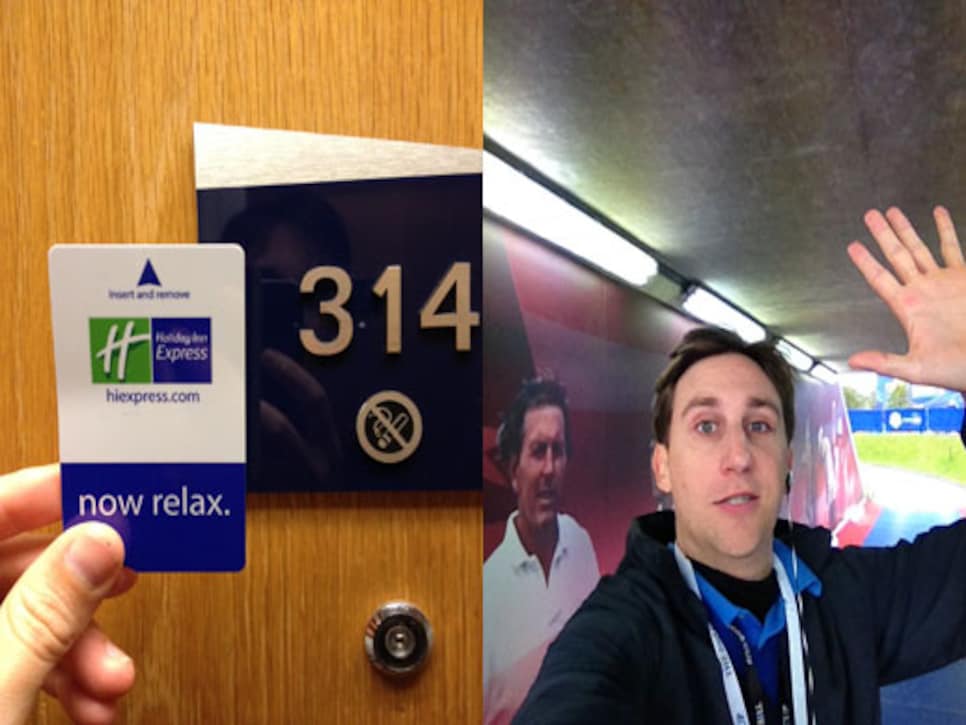 Team Europe: These guys are awesome. From big-time shots to clutch putts (doesn't it seem like they make EVERYTHING?), the Europeans extended their remarkable run at the Ryder Cup, drubbing the U.S. for their eighth win in 10 tries. As usual, their success was based on play by stars like Justin Rose (how many birdies did he make last week? 100?) and Rory McIlroy (poor Rickie Fowler), but also by unheralded players. Jamie Donaldson went 3-1 and clinched the cup with "the shot of his life." He then gave this drunk interview the next morning while wearing a yellow hoodie.
Ryder Cup rookies: It wasn't all bad for the U.S., which may have found a juggernaut pairing for the future in Patrick Reed and Jordan Spieth. The duo went 2-0-1 together and Reed also won his singles match, while alienating the entire European continent. And Jimmy Walker went 1-1-3, meaning the three first-timers were the three leading point earners for the Americans.
Ryder Cup press conferences: The most exciting parts of the week at Gleneagles came in the media center. First, you had Phil Mickelson tweaking Team Europe with the "we don't litigate against each other" line. Then you had Sergio Garcia responding to Nick Faldo's claims he was "useless" in 2008. And, of course, there was Mickelson singing the praises of Paul Azinger in front of Tom Watson on Sunday, leading to the most awkward press conference in history. Say what you will about Phil's timing, but he gave everyone something to talk about other than another U.S. loss, and his thoughts could end up helping the U.S. turn things around for next time.
Team USA: Tom Watson took a lot of heat, the bottom line is outside of the rookies, no one played particularly well. Jim Furyk, Bubba Watson, Matt Kuchar and Zach Johnson combined to go 2-11-1. Tough to win when your top guns -- Furyk, Watson and Kuchar were the lone three Americans ranked in the top 10 of the OWGR coming into the week -- aren't contributing.
Tom Watson: While the European players constantly sung the praises of Paul McGinley, the only times it seemed like the U.S. players were talking about their captain was when they were discussing why they weren't playing. Watson's old-school approach may have worked in an earlier era, but his players -- most noticeably, Mickelson -- didn't seem to appreciate the lack of communication in the decision-making process.
Radio interviews from the car: An Australian golf analyst was driving while giving his thoughts on the Ryder Cup. It did not end well. Fortunately, a Mercedes was the only thing that got hurt.
Gambling in airports: I was so excited to see a casino in the Amsterdam airport during a layover. As I walked out less than five minutes later after a blackjack beatdown, I wasn't as excited. Airport rules were that the dealer wins on a push, so it probably wasn't the wisest choice to gamble there. Hey, at least I didn't have to worry about exchanging any foreign currency when I got back.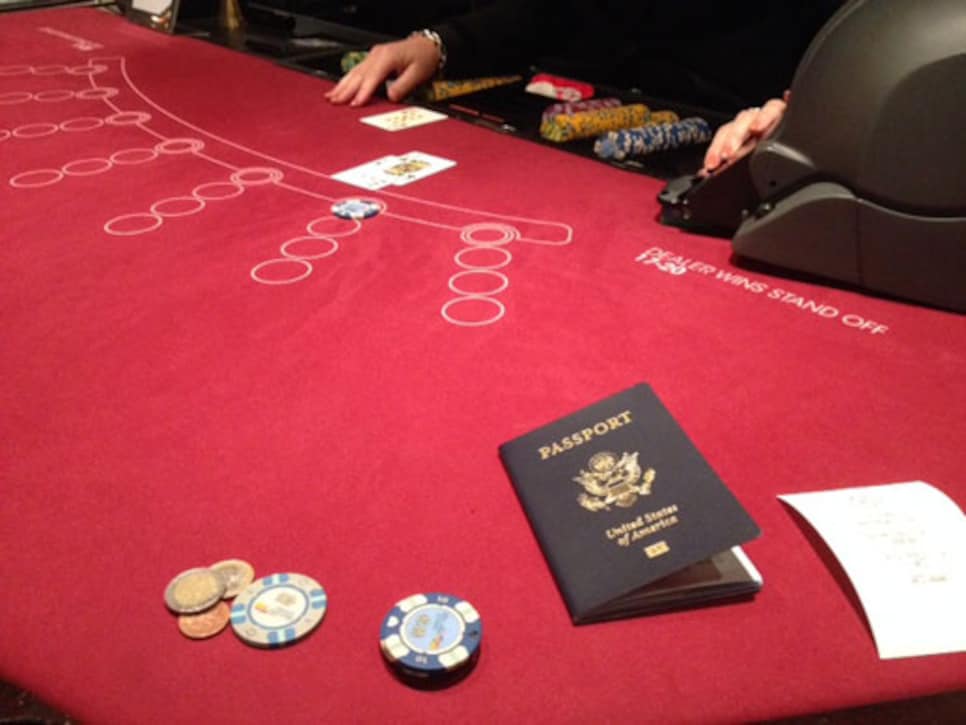 There is NO PGA Tour event this week. Take a deep breath and relax, we've finally entered the off-season!
Random tournament fact: Don't get too comfortable. The new season begins next week.
RANDOM PROP BETS OF THE WEEK
-- Sergio Garcia will invite Nick Faldo to his wedding: 1 million-to-1 odds
-- Tom Watson will captain the U.S. again: 10 million-to-1 odds
-- The U.S. will use some sort of "pod" system in 2016: LOCK
Bubba and Rickie? Or Rory?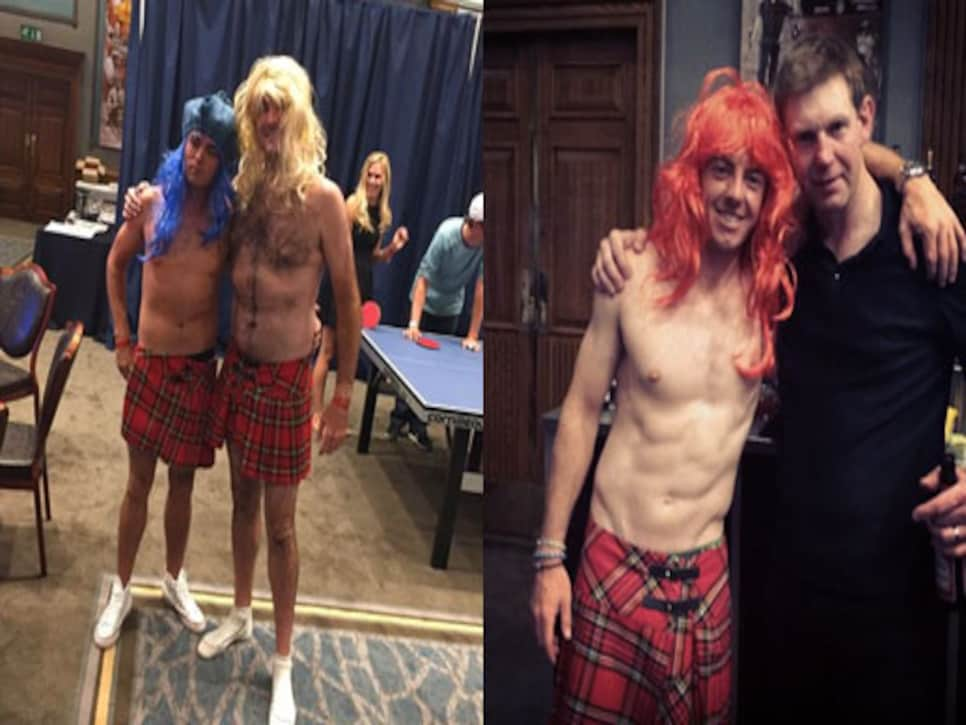 In related news, Rory is ripped. The guy looks just like the mannequins in the merchandise shop, which for some reason had been stripped down by Sunday. . .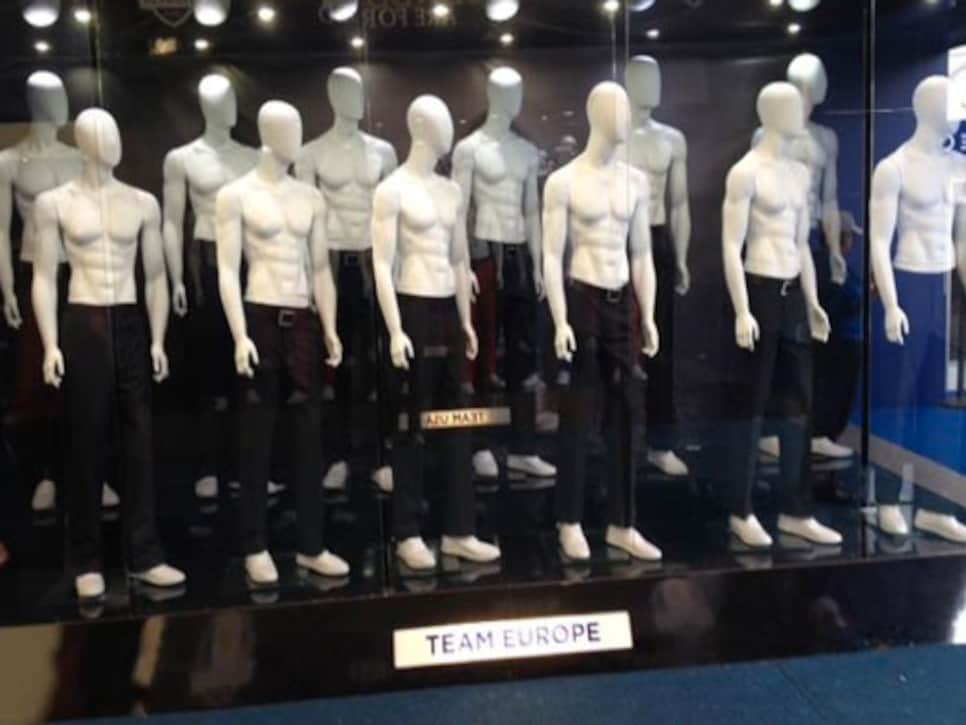 MJ with MAJ. Need we say more?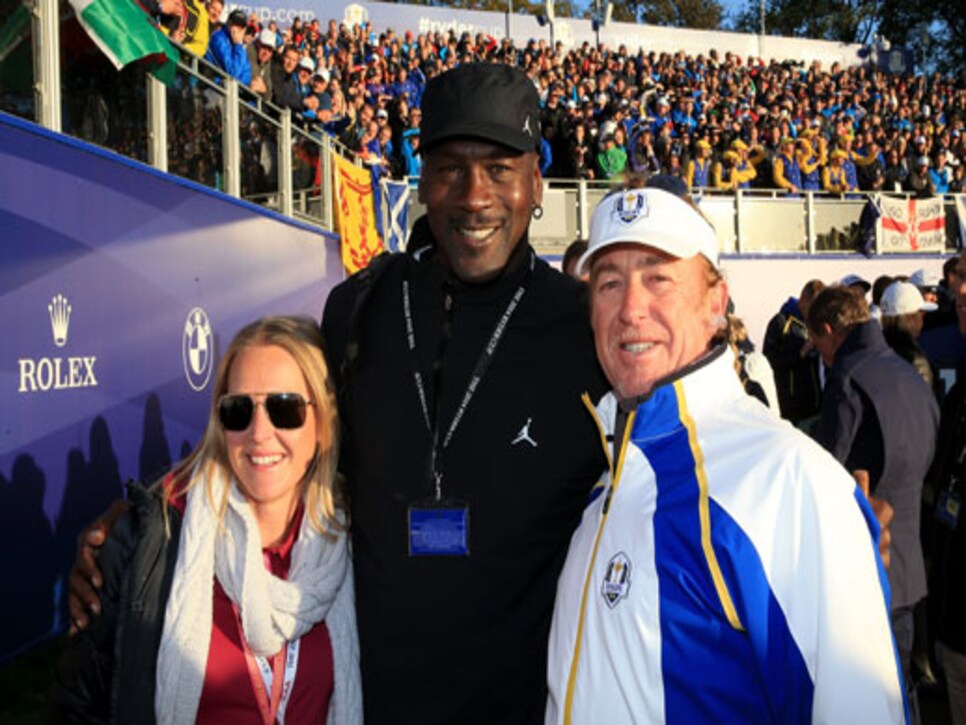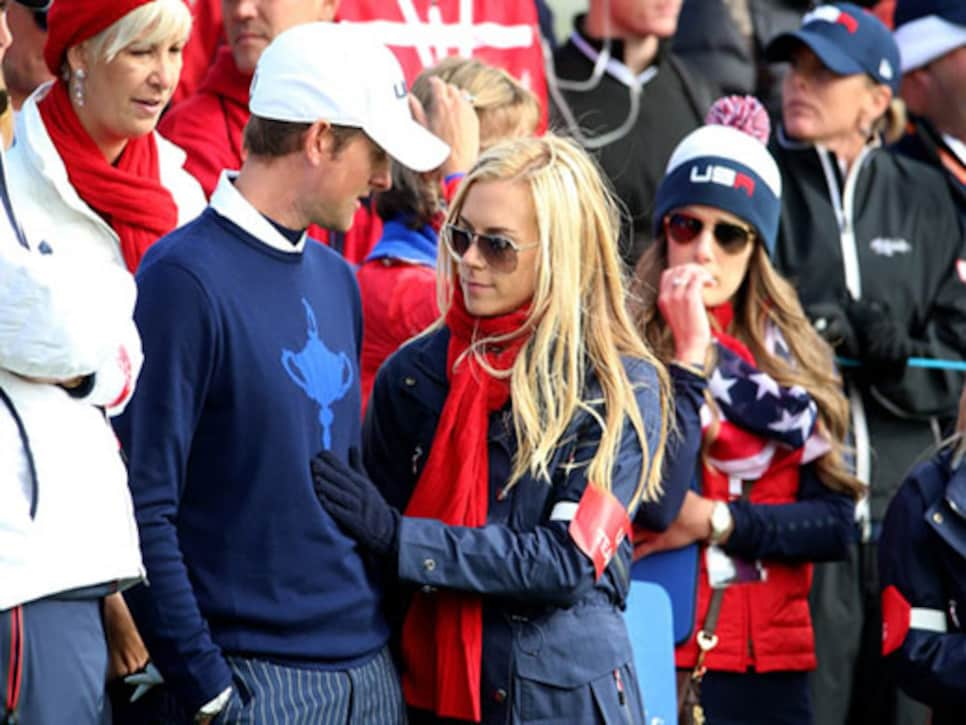 WAGs were all over the Ryder Cup last week. Here, Dowd Simpson comforts her husband, Webb, after his ugly loss on Friday at the Ryder Cup. Either that, or she was offering her condolences on him having to wear that sweater.
NON-RYDER CUP PHOTO OF THE WEEK
See? We aim to please both our male and female readers.
"All this winning isn't good for my health." -- Rory "Jaeger" McIlroy as he sipped celebratory champagne.
This comes courtesy of "The Guardians of the Ryder Cup," a group that comes up with player theme songs for Team Europe and was front and center on the first tee at Gleneagles leading the crowd in a singalong all week. There were so many good ones (we ranked the top 5), but this is the best. "Bjorn Beat The USA"? Classic.
THIS WEEK IN DUSTIN JOHNSON-PAULINA GRETZKY PUBLIC DISPLAYS OF AFFECTION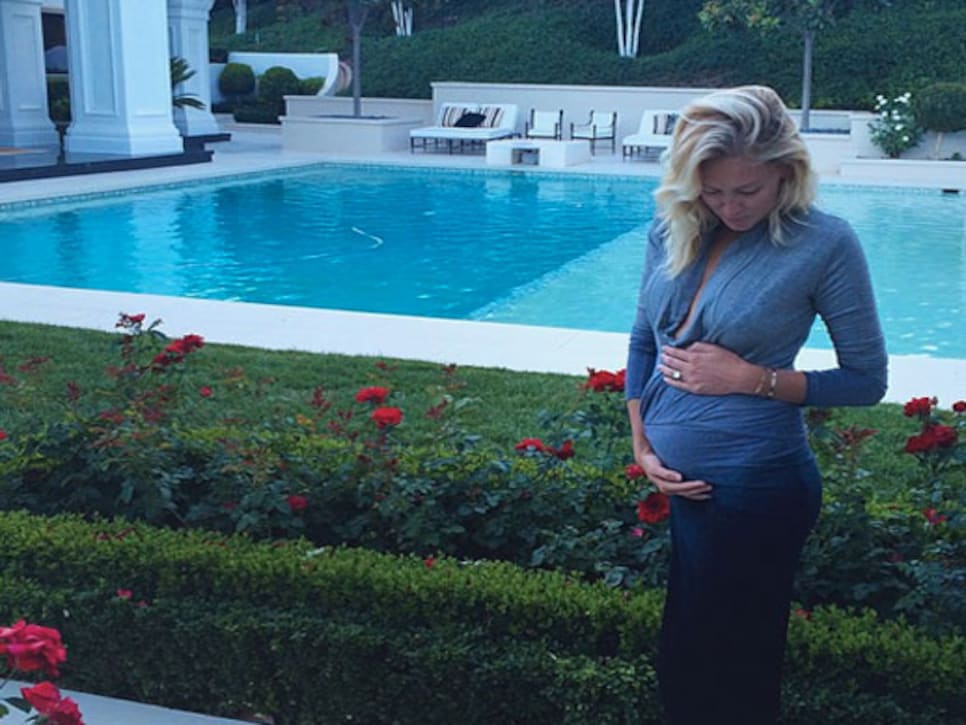 OMG this is really happening?!!! We're very excited for the couple, but did they have to announce the news of the week year while we were flying over the Atlantic Ocean? Thanks a lot, guys.
THIS WEEK IN LINDSEY VONN MAKING US LOOK BAD WITH HER TRAINING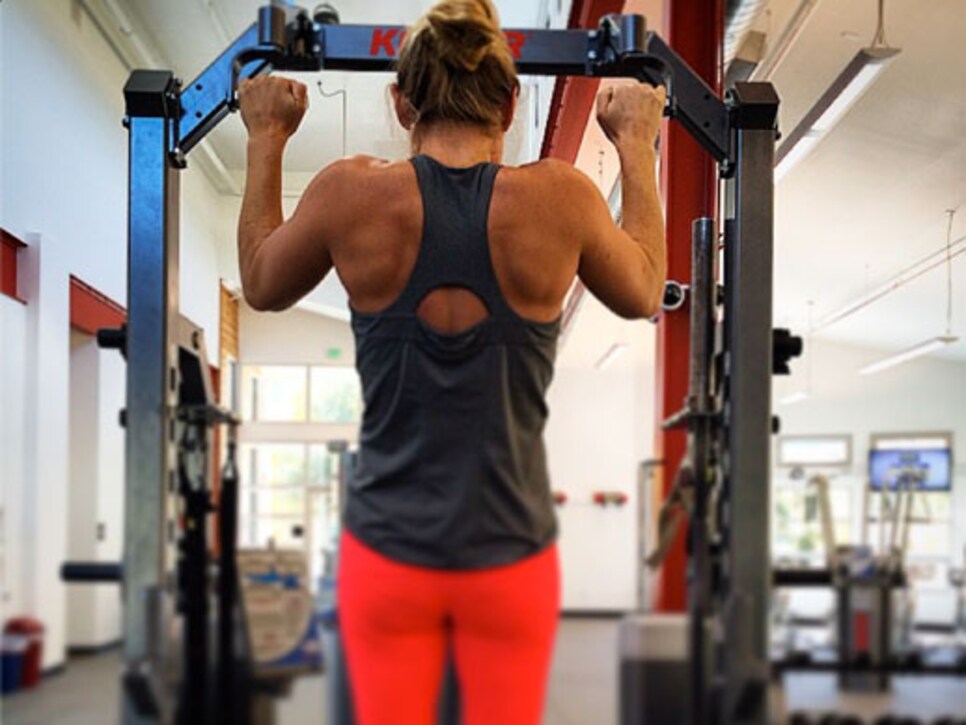 Lindsey simply captioned this one, "#pullups." #showoff
Apparently, Paul McGinley had control over European Tour tee times leading up to the Ryder Cup. This guy thought of everything! . . . On the Champions Tour, John Cook won the individual portion of the Nature Valley First Tee Open at Pebble Beach. He did not have a walk-off albatross. . . . Padraig Harrington said he is "less keen" for the European Ryder Cup captain job in 2016. Hmm. Does he want to captain for the U.S.? Unfortunately, I found out that whole staying at a Holiday Inn Express thing doesn't work when it comes to playing the bagpipes. But you can't question my effort!
RANDOM QUESTIONS TO PONDER
Could a combined USA/World Team beat Team Europe?
Has Scotland voted yet on opening up a Chili's?
Is Michael Jordan an American golf curse?