The Loop
Lovers going on vacay, Rory returning, LPGA stars getting creative on break, and singing at our own wedding
Welcome to another edition of The Grind, where we are happy to be back from our honeymoon. I've been asked a lot of late if being a married man will change me, which roughly translates to: "Will you still have photos of Paulina Gretzky in your weekly column?" We all have to mature at some point, so yes, this will be a WAG-free zone from now on. . . Nothing but hard-hitting golf journalism here. . . Kidding! We've got a lot to catch up on from our two weeks away and yes, that includes plenty of Instagram "research." Let's get going.
Shane Lowry: Congrats to the 28-year-old Irishman on winning his first PGA Tour title and making it a World Golf Championship no less. Lowry shot a Sunday 66 at Firestone to beat Bubba Watson by two shots and grab the attention of golf fans everywhere -- well, except that announcer on the 18th hole at Firestone who pronounced his first name as "Sean" as he made his triumphant walk up the final fairway.
J.J. Henry: With his PGA Tour card -- and possibly his PGA Tour career -- hanging in the balance, Henry birdied the 72nd hole to get into a playoff and then eagled the second extra hole to win his second Barracuda Championship title and guarantee himself two more years of playing privileges. "I don't know how athletic I looked when I jumped up for joy, but it's a heck of a feeling when you make a putt like that." We're sure it is, J.J. And no, it didn't look very athletic.
Yeah, it was a good trip. Just know that if you spend the first six days at an all-inclusive Sandals, you're probably going to turn into a greedy pig and gain 15 pounds.
Rory McIlroy: We're glad Rory is playing at Whistling Straits, but did he really have to be so secretive about his decision by dropping a new hint every day when he was obviously planning on playing the entire time? Sorry, but it came off as an unnecessary attention grab. Now that you're back, Rory, be careful with your healing ankle ligament. The last time Whistling Straits hosted the PGA Championship a golf reporter tore an ACL and had to WD on Thursday. True story.
Jim Furyk: Since the 2010 Tour Championship, Furyk has the most 54-hole leads of anyone on the PGA Tour with 11. And yet he hasn't converted any of those leads into a win. Not a single one (His lone victory in that span was a come-from-behind win at Hilton Head). Sunday at Firestone was the same story as Furyk didn't play terribly, but he also didn't play well with a chance to win. When anyone else does this from now on, we'll just say they "pulled a Furyk."
Andres Romero: Somewhat in contention and badly in need of a high finish to improve his chances of keeping his PGA Tour card for next season, Romero injured his hand punching a sign late in his third round at the Barracuda Championship. With modified Stableford scoring in effect, this led to Romero using his putter off the tee on the final four holes and then picking up his ball to take the maximum three-point loss for a double bogey on each hole.
He hoped to play Sunday, but withdrew before the final round after X-rays showed he had broken his hand. One of my friends broke his hand once punching a stop sign. The lesson? Don't punch signs.
The PGA Tour heads to Whistling Straits for the PGA Championship, aka that major that ended in the dark last year. That finish prompted us to come up with a new slogan for the tournament: "It's all happening now!" Unfortunately, that hasn't caught on.
Random tournament fact: This will be the last major Tiger Woods will play in before he turns 40. It's crazy to think we've been watching this guy's every move for nearly two decades. It's crazier to think he hasn't won a major for the last third of that time.
RANDOM PROP BETS OF THE WEEK
-- Rory McIlroy will kick a sign in frustration: 1 MILLION-to-1 odds
-- Tiger Woods will win at Whistling Straits: 40-to-1 odds (actual odds)
-- You are a total sucker if you bet on Tiger this week: LOCK
Shane Lowry showed appreciation for the tree that helped him win his first PGA Tour title:
"I'm playing better than anyone in the world right now tee-to-green." -- Justin Rose. OK then.
THIS WEEK IN LPGA TOUR STARS SHOWING OFF THEIR SKILLS
It's always good to take advantage of an off week on the golf schedule. Here's Cheyenne Woods fly fishing:
A photo posted by Cheyenne Woods (@cheyenne_woods) on Aug 6, 2015 at 11:25am PDT
Natalie Gulbis paddle boarding:
A photo posted by Natalie Gulbis (@natalie_gulbis) on Aug 7, 2015 at 5:15pm PDT
And Paula Creamer flying with The Blue Angels:
A photo posted by Paula Creamer Heath (@paulacreamer1) on Aug 5, 2015 at 1:54pm PDT
THIS WEEK IN DUSTIN JOHNSON-PAULINA GRETZKY PUBLIC DISPLAYS OF AFFECTION
A photo posted by Paulina Gretzky (@paulinagretzky) on Jul 23, 2015 at 2:26pm PDT
Not sure why she didn't go with "bae" instead of babe to have that rhyme. Must have been an oversight.
THIS WEEK IN PAIGE SPIRANAC BEING PAIGE SPIRANAC
Let's not forget about Paige, and apparently she's been busy. First, Paige hit this incredible flop shot:
A video posted by Paige Spiranac (@_paige.renee) on Jul 27, 2015 at 7:06pm PDT
Then she made a bunch of faces:
A photo posted by Paige Spiranac (@_paige.renee) on Aug 2, 2015 at 10:07am PDT
And then, there was whatever this is:
A photo posted by Paige Spiranac (@_paige.renee) on Aug 5, 2015 at 4:01pm PDT
OK, that's enough. My wife might be reading. . .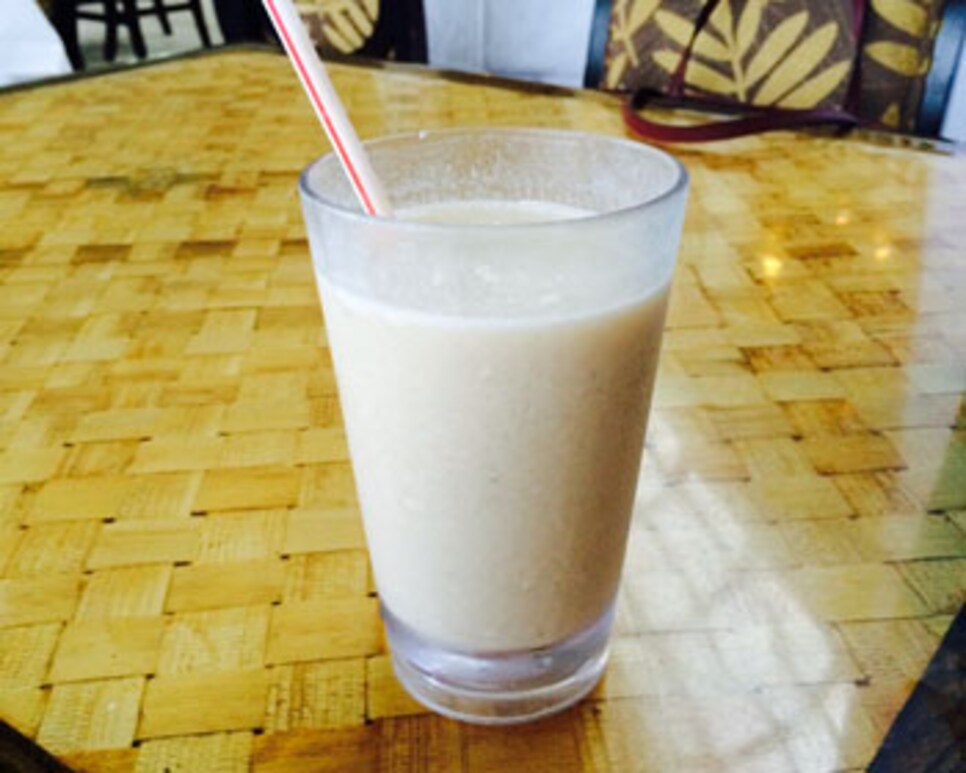 Dawson Armstrong holed a bunker shot for eagle on the 20th hole to win the Western Amateur. Take that, J.J. Henry! . . . Someone has been terrorizing a golf course in Norway for a decade by pooping in holes. That poor, poor grounds crew. . . Holly Sonders will accompany Andrew Orischak to his high school prom next year after Orischak blew a five-up lead with eight holes to play in the final of the U.S. Junior. If you see teenaged boys practicing more than usual at your local golf course, this could be why. . . . In the food and beverage department, the MVP of the honeymoon was definitely the BBC. The delicious frozen concoction is basically an adult milkshake. Of course, the standard chocolate milkshakes weren't bad, either.
RANDOM QUESTIONS TO PONDER
Who poops in a golf hole?
What would it take to get McConaughey back on "True Detective"?
When do I get to go on a second honeymoon?