The Loop
The Grind: Riviera's riveting finish, Obama & Tiger tee it up & match play picks
Welcome to another edition of The Grind, where we'd like to take this time to issue a public service announcement: If you were listed in our PGA Tour "Sleepers To Watch in 2013" feature, watch your back. Literally. First, Blake Adams went down with a hip injury and now Spencer Levin's bum wrist will keep him out the rest of the regular season. Move over, "Madden Cover jinx." With a World Golf Championship event next up, most of the guys on the list have this week off. But that just means they should be extra careful when doing chores around the house. . .
John Merrick. Nice job by the former UCLA Bruin. Merrick won his first PGA Tour title right down the road from where he went to school and he timed it perfectly with us celebrating a provocative pic while he was an undergrad. Considering Merrick still has his first paycheck as a professional golfer (A $3,200 one for finishing T-3 at a Hooters Tour event) framed in his bedroom, we're pretty sure he'll save some memorabilia from this win. He'll have plenty of money to save as well, since his latest check has just a few more zeros in it.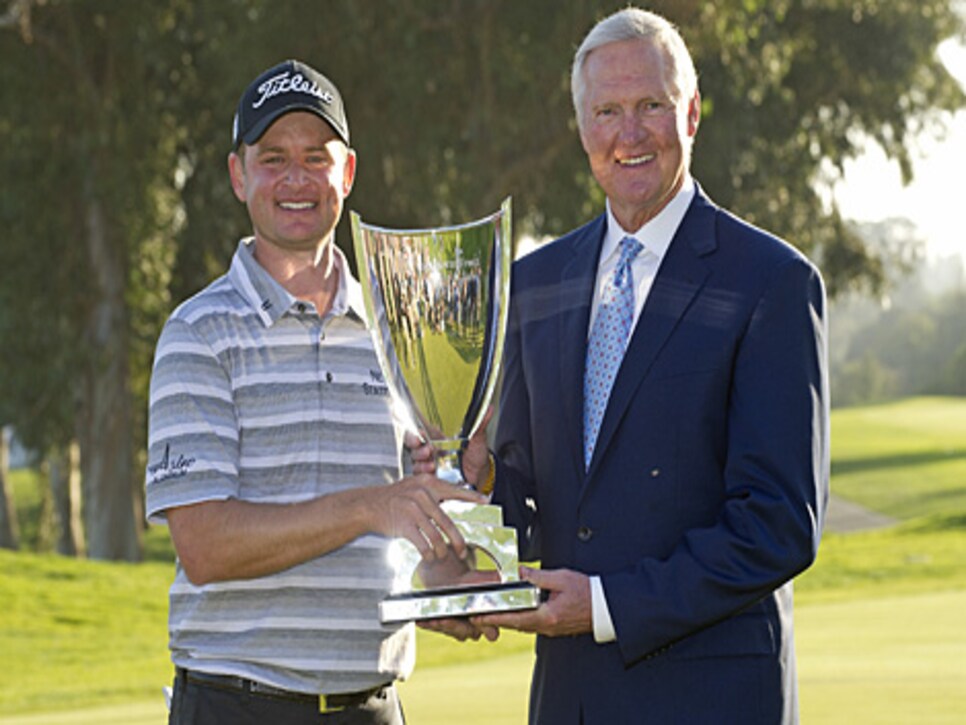 Merrick came through in the clutch before celebrating with Mr. Clutch, Jerry West.
Barack Obama. Like his politics or not, if you are reading this, you probably like golf. And if that's the case, you have to like the fact that the president likes the game so much. After a day of working with Butch and Claude Harmon at The Floridian, Obama teed it up with Tiger Woods for the first time on Sunday. Not a bad weekend.
Daniela Holmqvist. I don't care if spider experts weighed in and said the situation for the LET rookie bitten by a Black Widow wasn't as dangerous as originally believed, the point is that she believed she was in danger, acted by cutting out the venom with a tee, and then played on and shot a respectable 74. Kinda makes that time you played through a blister on your hand seem a little less impressive, right?
Brandt Snedeker. Sore ribs? What, from laughing all the way to the bank? In any matter, the hottest player in the world won't be in the field this week (he would have been a No. 1 seed). It's bad news for his fans, but great news for everyone else in the field who now has a chance to win.
Riviera's 10th hole. Look, I'm not disputing it's a great hole, but I think that back-right pin position is a little ridiculous. No matter what players did off the tee, it was nearly impossible to play their approaches toward the hole and actually have the ball stay on the putting surface. There's a phrase for this, but I guess you only hear it about holes that aren't so famous: "Tricked up."
Fredrik Jacobson's pressure putting. Hey, the Swede had a great tournament and came close to his second PGA Tour win. His four-footer to get into a playoff, however, came about as close as the average tour player came to voting for the First Golfer this past fall. The 38-year-old's middle name is "Ulf." Perhaps we should make that the term for missing a short putt that badly, as in, what a poorly-timed ulf or he really ulfed that up.
The PGA Tour heads to Arizona for the WGC Match Play. Last year, Hunter Mahan knocked off Rory McIlroy to keep him from taking over the top spot in the world rankings. The young lad from Northern Ireland would never recover. Wait, never mind. . .
Random tournament fact: This is the only official tour event in which match play is the format. OK, so you probably knew that already.
With no opposite-field event going on this week, and with Yahoo!'s inability to figure out a way to award points for match play, most fantasy golf leagues are dormant this week. That doesn't mean you shouldn't fill out a match-play bracket and wager a few bucks with co-workers, though. Here's our stab at a final four:
Keegan Bradley, Jason Dufner, Graeme McDowell, and Luke Donald, with G-Mac topping Dufsanity in the championship match. Of course, our gut is to go with Woods, but in this event above all, going with your gut probably isn't the wisest move. Plus, he might have to face noted Tiger tamer Gonzalo Fernandez-Castano in the second round. . .
RANDOM PROP BETS OF THE WEEK
-- Phil Mickelson's kids will imitate him falling on the rocks if his family goes to the beach during their vacation: 2-to-1 odds
-- TV viewers will hear the phrase "the vagaries of match play" ad nauseum: LOCK
-- The phrase "tearing up my bracket" will be said/written even more: Also a LOCK
CELEBRITY/ATHLETE WE'D LIKE TO PLAY GOLF WITH
Chris Paul. As a Wake Forest alum, Sunday was quite a roller coaster ride. First, I had to suffer through 2004 classmate Bill Haas' letdown at Riviera, but CP3's NBA All-Star Game MVP performance made me extremely proud to be a Demon Deacon once again. It seems the only thing the Clippers' point guard likes doing as much as picking apart opposing defenses is playing/watching golf. I could also see him distributing food and drinks at the turn like he dishes out passes on the court. Chris, I know you're busy leading a historically-pathetic franchise to its best season ever, but I'll gladly save you a summer tee time.
Fred Couples played in his 31st Northern Trust Open and found his way on the leader board for much of the first two days. Just think, he's played in the same tournament 31 times. Crazy. I don't think I've even eaten at the same Chili's that many times. OK, so that's a lie. . .
In this week's edition of "How out of touch with the youngsters can a 30-year-old be?" I admit that I still don't understand the "Harlem Shake" phenomenon. That being said, here's the Villanova men's golf team doing it -- whatever "it" is:
Bernhard Langer won his 15th event on the Champions Tour. He better learn how to putt without anchoring because the 55-year-old looks like he has another decade of dominating the old guys in him. . . . [#image: /photos/55ad7637add713143b427292]|||blog-wedding-floor.jpg|||
There was a kangaroo delay during the Women's Australian Open. It's too bad the LPGA doesn't always have this excuse for why its rounds take so long. . . . I attended a wedding reception over the weekend at which the bride and groom were introduced by coming up through the floor encased in a glass box (above). It's good to see the phrase "coming over the top" can still apply to more than the golf swing.
RANDOM QUESTIONS TO PONDER
Did Obama and Tiger drink Arnold Palmers at the turn?
After a good start to the season, why did Dustin Johnson change putters? Is Paulina Gretzky just an Odyssey spy working undercover?
Did we really just go an entire column without referring to a picture of an attractive female?