The Loop
The Grind: Presidents Cup family drama, Phil gets his groove back, Kenny G sizzles, and Natalie's steamy photo shoot
Welcome to another edition of The Grind, where we love seeing grown men cry tears of joy. And what a display of emotion this particular Presidents Cup brought out. After it was over, a proud father and a relieved captain, Jay Haas, talked about his son Bill being the hero. It was too much for he and even veteran on-course reporter Roger Maltbie to handle:
I'm not even a father, and I almost lost it. Then again, I did graduate with Bill from Wake Forest and we once sat next to each other in Intro to Psychology, so. . . we're practically family. Between all the drama, the strong WAG showing, Phil being Phil and Kenny G being Kenny G, there's so much to talk about. Let's get started before we start choking up again.
The Presidents Cup: What a fun event. What a fantastic finish. The play was so captivating I even stayed up through the finish at 2:30 a.m. on Sunday morning. OK, so it was kind of my job to stay up, but still, it was pretty awesome. Unfortunately, in two years most people will forget about how good of a competition it was (and that the Internationals should have won) and focus on the U.S.'s 9-1-1 record as a way to knock the biennial contest. Let's promise to at least try not to do that.
Bill Haas: Talk about a special moment. Two decades after he watched his dad's heartbreaking loss at the 1995 Ryder Cup in person, Haas came through for his father and captain by earning the winning point for Team USA. Sure, Sang-Moon Bae didn't come through in the clutch, but it was Bill who led the entire match and put the pressure on him with five flawless shots over the final three holes. Bill's previous biggest moment came when he won the Tour Championship and FedEx Cup in a playoff at East Lake. That time, he famously didn't realize the $10 million was on the line. This time, knowing that the world -- at least the golf fans who were awake -- was watching, and his dad, teammates, and country were counting on him, Haas came through under pressure. For a guy who has yet to record a top 10 at a major, this moment could be a turning point.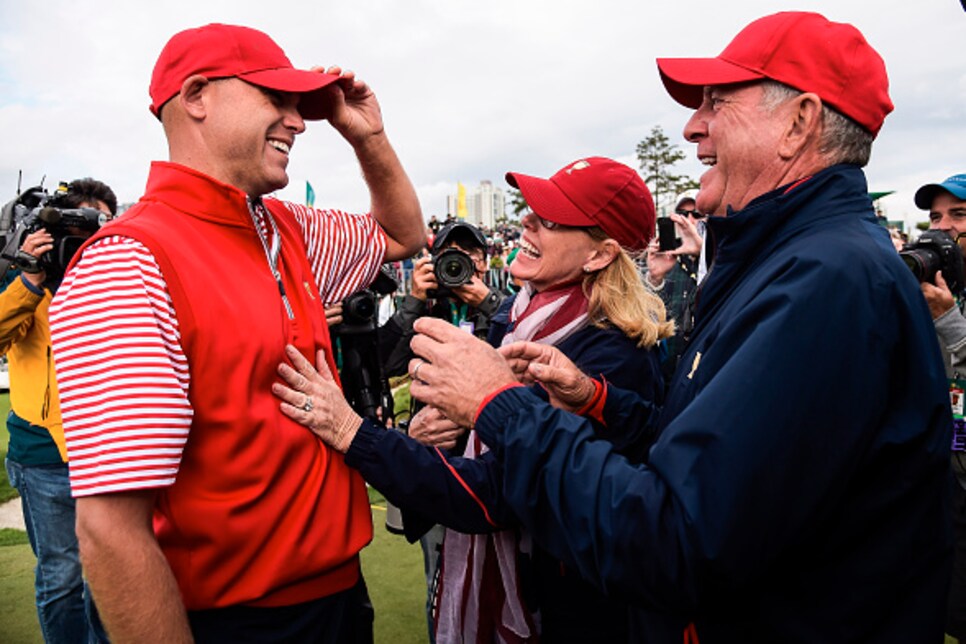 Branden Grace/Louis Oosthuizen: The South African duo didn't lose the entire week in South Korea, highlighted by a 4-0 record as partners. Their lone "blemish" came during singles when Oosthuizen merely halved his match, but even that was done in spectacular fashion with an eagle on the final hole. There's a reason why these two each had two close calls in majors this year.
Phil Mickelson: The controversial captain's pick wound up being Team USA's MVP. Mickelson certainly didn't look like a player with four top 10s in the past two seasons as he holed shots from all over South Korea and posted a 3-0-1 record. He also gave us both the rules controversy and quote (more on that later) of the year. New rule: No questioning Phil's inclusion on any U.S. teams going forward.
Jason Day: The best player in the world since the start of summer was supposed to be the difference maker for the Internationals in South Korea and he was -- just not in the way everyone thought. Day didn't win a single match in five tries and he -- not Bae or Anirban Lahiri -- wound up being the team's goat.
Brandel Chamblee: We're usually fans of the outspoken analyst, but saying Phil Mickelson -- especially after all he did this past week -- and Tiger Woods -- especially after his phone calls to Fred Couples and Davis Love III this past week -- don't deserve to be Ryder Cup captains is silly. Did Phil put himself ahead of the team when he switched equipment before the 2004 Ryder Cup? Perhaps. Did Tiger always play the event with the same fire we saw in the majors? Perhaps not. But that doesn't mean the two can't grow to care about something more as they get older. As long as other players want them around -- and they do -- it should be their job to turn down.
Dufner's plaque: Oak Hill unveiled a plaque commemorating Jason Dufner's win at the 2013 PGA Championship. Dufner thought it made him look like Bilbo Baggins from "Lord of the Rings." We compared it to Rod Stewart. Either way, it's bad: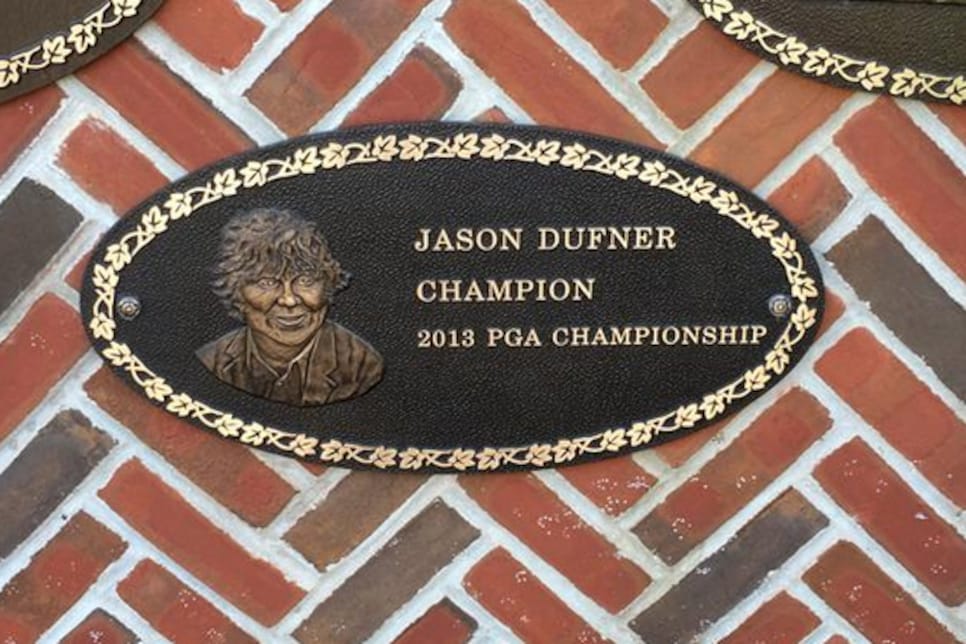 And just like that, the PGA Tour starts up again! The first event of the 2015-16 season is the Frys.com Open, aka that event Tiger Woods was supposed to play in before he had that second back surgery.
Random tournament fact: Sang-Moon Bae won this event last year, but he won't be defending his title because he is starting his mandatory two-year military service in South Korea. At least, he's going out on a high note. Oh. . . Right. . .
RANDOM PROP BETS OF THE WEEK
-- Phil Mickelson won't be a Ryder Cup captain at some point: 1 MILLION-to-1 odds
-- Tiger Woods won't be a Ryder Cup captain at some point: 100-to-1 odds
-- Sang-Moon Bae would rather be back in Napa this week: LOCK
The U.S. team (Well, most of the team. Wake up, Jim Furyk!) did the "Blue Steel" look from Zoolander during its team photos: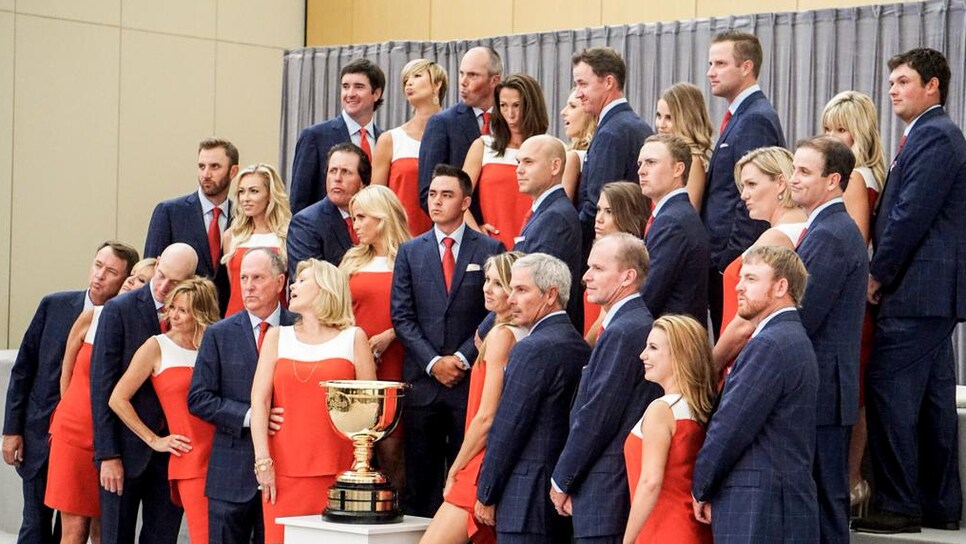 Apparently, it was Phil Mickelson's idea. Again, how can this guy not be a future team captain?
VIRAL VIDEO OF THE WEEK (JAW-DROPPING DIVISION)
VIRAL VIDEO OF THE WEEK (THAT'S SO MESSED UP DIVISION)
Watch a friend kick away an eagle attempt as it nears the hole:
Sorry, let's rephrase that. Watch a "friend" kick away an eagle attempt as it nears the hole. That's just awful.
"I feel like we spotted the Internationals' best team two holes, and they still couldn't beat us. (Cocky shrug). Just saying." -- Phil Mickelson after halving his Day 2 match despite committing an odd rules blunder.
Since this is the most entertaining quote of the year, we've included the video for you to enjoy on loop:
THIS WEEK IN TOUR PROS BEING TOUR PROS
Last week for Natalie Gulbis, it was backstage passes to a concert. This week, she did a photo shoot for one of her sponsors, Pure Silk shave cream. Here were the results:
And then she showed off her versatility by changing shirts:
THIS WEEK IN PAIGE SPIRANAC BEING PAIGE SPIRANAC
Paige puts on an impressive juggling display, but then can't pull off catching the ball down the front of her shirt:
And she lets everyone know that she doesn't always look so put together:
THIS WEEK IN JIMMY WALKER-ERIN WALKER-GEORGE WALKER PUBLIC DISPLAYS OF AFFECTION
Is this a family reunion?
Man, we could make a whole thing out of WAG photos at the Presidents Cup. Oh yeah, we did.
THIS WEEK IN DUSTIN JOHNSON-PAULINA GRETZKY-KENNY G PUBLIC DISPLAYS OF AFFECTION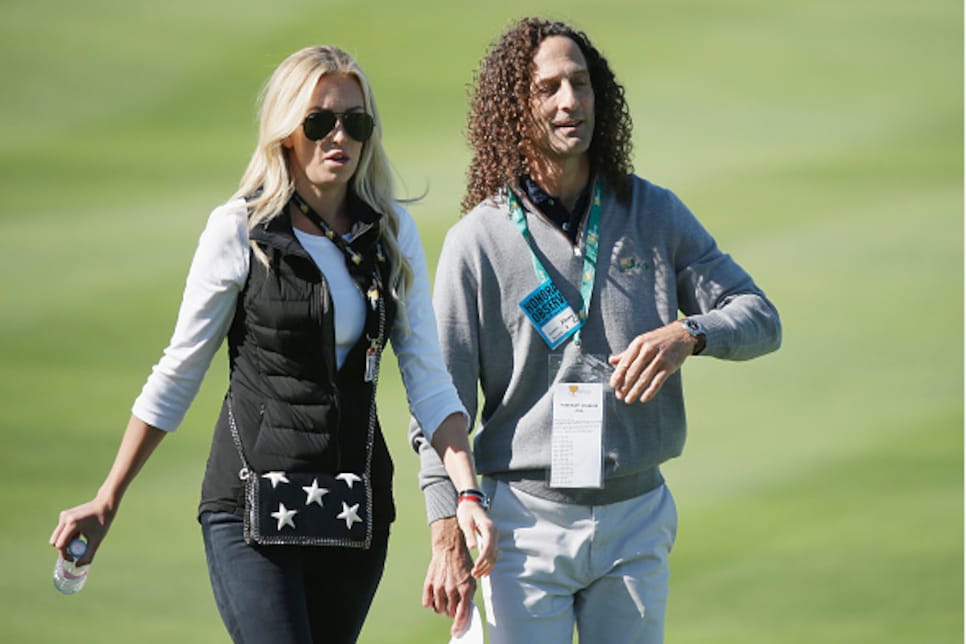 So many questions. Are Paulina G and Kenny G longtime friends? Is the "G" short for Gretzky? Why does it look like he's walking with his eyes closed? How much Team USA swag did WAGs/guests get?
Kenny G was the, um, unsung star of the Presidents Cup. The scratch golfer performed at the opening ceremony, was mobbed by fans throughout the week, and probably played sweet, sweet music for the U.S. squad to fall asleep to at night. His presence also gives us the opportunity to remind everyone of that time Kenny G teamed up with Warren G and melted everybody's faces off with this rendition of "Regulate":
THIS WEEK IN DUSTIN JOHNSON-PAULINA GRETZKY PUBLIC DISPLAYS OF AFFECTION
Paulina made her international team competition debut for the U.S. and she made the most of it, enjoying the local sites and lending support to her man: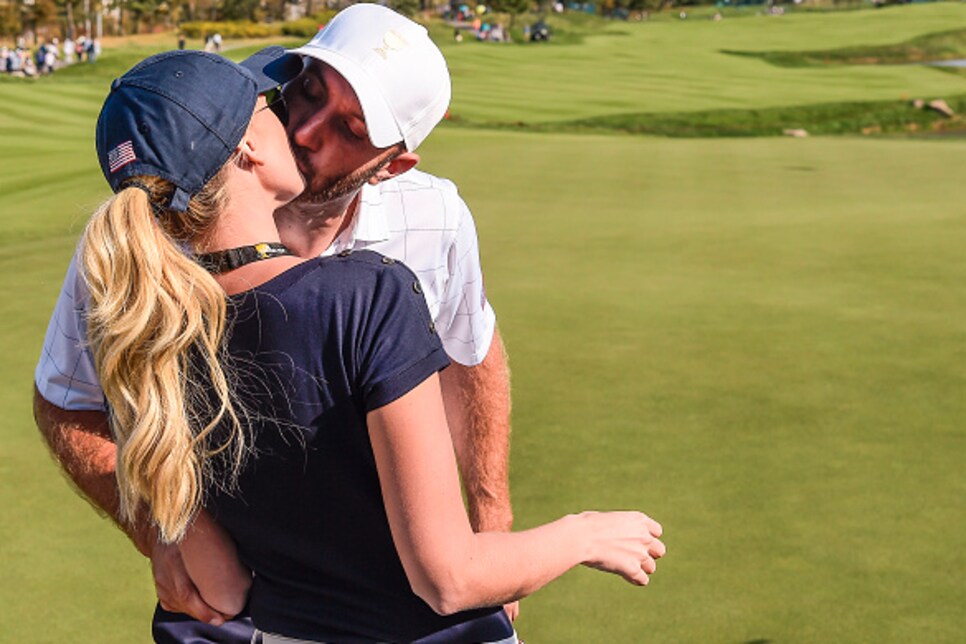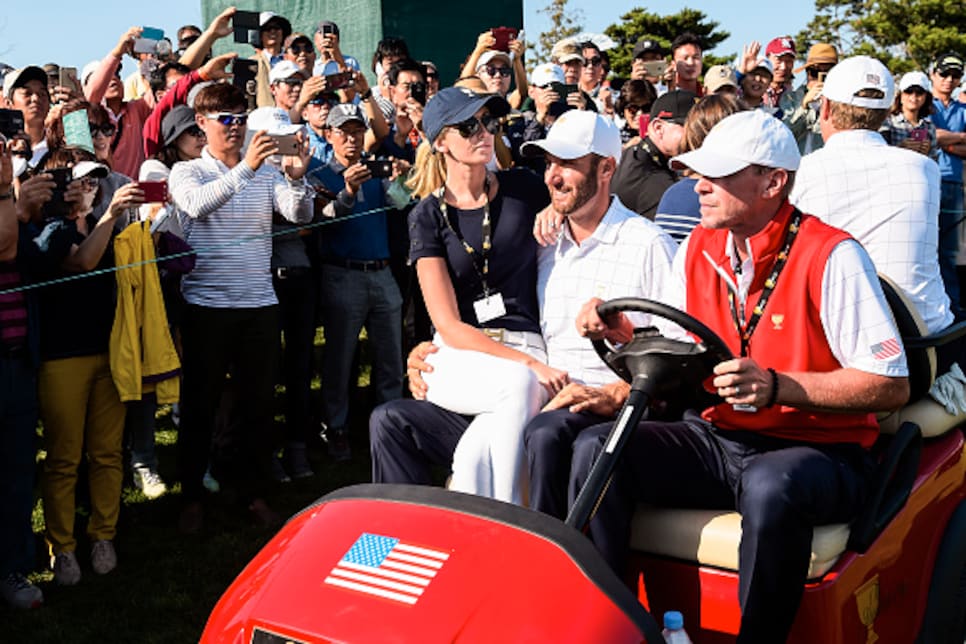 Steve Stricker looks like an uncomfortable chaperone at the prom.
Without a top-30 finish since March, Jessica Korda shot a pair of 65s over the weekend to win the LPGA Malaysia. Makes sense. . . . Sammy Schmitz won the U.S. Mid-Am Championship thanks to a par-4 hole-in-one on the 34th hole of the 36-hole final. Makes even less sense. . . . Bill Murray recruited Chevy Chase to help him score weed during the shooting of "Caddyshack." OK, so that actually does make sense. . . . Sean "The Beast" Fister officially announced his retirement from long drive competitions. Does that mean "The Beast" nickname in golf is up for grabs? . . . NBC/Golf Channel's coverage of the British Open will begin in 2016 instead of 2017. Great news for us Jonny Miller fans, even if there are fewer opportunities to say "chunk and run" in links golf. . . . Matt Fitzpatrick, 21, won his first European Tour title at the British Masters. Let the Matt Fiztpatrick Era begin! And to celebrate this momentous occasion, Fitzpatrick went to Subway.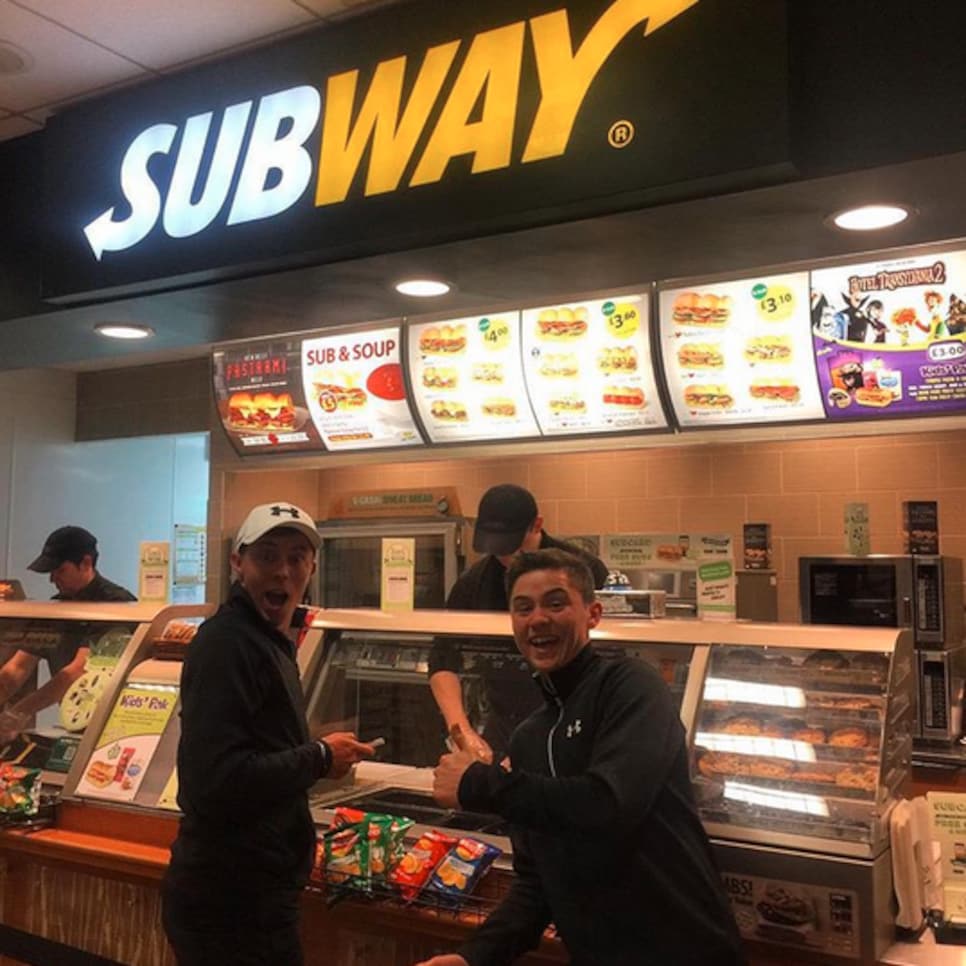 As a Subway cardholder and someone who went to the Subway in St. Andrews as many time as possible during the Open, Fitzpatrick went up a few points in my book.
RANDOM QUESTIONS TO PONDER
How could Jay Haas put his own son in that position?
How much does a private Kenny G booking cost?
Can we fast forward to April now?