The Loop
The Grind: Phil Mickelson's second career, DJ's distractions, and Pebble predictions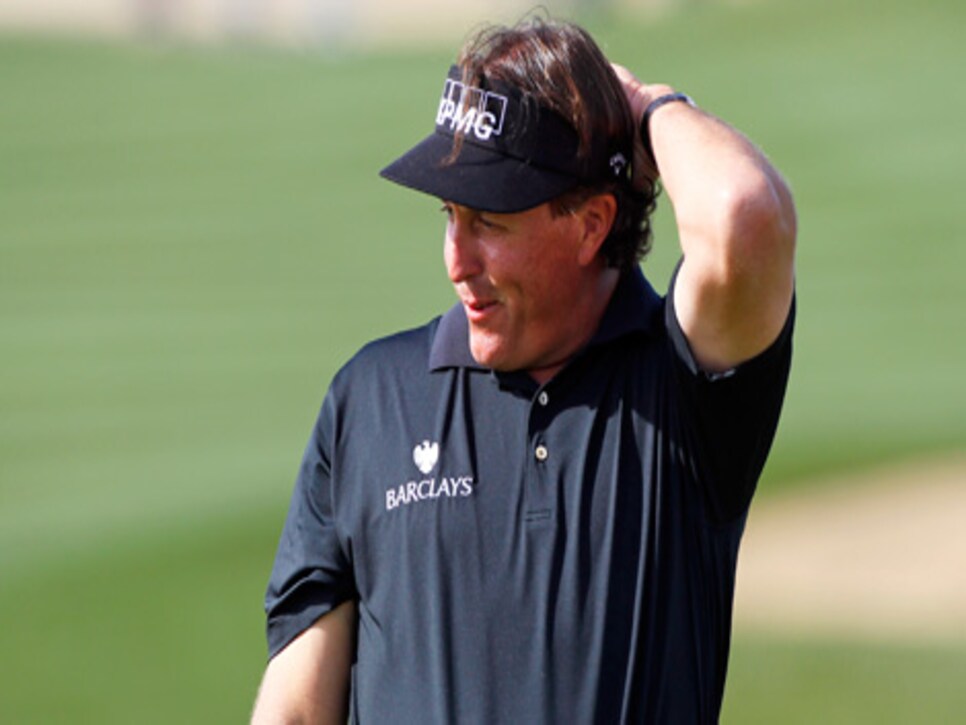 It was a good week for Phil Mickelson -- and for his sponsors.
Welcome to another edition of The Grind, where unlike the Super Bowl, we promise to never leave you in the dark. Speaking of lights out, how about the play of Phil Mickelson at the Waste Management Phoenix Open? Of course, he was also the talk of the golf world early last season before doing his best impression of a typical small-market baseball team and disappearing for most of the spring/summer. But for now, we'll focus on the positives. . .
Phil Mickelson as a pitchman. Forget about the incredible on-course display he put on at TPC Scottsdale, how about the performances he put on hocking his new Callaway driver? Lefty kissed the club at one point, referred to his newest toy as a "dream" and turned his post-round interviews into commercials for the equipment giant. It worked, with the company's SVP of marketing, Harrry Arnett, reporting the "Biggest traffic weekend in our history & most drivers we've ever sold in 1 day on Saturday...beaten on Sunday" on Twitter. The guy could probably sell you subscriptions to 10 magazines you don't want if he showed up on your doorstep.
TPC Scottsdale's 16h hole. Padraig Harrington punted footballs into the stands, caddies risked bodily harm trying to win footraces, and James Hahn performed a rendition of the "Gangnam Style" dance that would even have impressed its creator, South Korean entertainer Psy. What will the most raucous crowd in golf provide for an encore? It's a shame we have to wait 12 months to find out.
Scott Piercy. Phil's near-59 is so last Thursday. How about Scotty P.'s 61? The 34-year-old's 10 birdie performance forced NBC to show a little of his final round. However, this isn't a fluke. Piercy played in last year's Tour Championship to cap a season in which he finished in the top 25 in half of the 28 events he entered, while earning his second PGA Tour title at the RBC Canadian Open.
Lipouts. We get it, lipouts are part of the game. But that doesn't mean we can't complain about them. And not just when they happen to Hall of Famers trying to make history. Those late-round rim outs are just as painful to us hacks trying to break 80/90/100. Lipouts are the ultimate on-course dagger.
"Morning Drive" dramatics. After two years, the Golf Channel's daily morning show packed up and moved down the hallway to another studio. The nice, new digs are reason to celebrate, but why the crew had to act like they were turning off the lights at Cheers for the last time is beyond me.
Vijay Singh. Does deer-antler spray even work? It sounds like some sort of hocus-pocus remedy "doctors" from the 13th century would have prescribed. Regardless, it contains one of the PGA Tour's banned substances. Sorry, Vijay, you deserve to be punished for breaking the rules. I mean, without rules, we're no better than animals. You know, like deer. . .
The PGA Tour heads back to California for the AT&T Pebble Beach National Pro-Am. The tournament rotates among Pebble Beach GL (Is the "GL" for "glorious"? Because it should be), Spyglass Hill GC and Monterey Peninsula CC the first three days before Sunday's final round at Pebble.
Random tournament fact: Last year, Phil Mickelson and Jim "Bones" Mackay set an unofficial record for the most talking/strategizing between a player and caddie on their way to a big win, capped by a final-round 64. Our favorite moment? When the two discussed at length on the 18th hole whether a 3-wood would fly farther than a driver with a certain amount of tailwind.
WEEKLY YAHOO! FANTASY LINEUP
Well, you've got to go with Bill Murray, a winner with D.A. Points in 2011, of course, and I'm hearing that Ray Romano has really been working on his short game. Oh, we're not making picks for the big pro-am? Let's try again then:
Starters -- (A-List): Phil Mickelson. We learned our lesson early last season when Mickelson won here and then nearly won again the next week at Riviera, before not doing much the rest of the year. When Lefty is hot, you ride him. And if he falters, we always have Mr. Bridesmaid, Brandt Snedeker to fall back on.
(B-List): Dustin Johnson. Potential Paulina Gretzky distractions (above) aside, DJ has two wins, a T-5 and a T-7 in five appearances in this event. Not too shabby. Kind of like his recent string of Instagram pics featuring his girlfriend. . .
(B-List): Aaron Baddeley. The Aussie has a solo fourth and a T-6 here the past two years, and is playing well, as evidenced by his recent T-6 at the Farmers Insurance Open.
(C-List): Billy Horschel. The 26-year-old has the second-longest consecutive cuts streak on the PGA Tour right now. It's almost enough to forgive him for that camouflage pullover he wore while playing with Tiger at Torrey Pines a couple weeks ago.
Bench -- Brandt Snedeker, Hunter Mahan, Webb Simpson and Robert Garrigus.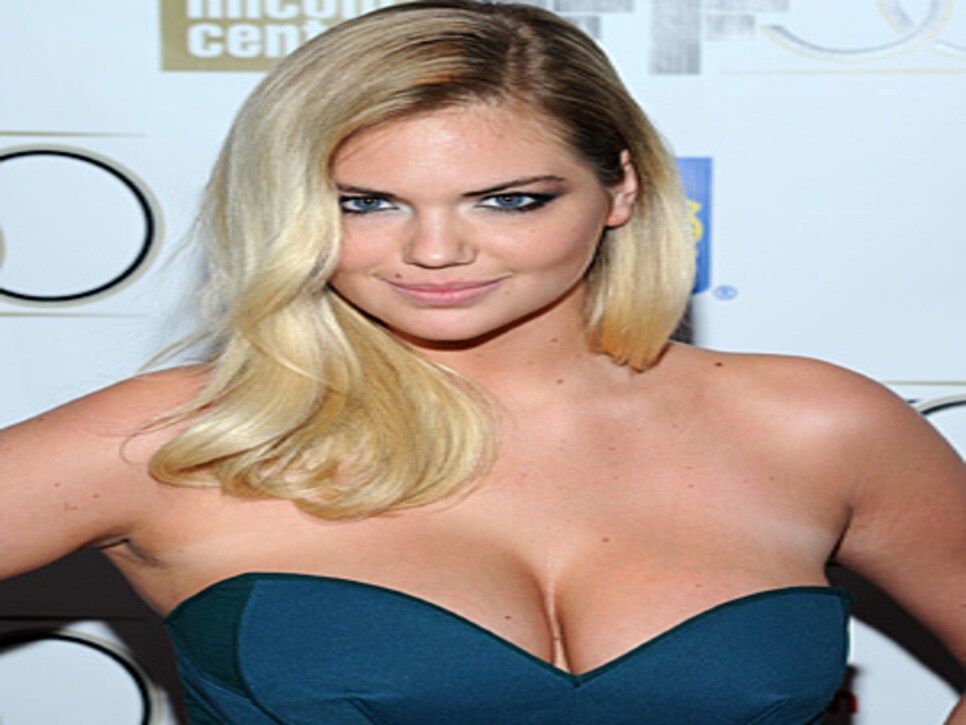 Pro-Am Note: Matt Cain and Justin Verlander, the two starters of the 2012 MLB All-Star game are both participating. Cain also tossed a perfect game in 2012 and his Giants nipped Verlander's Tigers in the World Series, but it's the Detroit flamethrower who has been linked to supermodel Kate Upton (left, as if you needed to be told who Kate Upton is). We'll call it a push.
RANDOM PROP BETS OF THE WEEK
-- Microphones will pick up Phil Mickelson discussing the wind in terms of knots: 1-to-5 odds
-- Win or lose, Bill Murray will dance: LOCK.
-- Paulina Gretzky will find her way into this column again in 2013: Also a LOCK.
Could it be anything other than James Hahn's "Gangnam Style" dance following a birdie on TPC Scottsdale's 16th hole on Sunday? The rookie's extended version of the move earned him a lot of new fans, or at least, a few more people who have actually heard of him now. Enjoy: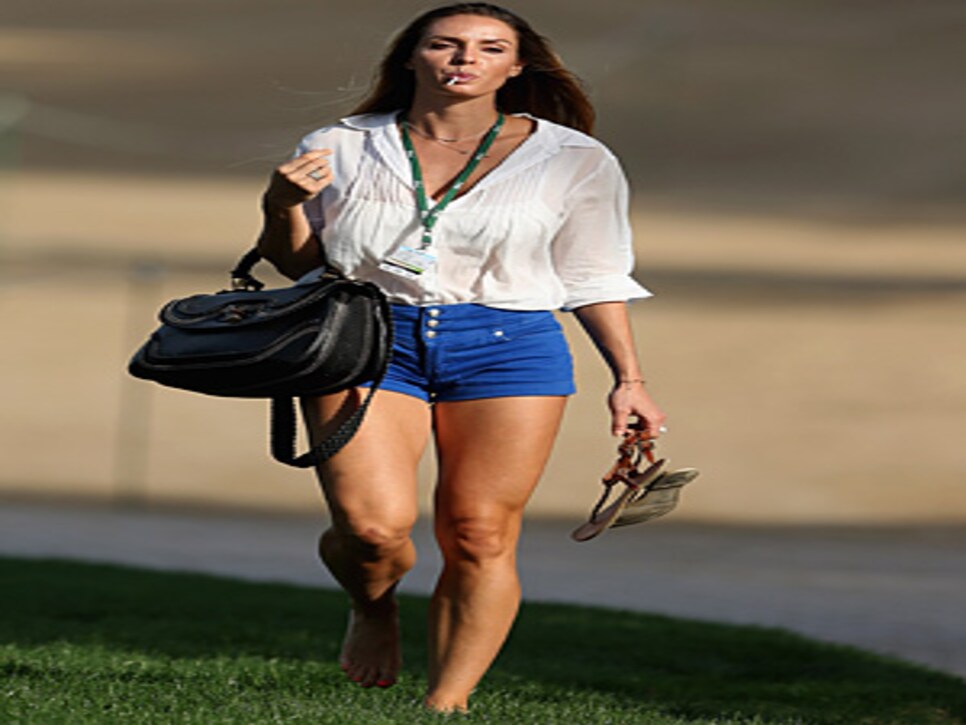 This is a picture of Sergio Garcia's girlfriend, Nicole Horrex, following him during last week's Dubai Desert Classic. Sergio may claim to be cursed by the golf gods, but we're finding it hard to be sympathetic.
CELEBRITY/ATHLETE WE'D LIKE TO PLAY GOLF WITH
Anyone not named Ray Lewis. The Baltimore Ravens linebacker has to be the most tiresome figure in all of sports. At least I won't ever have to see or hear this guy again with him retiring following his team's Super Bowl win. Oh wait, now he's a lock to be hired as a football analyst for an exorbitant amount of money? Isn't it great when good things happen to good people?
OBVIOUS QUOTE OF THE WEEK
"I feel like I keep running into Hall of Famers," said Brandt Snedeker after finishing runner-up for a second-straight week. Gee, do you think? Then again, we can't blame him for being a little deflated. After all, he shot 64-66-65-65 and lost by FOUR shots.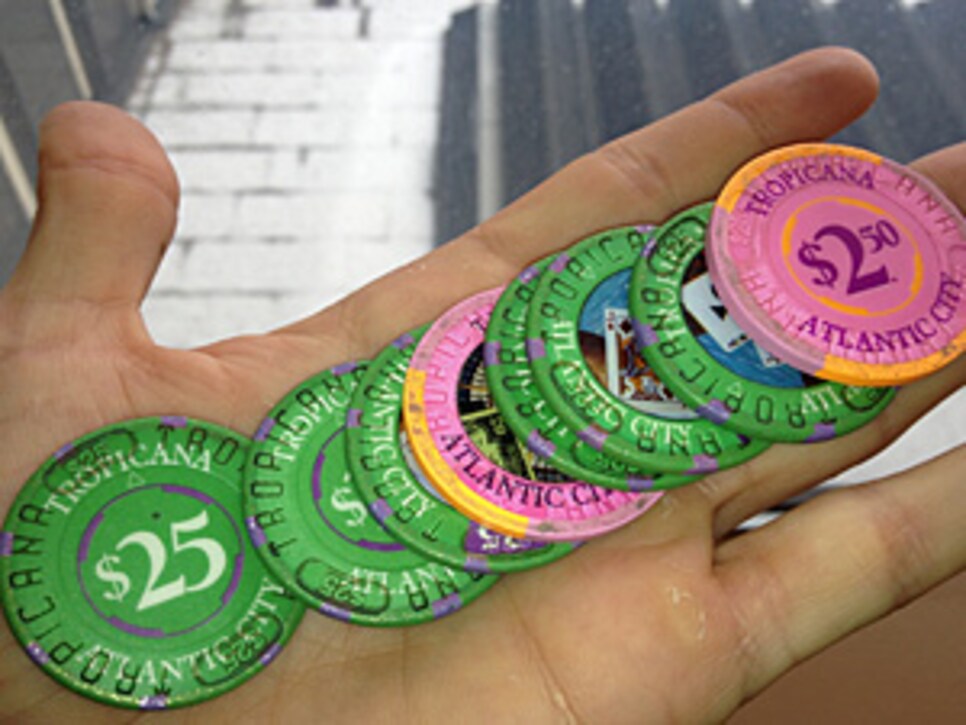 Karrie Webb won the Australian Masters for a Tiger-like eighth time. . . . The new $8.5 million event in South Africa has already been postponed. What a shocker. . . . I took a trip to Atlantic City, aka Dagger City, this weekend and miraculously managed to leave ahead. Yes, those chips (left) are proof of my "big" winnings. No, I'm not one of the Tropicana's high rollers.
RANDOM QUESTIONS TO PONDER
Why can't you gamble on sports when you're in Atlantic City?
Beyonce was great, but will we ever see a Super Bowl halftime show "wardrobe malfunction" again?
Tiger and Phil just won in back-to-back weeks. Do we really have to wait another two-plus months for the Masters?