The Loop
The Grind: Match play madness, Oscars observations, and Honda Classic picks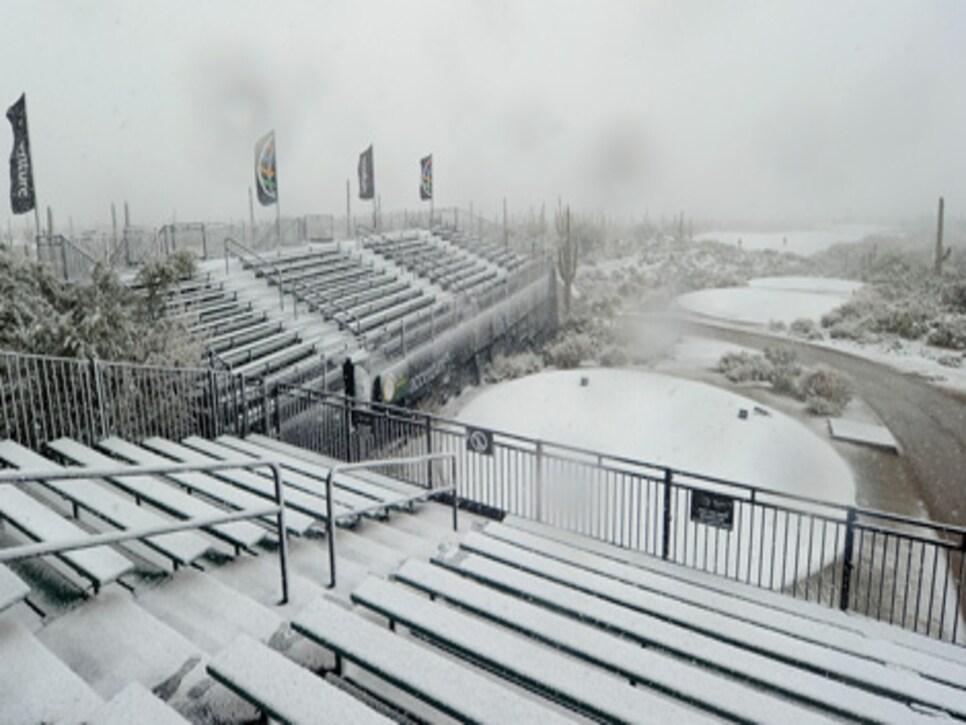 Yeah, this actually happened at a PGA Tour event. (Photo: Getty Images)
Welcome to another edition of The Grind, where we don't need a red carpet to be at our best. What a wild week it was in the desert. All four No. 1 seeds bowed out by the second round, yet Sunday still featured a pretty sexy final four. Well, if you're into ski hats. In fact, Al Gore's next documentary on global warming should just be a recap of the unpredictable weather the PGA Tour has encountered this year. But the next stop is the Sunshine State and hopefully, it will bring just that -- you know, because Florida is known for its predictable climate. In the meantime, here's what else has us talking:
Matt Kuchar. Gone are the days of viewing this guy as a glorified ATM. Don't let the smile fool you, Kuchar is a stone-cold competitor and he's getting closer and closer to being a major champion. In the past 10 months, he's won arguably the two biggest non-major events on tour. And with 11 one-putts in 17 holes during the final against Hunter Mahan, why don't more pros copy him and anchor the putter into their forearm rather than their belly or chest?
Ariya Juntanugarn. Sure, she choked away her first LPGA win by triple bogeying the final hole of regulation, but it was a pretty incredible effort considering it was her first LPGA event as a pro. Oh yeah, she's only 17, and her wild final round included an ace on the 12th hole that vaulted her back into the lead. She'll be fine. Just fire the caddie who let her go for the green in two on the closing par 5 and move on.
The West Coast Swing. If you're a fan of the PGA Tour, you couldn't have asked for anything more from this start to the season, which included wins by Tiger Woods, Phil Mickelson, Dustin Johnson, Brandt Snedeker and Kuchar. Oh yeah, this also gives me an opportunity to link to my latest slideshow recapping all the action from 2013 thus far.
The PGA Tour's rebel stance. The tour announced it would oppose the USGA's proposed ban on the anchoring of putters after many of its players (predictably) protested the new rule. So, let's get this straight. The tour will follow every other rule in the book set forth by the game's governing body, but not this? That's kind of like me saying I will follow all the rules of my office other than the one that says I can't take a nap after lunch. Wait, is that even an official rule? Hmm. . .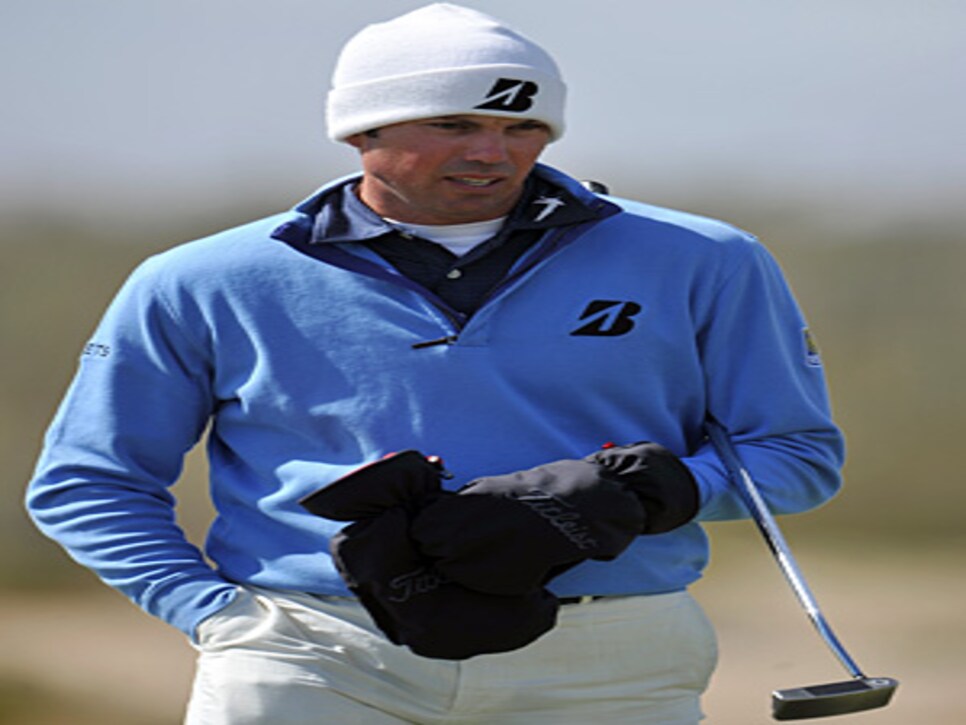 Rory McIlroy. Look, if McIlroy was a stock, there wouldn't be a more valuable long-term option out there. But right now, David Duval is doing as much to convince me to buy Nike equipment.
The Golf Club at Dove Mountain. Forget about the fact that the players hate this course, how about not having this event at a place that could have doubled as a ski resort? If a bunch of rain was enough to convince the USGA to stay away from another Bethpage Black U.S. Open, this snow storm in the desert should make the PGA Tour reconsider coming back to this Jack Nicklaus design. Days after the snow was cleared, there was Matt Kuchar (left) looking ridiculous wearing a pair of oven mitts to keep his hands warm. Move the tournament back to California and call it a day.
With its West Coast Swing in the books, the PGA Tour heads to Florida for the Honda Classic. Last year, Rory McIlroy held off a charging Tiger Woods, who shot a 62 in the final round. NBC probably wouldn't mind seeing that happen again. . .
Random tournament fact: Matt Kuchar won the only PGA Tour title of his pre-one-plane-swing era in 2002. It was also in the days before this event moved to PGA National, meaning he basically shouldn't even be listed as a former champ.
WEEKLY YAHOO! FANTASY LINEUP
Since the WGC Match Play wasn't a part of Yahoo!'s fantasy golf season, we're not counting them as official picks and forgetting we ever made them. Now that the tour is back to stroke play this week, here's how we see things playing out with this field loaded with international talent:
Starters -- (A-List): Tiger Woods. Despite a first-round loss to Charles Howell III at the Match Play, Tiger is still batting 1.000 in stroke play events in the U.S. this year.
(B-List): Louis Oosthuizen. The South African is making his 2013 stroke play debut in the U.S., but a hot stretch to close out 2012 and a win on the European Tour to start the year has him all the way to No. 5 in the Official World Golf Ranking.
(B-List): Fredrik Jacobson. The Swede's last two stroke play tournaments were a T-7 at Pebble Beach and a T-3 at Riviera. And despite the ugly missed putt that cost him a spot in a playoff there, Jacobson leads all golfers who have played at least 10 PGA Tour rounds in strokes gained/putting.
(C-List): Lee Westwood. The former World No. 1 finished fourth in this event last year and has been over par just once in his previous 10 rounds at PGA National.
Bench -- Graeme McDowell, Keegan Bradley, Justin Rose and Charl Schwartzel.
RANDOM PROP BETS OF THE WEEK
-- After an impressive display by Roger Maltbie during the snow delay, the Golf Channel will introduce a new reality series in 2014 in which the on-course analyst has snowball-throwing contests with other golf personalities: 10-to-1 odds
-- A player who competed in the Match Play will mistakenly tell a playing partner this week to "pick it up": 5-to-1 odds
-- The upcoming movie, Fast and Furious 6, will NOT win an Academy Award for Best Picture: LOCK
CELEBRITY/ATHLETE WE'D LIKE TO PLAY GOLF WITH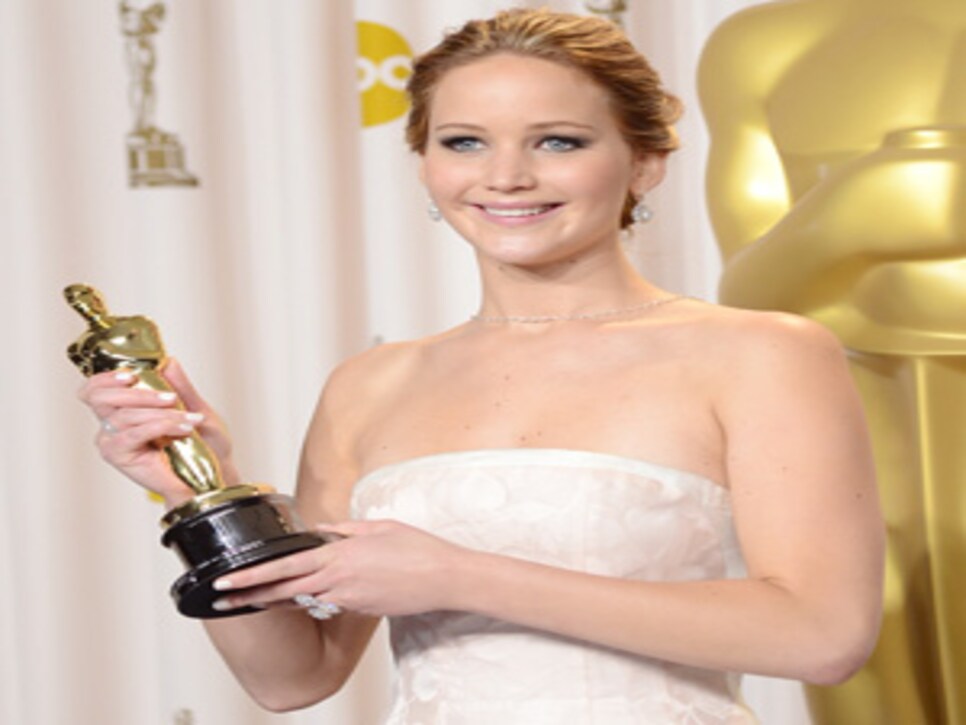 Jennifer Lawrence. OK, so I've never actually seen one of her movies (although I am looking forward to seeing "Silver Linings Playbook" whenever it finds its way onto network TV), but I did see this clip of her press conference after winning the Academy Award for best actress. Lawrence seems really funny and cool, especially when she notes that she took a shot of liquor before addressing the media. And despite her now famous fall on her way to accept her award, she must be a good athlete. Isn't that what that movie The Hunger Games was all about?
We have NO idea what is being said in this, but it's still pretty creative/funny. Perhaps the PGA Tour should just make this the format for the next time it returns to Dove Mountain:
Associate equipment editor Ashley Mayo won the Golf Digest Match Play bracket pool, despite picking Woods, an opening-round loser, to win it all. Yeah, the rest of the entries were so bad that my boss came up with this "formula" for filling out your bracket. It's really funny. And I'm not just saying that because he's my boss. . . . My friends and I bumped into Cuba Gooding Jr. (above), aka "Rod Tidwell" from the classic movie Jerry Maguire, at a NYC bar over the weekend. That's Steve hopefully not asking the Oscar winner to say "Show me the money!"
RANDOM QUESTIONS TO PONDER
When Tiger and Rory play a home and home, does the host actually have to pay a guest fee?
Whatever happened to Cuba Gooding Jr.?