The Loop
The Grind: Mahan's big week, Snedeker's big break & Bridgestone predictions
Welcome to another edition of The Grind, where we have babies on the brain. First, it was the royal baby dominating the British tabloids during the Open Championship. Then, the Mahan baby took center stage at the Canadian Open. Even on Golf Channel's Morning Drive, co-host Lauren Thompson announced she was expecting a baby boy. Here's hoping my mom wasn't paying too much attention to golf recently. Otherwise she's going to start pestering me for a grandchild.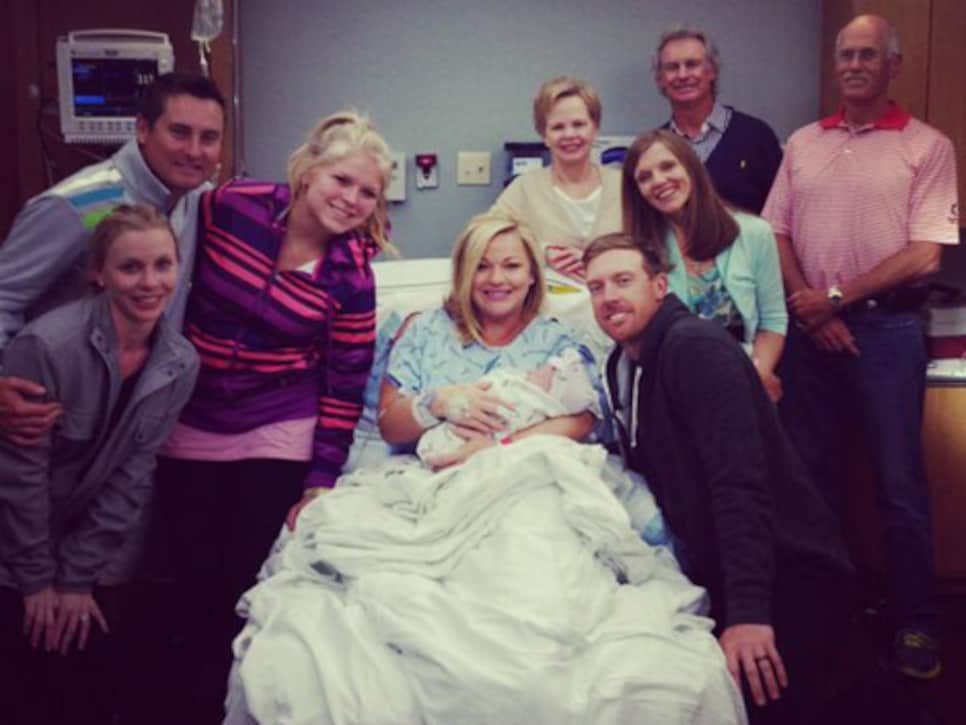 Hunter Mahan and his wife, Kandi, with their baby girl.
Hunter Mahan: OK, so it wasn't like he left the British Open, but Mahan still walked away from a potential PGA Tour win and another million-dollar payday to be with his wife, Kandi, for the birth of their first child. Kids are expensive! Mahan has now vaulted over Phil Mickelson for the PGA Tour's Parent of the Year Award.
Brandt Snedeker: For a second time in three weeks, we picked the correct WINNER on the PGA Tour. Sure, we had an assist from Hunter and Kandi Mahan, but we're still going to pause to give ourselves a big pat on the back. Now if only we could pick a major champion one of these days. . . Oh yeah, Snedeker played pretty well to win his second PGA Tour title of 2013. We guess he deserves a pat on the back as well.
Mark Wiebe: The 55-year-old picked up his first major championship on the Champions Tour at the Senior British Open by taking out Bernhard Langer in a playoff at Royal Birkdale. Not too shabby for a guy who missed the cut in his only two British Open appearances during his PGA Tour days.
Mike Strantz: Sadly, this former protege of golf architect Tom Fazio died of throat cancer in 2005 at 50, but not before he created seven stunning golf courses. I've been fortunate enough to play three of them, including Caledonia (glorious!) and True Blue this past weekend on a trip to Myrtle Beach. If you haven't played either (Caledonia is No. 1 and True Blue is No. 3 on Golf Digest's ranking of Myrtle Beach's 60 best courses), do yourself a favor and get down there sometime.
Kenny Perry: Some things never change. Perry often skipped going to the British Open during his days on the PGA Tour and this past week he decided not to make the trip abroad for the Senior British Open. Even after coming off winning two consecutive Champions Tour majors. What a gamer.
Bernhard Langer: The two-time Masters winner appeared on his way to a third major title on the Champions Tour until a double bogey on the final hole of regulation at Royal Birkdale. That opened the door for Wiebe to beat Langer in a playoff, harkening Jack Fleck's famous playoff win over Ben Hogan at the 1955 U.S. Open. Eh, not so much.
Kandi Mahan: She couldn't have held off on going into labor a couple more days? Just kidding. We're a big fan of the former Dallas Cowboys cheerleader. Congrats to her and Hunter on the birth of Zoe Olivia. She'll be walking around in a snazzy all-blue Under Armour getup in no time!
The PGA Tour heads back to the U.S. for the WGC Bridgestone Invitational, aka that tournament Tiger Woods once hit a legendary shot in the dark to close out a win.
Random tournament fact: Craig Parry won this event in 2002. By four shots. And Fred Funk and Robert Allenby finished T-2. Uh, did all the big names forget to show up that week?
WEEKLY YAHOO! FANTASY LINEUP
Starters -- (A-List): Brandt Snedeker: Thanks, Sneds, for making us look good last week. We see no reason not to ride the hot hand here.
(B-List): Keegan Bradley: Struggling of late, but we like the defending champ to get back on track this week.
(B-List): Matt Kuchar: Why does it seem like this guy is in contention on a weekly basis? Oh yeah, because he is.
(C-List): Adam Scott: It's tough not to pick this guy anytime he plays. He's our choice to win.
Bench: Tiger Woods, Justin Rose, Bo Van Pelt and Jason Day.
Natalie Gulbis being Natalie Gulbis: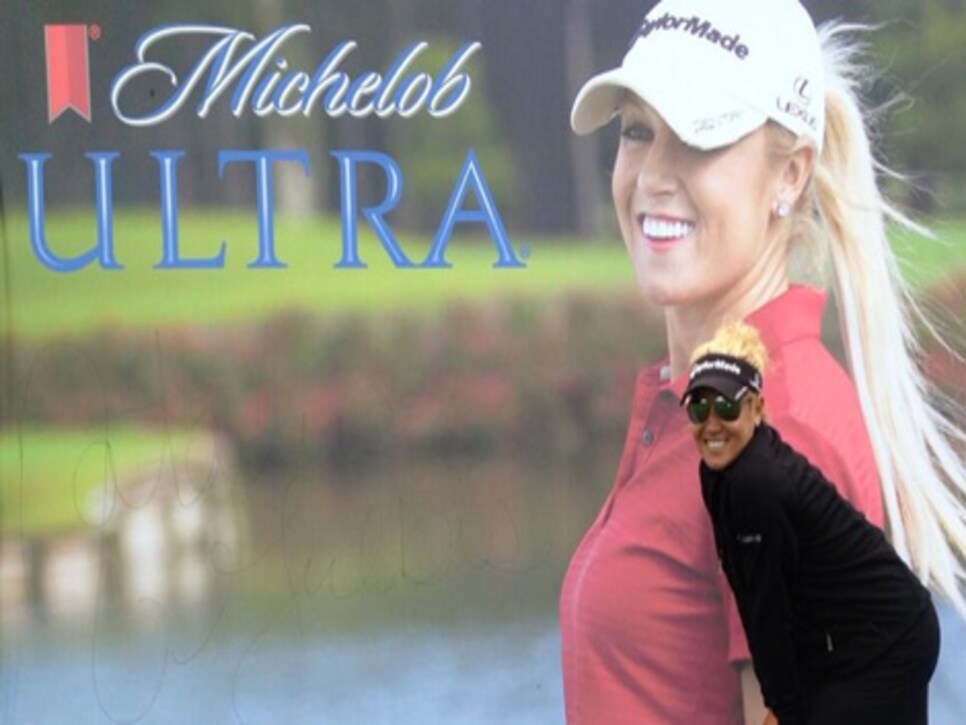 THIS WEEK IN DUSTIN JOHNSON-PAULINA GRETZKY DISPLAYS OF PUBLIC AFFECTION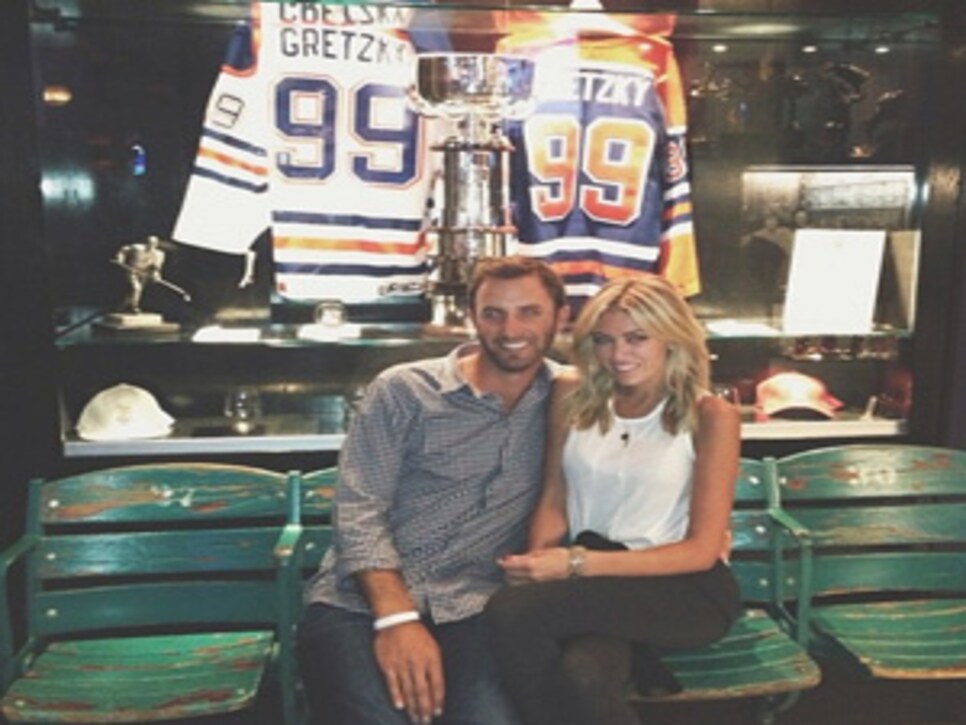 You'd be amazed by how many people contacted us to say they missed this segment last week, but guess what? They're back! Paulina posted this picture of the two lovebirds at her father's restaurant during the Canadian Open. A few days later, DJ had a chance to win the tournament until a late triple bogey doomed him. Afterward, he tweeted "Thanks for all your support when I had a rough finish. I love you @PaulinaGretzky." Very sweet.
RANDOM PROP BETS OF THE WEEK
-- Inbee Park will play the Old Course at St. Andrews with one hand tied behind her back and still win the Ricoh Women's British Open: 1,000-to-1 odds.
-- Phil Mickelson will warm up by putting balls into his claret jug: 10-to-1 odds.
-- Brandt Snedeker will get the Mahans an awesome baby gift: LOCK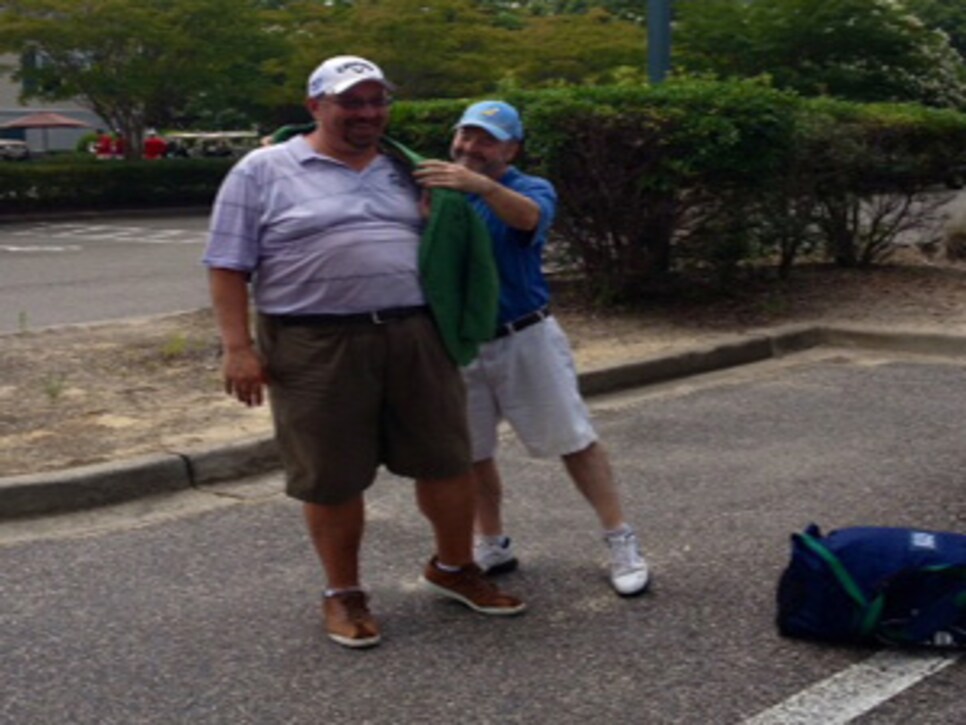 There were plenty of other noteworthy events over the weekend. Scottie Scheffler captured the U.S. Junior Amateur and Gabriella Then won the U.S. Girls' Junior. . . . Michael Hoey won the Russian Open for his fifth career European Tour title. Yes, the Russian Open is a real event. . . . Karrie Webb won the Ladies European Masters for her third win of 2013. . . . And finally, Tom Roksvold won the 20th annual H.G.G.A. Championship in Myrtle Beach, his second major title. I finished runner-up. As usual. Sigh. Pictured is Tom being presented with our version of the green jacket by tour commissioner and last year's champion, Mark Finegan, in the parking lot of TPC Myrtle Beach following the final round. Classy!
RANDOM QUESTIONS TO PONDER
Why do buddies golf trips go so fast?
Was Hunter Mahan still wearing his golf shoes in the delivery room?
If the Mahans need a babysitter, is Brandt Snedeker on call?