The Loop
The Grind: A sleeper comes through, Lexi turns heads & 'Wozilroy' rumors flow
Welcome to another edition of The Grind, where we don't get all the fuss about PGA Tour players having such a quick turnaround between seasons. After all, most people only get two weeks of vacation per year. And most people don't spend the rest of the time PLAYING GOLF for a living. Not that we're complaining. It just gives us more to talk about.
Jimmy Walker: He may have picked up his first PGA Tour title in his 188th event, but it was his first attempt since we named him one of the top sleepers to watch out for this season. Thanks for making us look smart, Jimmy! Woo! With the Frys.com now being part of the FedEx Cup schedule, Walker also locked up a first trip to the Masters. We're pretty sure he's not complaining about the regular season starting when it did.
Lexi Thompson: The 18-year-old phenom won by four shots in Malaysia and matched 16-year-old phenom Lydia Ko by winning her second LPGA tournament. Meanwhile, former teen phenom Michelle Wie turned 24 and is still stuck on two wins. Phenom is a fun word to say. ____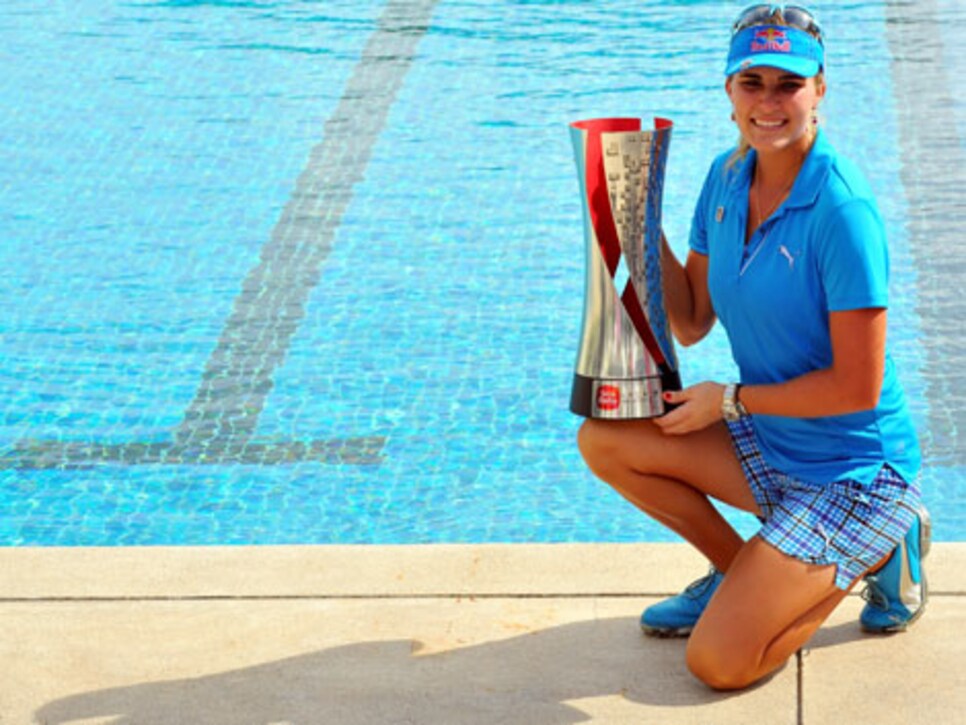 Wait, did Lexi Thompson win a golf tournament or a swim meet?
Vijay Singh: He's second on the PGA Tour money list at 50! OK, so it's just one event, but still, Singh's runner-up at CordeValle showed he isn't ready to start playing on the Champions Tour full time -- especially when the field at the PGA Tour's season opener was about as deep as a senior event.
The season opener: It still feels weird to say a new PGA Tour season starts in October, right? Apparently all the top players felt it was weird, too. Last week's annual Wake Forest Pro-Am featured more top-30 golfers. True story.
PGA Grand Slam of Golf: As if "Silly Season" events weren't silly enough, now they've been relegated even more worthless since they're mixed in with regular season events. And how the heck is Padraig Harrington in the field? Oh, he's the defending champ? Let me re-phrase the question: How the heck did Padraig Harrington get into this field last year?
Lydia Ko critics: The 16-year-old phenom(!) reportedly plans to turn pro soon and has petitioned the LPGA for a full-time membership. Many are questioning the move. Funny enough, none of those people have forfeited millions in potential earnings like Ko. She's ranked fifth in the world, people. She should be allowed to cash in on that.
Rory McIlroy: First, there were more rumors of a split with Caroline Wozniacki (Not 'Wozilroy'!). Then the news that McIlroy and his former management agency are suing each other. There's a good chance McIlroy didn't do anything wrong in either case, but the non-positive stories about the golf star seem to be piling up of late. In other words, he really needs to start playing well again.
After an exciting, memorable, and fun Week 1, the PGA Tour really hits its stride with the Shriners Hospitals For Children Open in Week 2. Vegas, baby! Vegas!
Random tournament fact: This event still holds the unofficial record for longest name of a tournament when it was called the Justin Timberlake Shriners Hospitals For Children Open.
THIS WEEK IN DUSTIN JOHNSON-PAULINA GRETZKY PUBLIC DISPLAYS OF AFFECTION
The "Three Amigos," DJ, Paulina and Austin are back! And apparently, they're headed Down Under. "Next stop, Australia!" Paulina said with this picture: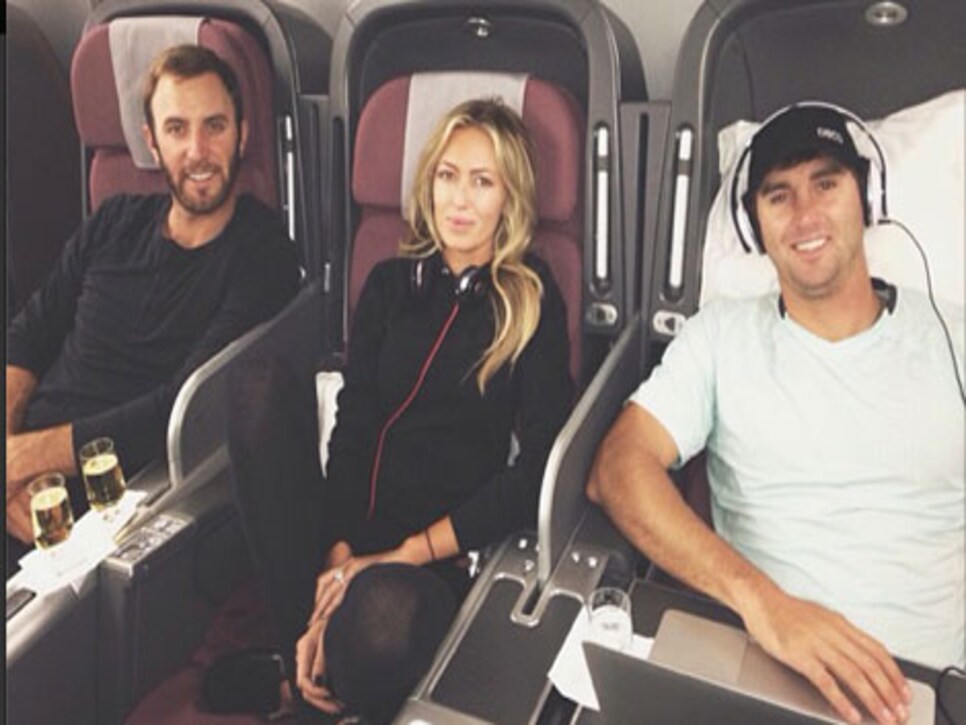 Those sure look a lot more comfortable than the airplane seats we're used to!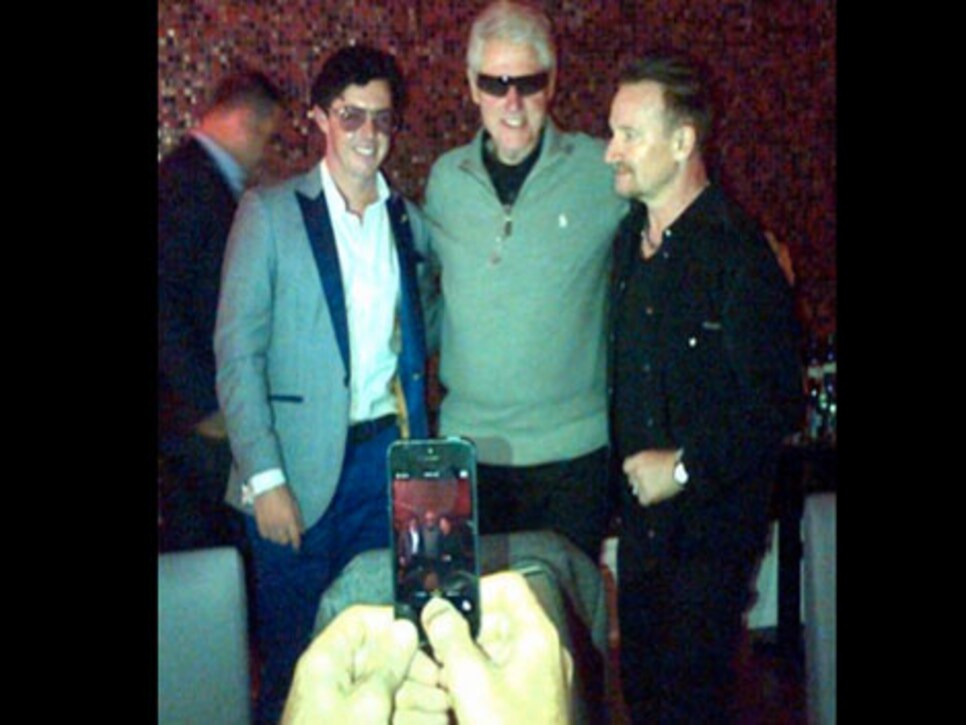 The three had a great time until Bono got bored of hearing hole-by-hole details of the day's match.
Two-time major winner and Ryder Cup hero Tony Jacklin appeared on "Strictly Come Dancing," the UK's version of "Dancing With The Stars." It did not go well. Check out the incredibly cheesy footage here:
Erik Compton won the inaugural PGA Tour Courage Award. The guy has come back after two heart transplants. Good luck to anyone topping that next year. . . . Nick Faldo's Champions Tour debut lasted all of 12 holes before withdrawing with an elbow injury. He made Tony Jacklin's stint on that dancing show seem long. . . . Russ Cochran won on the Champions Tour by birdieing his final four holes. But I, a 6-handicap, birdied four of my first five holes (I'd include a link of some kind, but sadly, this accomplishment received no coverage) on Sunday. And then I watched that Jimmy Walker pick come through. Advantage: ME. . . . And finally, this is what Kim the Presidents Cup streaker looks like wearing (some) clothes. She's, um, very, patriotic. . .
RANDOM QUESTIONS TO PONDER
At what age do players lose "phenom" status?
Why does mint chocolate chip ice cream taste so much better when it's green?
Can you imagine how cranky Johnny Miller will be at 83?