The Loop
The Grind: Rose survives, Tiger struggles, FootGolf celebrations, and kissing selfies in the White House
Welcome to another edition of The Grind, where we're glad we're not a Congressional CC member this week. Did you see that rough? Yeah, that stuff isn't going anywhere for awhile. But who are we kidding? We'd still like to be a member there this week, especially with a three-day July 4th weekend on tap. We hope everyone takes advantage of the extra day and spends some serious quality time on the golf course -- oh, and with their families. In the meantime, here's what else has us talking.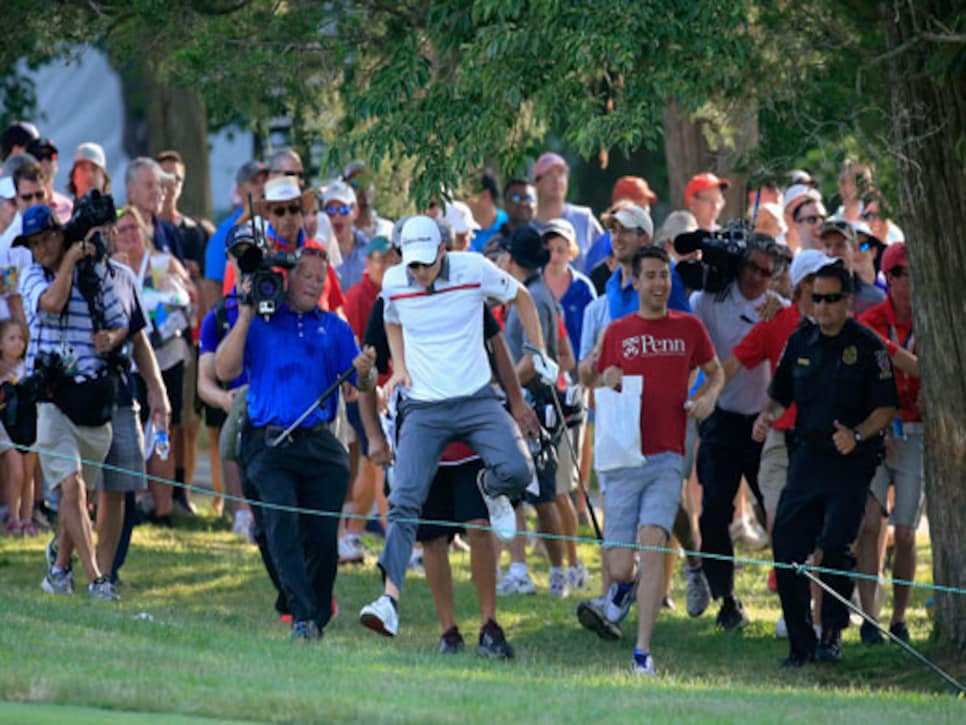 Justin Rose survived Congressional's rough -- and ropes.
Justin Rose: It was fitting the 2013 U.S. Open champ made his next PGA Tour win an event with such a U.S. Open feel. Rose had to hole a 15-footer for bogey on the final hole of regulation before beating Shawn Stefani in a playoff. "I was excited to play this golf course this week," Rose said. "I really enjoy this type of golf and this kind of test. And it tested all of us." Easier said when you win. Something tells us Freddie Jacobson wouldn't agree. . .
The PGA Tour heads to West Virginia for The Greenbrier Classic, aka that tournament where Stuart Appleby shot a Sunday 59 to win once.
Random tournament fact: Tiger Woods and Phil Mickelson missed the cut at the 2012 tournament, marking the first time they both failed to make it to the weekend at the same PGA Tour event. These days, that wouldn't be so shocking.
RANDOM PROP BETS OF THE WEEK
-- This week's winning score at the Greenbrier will only be four under: 1 million-to-1 odds
-- Tiger Woods will win the British Open: 12-to-1 odds (actual odds)
-- Bookies laugh every time someone makes that bet: LOCK
THIS WEEK IN PAULINA GRETZKY-DUSTIN JOHNSON AMANDA DUFNER-JASON DUFNER PUBLIC DISPLAYS OF AFFECTION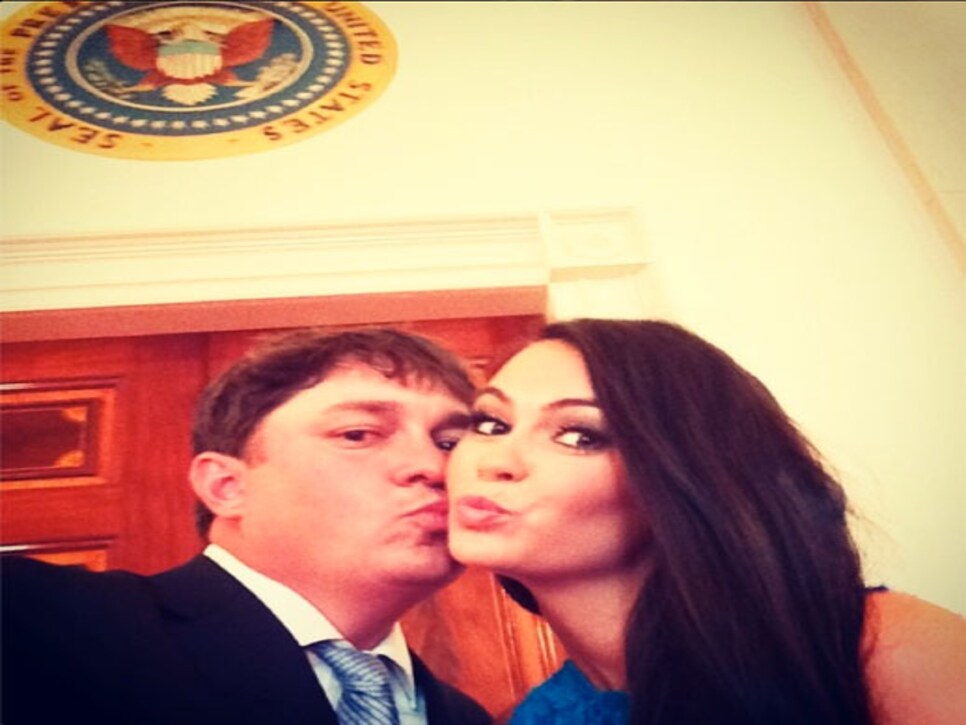 In the White House no less! Speaking of which. . .
Mrs. Dufner was also kind enough to share this great picture of all of the wives on hand when members of the Presidents Cup teams went to visit with the President: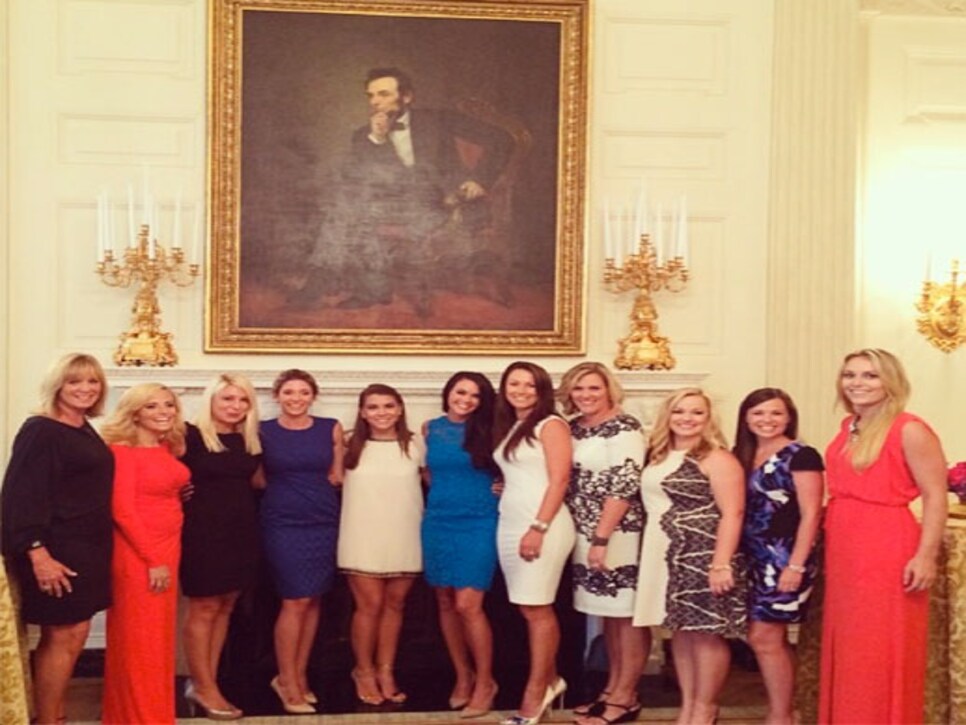 Abe Lincoln looks impressed.
VIRAL VIDEO(S) OF THE WEEK
The "Ice Bucket Challenge" is the new rage in golf viral videos and it has spread to the LPGA Tour as well as the PGA Tour. Essentially, you film yourself dumping a bucket of ice water on your head and then challenge someone else to do it. Here, Michelle Wie gives it a try:
Erik Compton is among those close to wrapping up a spot in the field at the British Open. Good. We can't hear about his remarkable story too much. . . . The WGC-Match Play will be back in 2015, but at Harding Park. Good. We can never hear the phrase "vagaries of match play" too much. . . . Fabrizio Zanatti won the BMW International Open, beating Henrik Stenson, Rafa Cabrera-Bello and Gregory Havret in a playoff. Zanotti became the first player from Paraguay to win on the European Tour. . . . And finally, more golf history was made in Williamsburg, Va., as Tim Pitrulle captured the 21st HGGA Championship to become the first player to win this prestigious event -- and this deteriorating green jacket -- in his debut. Congrats, Tim! And now go put in those scores! You are the best 26-handicapper I've ever seen.
RANDOM QUESTIONS TO PONDER
Why hasn't Donald Trump showed any interest in hosting an HGGA Championship?
Was there any #Dufnering going on inside the Oval Office?
Will Tiger Woods accept the Ice Bucket Challenge?