The Loop
Jordan Spieth comes up clutch, Rickie Fowler goes "beachin," and Johnny Miller misses out
Welcome to another edition of The Grind, where we're mad that HBO stole "The Jinx" as a title for a potential golf documentary. Our film wouldn't focus on three chilling deaths surrounding one man, but rather a series of gruesome team losses suffered in the presence of one superstar athlete turned super fan. "The Jinx: Michael Jordan's history as a U.S. Ryder Cup mascot" has a nice ring to it, doesn't it? Oh well, back to the drawing board.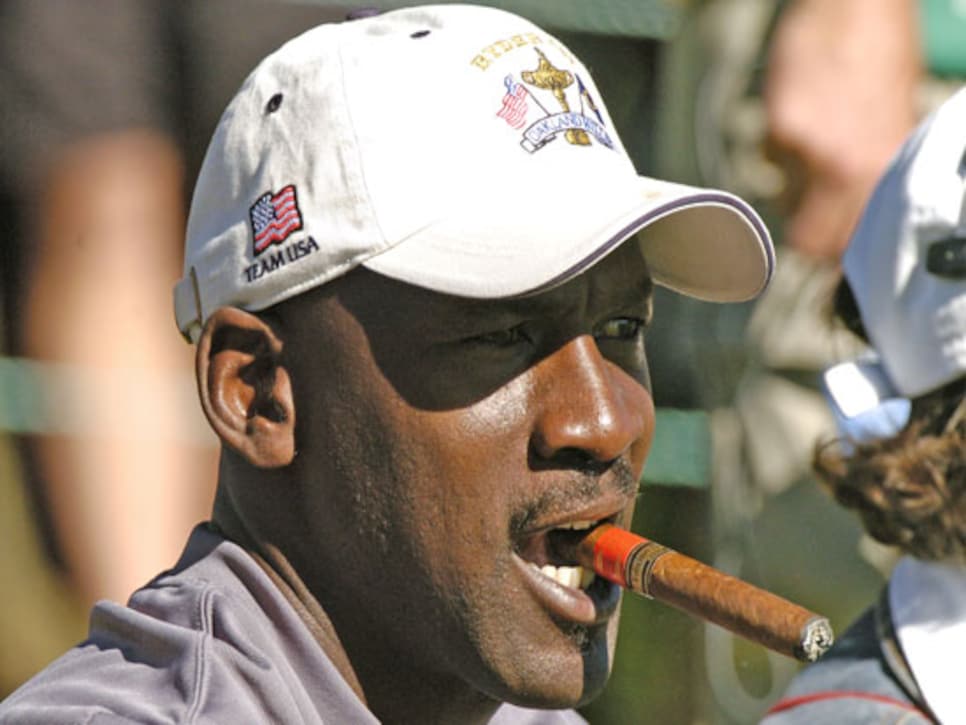 There was no mystery surrounding this week's PGA Tour winner, though, as another Jordan proved he's the real deal once again. So let's get started. We've got a lot of material to piece together.
Jordan Spieth: With his thrilling Valspar victory, Spieth became just the fourth golfer since 1940 to win twice on the PGA Tour before turning 22 and yet, it seemed like he needed this. Spieth is tied with Matt Kuchar for the most top 10s on tour since the beginning of 2013, but he hadn't won since the 2013 John Deere Classic. To be fair, he had those impressive back-to-back wins in December -- but people generally aren't fair. In any matter, Spieth's win took him to a career-high sixth in the Official World Golf Ranking. We're guessing that won't be the highest he ever gets.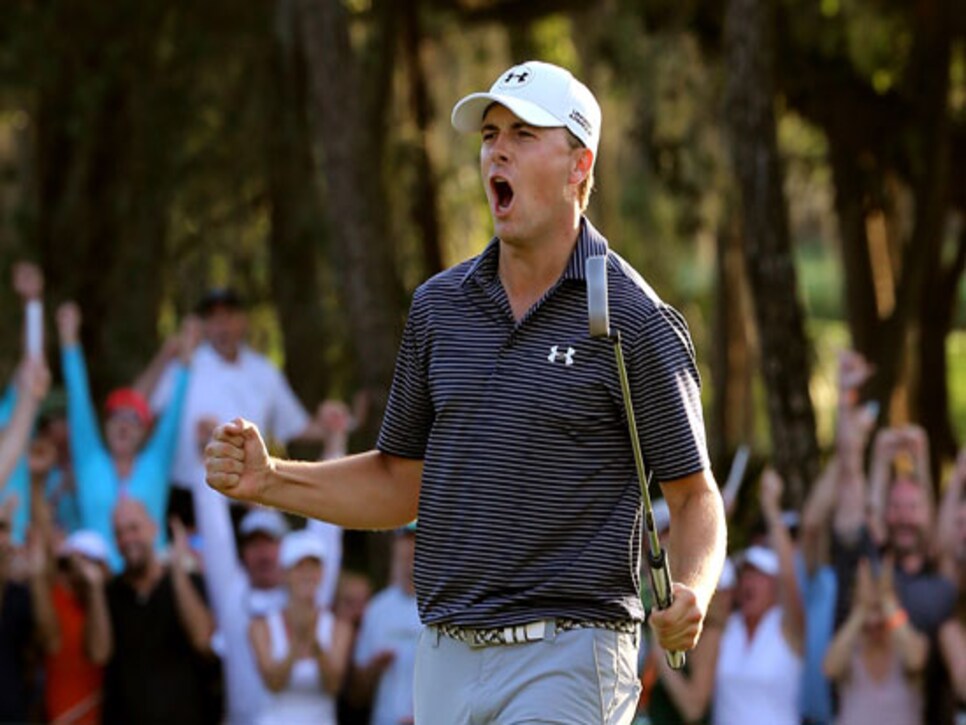 Patrick Reed's short game: Reed seems to contend on a weekly basis -- even when he's not hitting it well. On Sunday, Reed continuously kept himself in the tournament with clutch up-and-downs, most notably on two playoff holes. And yes, he did all this while dealing with distractions swirling around allegations he cheated and stole in college. Say what you will about the guy, but he's a tough competitor.
Sean O'Hair/Derek Ernst: This week's tournament didn't end the way either wanted it to, but there were still positives to take. For O'Hair, it was just the second top-10 finish in 66 PGA Tour starts and the playoff loss vaulted him up more than 200 spots in the Official World Golf Ranking. For Ernst, dropping 14 spots on Sunday to T-17 was rough, but it was still the second-best finish of his tour career in 62 starts.
Ryan Moore: Look, closing on the PGA Tour is tough. In fact, Moore is the eighth straight 54-hole leader to come up short on the PGA Tour. However, not all of those golfer had a three-shot lead with six holes to play. With a chance for his first non-fall season PGA Tour win in more than five years, Moore let it slip away and fell to a disappointing fifth. Speaking of things slipping away. . .
Tiger Woods' Masters chances: On Friday, Woods announced his game wasn't ready to play at Bay Hill, a course where he's won six times more than anyone else. That's not a good sign. It also means if he tees it up at Augusta National, it might be with just two and a half (ugly) rounds of competitive golf under his belt in 2015.
Johnny Miller: Despite NBC's coverage, our favorite golf announcer wasn't on hand for one of the most exciting tournaments of the young season. Throw in the fact that Innisbrook's Copperhead Course is a player favorite and the host of the 2012 HGGA Championship (aka my annual golf trip). That's a bad job, Johnny.
The PGA Tour's Florida Swing concludes with the Arnold Palmer Invitational, aka that place, OK, so this one is pretty obvious.
Random tournament fact: Tiger Woods broke the record for hardest hat throw when he made a walk-off birdie in 2008. Here it is in case you've forgotten this guy used to be pretty darn good:
A lot has been said about Tom's lack of a belt. But those must be some kind of new super cool pants that don't need a belt. . . right?
HORRIFYING REPTILE PHOTOS OF THE WEEK
We're not sure what's more frightening. This dragon-like gator: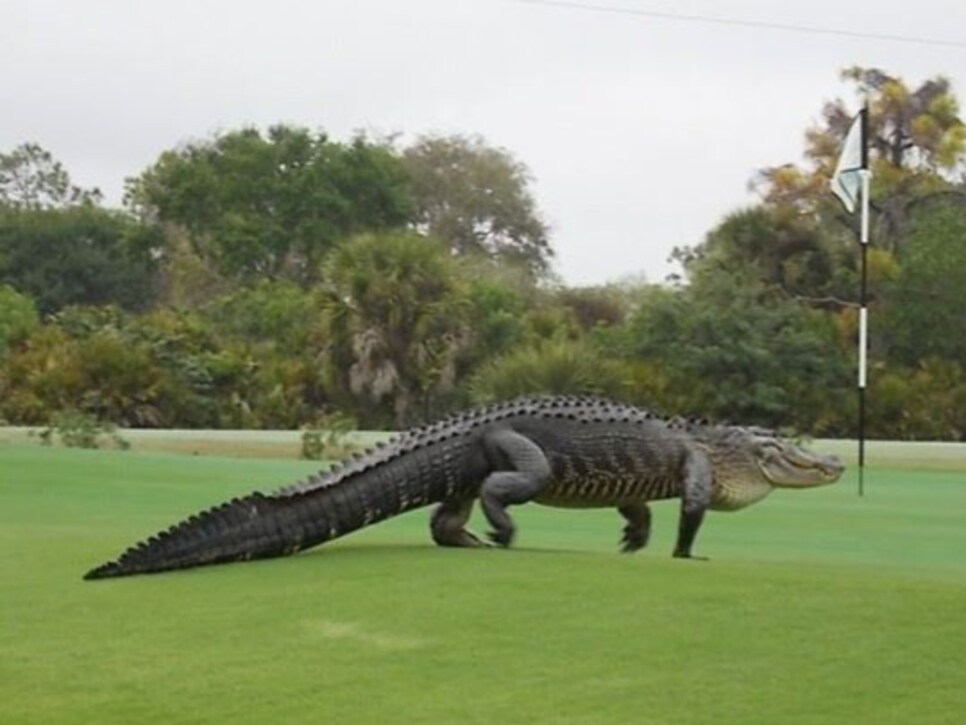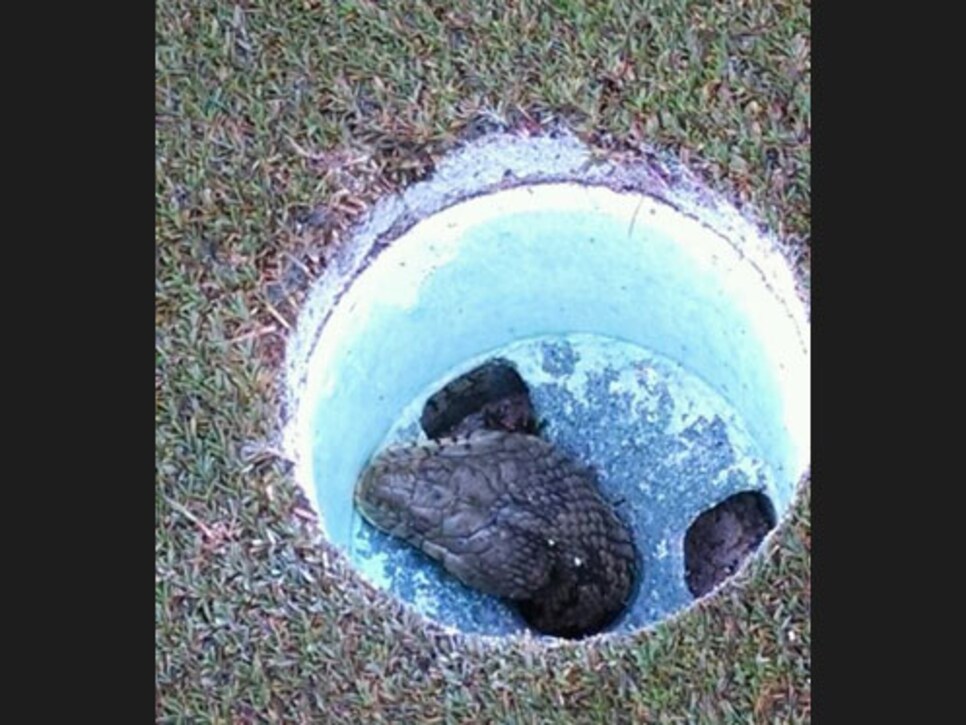 OK, so it's obviously the snake hiding at the bottom of the cup. Now that's an intimidating "Snake Pit." Don't get any ideas, Innisbrook.
They're back! Good to see these lovebirds/new parents taking some "us" time. If Tatum ever needs a babysitter, let us know.
THIS WEEK IN RORY MCILROY MAKING US FEEL BAD WITH HIS TRAINING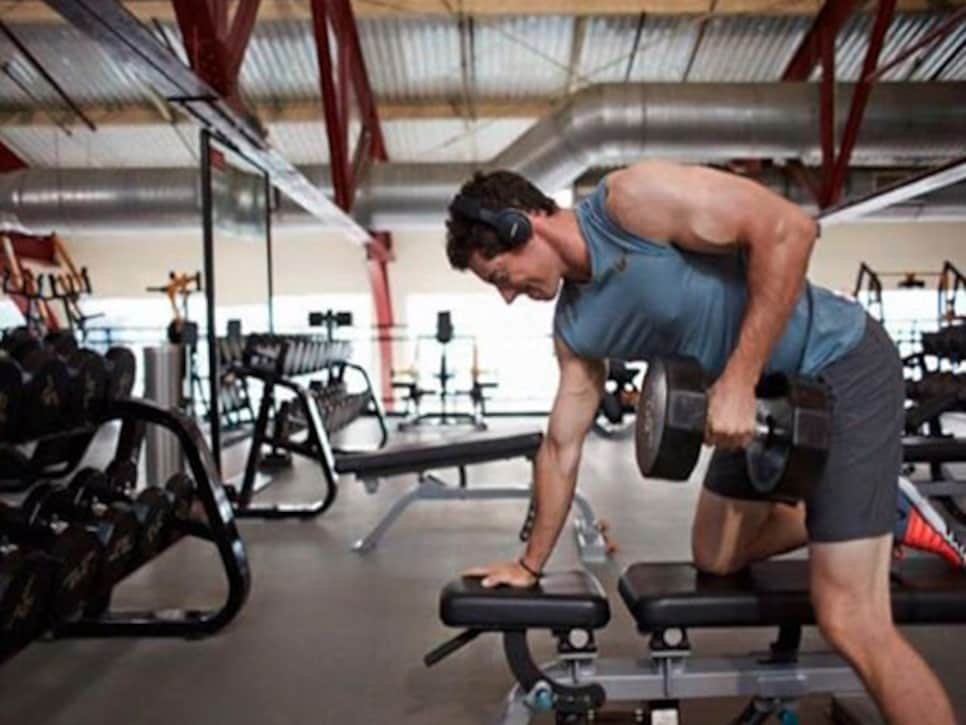 OK, that's got to be a photoshopped dumbbell, right? Look at the size of that thing!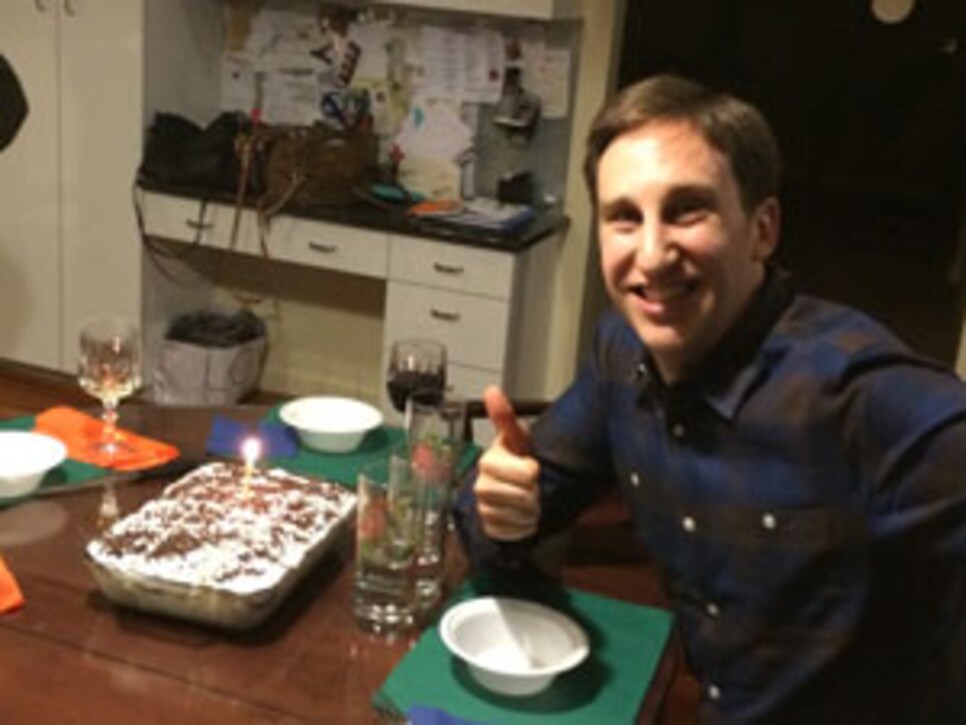 A Swedish man was banned for a year from playing golf for hitting into a group in front and will be "flagged" if he tries to play anywhere in his country. Whenever I hear that phrase, "flagged," I immediately think of the Seinfeld episode in which George gets a book red-flagged by taking it into the bathroom with him at the store. . . . The U.S. Amateur Four-Ball Championship is going to Jupiter Hills in 2018 after being played at Olympic Club, Pinehurst and Winged Foot its first three years. The U.S. Amateur Four-Ball might have a better rota than the U.S. Open. . . . Rory McIlroy has officially replaced Tiger Woods as the face of EA Sports' golf video game. Forget the chipping woes, this is the biggest blow to Tiger's confidence yet. . . . In addition to the M&M-and-Kit Kat-coated chocolate birthday cake I got from my fiancee, I also got this delicious brownie/chocolate chip ice cream/whipped cream concoction from my future mother-in-law. In related news, I've gained my annual "birthday 15."
RANDOM QUESTIONS TO PONDER
How often does Arnold Palmer drink an Arnold Palmer?
Has anyone made more bad movies than Nicolas Cage?
Does Erin Walker give golf lessons?