The Loop
John Daly's senior debut, Anthony Kim's rare sighting, and a historic streak gets put on the line at the Players
Welcome to another edition of The Grind, where we're extremely excited about two historic streaks converging at this week's Players Championship. First, there's the Masters of None, my fantasy golf team, entering with our league's first-ever three-tournament winning streak. And more importantly, I put my personal 25-night streak of eating at the same Ponte Vedra Beach Chili's on the line when I head down to cover the tournament. That's five nights in a row for five consecutive years. Not even Michael Scott eats at Chili's this much.
People always ask me two questions when #TheStreak comes up in conversation:
1.) Do you always order the same thing? No. What am I? Some kind of sicko?
2.) Why do you keep adding to it? Because you never know if your place in history is safe. Some Cal Ripken-like figure is probably out there just waiting for a chance to break my record. So on it goes as I try to push it to 30 this year. And while my mouth waters at the thought of baby back ribs and Cajun chicken pasta, let's discuss what else is going on.
James Hahn: Golf. What a sport, huh? Hahn arrived at Quail Hollow with eight consecutive missed cuts. EIGHT! He left with a second PGA Tour title and $1.3 million. Not bad for a former shoe salesman at Nordstrom.
John Daly: A T-17 isn't anything spectacular, but the hype around JD's PGA Tour Champions debut proved just how popular he is. Daly's first start on the senior circuit drew wall-to-wall coverage, and his average driving distance of 315.8 yards – nearly 50 yards longer than the tour average – drew oos and ahs from the fans at the Insperity Invitational. Look, here he is showing up to the course!
Only Tiger Woods gets that kind of parking-lot coverage.
Jesper Parnevik: While Daly received the "Lion's" share of attention, it was this five-time PGA Tour champ who picked up his first win on the senior tour. A week ago, we pumped up the budding music career of Parnevik's 20-year-old daughter, Peg, but dad showed he can still command the spotlight as well.
Kevin Reinert: When a stolen car hit him on the 18th hole of his home club in October, we dubbed the retired Air Force colonel the "unluckiest golfer ever." But after a lot of physical therapy, Reinert returned to the scene of the hit-and-run seven months later to finish his round. You'll never see someone so happy to make a closing bogey.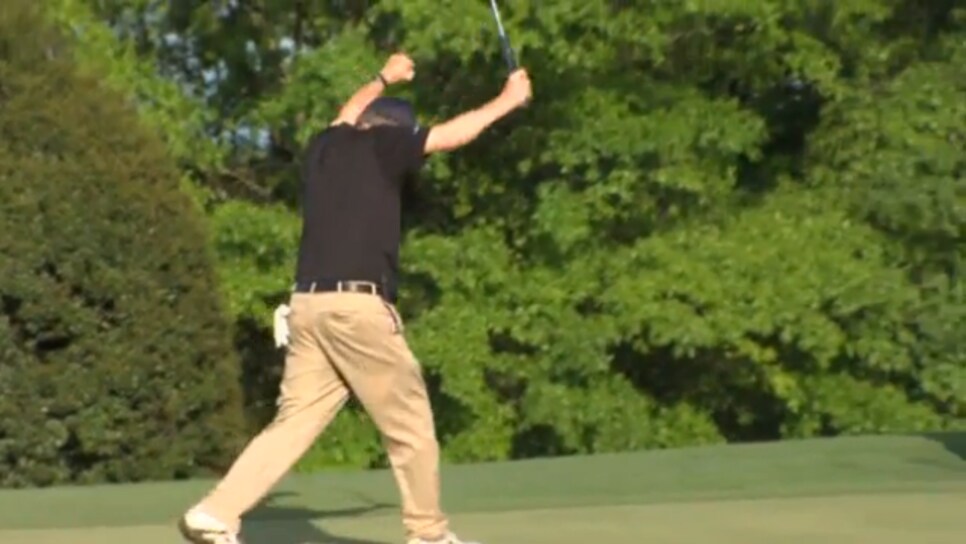 The "Big 4": This talk -- at least, involving Rickie Fowler -- has quieted in the past three months with the young star's recent weekend struggles. After seemingly proving himself as a great closer, Fowler has let tournaments slip away at TPC Scottsdale, PGA National and Quail Hollow. But he's still welcome to join me any night at Chili's this week.
Fans throwing things: Last Thursday in Charlotte, Fowler and Rory McIlroy had a golf ball with an earplug attached to it thrown at them by a fan. Fortunately, no one was hurt. And we have no clue what the point was. Was this some kind of statement against Rory's sponsor, Bose? Was the fan for or against music on the course? Or was it a symbolic way to tell Rickie that his clothes are too loud? So many questions.
Golf course assaults: Speaking of music on the course, we're not exactly sure what happened, but former NFL player Reggie Rucker was arrested for allegedly assaulting another golfer. Why? Because Rucker felt the man was playing music too loud. The moral of the story (other than don't assault people)? If you're going to play music on the course, be careful.
Smashing a putter on your head: The strangest-DQ-of-the-season award goes to Zac Blair, who broke golf's rules by using a non-conforming putter. However, the club was conforming before Blair smashed it on his head in frustration. To Blair's credit, he handled the situation well, taking responsibility and letting everyone know what happened with this funny GIF of Woody Austin doing the same thing years ago.
Zac then let everybody know his head's OK:
The PGA Tour heads to TPC Sawgrass for the Players Championship, aka the Players. At last year's event, I had the pleasure of embedding myself with the NBC/Golf Channel crew. The highlight was riding around TPC Sawgrass with Roger Maltbie, but I was also brave enough to go up on the crane high above the 17th hole.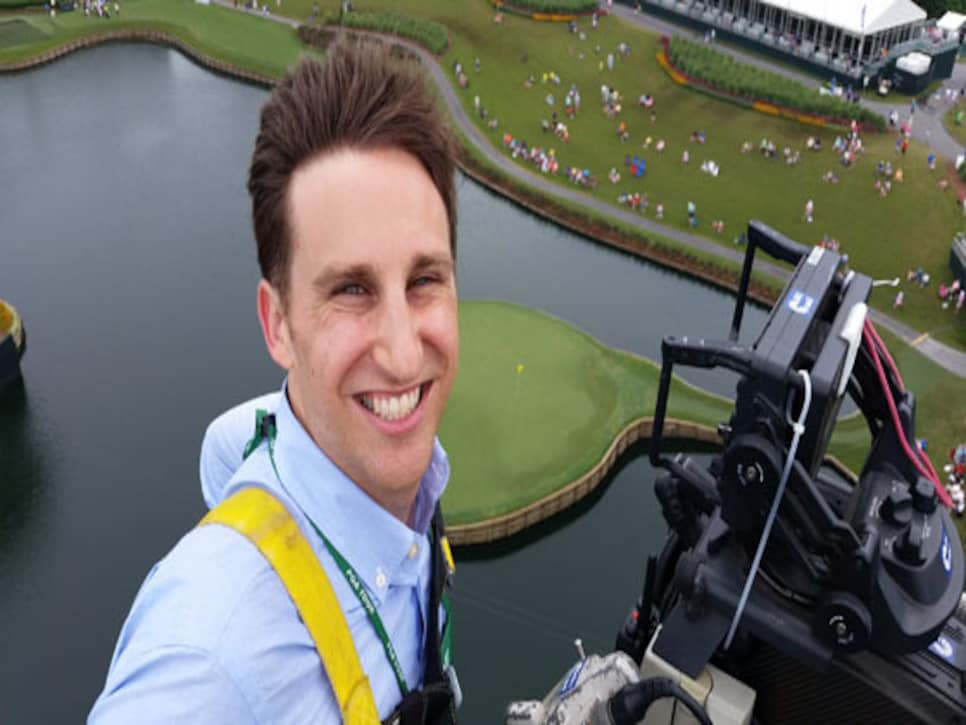 Random tournament fact: I was not up in the crane when Rickie Fowler made his three Sunday birdies during his thrilling win. Thank goodness. That thing would have been rocking.
RANDOM PROP BETS OF THE WEEK
-- I will go up in that crane again this year: 1 MILLION-to-1 odds
-- I will get sick of Chili's at some point: 1,000-to-1 odds
--I will weigh considerably more when I return home: LOCK
Let's see, we have Lindsey Vonn, Jordan Spieth and . . . Vanilla Ice? Yep.
WHERE IN THE WORLD IS ANTHONY KIM PHOTO OF THE WEEK
Four years to the date of his last PGA Tour appearance, AK popped up – with more tattoos and hair – at a Dallas pet store.
What kind of pets does he have? Does he have a tiger? I bet he has a tiger. Of course, I'm still holding out hope that Kim will return to the tour some day. But if he doesn't, Anthony, can I have your AK belt buckle? My middle name is Kinser…
This is how Ladies European Tour player (and fitness guru) Carly Booth approached the tee at last week's tournament in Morocco:
Talk about making an entrance.
VIRAL VIDEO OF THE WEEK (GOLF-SHOT DIVISION)
We've seen Phil Mickelson and Matt Jones hit shots out of grandstands, but Jason Kokrak's shot from the second story of a hospitality tent takes the cake. He had to punch it off the astroturf and keep it low, but also get it to land soft with little green to work. Amazing.
VIRAL VIDEO OF THE WEEK (GOLF-HERO DIVISION)
Check out Greg Owen stripping down to save a baby bird during a practice round at TPC Sawgrass:
We're impressed not only by Owen's selflessness, but by his lifeguard body at 44. Seriously, the dude looks like David Hasselhoff in his prime!
THIS WEEK IN PAIGE SPIRANAC BEING PAIGE SPIRANAC BLAIR O'NEAL BEING BLAIR O'NEAL
In addition to co-hosting "National Instruction Day" on the Golf Channel:
The golf pro shared this photo at the pool:
And reminisced about a trip to Cabo:
"[John Daly] is a needle mover. We need that out here. We need somebody that people want to come out and watch. They don't want to come out and watch me. I understand that." – Woody Austin. Not true, Woody! They love seeing you hit your head with a putter!
Jim Furyk on returning to the PGA Tour after an eight-month layoff: "It feels different. To leave the family last night, to get on a plane, to get up this morning, my wife joked it was like the first day of school. She wanted to know if I'd have my best outfit on." Tabitha Furyk's got jokes!
18 Holes With Bing, a book by Bing Crosby's son, Nathaniel, with my colleague John Strege is now out. I highly recommend it for tales involving the ultimate celebrity golfer. . . . Just a month after a heartbreaking finish at the ANA Inspiration, Ariya Jutanugarn won the Yokohama Tire Challenge to become the first golfer from Thailand to win on the LPGA Tour. Considering she's only 20, it's safe to say there's more where that came from. . . . And finally, I made a bit of personal history by hitting the 100,000 mile mark on my car. I even took a photo of the magical moment: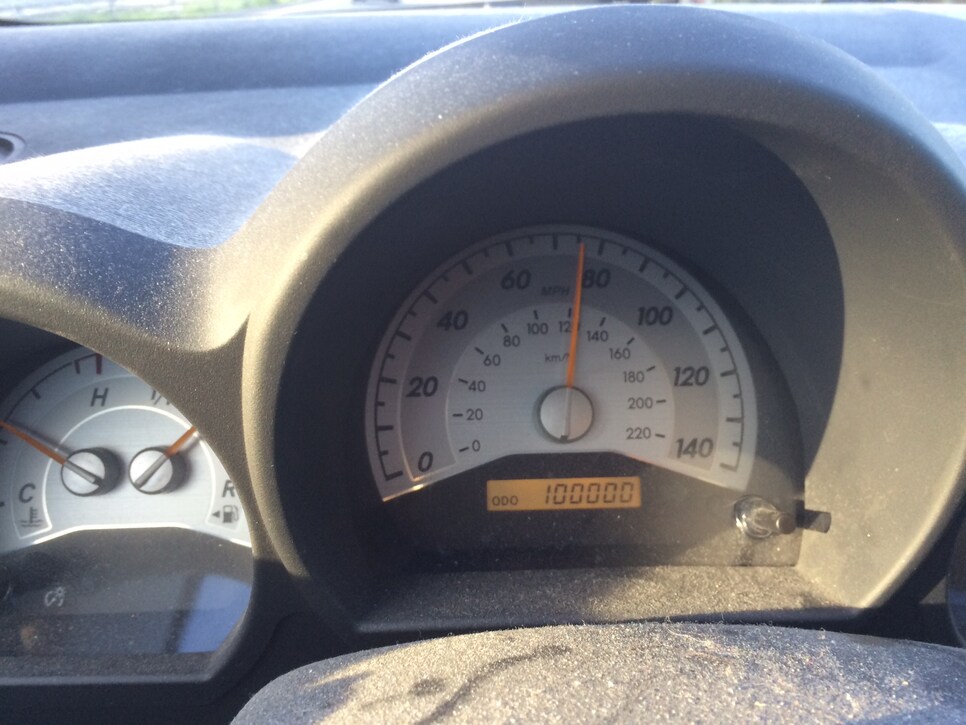 And then I swerved into the next lane and nearly crashed. It's probably not smart to do that when doing 75. And it's probably time to clean my dashboard.
RANDOM QUESTIONS TO PONDER
How many miles will my car run for?
Will Anthony Kim ever return to the PGA Tour?
Will the "Awesome Blossom" ever return to Chili's menu?