The Loop
The Grind: Jimmy Walker's theme song, Golden Globes snubs & Paulina Gretzky gets a golf lesson
Welcome to a Golden Globes edition of The Grind, where we've got a hot script idea that the Hollywood Foreign Press is going to love. A professional golfer toils in obscurity for more than a decade before magically morphing into his sport's best player. Not juicy enough? How about we give him a really cool name, like, oh, Jimmy Walker? Yeah, that sounds good. Leo? Scorsese? Any takers?
Jimmy Walker: What a run this guy is on! Every time I see/hear his name, I think of the Ben Folds Five song, "Eddie Walker," and I change it to Jimmy. "Ohhhh, Jimmy Walker, this is your life! You never had a coat or a tie! You never had a reason to cry!" I'm not sure all of that's true, but that will be the title song for the aforementioned upcoming biopic in which audiences will fall in love with a man who is an astrophotographer (true story) and whose wife, Erin, is a nationally-ranked horse rider/show jumper (again, true story). They'll also enjoy the scene from the 2014 Sony Open in which Walker shoots a final-round 63 to win for the second time in six starts.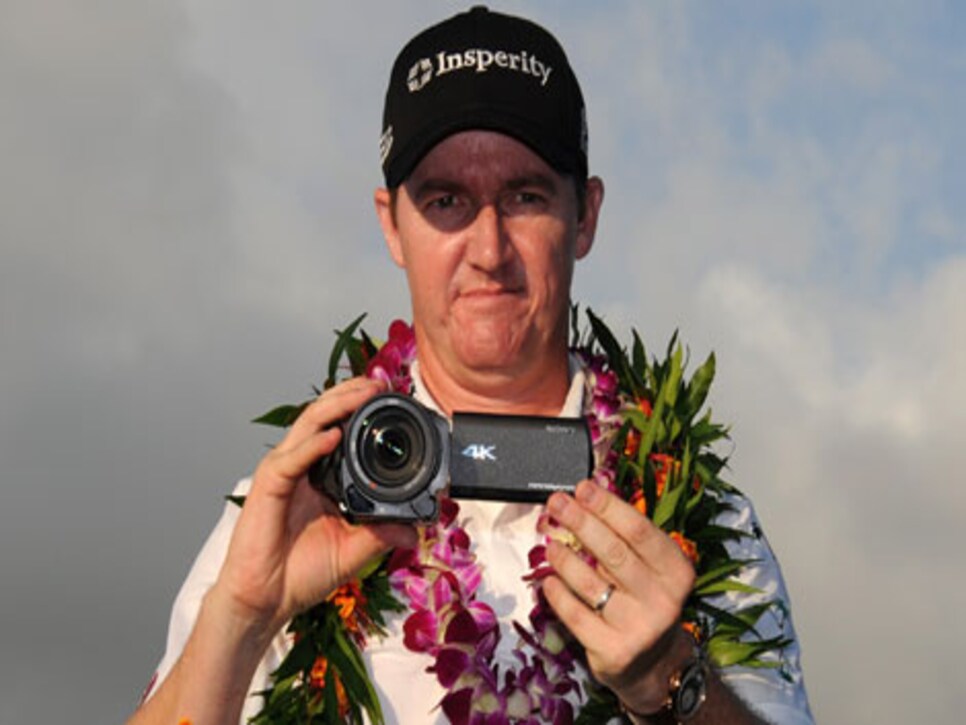 Don't look now, but Walker's, um, meteoric rise has him first on both the FedEx Cup and Ryder Cup points lists. "Ohhhh, Jimmy Walker, ahhh, ahhh, ahhh, ahhh, this is your life!" We'll have to work on the rest of the plot/song lyrics, but we've got a good start.
Tan lines: Specifically, really, really bad tan lines. On your head. A grainy (and probably somewhat distorted) picture of Stewart Cink's distinct two-toned dome taken off of Thursday's TV coverage of the Sony Open wound up getting more attention than the tournament itself. To Cink's credit, he handled the situation incredibly well on Twitter: "Apparently my glowing head has received some attention today. It's nice to be (in) the spotlight." Well played, Stewart. Now go buy some spray tan.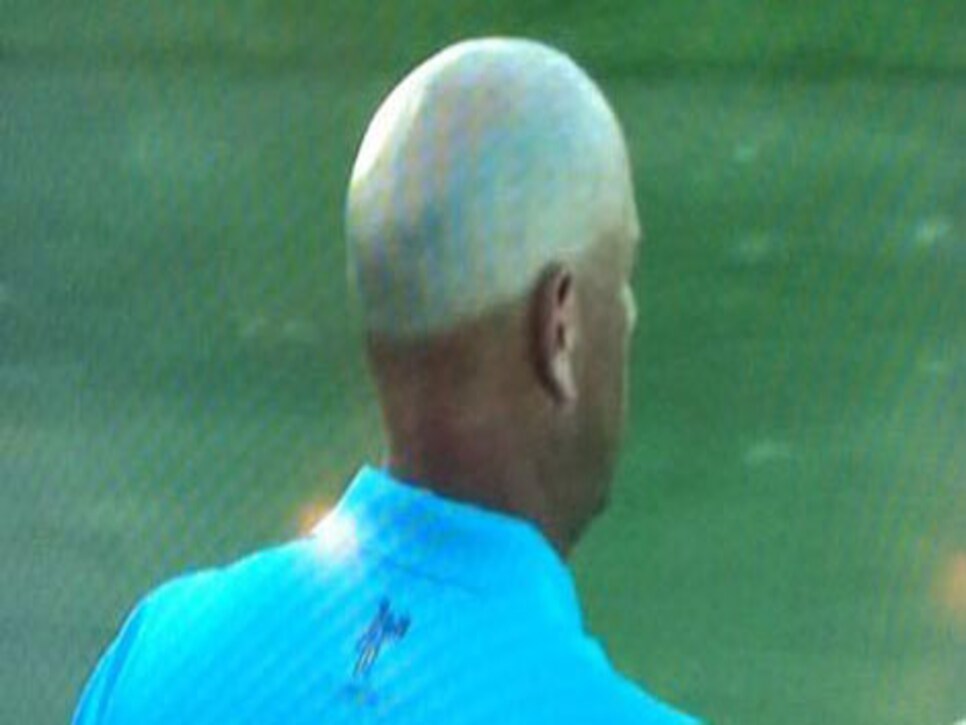 After two weeks in Hawaii, the PGA Tour heads to the mainland for the Humana Challenge, aka the old Bob Hope. Unfortunately, the field in Palm Springs isn't particularly strong -- not even for its once famous celebrity pro-am. Oh, Holly Sonders is playing? Never mind. That's pretty strong.
RANDOM PROP BETS OF THE WEEK
-- Jimmy Walker will finish the season first on the FedEx Cup points list: 100-to-1 odds
-- Someone will shoot 59 in Palm Springs: Even odds
-- Holly Sonders will draw a bigger crowd than defending champ Brian Gay: LOCK
THIS WEEK IN DUSTIN JOHNSON-PAULINA GRETZKY PUBLIC DISPLAYS OF AFFECTION
What? We can double dip with Paulina since this wasn't technically a public display of affection between our two favorite lovebirds! This photo does include DJ, but also The Great One, Wayne Gretzky, and Mrs. Great One, Janet Jones. The four posed while celebrating Jones' birthday. Wait, that's what Paulina wears to celebrate her mom's birthday? Poor Wayne. We guess it shouldn't be too surprising, though, considering she wore this last year to her little brother's birthday bash.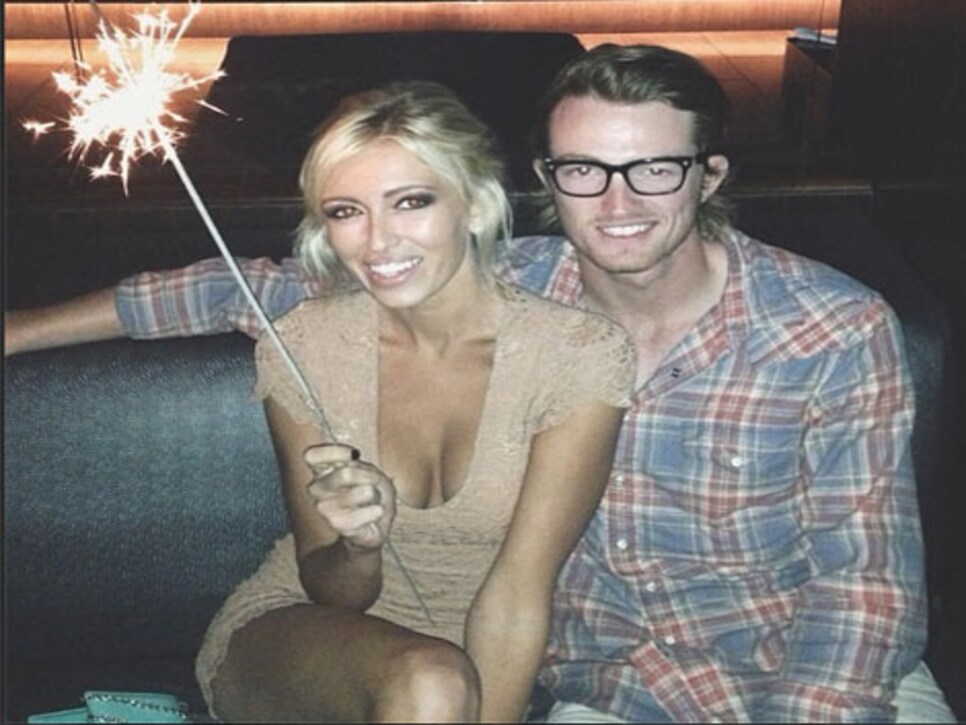 VIRAL VIDEO OF THE WEEK (BEST SHOT DIVISION)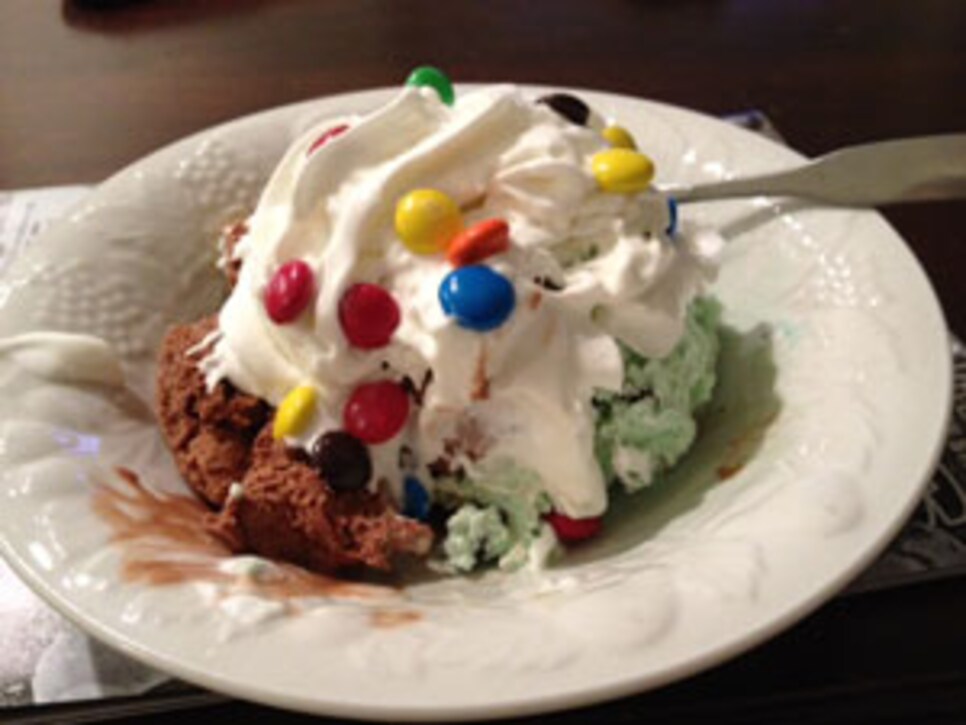 Peter Kostis announced he's healthy again and that he plans to return to work roaming the fairways for CBS soon. Great news. Now get that Konica Minolta BizHub SwingVision machine cranking! . . . The daughter of former college basketball star Teddy Dupay has her own golf business. She's 11. We're impressed. . . . And speaking of the Golden Globes, my new go-to dessert (above) was inspired by recently binge-watching "The Sopranos" for the first time. I call it the "Tony Soprano Sundae," because it's what James Gandolfini (rest in peace) would often make in the show after a tough day of money laundering, gambling, murdering, etc. Ice cream (preferably chocolate and mint chocolate chip), whipped cream and M&Ms. MMM, those are good.
RANDOM QUESTIONS TO PONDER
Why hasn't Will Ferrell ever won a Golden Globe?
Will a golf movie ever win a Golden Globe?
Why have I gained a few pounds lately? Oh. Right.