The Loop
The Grind: Jimmy's dominance, Cheyenne's breakthrough, and more heartbreak for Peyton Manning
Welcome to another edition of The Grind, where we can only imagine the hysteria Jimmy Walker has stirred in the astrophotography community. Is there an Astrophotographer Quarterly/Monthy/Weekly? If so, Walker might sweep this year's covers. He's also an inspiration to people everywhere who think it's impossible to have two expensive hobbies (more on Jimmy's astrophotography here). Of course, it helps if you routinely make $1 million paychecks from one of them. Walker is causing quite a buzz in the world of golf as well. Let's discuss.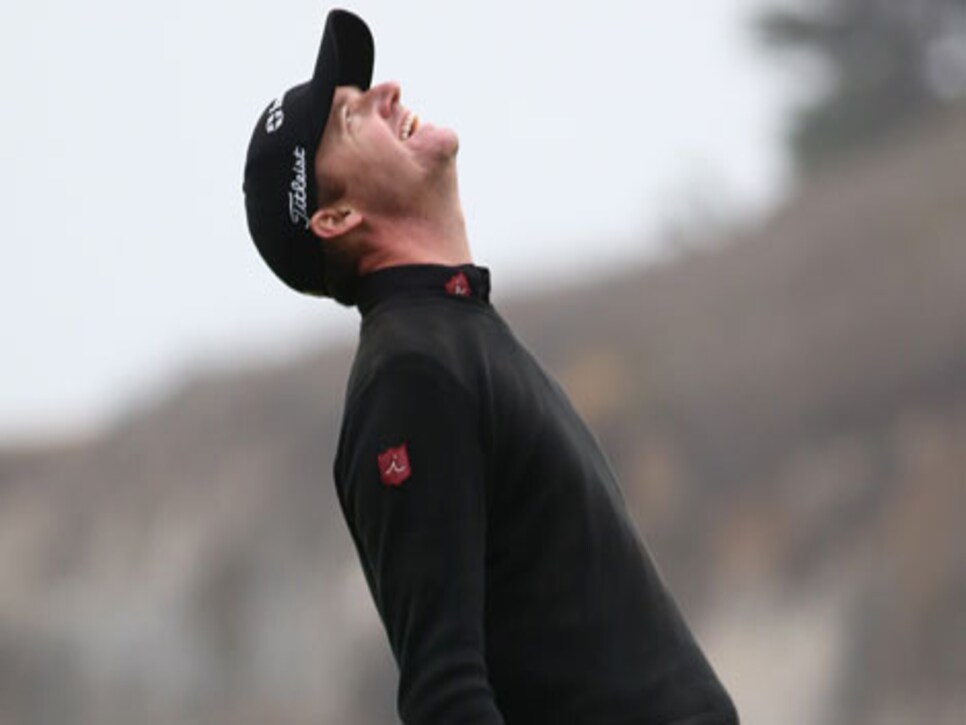 After another win, Walker gazed to the sky and thought of the photos he'd take later.
Jimmy Walker: Or shall we start referring to him as "Jimmy The Great"? What else is there? We already gave him his own theme song after his last win and now he has three wins and we're still two months away from the year's first major. With those three victories in his first eight starts of 2013-14, Walker ranks up there with the likes of Tiger Woods and Phil Mickelson in stringing together one of the best starts on tour since 1990. Probably not coincidentally, his swing coach, Butch Harmon, has a history with both players. To put Walker's stretch in better perspective, he has won more PGA Tour titles in the past four months than Lee Westwood has in his career, and it's hard to picture a scenario in which he's not heavily considered for Player of the Year. Walker made us look good when we predicted he'd win this season and he made us look better when we picked him last week. Yep, "Jimmy The Great" it is.
Cheyenne Woods: We've been a big fan of the lovely Ms. Woods, a fellow Wake Forest product, for awhile, but she might be our favorite golfer -- not named Jimmy Walker, of course -- after her performance over the weekend in Australia. Woods grabbed a share of the 36-hole lead and then played like her famous uncle does -- or at least, used to -- with a lead to pick up her first win on a major professional tour. Cheyenne already had better hair than Tiger. Now, she has bragging rights on the course so far in 2014.
Pebble Beach: With the football withdrawal setting in on Sunday afternoon, it was nice to watch high-level golf on arguably the most beautiful course in the world. Even with the tournament having as much drama as the previous week's Super Bowl -- at least, until the last hole -- we couldn't stop watching. Why do we have to wait until 2019 for another U.S. Open there?
Tiger's trip to India: Cheyenne's uncle -- that's how we'll refer to TW until he gets a win of his own in 2014 -- had a decent week as well. On top of having a family member pick up her biggest win, he made his first trip to India. Sure, he lost an exhibition match, but he shot 63, reportedly made $2 million for a day's work and his presence can't hurt the growth of golf in that country. Plus, he played golf with Sharmila Nicollet, one of the hottest golfers in the world. Not a bad tour guide . . .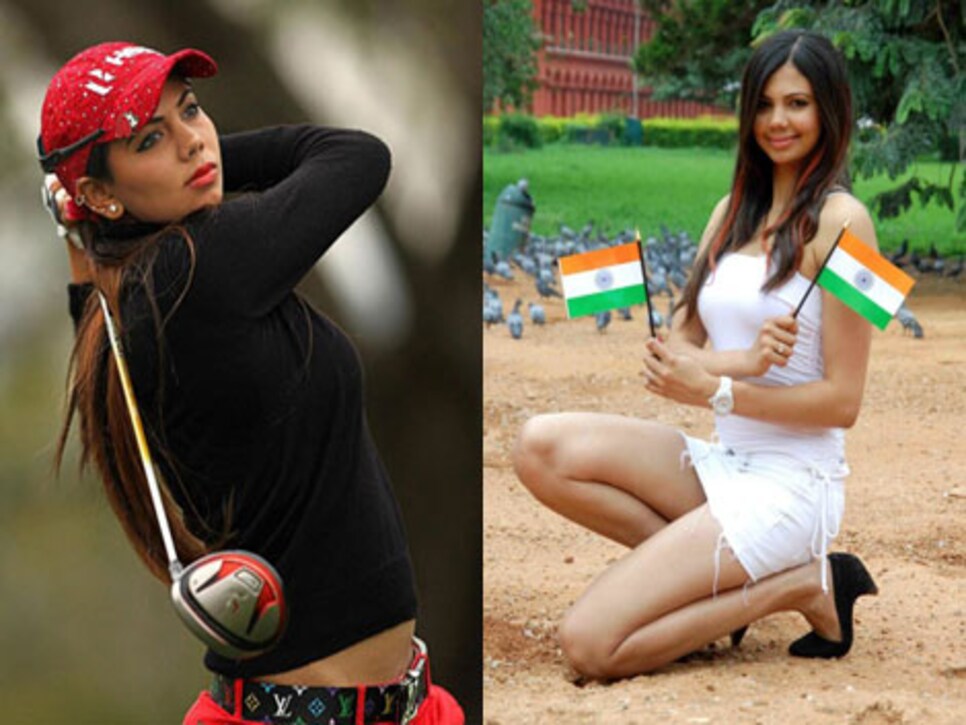 D.A. Points/Karrie Webb: Both players got disqualified, Webb for the conventional incorrect scorecard and Points for taking a few practice swings using a training aid -- he stuck a spongy ball under his right arm -- while waiting on a tee box. Points gets points, however, for coming back the next day to play with Condoleezza Rice in the pro-am portion of the event. But not too many points. The duo finished 147th out of 156 teams. Speaking of that pro-am . . .
Big-name celebs: Poor Peyton Manning. A week after getting throttled in the Super Bowl, he missed the Pebble Pro-Am cut by one shot. And while Tom Brady made an eagle on Saturday, he and just about every other big name was watching the final round from their couches on Sunday. No marquee team fared worse than John Daly and Kid Rock, though, who finished 155th out of 156 teams. Gee, we didn't see that coming.
Jordan Spieth: 67-67-78-67. Which number sticks out? Hmm. Perhaps we're being a bit harsh, but for a second consecutive event, Spieth was the 36-hole leader and for a second straight time, he wasn't a serious threat come Sunday afternoon. As well as he's played, he has to be disappointed to not come away with a trophy so far in 2014.
Brandt Snedeker: Unfortunately for Sneds, our story on his slow start to 2014 didn't have a reverse-jinx effect on him. Instead, he shot a Saturday 77 and missed the 54-hole cut by SIX shots. So far this season, he's finished no better than T-55 in five starts in full-field events. And to think, he was the Jimmy Walker of golf a year ago.
The PGA Tour heads to L.A. for the Northern Trust Open at Riviera, aka that place where Ben Hogan began his 1950 comeback from a horrific car accident by losing in a playoff to Sam Snead. Another U.S. Open winner, Justin Rose, will make his return from an injury as well. OK, so right shoulder tendonitis doesn't make for as sexy of a comeback story as getting hit by a Greyhound bus.
Random tournament fact: Cheyenne Woods' uncle has lost only one official PGA Tour playoff, and it happened in this tournament in 1998 when Billy Mayfair beat Tiger with a birdie on the first extra hole. The "Nissan Open" was played at Valencia Country Club that year because Riviera would host the U.S. Senior Open that summer. That's the only time in the last 42 years that the tournament hasn't been played at Riviera.
RANDOM PROP BETS OF THE WEEK
-- Kid Rock will one day win the Pebble Beach Pro-Am: 1 million-to-1 odds
-- Jimmy Walker (Jimmy freaking Walker!) will end up with as many wins as Tiger Woods this season: Even odds
-- Nike co-founder Phil Knight had an ear-to-ear smile when he heard Cheyenne Woods won: LOCK
THIS WEEK IN DUSTIN JOHNSON-PAULINA GRETZKYWAYNE GRETZKY PUBLIC DISPLAYS OF AFFECTION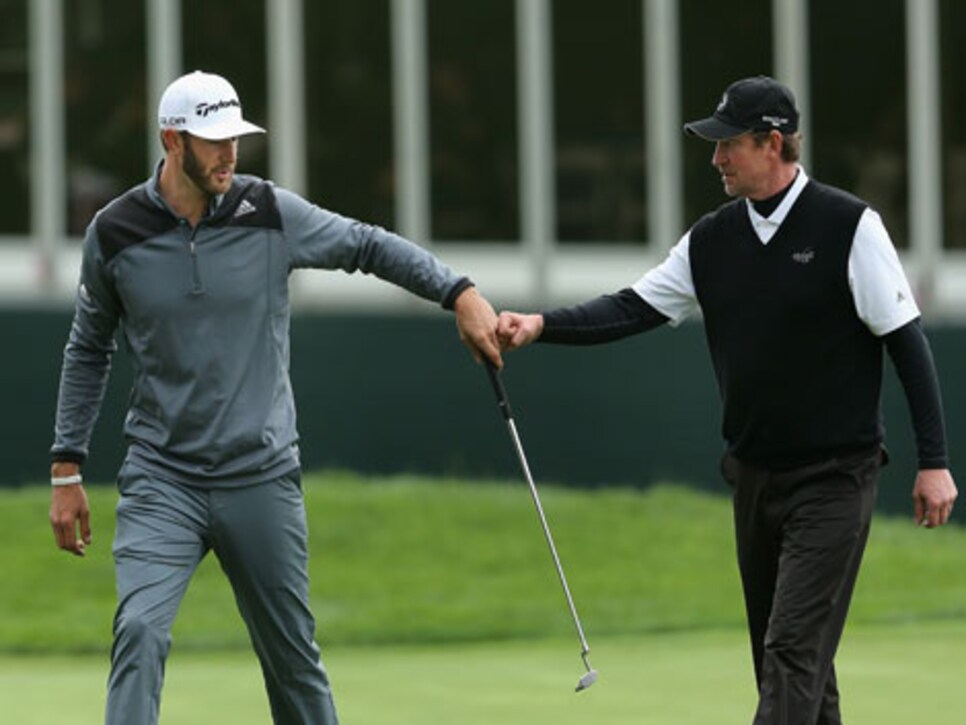 When we knocked big-name celebs for coming up short in this event, we were not referring to Wayne Gretzky. It was another great week of bonding for these future in-laws. DJ finished T-2 and his pro-am partner, The Great One, made four birdies of his own at Spyglass on Day 1 on the pair's way to finishing a very respectable T-8.
"Just drama, man. Just good TV." -- Jimmy Walker, excuse us, Jimmy The Great Walker, to David Feherty on his shaky finish.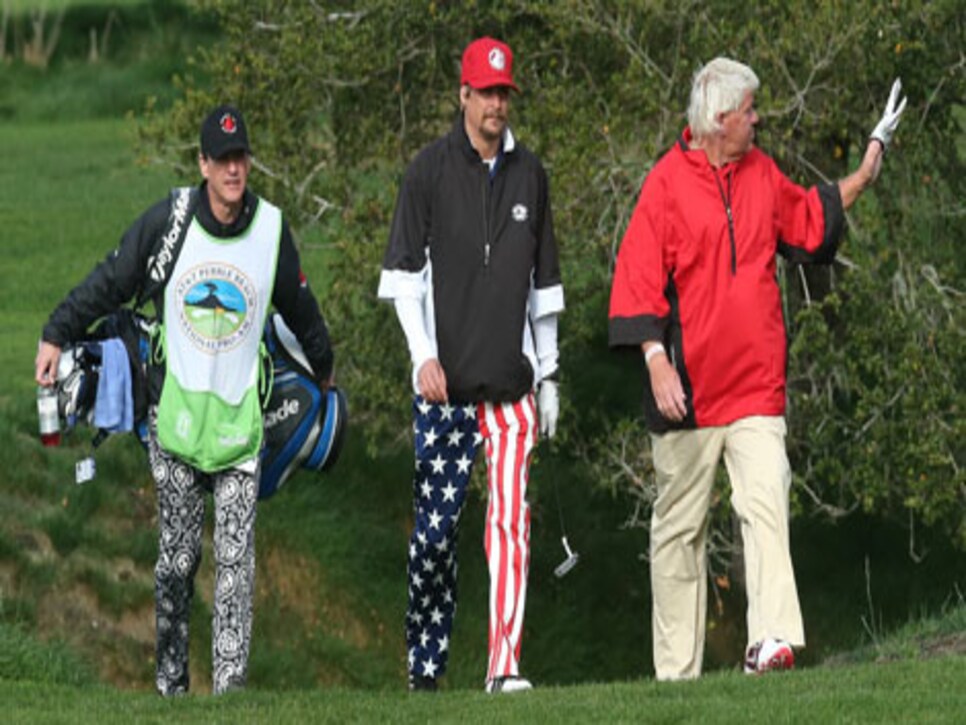 They may not have played well, but Kid Rock and John Daly did entertain fans with their clothes. Wait, is John Daly actually wearing plain khakis?!!! Oh, but he wore these bad boys Thursday: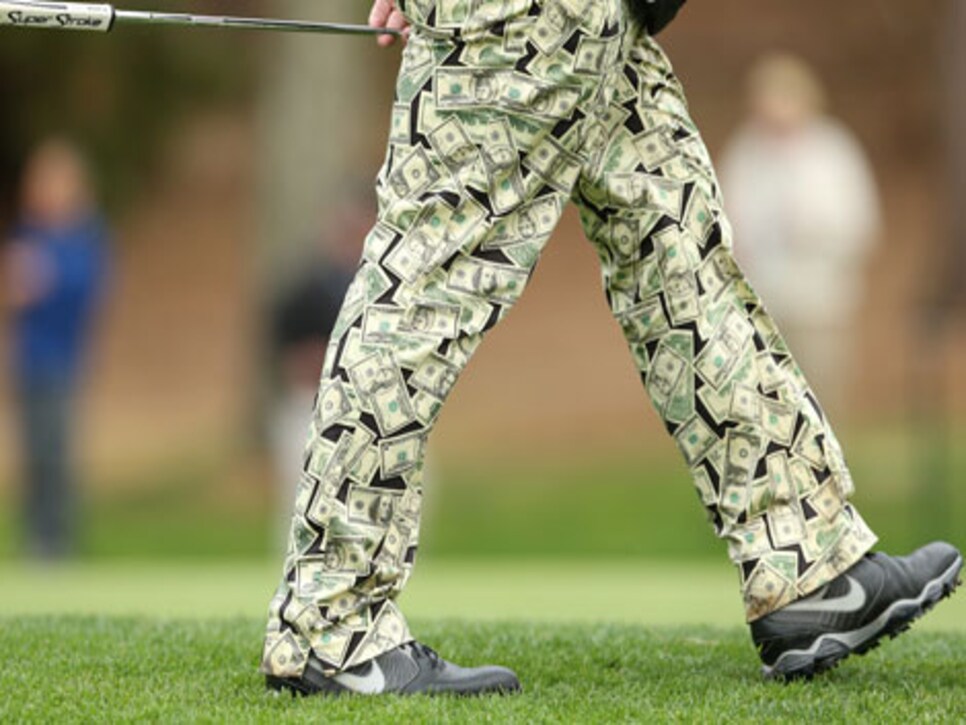 Money! Phew. That's more like it.
Michael Allen shot a first-round 60 on his way to a sixth career title on the Champions Tour. Even a 59 wouldn't have grabbed many headlines on this weekend. . . . The USGA announced Pinehurst will be set up the same way for both the men's and women's U.S. Opens later this year. Considering the events will be held back-to-back weeks, how different could they have been set up? . . . Clint Eastwood saved AT&T Pebble tournament director Steve John from choking on the eve of the event. Pretty impressive considering how disengaged he appeared during his time in the CBS broadcast booth on Sunday. . . . And speaking of eating, this BLT on focaccia bread with a side of potato salad was incredible. That is all.
RANDOM QUESTIONS TO PONDER
Did Jimmy Walker sell his soul to the devil?
Will Peyton Manning break down film of his golf swing?
Does Butch Harmon have room in his stable for a 6-handicap?