The Loop
The Grind: Jim Nantz's week, Tiger's task, Augusta's food & Masters picks
Welcome to another edition of The Grind, where we're starting to question Jim Nantz's whole "Hello, friends" routine. After all, the guy will go straight from covering one of the most exciting Final Fours ever to working golf's most-anticipated event. Considering how jealous we all are, wouldn't "Hello, resentful viewers" be more appropriate? In any matter, the Masters is finally upon us. HELLO, FRIEND! We've missed you. . .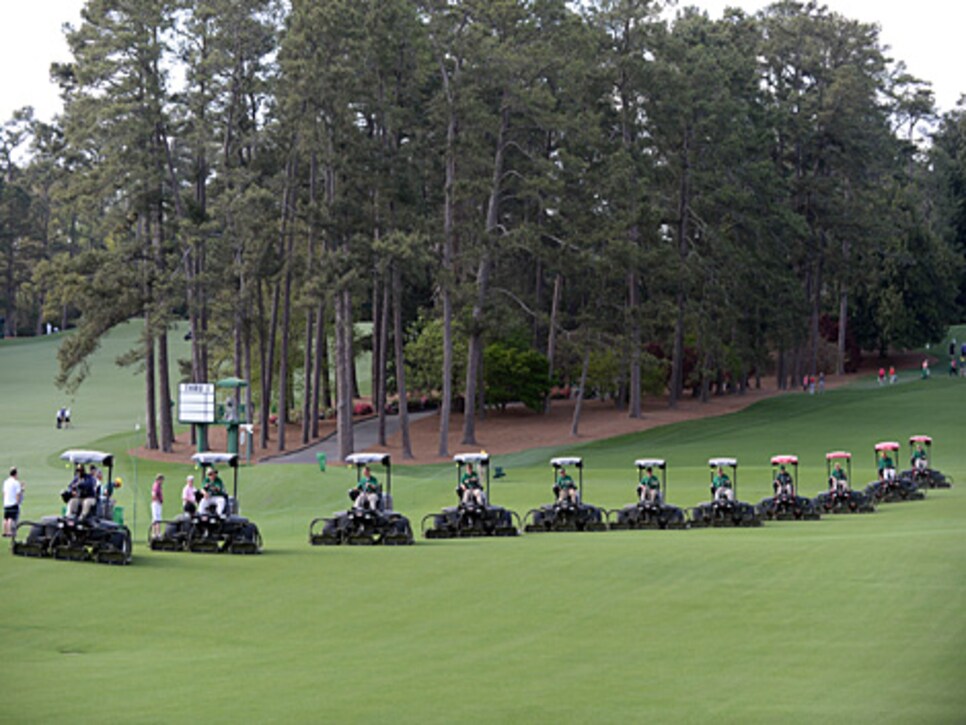 *So that's why the grass is so perfect at Augusta National. . . (*Photo: Getty Images)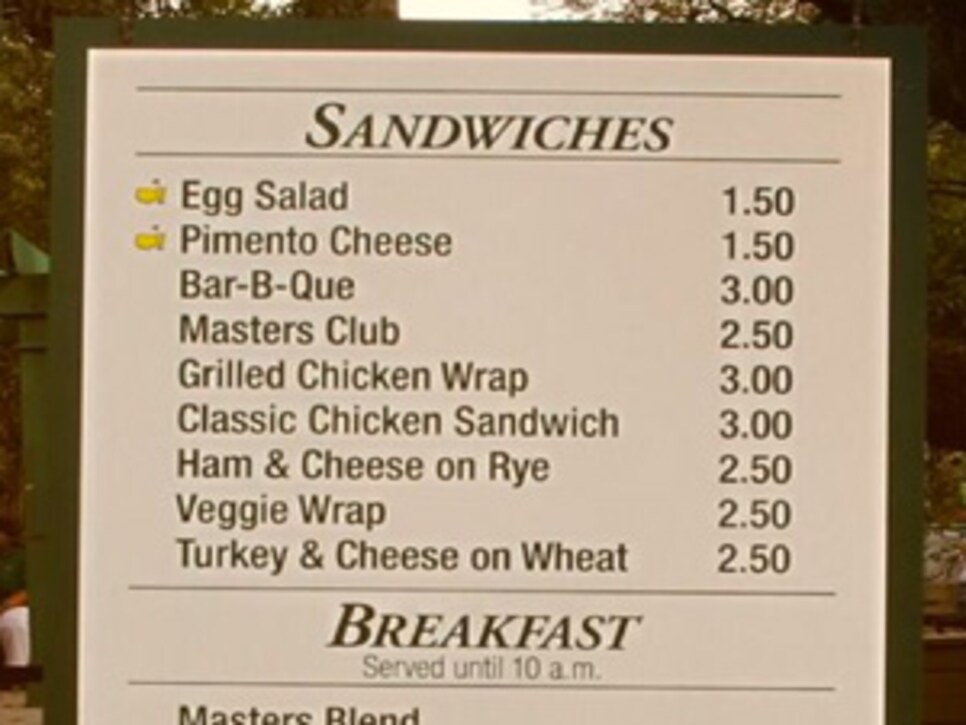 The Masters Classic Chicken Sandwich. As in, we'd buy a sack of these bad boys to feast on all day if we were at Augusta National. After being off the menu for a couple years, this legend has returned to the Masters. The price is apparently up to $3 now (the highest of any food item), but they're well worth it. Those things are fit to be served at the Champions Dinner.
Martin Laird. OK, where did that come from?! Before his final-round 63 at TPC San Antonio netted him a third career PGA Tour victory, Laird had missed the cut in four of six events and a T-34 was his best finish in 2013. His club even finished in last place at the recent Tavistock Cup. The only downside for this win was the timing, as everyone's attention had already shifted toward Augusta before he even collected his winning check. At least, now the Scot will be teeing it up there.
Darren Clarke. We're nearing the two-year anniversary of the Northern Irishman's out-of-the-blue win at the British Open. It seems even more out-of-the-blue now considering how little he's done since. Clarke withdrew from the Masters earlier this week due to a pulled hamstring. That must be one bad hammy.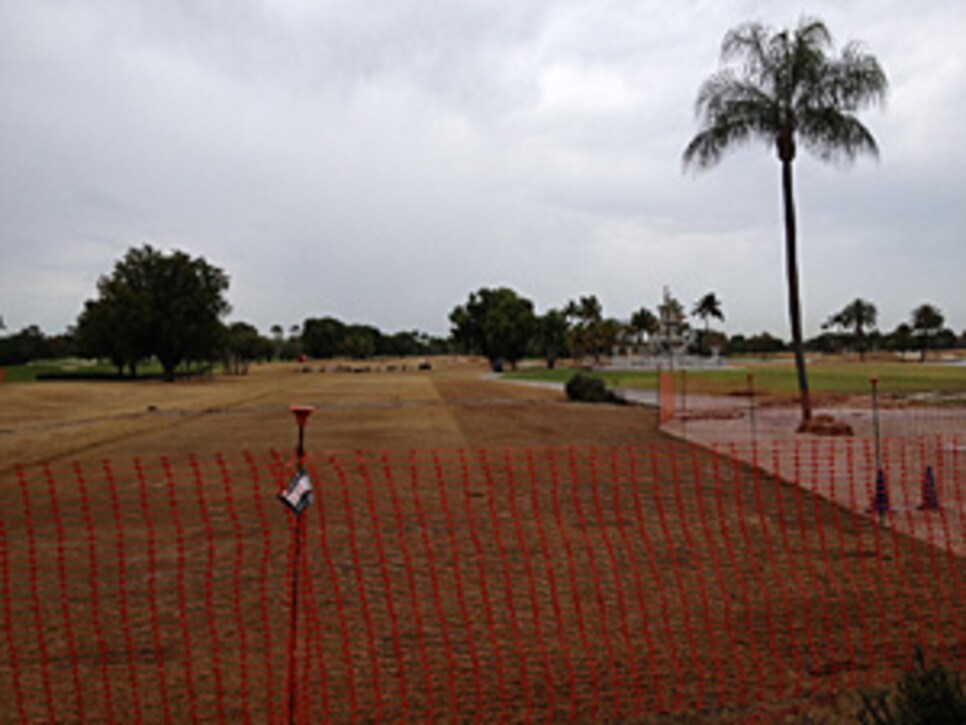 Sunburns. I go to Miami for a bachelor party, get out in the sun for a few hours for the first time this year, and I come back with my forehead and shoulders more red than the average Tiger Woods Sunday golf shirt. How come we never hear about this happening to tour pros? These guys really are good.
Donald Trump. Speaking of said trip to Miami, our group ventured to Doral, where I snapped the above lovely photo of the Blue Monster being renovated. First off, thanks, Donald, for not waiting to start digging until after our trip. Second, what are you doing? Are you trying to "Tiger-proof" a course where Woods has won eight times? Do you not want people to watch? You're fired!
It's Masters week. Woo! Enough said.
Random tournament fact: You probably know or have heard that the Masters is the most enjoyable event to attend, but what doesn't hurt that indisputable fact is that the civil atmosphere makes it the event in which tour wives and girlfriends mingle most. I was standing next to one a few years back when another patron started talking to her. "So, are you following Adam Scott?" he chuckled. "Um, no. I'm following my husband. . . Phil Mickelson."
WEEKLY YAHOO! FANTASY LINEUP
Gotta admit, there's not a lot of creativity this week, as I went with more chalk than in Dick Vitale's typical NCAA bracket. If you want to see some better analysis, check out GolfDigest.com's first-ever Masters fantasy draft. If I win, I get to run GeoffShackelford.com for a day. Just kidding, Geoff! Or am I. . .
(B-List): Justin Rose. The third-ranked player in the world is going to win a major at some point. Why not now? (See above for answer)
(B-List): Matt Kuchar. Kuch has steadily been building toward breaking through at a major the past few years, including his close call at Augusta last year.
(C-List): Adam Scott. Like Rose and Kuchar, it just seems like a matter of time before he wins a big one. Doing it this week would be especially sweet after letting the claret jug slip away from him last summer.
Bench -- Phil Mickelson, Dustin Johnson, Fredrik Jacobson and Charl Schwartzel.
Not surprisingly, Augusta natives are very proud of having the attention of the sports world for the week. So much so that apparently some of the younger residents ditch "more normal" spring break activities to hang around for the week. And apparently, some of those people even feel strongly enough to write long, original songs about the experience. As this lovely, young lady says, "Sit back, relax, grab an Arnold Palmer and enjoy."
RANDOM PROP BETS OF THE WEEK
-- Tiger Woods will hit a shot out of the pine straw at some point: 2-to-1 odds
-- It will make for a fantastic photo: LOCK
-- Augusta National will run out of Masters Chicken Sandwiches, BEDLAM ensues: Let's not bet on this. It would be too painful for those there.
RANDOM QUESTIONS TO PONDER
How many navy blazers does Jim Nantz own?
Why doesn't CBS do a "One Shining Moment" montage video for the Masters?
Can someone bring me one of those chicken sandwiches back from Augusta?