The Loop
The Grind: Furyk's Monday blues, Tiger's penalties & Tour Championship picks
Welcome to another edition of The Grind, where there's nothing like starting off your work week watching some live golf. It makes those pesky Mondays fly by! Oh, you can't watch golf in your office? That's rough. OK, we'll stop rubbing it in (even though it's AWESOME. Sorry. We'll start now) and move on. There's still plenty to talk about even if you couldn't watch that super-exciting final round of the BMW Championship. Oops. We meant starting now. . .
Zach Johnson: ZJ's 10th PGA Tour title was just a matter of time following a recent stretch of five straight top 10s, including a playoff loss at the John Deere Classic. Two weeks after earning a spot in the Presidents Cup on the last possible hole, Johnson again came up clutch, firing a final-round 65 to win the BMW Championship. At No. 4 in the FedEx Cup standings entering the final event of the playoffs, he now, gulp, "controls his own destiny."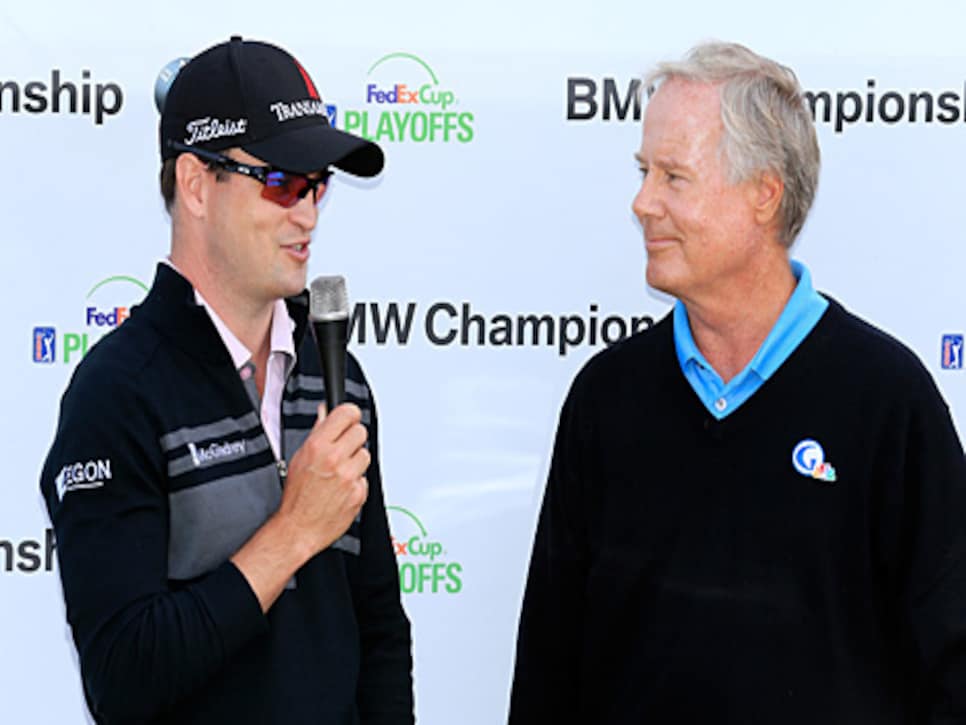 "I'd like to thank the Academy. . ."
Suzann Pettersen: It was only 54 holes, but a major is a major -- even if this is its first season as the LPGA's fifth major. Putting aside all criticisms, Pettersen got the job done at the Evian Championship for the second major championship of her career. With three wins and a major, she might win LPGA Player of the Year. Oh right, Inbee Park won THREE majors by July.
Jim Furyk: Yeah, yeah, he failed to close the door again on Monday, but this was still a great week for Jim Furyk. He became the sixth player to shoot a 59 on the PGA Tour and he did it nine days after being passed over by Fred Couples to represent the U.S. at the Presidents Cup. Besides, it's 5-hour Energy, not 5-day Energy. Let's cut the guy some slack.
Rain: 2013 has been unlucky 13 when it comes to weather and it was particularly bad this week, with two big-time events affected. Pushing the BMW Championship to Monday didn't turn out too badly, but cutting the Evian Championship -- the LPGA's fifth major -- to 54 holes was a real shame, even if it was its best option. Hey, Jim Furyk wouldn't have minded. . .
Tiger's rules flaps: First, there was "Dropgate" Parts I, II and III at Abu Dhabi, the Masters and the Players. And this past week, "Oscillategate" or "Woods in the Woodsgate" grabbed headlines even when another player shot 59. We aren't sure what to expect next, but we are very sure a guy with millions of people watching his every move would never cheat on purpose.
Rory McIlroy's season: What would the odds have been at the start of 2013 that then-World No. 1 wouldn't be one of 30 players to qualify for the Tour Championship? That storyline is going to make for one heck of a dramatic Nike commercial whenever he returns to top form.
Lydia Ko as an amateur: Why is this 16-year-old still an amateur? Is her family that loaded? Less than a month after winning her second LPGA title (and not collecting the $300K payday), Ko nearly became the youngest (by far) to win a major championship. Her runner-up check for approximately $350K went to 18-year-old Lexi Thompson instead. Obviously, this is a big decision that shouldn't be rushed, but it simply doesn't make sense to be the fifth best in the WORLD at anything and not profit from it. Then again, I might be ranked that high in corn hole and have yet to turn professional.
The PGA Tour's season concludes with the Tour Championship at East Lake, aka Bobby Jones' home course, aka that course which ends with a par 3. The Jones angle has us thinking: What if the reigning champ of the event got to pick what course would host next year's event? With just a 30-man field, this isn't as crazy as you think. . . IDEA!
Random tournament fact: The last three winners of this event have also claimed the FedEx Cup and that $10-MILLION bonus. Why isn't this event referred to as "the fifth major," again?
WEEKLY YAHOO! FANTASY LINEUP
Starters -- (A-List): Tiger Woods: We can play him one more time. This is the last tournament of the season. You do the math.
(B-List): Zach Johnson: Not the greatest track record at East Lake, but you can't argue with Big Mo.
(C-List): Jason Day: Hey, Jason, start rolling in putts before Sunday and you'll win another tournament one of these days.
Bench: Phil Mickelson, Matt Kuchar, Justin Rose and Adam Scott.
Caroline Wozniacki snapped this pic of boyfriend Rory McIlroy sleeping: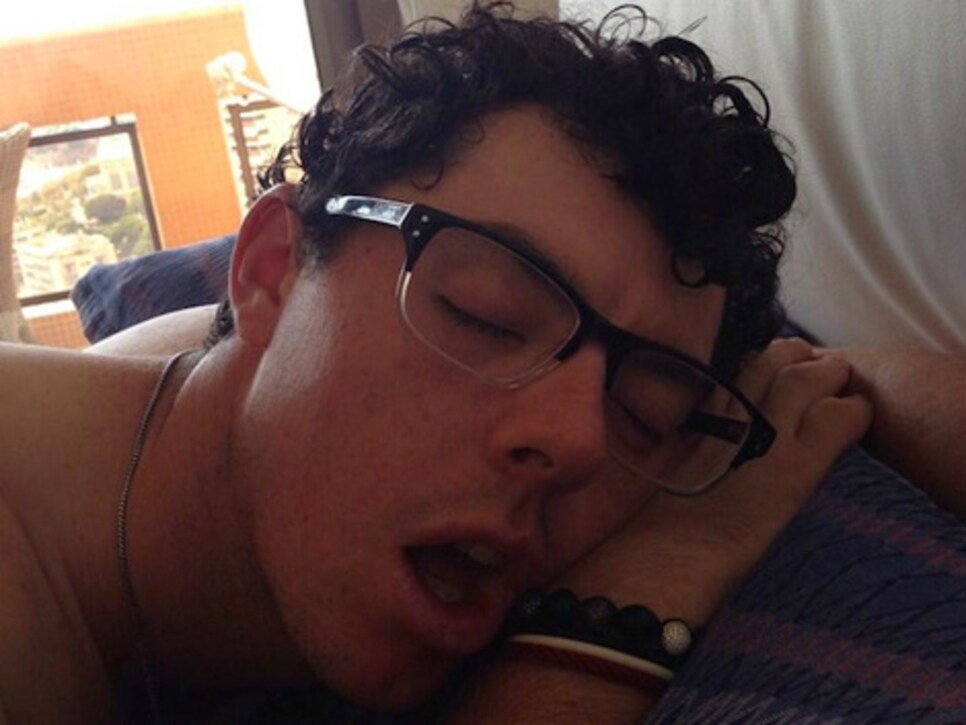 Yep, that pretty much sums up his year.
And you thought Tiger Woods drew an odd penalty. What's up with divots moving golf balls?! First, Justin Rose at the BMW Championship:
How about those giant martinis?!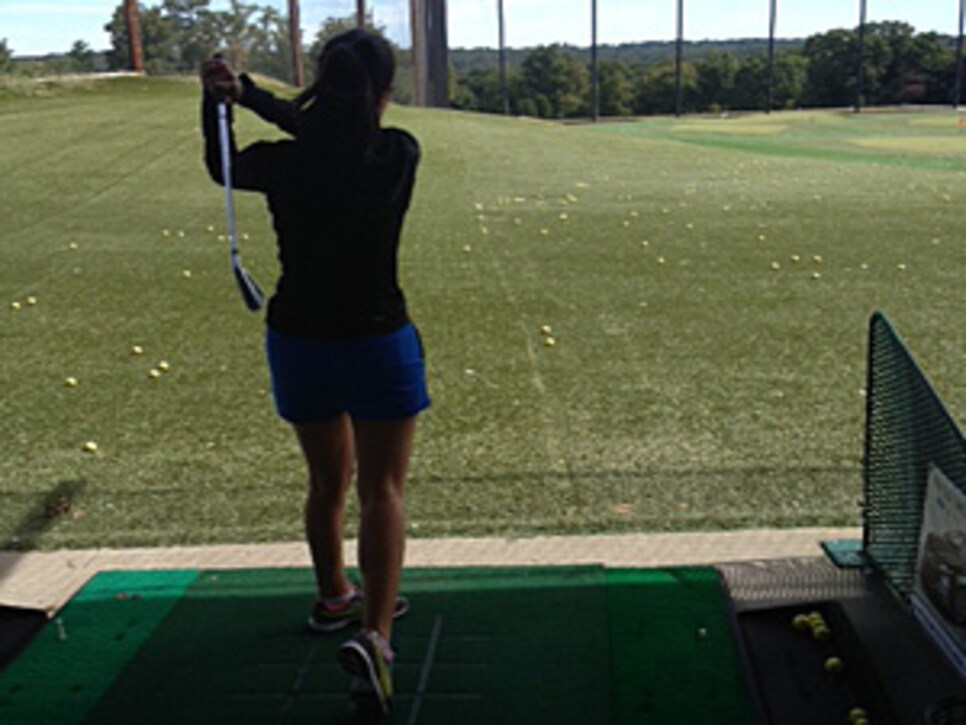 Darren Clarke announced he'll be a PGA Tour member next season for the first time in seven years. Yawn. . . . Seung-Yul Noh won the third event of the Web.com Tour Finals to wrap up his PGA Tour card for next season. It was also a victory for headline writers everywhere. . . . That's my girlfriend, Michelle, smoking a way-to-big-for-her 6-iron after just three sessions on the range. Look at that balance! Golf Digest releases its latest ranking of America's Best Teachers next month. Is it too late to consider me?
RANDOM QUESTIONS TO PONDER
What will Tiger Woods get penalized for next?
When will golf have its version of the "Manning Bowl"? (Sorry, Molinari brothers)
Would Bobby Jones really have stayed an amateur with prize money this big?