The Loop
Jason Day's dominance, a message in a wallet, a tour WAG stuns in a gown, and playing golf with a '90s icon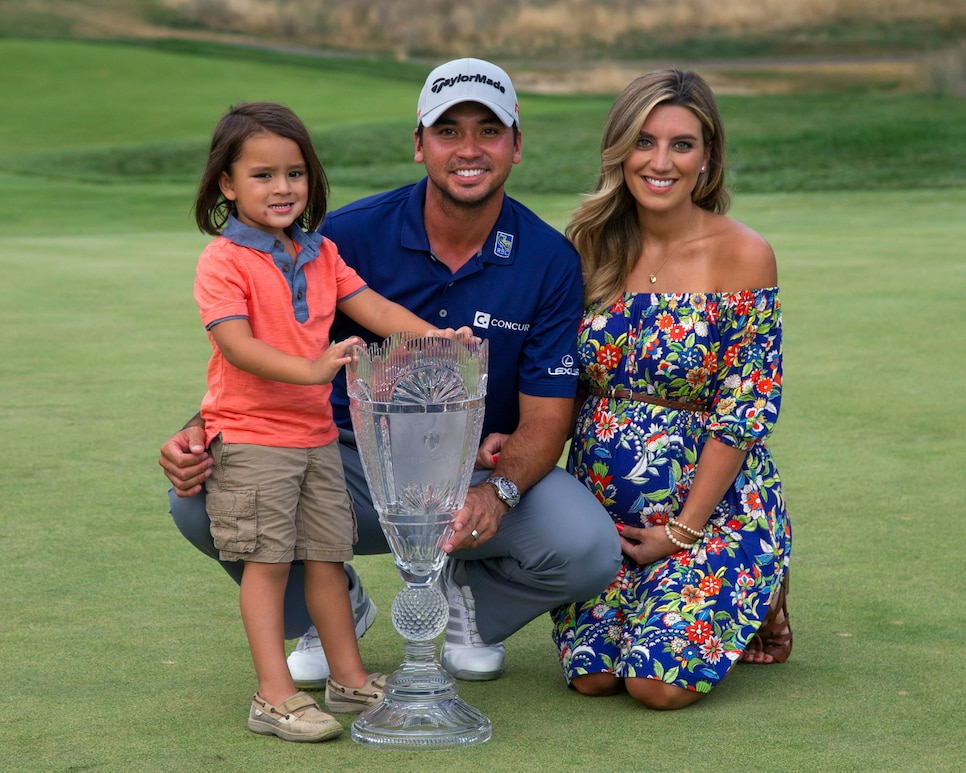 Welcome to another edition of The Grind, where we can't believe we're even entertaining a Player of the Year debate. Not because it's a ridiculous notion (it's not totally ridiculous), but because of how ridiculous of a run Jason Day is on. The Aussie has been so good that his son, Dash, has gotten more air time this summer than Rory McIlroy and Phil Mickelson combined. And it was only fitting with the college football season upon us that Day looked like a team trying to run up the score to impress voters on Sunday. Keep the romps coming, Jason, because the polls don't officially close for another few weeks. In the meantime, we'll do our best to keep rolling.
Jason Day: The Aussie won for a third time in four starts and set a tournament scoring record in his second consecutive win. This time, Day shredded Plainfield CC to the tune of 19 under par, firing rounds of 63 and 62 over the weekend to win by six shots. It might have been worse if Day didn't hurt his back earlier in the week moving something out of his motor home, an injury he clearly aggravated on Thursday when he only shot 68. Day now has four wins, including a major, in 2015. He (and Jordan Spieth) have three more cracks to become just the sixth golfer in the past 40 years to win five times in a season. And he has a (very) outside shot at seven wins. Still think the POY debate is totally ridiculous?
Brian Harman: Despite Day's dominant performance, Harman hoarded national headlines with his two holes-in-one during Sunday's final round. And here I thought I was special for chipping in twice in the same round that morning. Sigh. Harman said he told his ball to go in on the first one while it was in the air. And on the second, he said, "Make it two." What a bastard.
Harold Varner III: A T-47 at the Web.com Tour's final regular-season event was just enough for Varner, 25, to remain in the top 25 on the money list and become the first African American to earn his PGA Tour card through the developmental tour's money list. "I'm going to hug my mom and dad. I'm sure they'll cry. I'll try not to."
Jordan Spieth: This isn't as much for him playing his worst golf of the year, missing the cut by five shots and losing his No. 1 ranking to someone who wasn't even playing. Bad weeks happen. It's more for him putting a new set of irons in play at Plainfield. Why would Jordan Spieth change ANYTHING after the season he's had?!? If I were him, I wouldn't change toothbrushes for the next decade.
Sergio Garcia: Remember when Garcia entered the Wyndham Championship in 2012 because he needed a win to get into that year's FedEx Cup Playoffs and he pulled it off? How times have changed. Now Garcia is purposely skipping postseason events, pulling out of the first two. On Monday, Garcia tweeted "Just three letters to describe Jason Day's last month and a half of golf. . . WOW!" Unfortunately, there are also just three letters to describe Garcia's recent golf: MIA.
John Daly's health: On Saturday, Daly had to be taken from the golf course to the hospital after suffering what he said was a collapsed lung. Daly said he suffered the injury in part because he was swinging differently to get around a hand injury he suffered while changing a tire on his son's golf cart. Hmm. Let's forget about that for a second and focus on the positive that Daly was back on the course playing the next day. According to witnesses, though, he was also back to smoking. Just a guess, but that's probably not what his doctor prescribed for a collapsed lung.
The PGA Tour heads to TPC Boston for the Deutsche Bank Championship, aka that event that ends on a Monday.
Random tournament fact: This is where Vijay Singh took the top spot in the Official World Golf Ranking from Tiger Woods in 2004. And this week, there are three players (Current No. 1 Rory McIlroy, Jordan Spieth and Jason Day) who could become No. 1 on Labor Day -- and by actually playing. Exciting stuff. Suddenly, the OWGR isn't just a pundits' punching bag.
RANDOM PROP BETS OF THE WEEK
-- Brian Harman will make two holes-in-one during his Sunday round this week: 1 MILLION-to-1 odds
-- I will make one hole-in-one during my Sunday round this week: 1 BILLION-to-1 odds
-- You will get tired of hearing the phrase "The Big Three": LOCK
PHOTOS/TWEETS OF THE WEEK
Both of these involve handwritten notes. First, Dicky Pride shared the motivational message he's been carrying around in his wallet for six months after winning his first Web.com Tour title on Sunday to earn a PGA Tour card for next season:
Then there was Pieter-Jan Pieters, brother of this week's European Tour winner Thomas Pieters, getting creative with this "official contract" to try to get a cut of the winnings:
VIRAL VIDEO OF THE WEEK (PLANNED DIVISION)
In anticipation of this year's Solheim Cup, Tiffany Joh released a music video:
VIRAL VIDEO OF THE WEEK (UNPLANNED DIVISION)
Peter Malnati produced the ultimate golf fail and the ultimate golf reaction on the same shot last week:
Kris Tamulis, 34, won her first LPGA Tour title at the Yokohama Tire LPGA Classic. Hopefully, that victory comes with free tires for life. . . . The NFL's best golfer, kicker Josh Scobee, was traded from the Jacksonville Jaguars to the Pittsburgh Steelers. This might be the only time an NFL player complains about being traded from the Jaguars to the Steelers. . . . A month after singing "Two Princes" at my own wedding, that's me after a round of golf with Chris Barron (above), lead singer of the Spin Doctors and co-writer of the classic song. What an honor and a privilege to play with one of my all-time favorite musicians and a true '90s (best decade of music EVER) icon. My hope is that our round together inspired a future hit, "Two Golfers."
RANDOM QUESTIONS TO PONDER
Who is the best '90s band (not named Spin Doctors)?
How long can Jason Day swing that hard?
How long can Dash Day go without a haircut?