The Loop
The Grind: A broken trophy mystery, Tiger and Sean's conscious uncoupling, and Win McMurry's Ice Bucket Challenge fail
Welcome to another edition of The Grind, where we are still in Emmys mode. This week's best lead actor in a drama? Hunter Mahan is an obvious answer. So is Phil Mickelson in the comedy category for the most entertaining 78th-place finish you'll ever see. But best supporting role is a bit more tricky. On Sunday night, swing coach Sean Foley appeared an easy choice as he basked in the glory of his longtime pupil winning the Barclays. But on Monday morning, he was fired by his most famous client, Tiger Woods. Hmm, that's a tough one. Maybe we'll just let the Academy's voters sort it out while we discuss what else is happening in the world of golf.
Hunter Mahan: The guy who played in the final group at back-to-back majors in 2013 had been missing in action since walking away from the 36-hole lead in Canada last July to become a father, but he picked the perfect time to find his top form again. A Sunday 65 at the Barclays ended a two-plus year winless drought, moved Mahan to No. 1 from No. 62 in the volatile FedEx Cup standings and allowed him to emerge as a likely captain's pick for a spot on the U.S. Ryder Cup squad. But Mahan seemed most excited about getting win No. 1 as a dad. Afterward, he was blamed for breaking the Barclays trophy, but another suspect has emerged from this photo. . .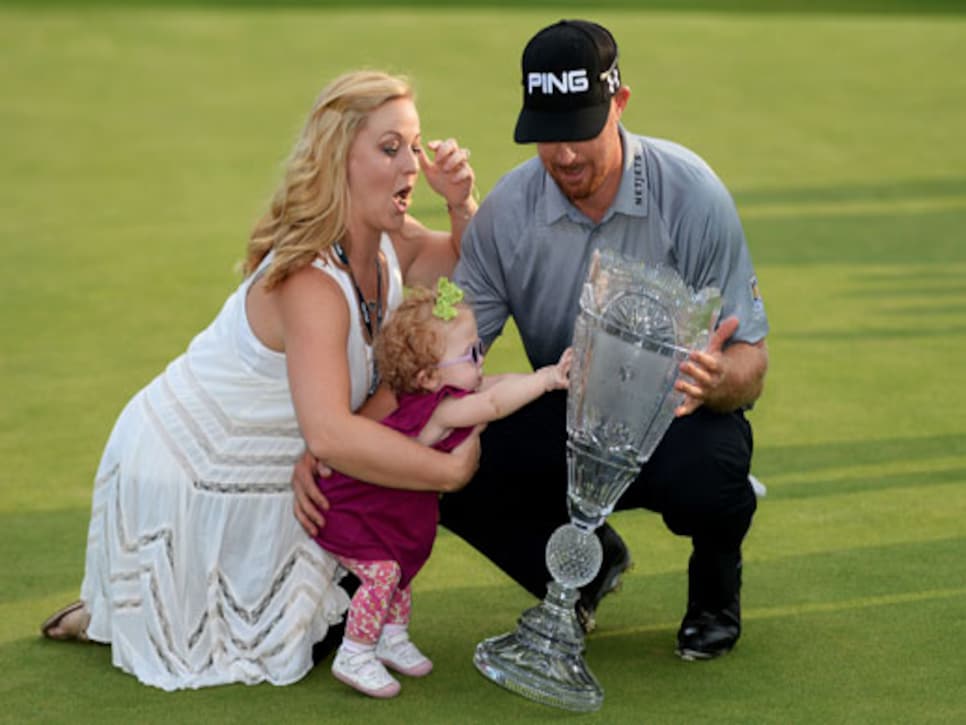 Tiger & Sean's conscious uncoupling: There's no doubt Sean Foley is a great coach, but there's also no doubt the Foley/Woods partnership never quite clicked. Yes, Woods won five times during a Player of the Year campaign just last year, but that season might not even crack the top-10 list for Woods' career. The bottom line? Eight wins in four years for golf's GOAT isn't good enough. Plus, there are questions of whether Woods' new swing is the cause of his back problems. Regardless, this is a smart financial move for Tiger. It has to be really expensive having a full-time coach when you never even play.
Carlos Ortiz: Rory McIlroy has been golf's undisputed best player this year, but Ortiz has been just as dominant on the Web.com Tour. Congrats to the 23-year-old Mexican for making 60 percent more money ($515,403) than any other player on that tour and for earning the automatic promotion to the PGA Tour with his third win of the season at the Portland Open. The bad news? He has to wait for next season. The good news? Next season starts in about a month.
Jim Furyk: For an eighth straight time with at least a share of the 54-hole lead, Furyk didn't win, running his PGA Tour title drought to nearly full four years. To be fair, Furyk hasn't melted down in any of those tournaments. He's posted a 70.25 scoring average in those final rounds (shooting 69 four times), and his eighth-place finish at the Barclays was the first time he's dropped out of the top four on those eight occasions. Still, that's got to hurt. Even the Jacksonville Jaguars have a better record on Sundays.
U.S. Ryder Cup hopefuls: While Mahan came through with a clutch performance in New Jersey, other big-name bubble boys didn't. Brandt Snedeker, Webb Simpson and Ryan Moore all missed the cut, leaving them just one more week to try to impress captain Tom Watson. And with Mahan and Keegan Bradley edging out in front of the pack, that means this trio and other Ryder Cup hopefuls are probably playing for just one spot.
Lee Westwood: Speaking of Ryder Cup hopefuls, it's looking more likely that Westwood won't be making a ninth consecutive appearance on Team Europe. Jamie Donaldson's win at the Czech Masters took away another spot, and Westwood faded to T-57 at the Barclays, failing to advance to the second round of the playoffs. After winning the Maybank Malaysian Open in April, Westwood, 40, said it was possible that his best golf was still ahead of him. Did he forget to say, "LOL JK"?
The PGA Tour heads to Boston for the second leg of the FedEx Cup Playoffs, the Deutsche Bank Championship, aka that tournament that ends on a Monday because it's Labor Day.
Random tournament fact: Hunter Mahan will be playing in his 30th FedEx Cup Playoff event this week. He's the only player to have competed in every playoff event since the FedEx Cup started in 2007. PGA Tour commissioner Tim Finchem approves of this fact.
RANDOM PROP BETS OF THE WEEK
-- Tiger Woods and Butch Harmon will reunite: 1 million-to-1 odds
-- Phil Mickelson will hit a shot out of a TV tower: 5-to-1 odds
-- You will hear that Hunter Mahan consecutive FedEx Cup starts stat a LOT: LOCK
PHOTO OF THE WEEK (OTHER THAN HUNTER MAHAN'S DAUGHTER POSSIBLY BREAKING THE BARCLAYS TROPHY)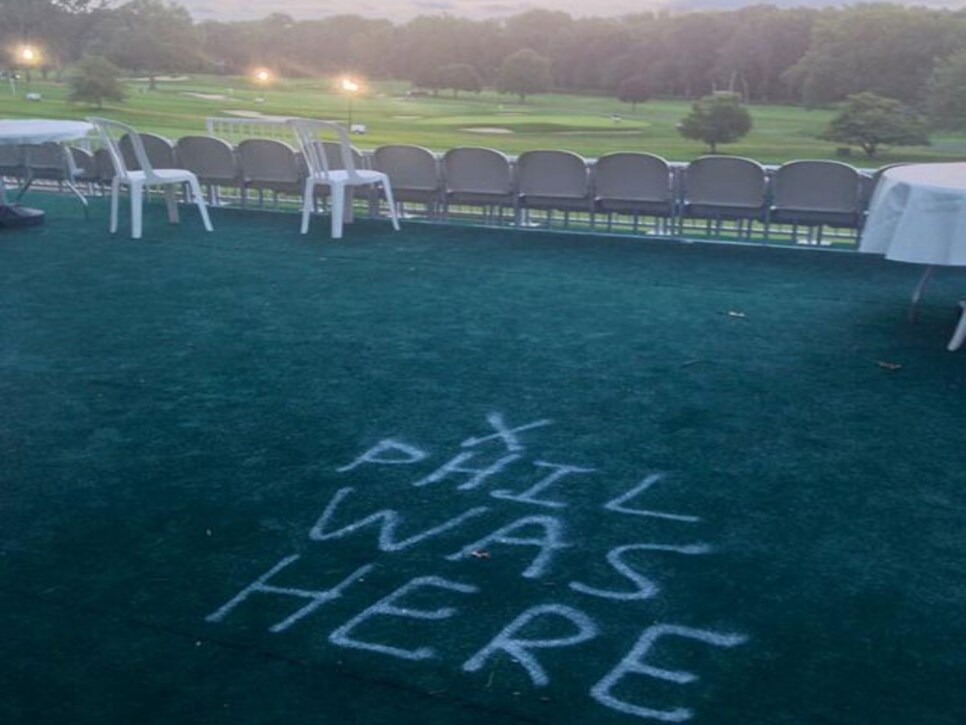 Incredibly, Phil Mickelson found the same hospitality area near the fifth hole at Ridgewood Country Club two days in a row. Not incredibly, the tour's ultimate showman decided to hit a shot from there both times. The best part? It inspired a new internet meme, #PhilWasHere. Here's our favorite, but the rest are worth checking out.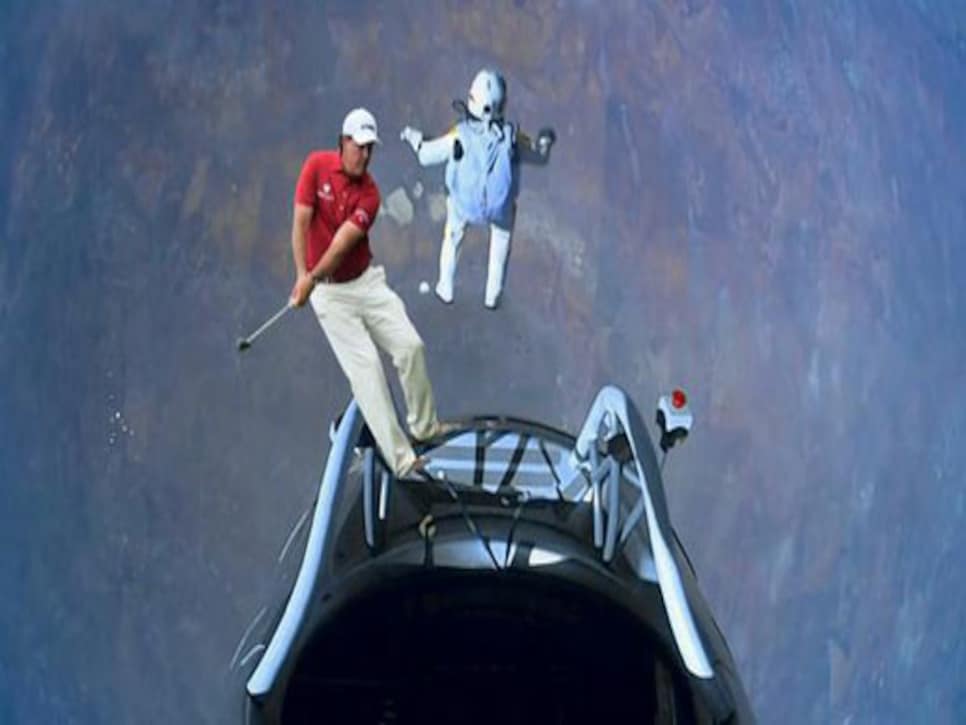 "You know, I'm close. And I'm not going to hang my head as I walk away from here. But I chuckle every time I leave the media room because I'm like, it's almost -- everyone expects me to be depressed. I mean, there's a lot worse sh-- going on in the world than me shooting 70 on a Sunday." -- Jim Furyk. Tough to argue with that.
THIS WEEK IN GOLF-RELATED ICE BUCKET CHALLENGES
First, Rory McIlroy risked life and limb to climb on a chair to dump ice water on actress Meghan Markle, who he nominated:
Maybe you should try it again, Win. . . With ice this time. . . You know, just to make it official. . . We'll wait. . .
THIS WEEK IN LINDSEY VONN MAKING US LOOK BAD WITH HER TRAINING PUTTING HER TRAINING TO USE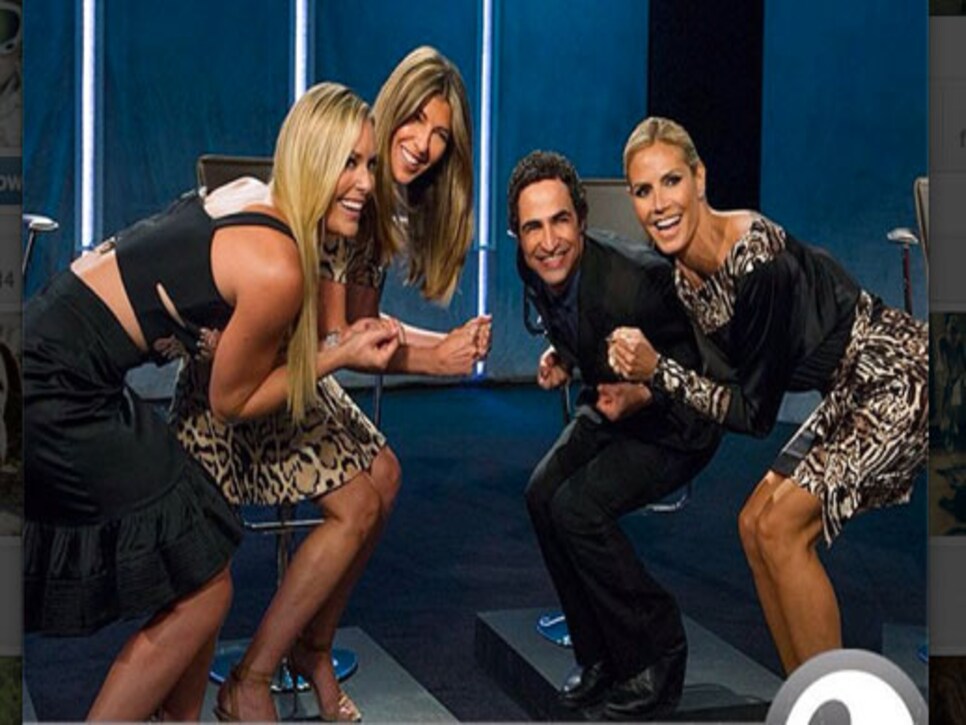 Vonn took a break from the gym to appear on the show "Project Runway." And no, we didn't watch the episode. Yet.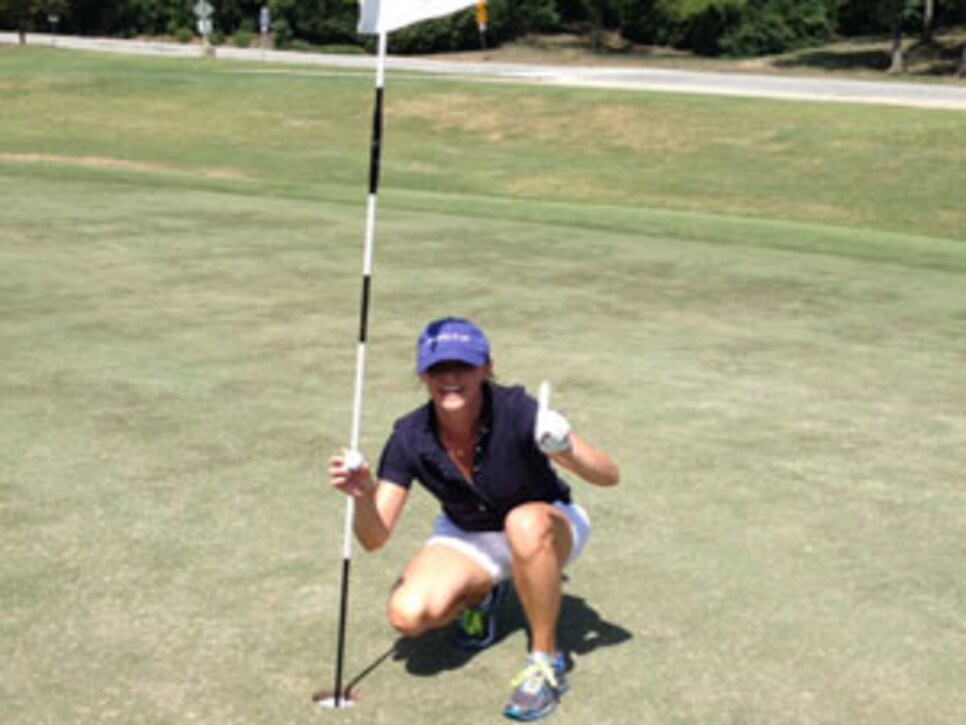 and his wife, Kristin Stape, welcomed a baby girl into the world Monday. If he wins a tournament next year, he'll have to keep his eye on her during the trophy presentation. . . . Rory McIlroy said he's "90 percent" sure he'll be in Denver to play in next week's BMW Championship, citing the Broncos/Colts game as a big motivation for going. Not exactly a glowing ad for the importance of the FedEx Cup. . . . Scott Dunlap won the Boeing Classic for his first Champions Tour title. He's the guy who nearly played with Tiger Woods in the final round of the 2000 PGA Championship. . . Apparently, there's going to be a new show called "Sports Jeopardy." I'd be the Ken Jennings of that show. Look at that Scott Dunlap knowledge I just dropped on you! . . . Congrats to GolfDigest.com director of editorial operations Molly Baldwin (pictured) on recording her first hole-in-one. Add another name to the long list of golfers I'm jealous of. . . . And NBC's coverage of the Deutsche Bank Championship means Johnny Miller is returning to the booth. Let's celebrate by looking at this random/funny/ridiculous photo of him!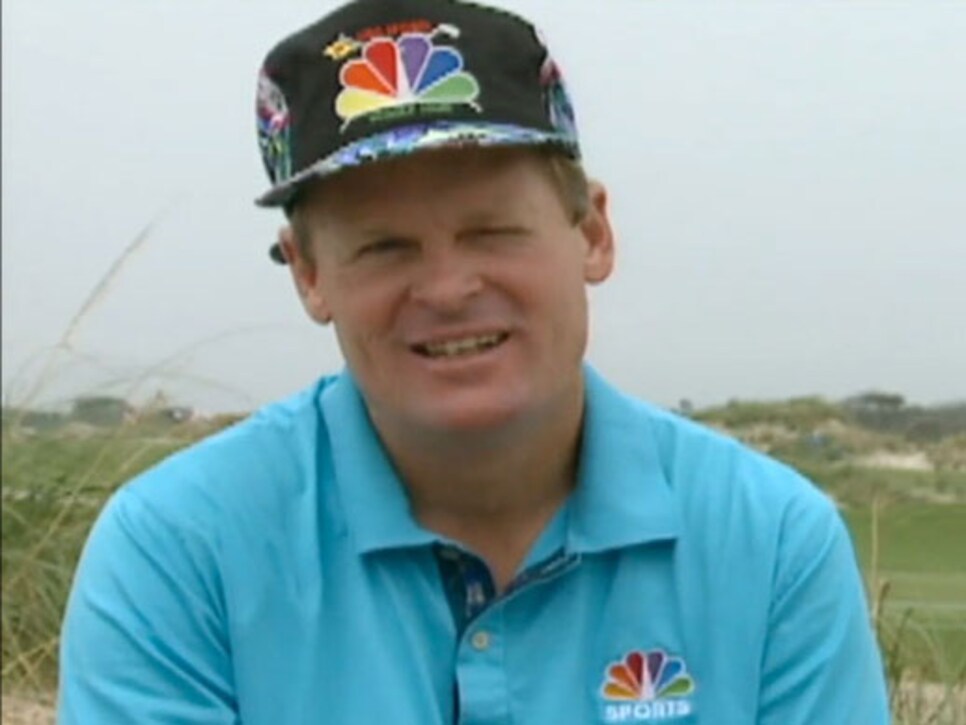 RANDOM QUESTIONS TO PONDER
Did Phil hit it into that hospitality area a second time on purpose?
How did Matthew McConaughey not win the Emmy for "True Detective"?
Where can I get one of those NBC hats?