The Loop
The Grind: Hank the Tank's domination, a tired Tiger & Kate Upton's golf tip
Welcome to another edition of The Grind, where we're pretty sure Henrik Stenson won't be waiting in line for Powerball tickets anytime soon. And if the Stensons aren't living in a palatial estate yet, then it's probably time to use that $10 million bonus for an upgrade. For everyone else, it's simply time for another rundown of the week in golf. Let's get started.
Henrik Stenson: First, Hank the Tank broke a driver and crushed his locker at the BMW Championship. Then, he steamrolled the field at the Tour Championship, capturing the FedEx Cup in the process. Stenson's past two months have been nothing short of remarkable. Now ranked No. 4 in the world, the player most prone to temper tantrums might just be the best player without a major as well.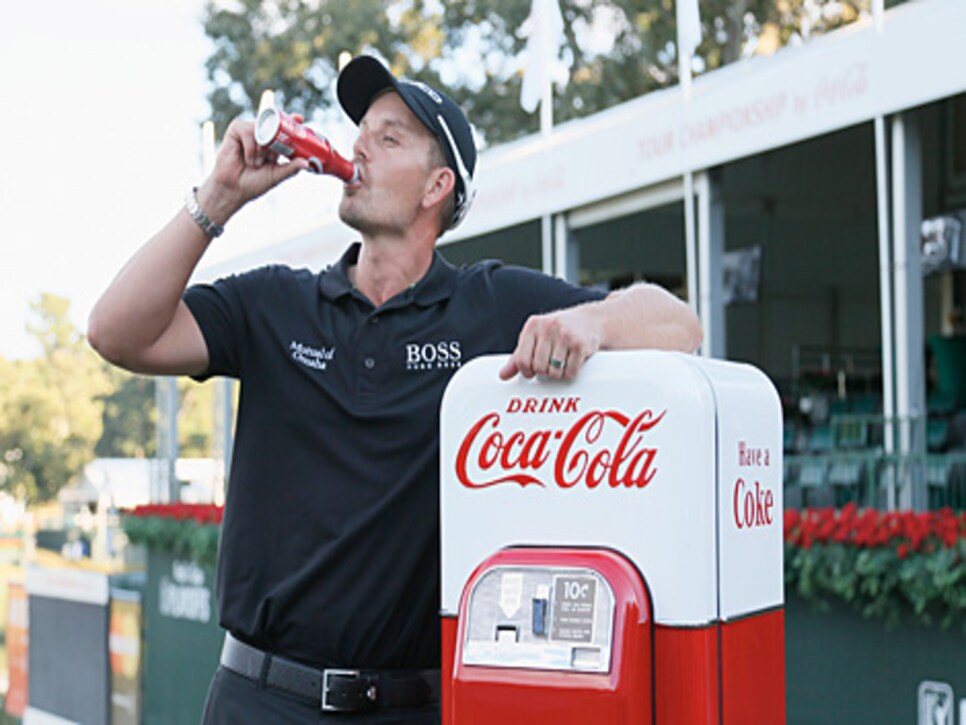 To the victor, goes the. . . Coca-Cola?
Steve Stricker: Mr. Semi-Retired made more money the past month than most working slobs make in their entire lives. A runner-up finish at East Lake put him third in the final FedEx Cup standings despite playing a sparse schedule this season. Stricker also wound up leading the PGA Tour in scoring differential when compared to the field at tournaments in which he competed. The only question is how did he manage to play that well and not win a single event in 2013?
Jordan Spieth: Not only was Spieth the youngest player to qualify for the Tour Championship, he finished T-2 with Stricker at East Lake thanks to a brilliant final round. Despite starting the year as a teenager without status on any pro tour, Spieth wound up finishing 10th on the PGA Tour's money list. On Thursday, his peers will vote for the year's top rookie. That vote will not be close.
PGA Tour's wrap-around schedule: So the tour has its grand finale over the weekend and the next season starts less than THREE weeks later? At the Frys.com Open? Sorry, but it's tough to get excited for that.
Tired Tiger: After a disappointing Thursday, Woods clawed back into semi-contention by playing Friday's first 13 holes in five under. He then played perhaps the worst four-hole stretch of his life with a double bogey, a bogey, a par on an easy par 5 and a triple bogey. After the round was over, he said he "just ran out of gas." Really? With $10 million on the line in the last meaningful individual tournament he'll play in for about six months? Just say you don't know what happened or that you stunk up the joint. The excuses are getting tough to take. That being said, we're not big on this whole. . .
Player of the Year "debate": Frankly, the notion that Woods might not win this award is absurd. He led the tour in wins (by 150 percent!), scoring average and earnings. In fact, he won 38 percent of possible prize money in the tournaments he entered, with Stenson second at 27 percent. Tiger wasn't at his best in the majors, but last time we checked, it's Player of the YEAR, not Player of the Majors.
Golf rap videos: In case you missed it (and here's hoping you did), NBC created a FedEx Cup Playoff rap video. Like the overwhelming majority of golf rap videos, it's as bad as you would expect. Watch at your own risk:
Supermodel Kate Upton giving super legend Arnold Palmer a putting lesson? An instant classic. And no, we're not just saying that because it's a Golf Digest video.
Butch Harmon charges $1,000/hour for a golf lesson. Something tells us Ms. Upton could fetch just as much.
RANDOM PROP BETS OF THE WEEK
-- Tiger Woods and Phil Mickelson will play in the PGA Tour 2013-14 season "opener": 10 MILLION-to-1 odds
-- Tiger Woods will ask Steve Stricker for a putting lesson at the Presidents Cup: 2-to-1 odds
-- We will all be better off if the Web.com Tour doesn't produce a rap video for its finale: LOCK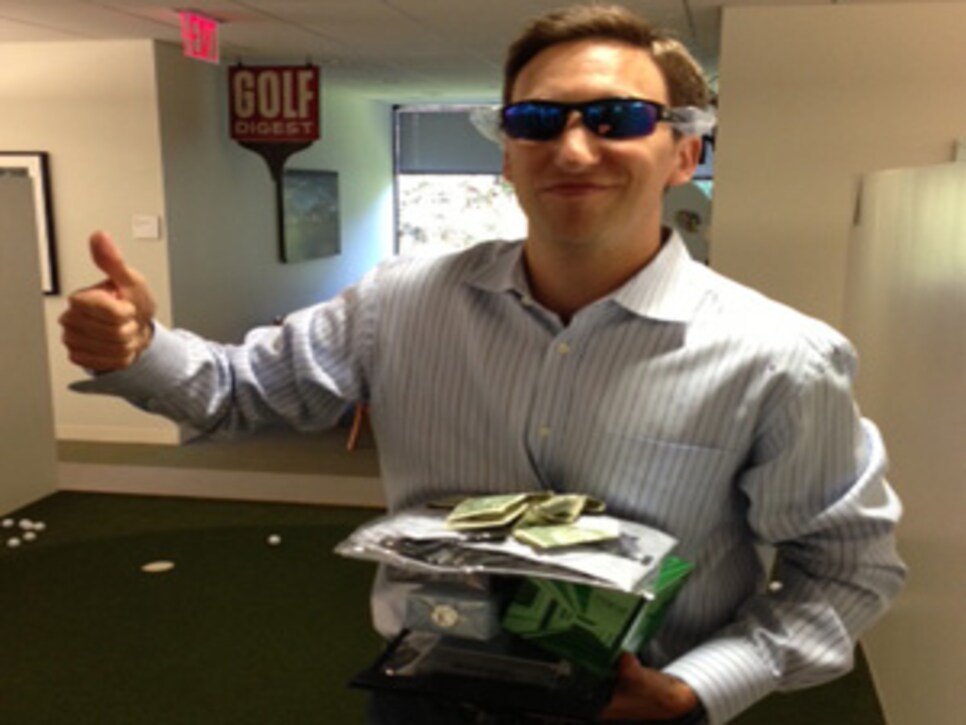 Vijay Singh shot a final-round 73 to fall to T-6 in his Champions Tour debut. Beating up on the old guys isn't as easy as you thought, huh, Vijay? . . . George W. Bush defended President Barack Obama's golf habit. And they say our two parties can't agree on the big issues. . . . Henrik Stenson wasn't the only golfer to win big last week. Check out all the loot I collected (are those Zach Johnson's shades?) by winning an office putting contest!
RANDOM QUESTIONS TO PONDER
Can you vote for yourself for PGA Tour Player of the Year?
What would you do with an extra $10 MILLION?
Would you rather get a putting lesson from Steve Stricker or Kate Upton?