The Loop
"Gimmegate," golf cakes, Jason Day's dominance, Paulina at the pool, and the weirdest golf video ever made
Welcome to another edition of The Grind, where we're not picking up our ball against Suzann Pettersen unless we have signed, written consent that it's a gimme from her. Who could have imagined that Tiger Woods would have back surgery and Jason Day would win a playoff event by six and become No. 1 for the first time, and neither would be the weekend's biggest golf story?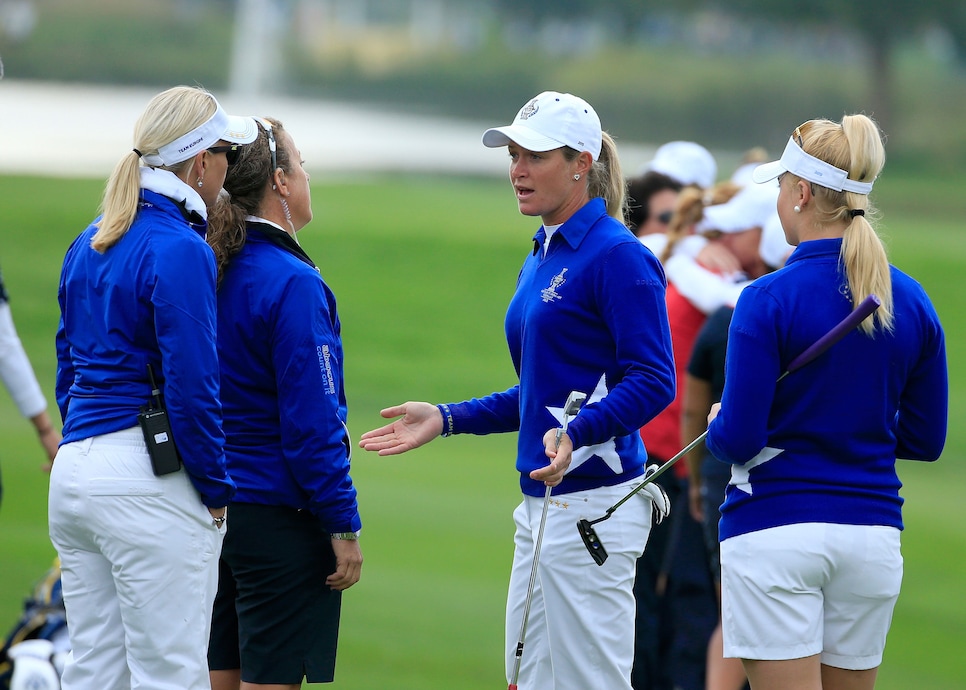 It's tough to know exactly what was going on in Pettersen's head in the heat of the moment, and it's even tougher to compare a major international team competition to a buddies trip, but we have a guy who is stingy with giving putts, and let's just say it has NOT helped with his popularity among the group. To Pettersen's credit, she apologized the following day, but the damage had already been done. With the U.S. using the incident as a rallying cry and winning the event, the competitive Norwegian wound up being both the villain and the goat of the event. Rough. Maybe we should lay off her for awhile. . .
Jason Day: This is getting silly now. The guy isn't just winning almost every week, he's winning almost every week by SIX shots. Day achieved a longtime goal of getting to No. 1 in the Official World Golf Ranking and he matched Tiger Woods and Vijay Singh as the only golfers in the past 20 years to win at least five times in one PGA Tour season. What a beast. If he does it again this week, it will set up the most intriguing Player of the Year vote ever. Jordan Spieth was thought to have a gimme for that award, but as we saw over the weekend, well, you know. . .
U.S. Women: What a comeback! On Saturday night, I would have bet a whole 12-pack of Cherry Zero (that stuff is liquid gold) on the U.S. losing a third straight Solheim Cup. Instead, the American women ended their first-ever losing streak to the Europeans and did it in the most devastating fashion possible by winning 8.5 of a possible 12 points available in the final session. We hope the U.S. men were taking notes for next year.
Paula Creamer: Speaking of comebacks, what an effort by the controversial captain's pick. Creamer won the first and final match of the Solheim Cup to more than justify Juli Inkster picking her for the team. Inkster hoped Creamer might experience the same type of career revival Adam Scott has had since Greg Norman selected him for the 2009 Presidents Cup. We shall see. On the bright side, unlike the Aussie, Creamer doesn't have to worry about switching from an anchored putting stroke.
Gary Woodland's jumper: And we thought this dude had range off the tee! Check out GW's silky smooth three-point shot:
Everyone involved with "Gimmegate": Unfortunately, one incident overshadowed the entire Solheim Cup. Pettersen deserves most of the blame, but she's not alone. If teammate Charley Hull really thought that putt was good (and she CLEARLY did when she walked off the green and sent the wrong signal), she should have spoken up -- even if she risked the wrath of her intimidating partner. As should have European captain Carin Koch, who could have righted all of this at the time. And finally, Alison Lee probably shouldn't have been so hasty to scoop her ball up, especially on the 17th hole of an all-square match.
Tiger's back: On Friday, Woods announced he had undergone a second "successful"/surprise surgery on his back two days before. Add "and coming off another back surgery" to the following sentence: "Woods will be 40 when he returns to competition in 2016." All good runs come to an end at some point. Just look at that juggernaut "Modern Family," which was finally stopped by "VEEP" (Woo!) at the Emmys. Sadly, we're finally ready to concede that this could be it for Woods.
Jim Furyk's wrist: Jimbo must have been in a lot of pain to stop playing when he was only one over through six on a course where he previously shot one of six 59s in tour history. It was also his first WD since the Clinton administration, snapping a streak of 477 completed starts since 1995. If he skips this week's season finale, you know the wrist is really bad. UPDATE: Furyk's wrist is feeling really bad. He withdrew from the Tour Championship on Tuesday afternoon.
Nicolas Colsaerts: After reeling off eight straight birdies during a Thursday 63 at the Italian Open, the Belgian took to Twitter to tell everyone the secret to his success was having a song, Liu Bei's "Atlas World," stuck in his head. Simple, right? Only Colsaerts got a little cocky and failed to break 70 the final three days as he fell to T-20. An up-and-coming Ryder Cup star three years ago, he's fallen to 219th in the OWGR. He might be onto something with this music thing, though. My best round ever consisted of six birdies at Tobacco Road, and I couldn't stop humming the intro to The Jackson 5's "Sugar Daddy" the entire time. . .
The PGA Tour heads to Atlanta for its season finale, the Tour Championship, aka the only golf tournament of the year in which someone can walk away with $11.5 MILLION.
Random tournament fact: Bill Haas once won the FedEx Cup despite having NO idea he had won the FedEx Cup. That came in 2011 when Haas started the week 25th in the standings. He enters this week at No. 26, which means he has everyone exactly where he wants.
RANDOM PROP BETS OF THE WEEK
-- Bill Haas will win this year's FedEx Cup: 1 MILLION-to-1 odds
-- Tiger will have more back surgeries than major wins going forward: EVEN odds
-- You will be jealous of whoever collects that $10 MILLION bonus for playing golf: LOCK
Look at Dash stealing a kiss from dad while a left-out mom watches. What a ham.
Meet Rikard Karlberg, the man who beat Martin Kaymer in a playoff at the Italian Open to win his first European Tour title.
Chez Reavie reclaimed his PGA Tour card with a win in the Web.com Tour Finals. That must have been some party at chez Chez on Sunday night. Sorry, couldn't resist . . . Constantino Rocca bid adieu to the European Tour after 33 years at the Italian Open. He will forever be known as that guy who almost stole the claret jug from John Daly at St. Andrews. . . . Sunday ratings for the BMW Championship were down 13 percent from 2014. Jason, would you mind taking it easy on these guys and making things a little more interesting? . . . Pictured above is a side-by-side comparison between the cake Kevin Na's friends got him for his birthday last week and the incredible surprise cake my wife got me on our wedding cake. Needless to say, golf cakes are awesome.
RANDOM QUESTIONS TO PONDER
How would Roger Goodell rule on Gimmegate?
Is Dash Day over this whole TV thing yet?
Do I still have any leftover cake in the freezer?