The Loop
G-Mac is back, a caddie killer finally gets caught, Paige plays in the snow, and Golf Digest's epic battle of the ages
Welcome to another edition of The Grind, where we can now really sympathize with Tom Watson and other losing team captains. For the first time, I had the honor of leading a squad at Golf Digest's Seitz Cup, and for the first time, the annual matches were turned into a battle of the ages. To be fair, I only had two days to make the pairings and try to rally my young troops unlike the two years of team-building and trophy photo shoots that Ryder Cup captains get. It wasn't quite enough as Team Millennials fell to Team Old Guys, 11-10, in an epic, "War by the Shore"-esque battle. Look at how surprised Old Guys co-captain Mike Stachura looked when it was over: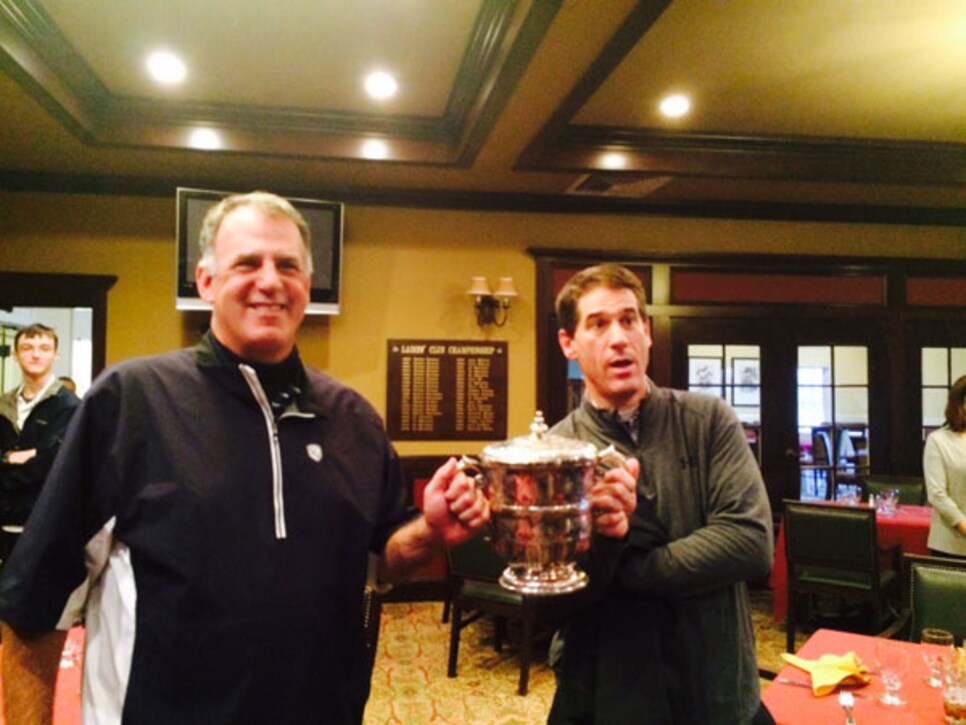 Congrats to Golf Digest's wily vets for teaching us youngsters an important lesson. To quote Jim Carrey from the movie "Dumb and Dumber,": "Senior citizens, although slow and dangerous behind the wheel, can still serve a purpose." Just watch out, geezers. Next time, I'm implementing the pod system. Anyway, here's what else has the golf world abuzz this week.
Graeme McDowell: G-Mac may not be a first-time winner (snapping a streak of five consecutive first-time winners to start the PGA Tour season), but it probably felt like it based on his recent struggles. In his previous 10 events, McDowell had missed four cuts and finished better than T-49 just once (a T-17). It was also the 2010 U.S. Open champ's first PGA Tour win in more than two years and just his third overall. "I dreamed of this day coming again," McDowell said. "I thought it would be maybe not quite as soon as this, and I said to myself that I was really going to appreciate it. And I do appreciate it. This feels really nice."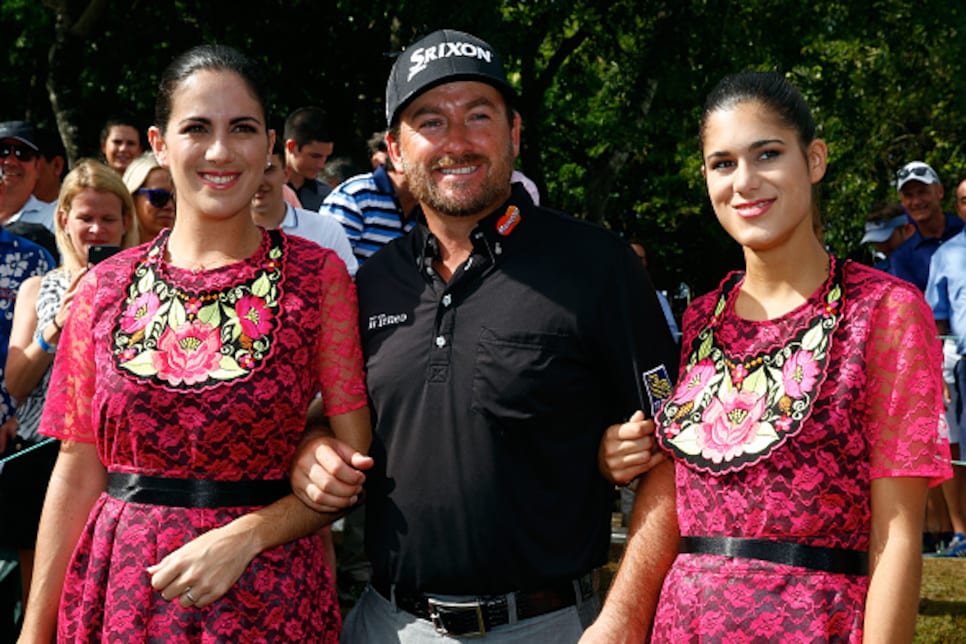 Russell Knox: This guy is pretty legit, huh? A week after winning his first PGA Tour title in Shanghai, Knox nearly made it back-to-back victories in Mexico. A bogey on the 72nd hole dropped him into a playoff, but it's hard to knock Knox when he's playing so well -- especially when he could have easily gone with the whole jet-lag excuse and mailed it in.
Inbee Park: "Winbee" won for a fifth time this season to match Lydia Ko and set up an exciting LPGA Tour finale this week with the Player of the Year, Vare Trophy (scoring title) and $1 Million bonus on the line. Let's hope the CME Group Tour Championship comes down to these two stars -- and that the points system is easier to follow down the stretch than it is for the FedEx Cup.
Caddies on TV: Jim (Bones) Mackay will be one of two caddies serving as an on-course reporter during coverage of the RSM Classic. It's a smart move by NBC/Golf Channel because their presence should add a different perspective to the broadcast, and it actually has people talking about the RSM Classic. Now if NBC/Golf Channel can just convince Phil Mickelson to join his buddy for some hushed commentary, we're talking TV gold.
Caddies on the run: How about this for a wild story: Michael Cousins, a caddie charged with the murder of another caddie in 1996 and on multiple most-wanted lists, was finally caught last month. Even crazier, the crime happened in my hometown at Pelham Country Club, and yet I had never heard about this until this week. Good thing. I don't think my mom would have let me work there the next few summers.
G-Mac's new restaurant: We have nothing against McDowell's second Nona Blue restaurant, but rather its location. The new spot is right next to TPC Sawgrass, meaning it's in direct competition with my favorite Chili's -- the one that I've gone to for 25 straight days over five years of attending the Players. Sorry, Graeme, "G-Mac and cheese" or not, I have no plans of ending "The Streak."
Bad bounces off the flagstick: This didn't happen to anyone this week, but the PGA Tour put out this video of a collection of the worst breaks you'll ever see on a golf course.
Ben Hogan once claimed he stopped aiming at flagsticks for the same reason. Hmm. Sounds like a good tip for the next issue of Golf Digest.
The PGA Tour heads to Sea Island for the final installment of the fall portion of the wraparound season, the RSM Classic, aka that tournament that used to be known as the McGladrey Classic. Meanwhile in Europe, we've finally reached the finale of the Race to Dubai and seven players, including defending champ Rory McIlroy and Justin Rose, have a chance to claim that really big trophy.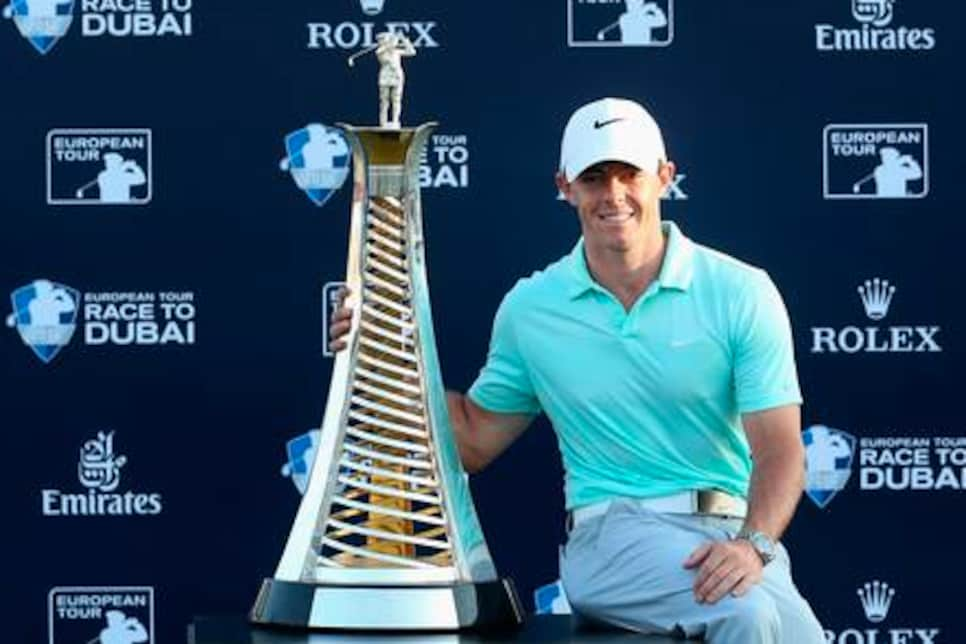 Random tournament fact: Davis Love IV, aka Dru Love, the son of Davis Love III, is in the field at the RSM Classic on a sponsor exemption. And with the tournament changing sponsors, this is technically RSM Classic I.
RANDOM PROP BETS OF THE WEEK
-- I will hit an approach shot off a flagstick and into a hazard: 1 MILLION-to-1 odds
-- Davis and Dru will have some sort of side bet: 2-to-1 odds
-- "Bones" will get to talk more on the course than during a normal week: LOCK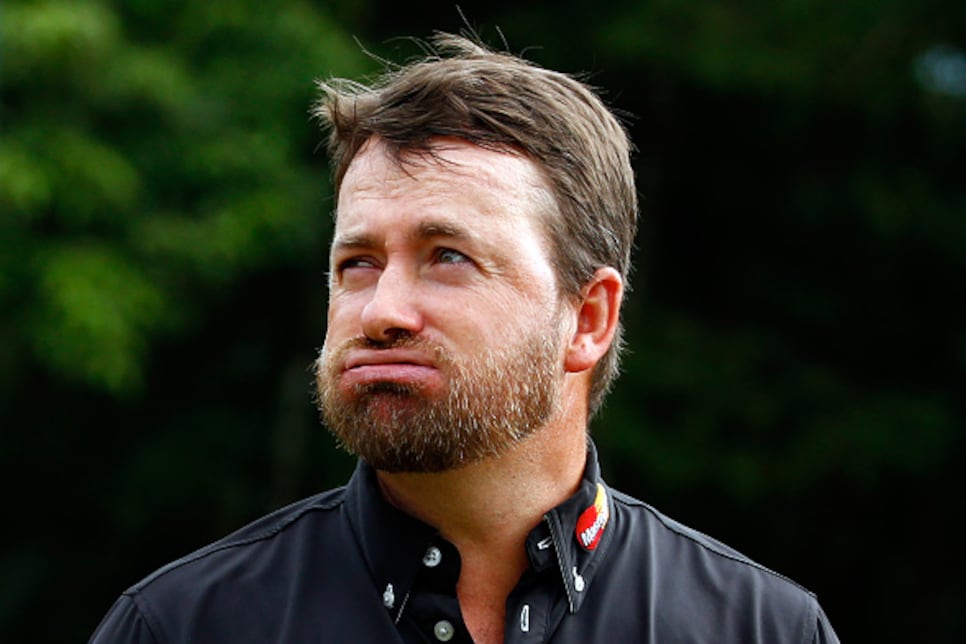 Don't worry, G-Mac, you know what they say: the first restaurant is the hardest.
If Tiger is going to be off the course for an extended period of time, it might be time to find him a hobby.
Kevin Streelman shot a second-round 67 at the OHL Classic and then rode a bike back to his hotel room (Not sure if he utilized that sweet basket):
And then there's Michael Furrh breaking the Guinness World Record for longest usable (the definition of usable is a bit loose here) golf club:
First off, kudos to this guy for breaking his own record. Secondly, what a video. Love his outfit, the slow-mo footage, and having "I'm proud to be an American" blaring in the background is a nice touch. I think I speak for everyone when I say nothing makes me prouder to be an American than watching someone hit a golf ball using a golf club the length of a small yacht.
THIS WEEK IN NATALIE GULBIS LEXI THOMPSON MAKING US FEEL BAD WITH HER TRAINING
THIS WEEK IN PAIGE SPIRANAC BEING PAIGE SPIRANAC
Paige seems to post a picture exactly like this on a weekly basis. Not that we're complaining. . . She also posted this video:
THIS WEEK IN TOUR PROS BEING TOUR PROS
Bud Cauley calmly drains a putt in front of a gyrating Justin Thomas:
THIS WEEK IN DUSTIN JOHNSON-PAULINA GRETZKY-KATO KAELIN LOOK-ALIKE PUBLIC DISPLAYS OF AFFECTION
THIS WEEK IN GONZALO FERNANDEZ-CASTANO-ALICIA-CARRILES PUBLIC DISPLAYS OF AFFECTION
"I didn't trust myself. A few weeks ago, I was just like, 'I'll never win here.' I was just so down. This field is really good, so I'm just happy to beat all of them." -- Kristoffer Broberg, after winning the BMW Masters in a playoff over Patrick Reed. Good for you, "Bro." Can we call you "Bro"?
John Daly's ex-wife, Sherrie, was arrested and charged with aggravated assault, aggravated burglary and violating an order of protection. Her weapon of choice was a golf club. . . . A Vietnam veteran and double-amputee had his customized golf cart stolen two days before Veterans Day. Disgusting. . . . On a lighter note, President George W. Bush gave this painting titled, "The Putter," to Ben Crenshaw.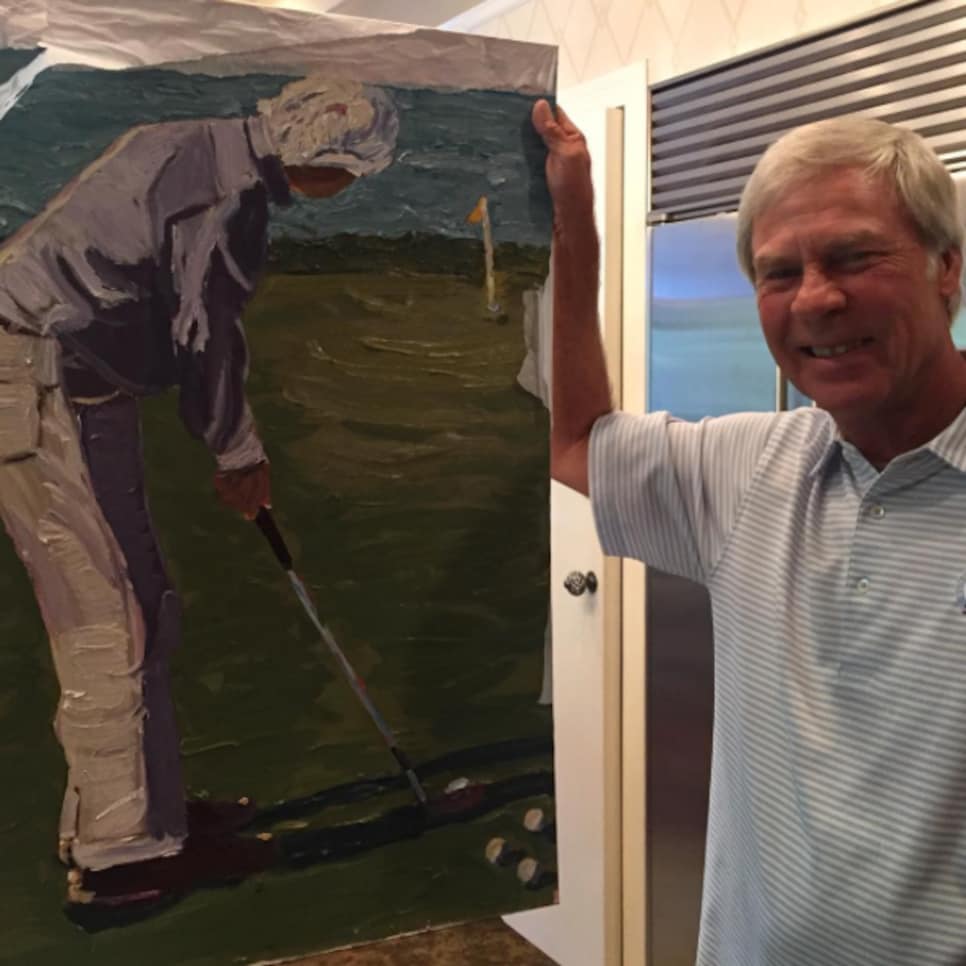 Bush painted it himself. Very impressive, although it's an interesting choice for a 30th anniversary present to Ben and his wife, Julie. . . . And finally, with a hoop in my new backyard, I finally bought a basketball this weekend and came out of retirement.
In related news, I am still really sore. Maybe I should have played on Team Old Guys after all.
RANDOM QUESTIONS TO PONDER
Will I be asked back as a captain?
Will Tiger be back this season?
How does Gary Player do it?