The Loop
The Grind: Ernie's perfect yip, Paige's important PSA, Phil plays peacemaker, and the most dangerous shot ever attempted
Welcome to another edition of The Grind, where we're glad Ernie Els isn't playing in this week's Presidents Cup. After missing the definition of a tap-in last week, how could the U.S. have given him any putts? The controversy caused by this would have made the Solheim Cup's "Gimmegate" an afterthought.
If you haven't seen Els' all-time yip yet, take a look -- unless the yips give you nightmares:
How is that even possible?! If it wasn't in a tournament, we'd say Ernie did it on purpose. Anyway, at least we don't have to worry about an international incident involving conceded putts in South Korea...Wait, what's that? Adam Scott has abandoned the long putter? And he's going with a cross-handed method this week? For the first time in years? Uh-oh. . .
Web.com Tour Championship: Yes, the PGA Tour was on a break last week, but that didn't mean golf fans were lacking in drama. The pressure is "like playing the first hole of the Masters for four days," said Robert Garrigus, who narrowly kept his PGA Tour card.The developmental tour delivered in its finale on the 72nd hole with a dramatic birdie (Emiliano Grillo) and an even more dramatic bogey (Lucas Glover) that allowed Rob Oppenheimer to earn his tour card by a mere $101.
Jim Furyk: Talk about a good company man. Furyk's wrist is too hurt to play, but he still travelled all the way to South Korea to support the U.S. team. Impressive. Then again, maybe we shouldn't be too surprised since he's one of the only players who seems excited by a potential trip to Rio for next year's Olympics. Guy likes to travel.
Jamie Dornan: Look, we get a lot of complaints about not touting the golf exploits of attractive guys and HABs (Husbands and boyfriends) of golfers. Well, here's our chance to give a female heartthrob some love. Dornan, the star of "50 Shades of Grey" and the actually worth-watching TV series "The Fall," showed off his skills with this long eagle putt on the 18th hole at St. Andrews:
Dude is a stud, OK? Here he is looking like a stud on the course (seriously, this could be the cover of a golf fashion mag):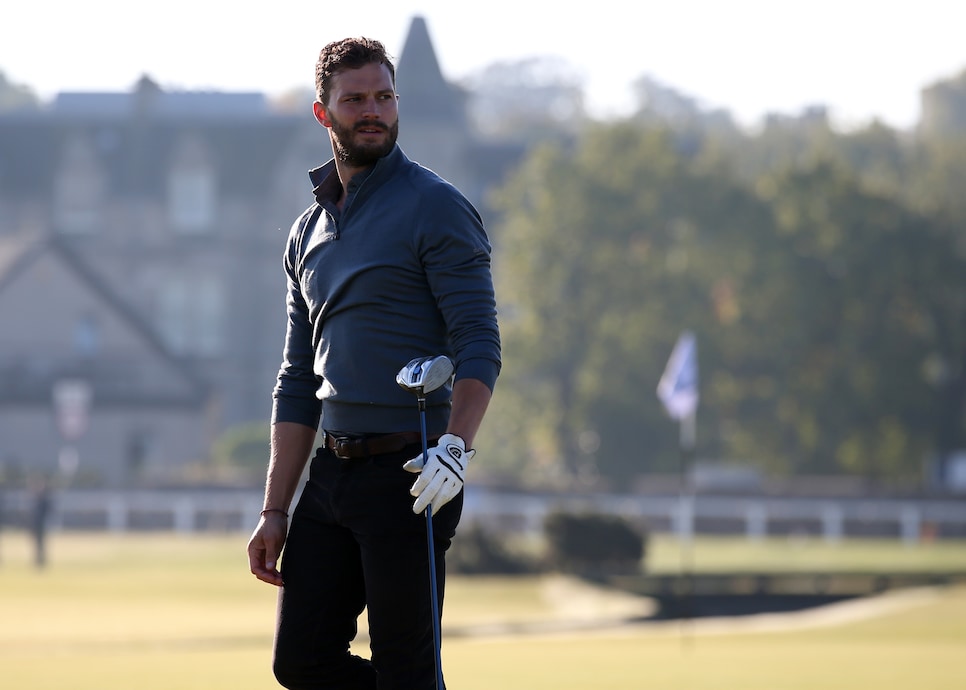 And here he is looking like a stud off the course: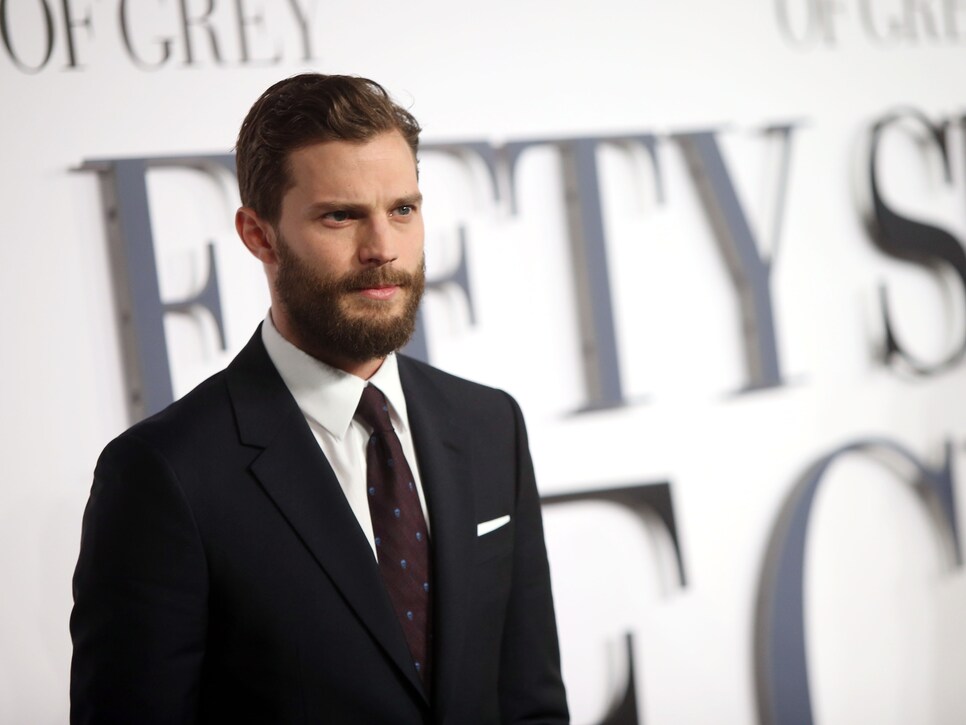 Oh yeah, Thorbjorn Olesen was the winner of the European Tour event. The ladies seem to like him, too:
Anthony Kim's interview: It was great to read AK's interview with the AP's Doug Ferguson just to know he's still alive at 30 and not living in a cave somewhere. That being said, if you're hoping for the former "Big 1" representing the future of golf, don't hold your breath. Kim called golf a "fond memory," and said he's "going to step away from the game for a little while and get my body pieced together" before making another run at the PGA Tour. We thought that's what he's been doing for the past three years. . .
Brooks Koepka's snub: One of the breakout performers of the season, Koepka seemed a likely Presidents Cup captain's pick before Jay Haas went with Bill Haas and Phil Mickelson instead. But with Furyk pulling out, surely Koepka would get the nod, right? Wrong. Instead, J.B. Holmes is going to South Korea. Here's another way to look at this snub: Koepka has a higher world ranking than seven of the 12 U.S. team members.
Suzann Pettersen's apology: In a Golf Channel interview, Pettersen said she still hasn't reached out to Alison Lee, you know, the golfer most directly affected by "Gimmegate" at the Solheim Cup. Even after Lee emailed her. What gives, Suzann? Also interesting was that Phil Mickelson was one of the first people to reach out to her and that the two talked for "hours." First, he shaped how the Ryder Cup is run and now he's trying to bring two continents closer together. We're buying Phil Mickelson as an international policy shaper and peacemaker. What a guy.
As the event's slogan says, "THE TIME HAS COME" for the Presidents Cup:
Let the WAG activities and coordinated outfits commence.
Random event fact: Phil Mickelson is the only guy to play in every Presidents Cup. The man loves his ping-pong.
RANDOM PROP BETS OF THE WEEK
-- Phil Mickelson will publicly throw captain Jay Haas under the bus if the U.S. loses: 1 MILLION-to-1 odds
-- Phil Mickelson will make a side trip to North Korea as a U.S. representative in nuclear talks: 100-to-1 odds
-- That won't be the last short putt we see Ernie Els miss: LOCK
VIRAL VIDEO (SUCCESS) OF THE WEEK
Guy juggling/hitting golf ball on a boulder wedged 3,245 feet above a fjord:
VIRAL VIDEO (FAIL) OF THE WEEK
Woman trying to do a back flip in a bunker:
"I didn't even want to see it, I knew what it felt like. It was a thing of disaster. . . . If anybody's ever seen the yips, obviously that was the perfect yip stroke you've ever seen in your life." -- Ernie Els. Admitting you have the yips is the first step, Ernie.
THIS WEEK IN TOUR PROS BEING TOUR PROS
Natalie Gulbis and friend lounging before the Lady Antebellum concert:
And Belen Mozo lounging by an oceanside pool in Colombia:
THIS WEEK IN PAIGE SPIRANAC BEING PAIGE SPIRANAC
First, Paige got all glammed up:
And then she made an important PSA:
Oh, yeah. And then this happened:
Not sure what tournament she's referring to, but who cares? Paige!
THIS WEEK IN PRO GOLFERS MAKING YOU FEEL BAD WITH THEIR TRAINING
Check out this graphic of how much working out Rory McIlroy has done this year:
He's done 6,320 pull-ups in 2015?! And then there's Carly Booth:
Is that a stretch? A plank? What does that even count as?
THIS WEEK IN DUSTIN JOHNSON-PAULINA GRETZKY JIMMY WALKER-ERIN WALKER PUBLIC DISPLAYS OF AFFECTION
And how about that unintentional photo bomb in the background? Tremendous.
One of the Nobel Prize winners for medicine, Satoshi Omura, says the key substance for developing a new treatment for some parasitic diseases was found in a soil sample from a Tokyo golf course. Satoshi Omura is officially our favorite living scientist. . . . Roberto Castro shot 62 in the final round of the Web.com Tour Championship to match the TPC Sawgrass (Valley) course record. Castro already owes a share of the TPC Sawgrass Stadium Course record with a 63. We're guessing he's a big Pete Dye fan. . . . Speaking of Jacksonville, the former Jaguar Josh Scobee, the NFL's best golfer/worst kicker in 2015, was cut by the Pittsburgh Steelers on Monday. On the bright side, he's free to sign with a team that plays in a better golf climate. . . . And finally, I'm happy to announce I won my fantasy baseball championship in the only league in which I participate. Don't believe me based on my recent fantasy golf picks? Here's proof: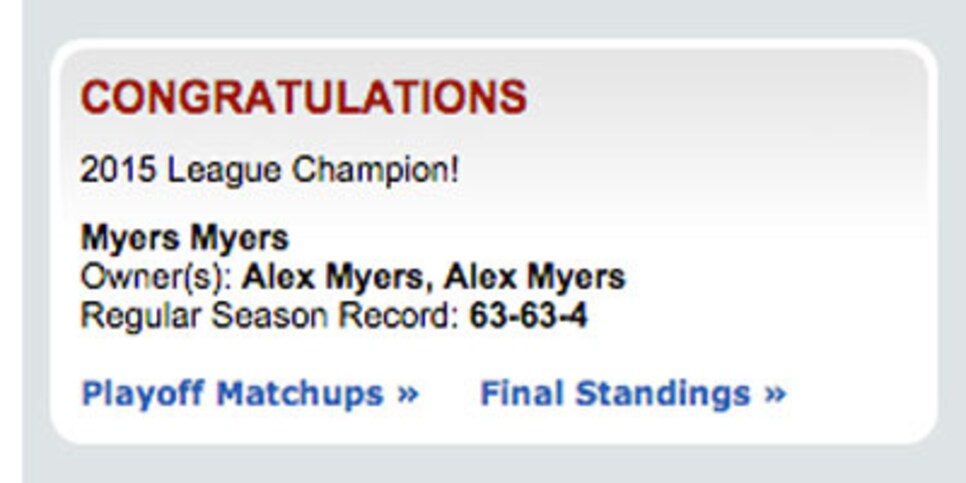 Thanks to switching to an auction draft, I could bid on players I had never heard of like Dallas Keuchel that smart baseball people brought up on draft day. And don't focus on the regular season record (Or that my team name is "Myers Myers" and I'm listed twice as the owner. Thanks, ESPN). Like Europe at the Ryder Cup, my guys came up clutch when it counted most.
RANDOM QUESTIONS TO PONDER
Will any U.S. player challenge Matt Kuchar in ping-pong?
Is Phil nominated for a Nobel Peace Prize?
Can I still do a pull-up?