The Loop
The Grind: Ernie Els milks a cow, Gary Player strips & DJ/Paulina play dress up
Welcome to another edition of The Grind, where we're still trying to make sense of what was supposed to be a quiet week after the U.S. Open. We saw a playoff-creating chip-in, a player publicly chew out his caddie, a couple dress up like it's Halloween and got word of a super senior citizen dressing down to his birthday suit. It's enough to make our head spin. Or maybe, after a long weekend in Savannah for a wedding, that's just the "Chatham Artillery Punch" still talking. In any matter, we'll do our best to sort through it all.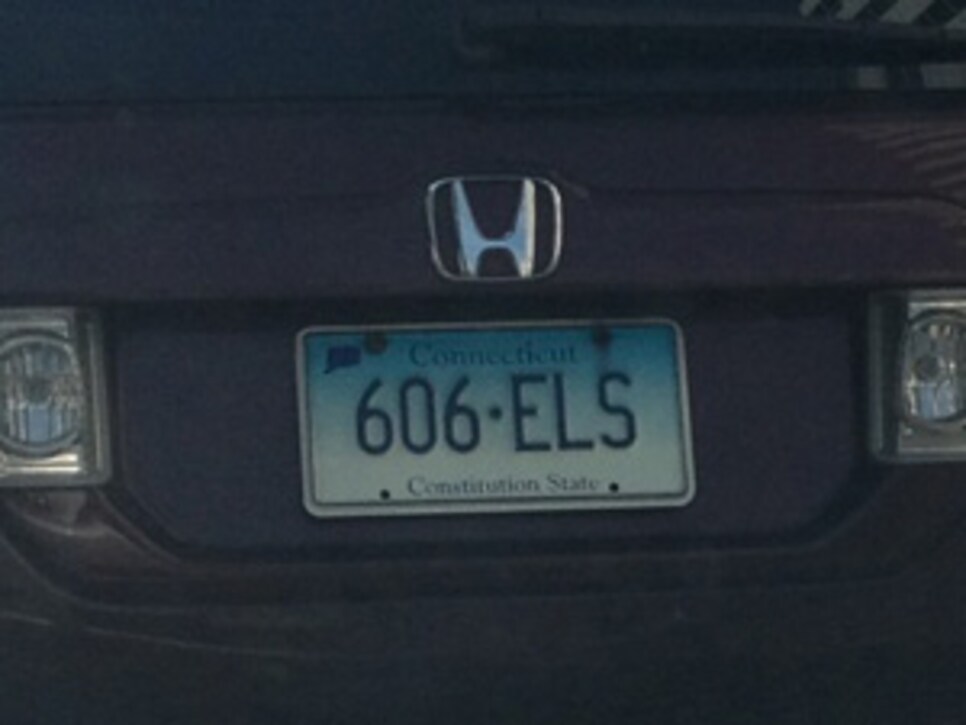 Ken Duke: Can you imagine waiting 44 years for something? Then having to wait a little longer when someone chips in for birdie on the last hole of regulation to tie you? Good for Ken Duke for regrouping and then topping Chris Stroud in a playoff for his first PGA Tour win at the Travelers Championship. The tournament wound up having one of the most exciting finishes of the year. Jim Nantz, you missed a good one. . .
Ernie Els: Talk about a sign, I saw this license plate (above) on my commute to work last week and lo and behold Els comes through to win the BMW International Open, the 28th European Tour victory of his illustrious career (He was also coming off a T-4 at the U.S. Open). Yes, I took the picture just in case I could use it for this column. See what a dedicated worker I am, boss!
Inbee Park: WINBEE did it again with her fifth win of 2013. Take that, Tiger. Oh yeah, we just love saying "WINBEE"! That is all.
Tiger not playing: We're not arguing with Woods taking some time off if he's not healthy (in fact, it can only help after lackluster performances at the U.S. Open and the Memorial). It just takes a little of the shine off this week's event while halting -- at least, for the moment -- Tiger's quest for a truly historic season. Although he's still on pace to break his own record for most Nike commercials made in one year.
Bubba Watson: It's one thing to make a triple bogey on the 70th hole of a tournament you're leading. It's another to blame your caddie for said triple bogey and do it so that the TV cameras pick it up for everyone to see. Watson continued to be winless since his Masters victory last year. But with this loss, he lost more than just a trophy and a big check.
Gary Player nude: Look, all props to Mr. Player for being in as good a shape as he is, especially at his age. And kudos to him for being bold enough to appear in ESPN The Magazine's "Body Issue." But we're sorry, NO ONE wants to see naked pictures of 77-year-old men.
The PGA Tour heads to Congressional for the AT&T National, aka that event Tiger Woods will be hosting but not playing.
Random tournament fact: Caddie Mike "Fluff" Cowan is a member at Congressional. We'd take getting yelled at every once in awhile by a golfer if it meant getting perks like that.
WEEKLY YAHOO! FANTASY LINEUP
Starters -- (A-List): Brandt Snedeker: Our hunch-of-the-week pick has the early-season star -- and winner of AT&T's other tour event at Pebble Beach in February -- getting back on track here.
(B-List): Hunter Mahan: The recent U.S. Open contender has two T-8s, a T-12 and a runner-up to Tiger Woods in the four times he's played this event at Congressional.
(B-List): Bo Van Pelt: BVP has let us down a bit in 2013, but he's been rock solid at this event the past five years, with four top-12 finishes, including a runner-up to guess who in 2012.
(C-List): Jason Day: The Aussie was the runner-up at Congressional at the 2011 U.S. Open (So what if he lost by eight shots to Rory McIlroy?) and finished T-8 here last year. We're picking him as our winner.
Bench: Bill Haas, K.J. Choi, Jimmy Walker, Billy Horschel
THIS WEEK IN DUSTIN JOHNSON-PAULINA GRETZKY DISPLAYS OF PUBLIC AFFECTION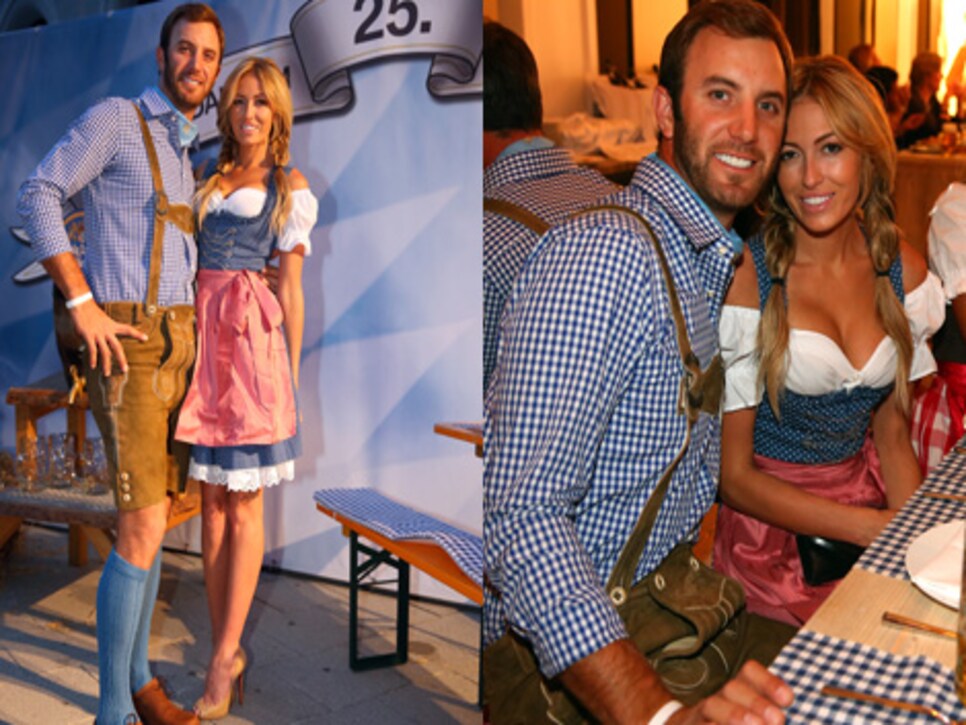 It looks like our two favorite lovebirds had a great trip to Germany for DJ's birthday/BMW International Open cash grab. Paulina wrote on Twitter: "Happy Birfffday Baby!! I Love You So Much @djohnsonpga!!" Aww.
Sorry, we couldn't resist showing another.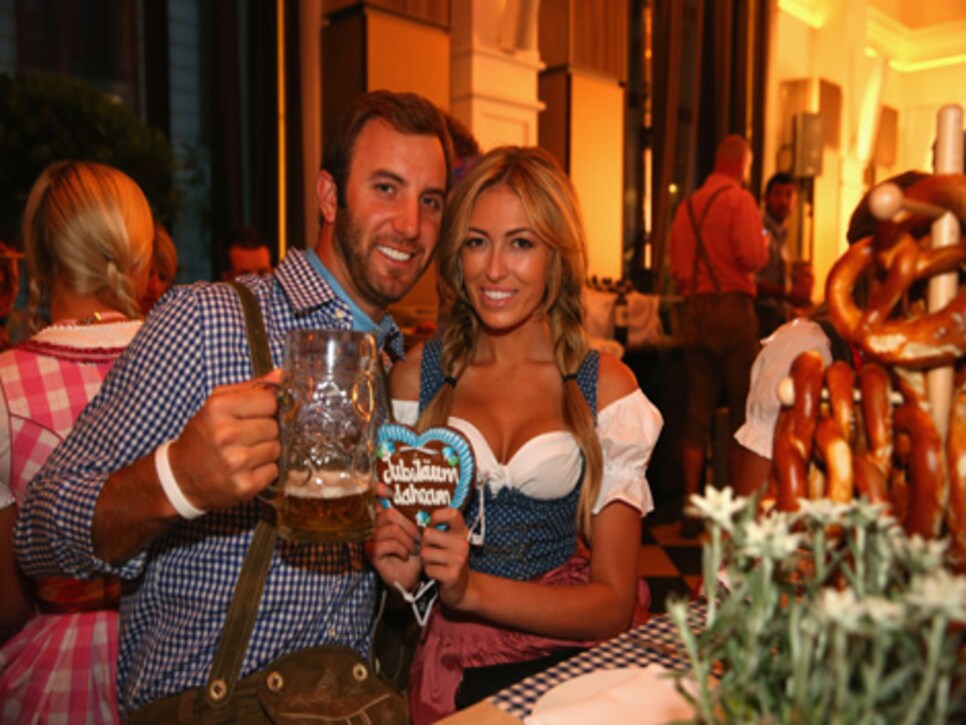 Good lord, look at those pretzels!
NON-PAULINA PIC OF THE WEEK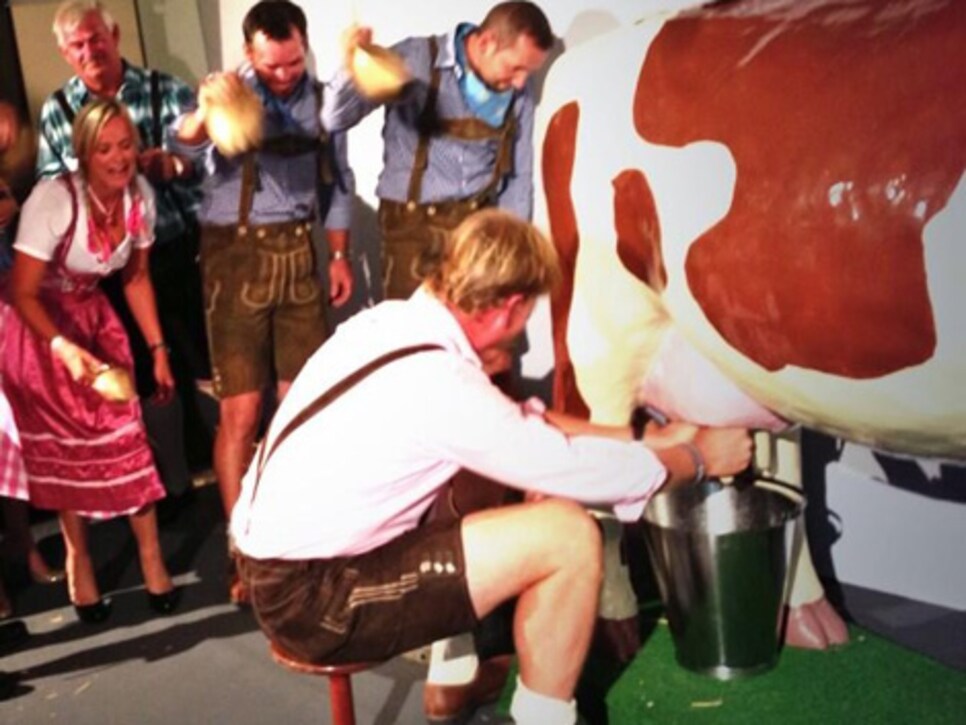 Our favorite 5-year-old, golf-loving rapper is back! Here's the full-version of Caleb C's fantastic debut video, including him showing off for some ladies:
RANDOM PROP BETS OF THE WEEK
-- Adam Scott will yell at Steve Williams for misclubbing him: 1 MILLION-to-1 odds
-- Sergio Garcia will announce he sustained an injury milking that mechanical cow: 100-to-1 odds
-- Tiger did NOT got tennis elbow from playing tennis with Sergio: LOCK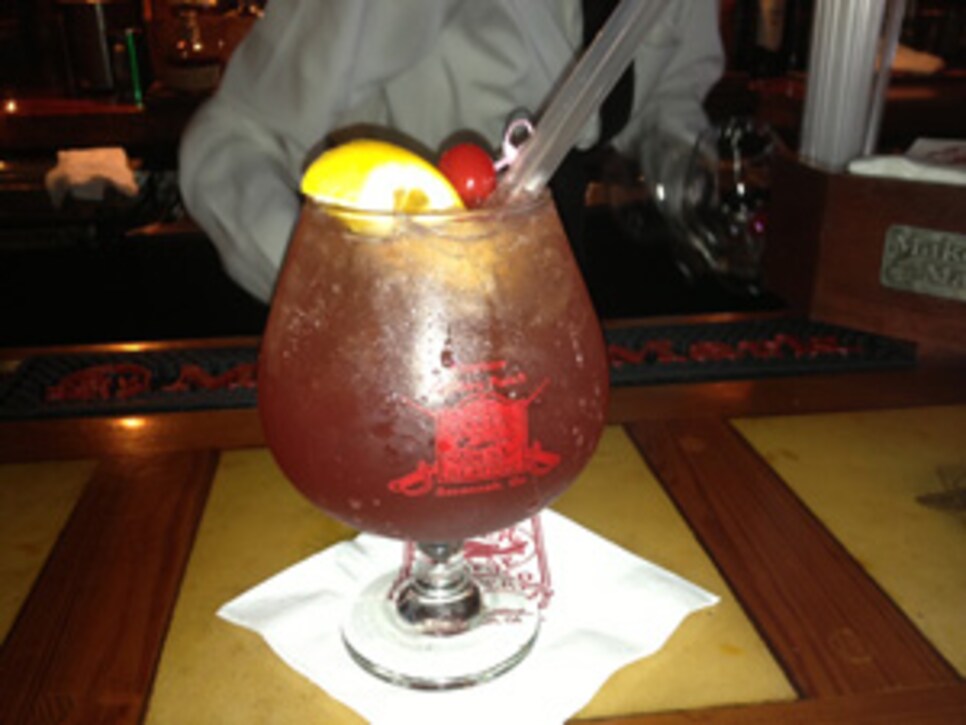 Colin Montgomerie will make his highly-anticipated Champions Tour debut this week. We've never used the phrase "highly-anticipated" more sarcastically. . . . Speaking of the Champions Tour, Craig Stadler topped Fred Couples by one in Illinois. The 60-year-old Walrus (That's an old walrus) set a tour mark with nearly nine years between victories. . . . Pictured is a goblet of the aforementioned "Chatham Artillery Punch," a Savannah specialty. New Orleans may have met its match when it comes to a fruity drink packing a punch.
RANDOM QUESTIONS TO PONDER
Is there any better surprise than having your own row on an airplane?
Why'd LeBron James go to Miami if he doesn't play golf?
Why don't I remember much about Savannah?