The Loop
The Grind: DJ puts a ring on it, the PGA Tour's best team and FedEx Cup Playoffs
Welcome to another edition of The Grind, where we're wondering why everyone keeps coming by to ask if we're OK with the news of Dustin Johnson and Paulina Gretzky getting engaged. Why wouldn't we be? They look like they make a great couple! And we just want the best for Paulina. So stop asking. Please. Now, if you'll excuse us. . . (puts sunglasses on and goes back to listening to Boyz II Men's "It's So Hard To Say Goodbye To Yesterday")
Patrick Reed: If you haven't seen the shot he hit to win the Wyndham Championship, check it out. Picking up a first PGA Tour title would have been memorable anyway, but to do it like that in a playoff over a red-hot Jordan Spieth certainly made the accomplishment even sweeter. And don't think this was just a guy having a career week. The 23-year-old rookie who led Augusta State to a NCAA title two years ago now has three top 10s in a row.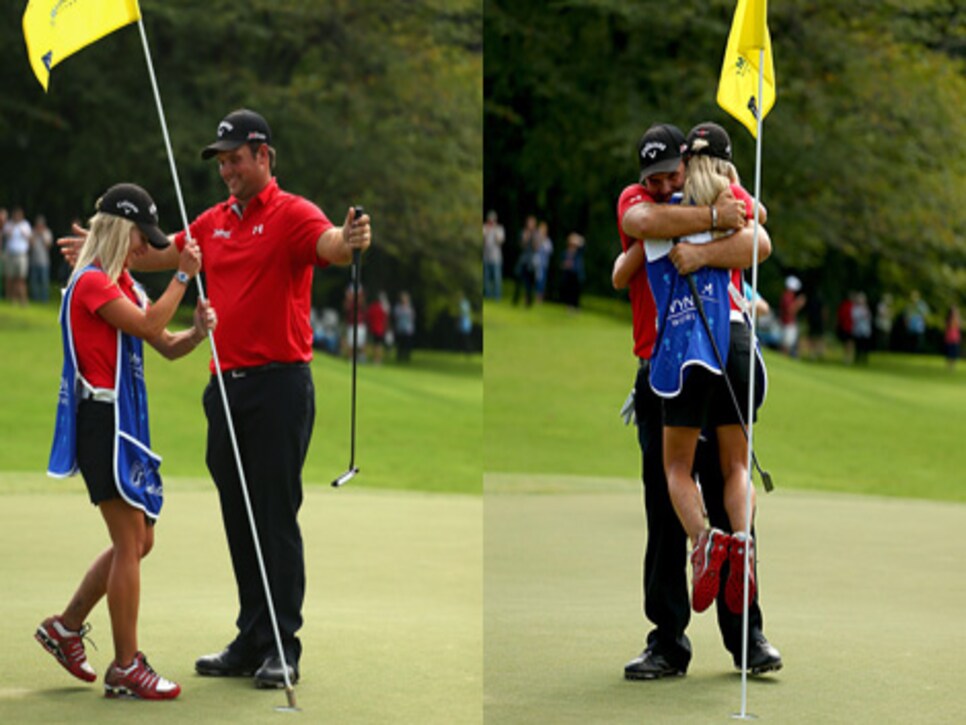 Justine Reed: DJ and Paulina weren't the only tour couple grabbing headlines over the weekend. Justine caddied her husband Patrick to that first tour win. Just look at the picture of her dutifully putting the pin in (above) before celebrating her hubby's winning birdie putt. What a pro! What a team! Of course, tour wives everywhere are worried they are going to be pressed into duty now.
Caroline Hedwall: The entire European Solheim Cup squad had a good week, but certainly Hedwall's perfect 5-0 performance stood out. Not that there was much drama on Sunday, but the Swede even scored her team's clinching point. Tough to have a better week on the golf course.
Matt Fitzpatrick: A month ago, this 18-year-old who looks like he's 12 was being mistaken for a ball boy at the British Open practice range. Now he's the U.S. Amateur champ. Fitzpatrick became the first English player to win the event since 1911. He'll follow the career path of fellow countryman Luke Donald and take his talents to Northwestern in the fall. It would probably be a good idea for Fitzpatrick to keep his student I.D. out at all times.
U.S. team golf: 18-10? The U.S., made a heavy favorite by Las Vegas sports books, lost to Europe by the score of 18-10? Wow. The men's struggles in recent Ryder Cups has been well documented, but now the women, after a first-ever loss on home soil, have lost two straight in the biennial competition. On the bright side, we're still the best when it comes to face and nail painting.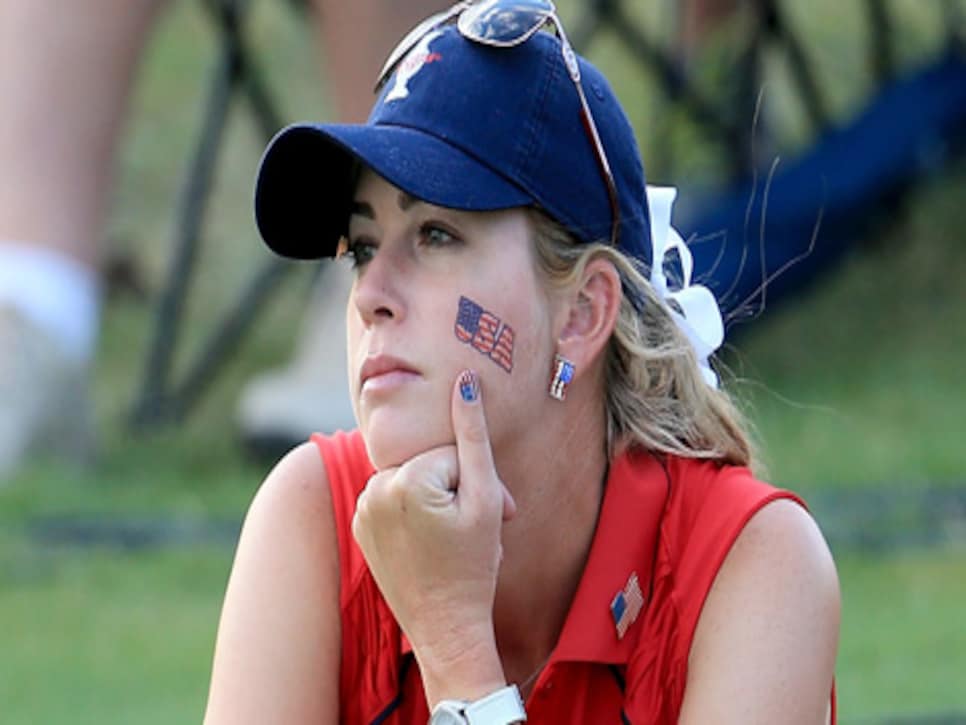 The PGA Tour being uptight: When we first heard the tour was banning the caddie races at the Waste Management Phoenix Open, we thought it was a joke. It wasn't. Caddies have two times to really shine all year: they hit shots on TPC Sawgrass' 17th hole during Wednesday's practice round; and they get to show off their athletic prowess while thousands of drunk fans cheer them on at TPC Scottsdale's 16th hole. And you're going to take one of those away from these hard-working people? For shame, Tim Finchem. For shame.
The PGA Tour heads to the Barclays at Liberty National for the first of four postseason events that make up the FedEx Cup Playoffs. How do they work? It's simple (grabs PGA Tour media guide). Wait, never mind. . .
Random tournament fact: PGA Tour players are NOT big fans of this course. Man, we haven't seen reviews that bad since "Snakes on a Plane" came out in theaters.
WEEKLY YAHOO! FANTASY LINEUP
Starters -- (A-List): Brandt Snedeker: The reigning FedEx Cup champ seems to do well every time we play him.
(B-List): Ernie Els: A runner-up here to Heath Slocum, yes, Heath Slocum, in 2009.
(B-List): Dustin Johnson: For some reason, it just seems like it's his week. . .
(C-List): Henrik Stenson: Arguably playing better than anyone in the world after a runner-up at the British Open and a third at the PGA Championship.
Bench: Rory McIlroy, Graham DeLaet, Matt Kuchar and Adam Scott.
"Never been happier," Paulina wrote after posting this pic of her wearing her engagement ring on Instagram. Wow. The Great One's daughter is marrying golf's Could-be Great One. We hope everyone is ready for another ROYAL WEDDING.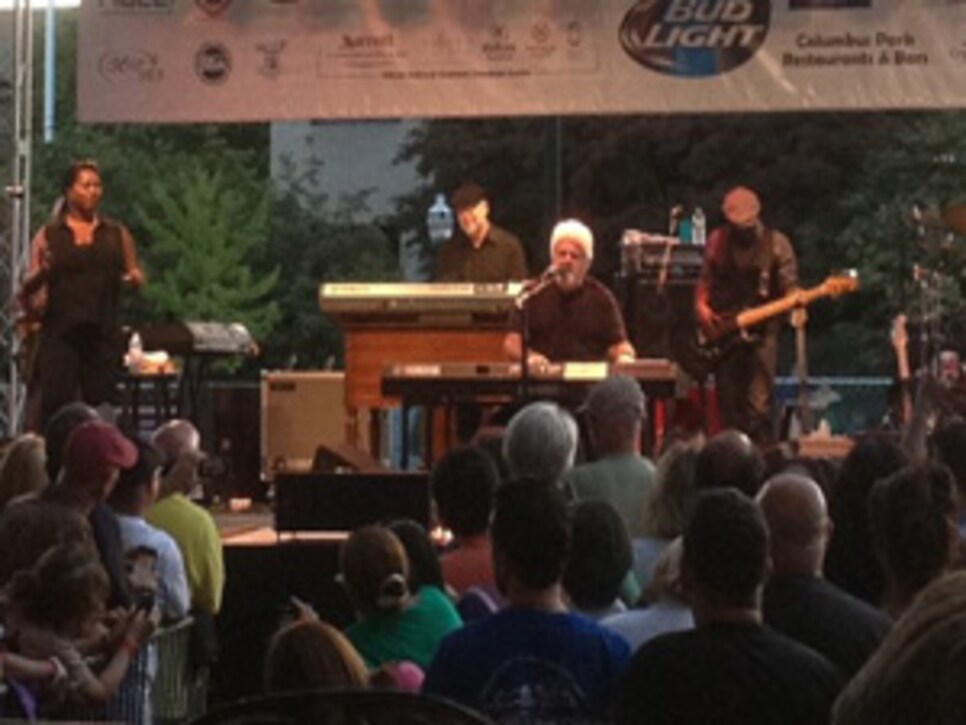 The U.S. finalized its Walker Cup team by naming the final five players. Wait, they're playing Europe? Then it doesn't matter who the U.S. has competing. . . . Bart Bryant held off Corey Pavin and Russ Cochran to win the 1,000 all-time event in Champions Tour history. That's a lot of extra retirement money earned. . . . What do you do when Michael McDonald (above)) comes to your city to perform "Takin' it to the streets" and other classics like that song Warren G and Nate Dogg sampled for their classic "Regulate"? You take to the streets to see him.
RANDOM QUESTIONS TO PONDER
Should the U.S. go back to just playing Great Britain in team competitions?
Where will the royal wedding take place? Canada? L.A.? Myrtle Beach? Suspense!
Will there be a wedding day music video and can we please help with it?