The Loop
The Grind: Derek Ernst steps up, Tiger and Lindsey step out, & Players picks
Welcome to another editon of The Grind, where we don't understand the shock surrounding Derek Ernst's win at Quail Hollow. So what if he was the fourth alternate and ranked 1,207th in the world. There are SEVEN BILLION people in the world. You're legit if you crack the top 2,000 in anything. Like we've said before, the PGA Tour's slogan should really be: "These guys are ALL good." As Ernst proved, that includes guys who aren't even in a tournament's original field.
Derek Ernst. To win in your eighth PGA Tour event is remarkable, but the way he pulled it off was even more impressive. Ernst shot a back-nine 33, including a birdie on the difficult 18th hole to get into a playoff he eventually won. We just feel bad for him for all the Ernst & Young jokes that followed.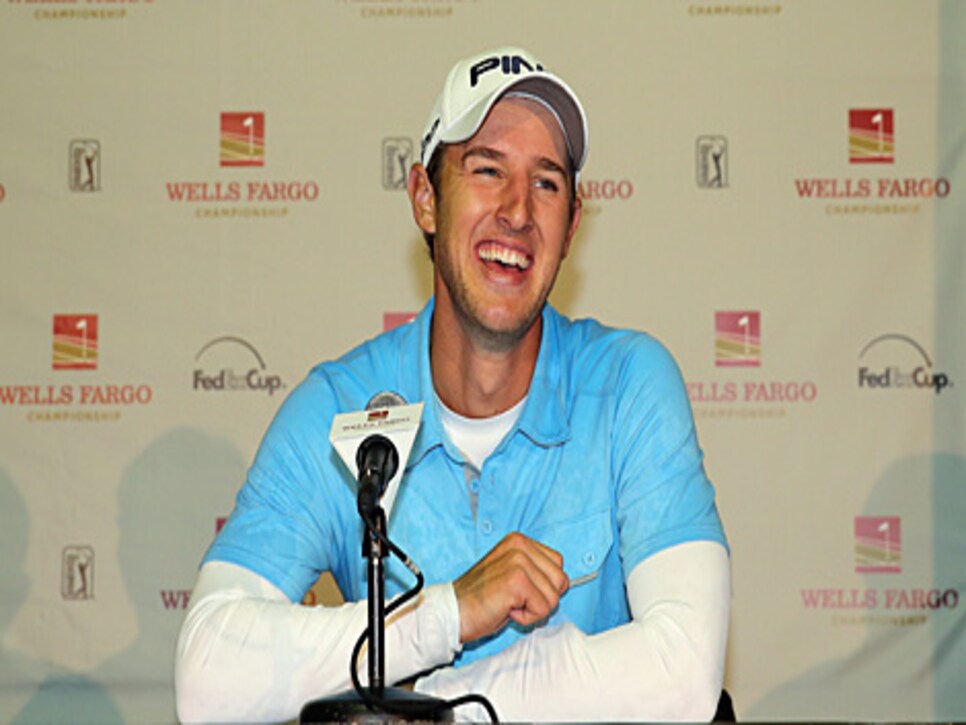 Haha that's OK. No one else had heard of me either.
Playoffs. On a sports weekend in which the Kentucky Derby stole most of the spotlight, golf had a trifecta of its own. Ernst won in extra holes, but so did Cristie Kerr on the LPGA and Esteban Toledo on the Champions Tour. And speaking of Toledo, he became the first Mexican winner on the senior circuit and he did it on Cinco de Mayo. How's that for timing?
David Lynn. Yes, the Englishman came up just short in what is perhaps the least-star-studded playoff in PGA Tour history. But on the bright side, after a strong opening-day performance at Augusta and this latest performance, he's not just "that guy who finished runner-up at the PGA Championship" anymore.
Jim Nantz. We'll admit, we're not the biggest Nantz fans, but we have to give props to a guy who inducts two players into the World Golf Hall of Fame on the same night and who has now given the speech for five players total. Jimmy, when you get your Hall call, we've got your back. We'll start making notes and practicing your Masters voice.
Withdrawals. Yes, the greens were bad, but the list of big-name withdrawals -- Dustin Johnson, Ian Poulter, David Toms, etc. -- was a little much. We're sure some of the nine guys who pulled out late (Derek Ernst should send them all thank-you notes) had legit excuses, but it sure didn't look good. Speaking of not looking good. . .
Quail Hollow's greens. We weren't fans of the excessive complaining and questionable WDs, but wow, were some of those greens brutal. To be fair, and most of the players were, Quail Hollow deserves a pass based on its track record. The good news is the course is putting in new Bermuda greens in a couple weeks and it has another four years before it hosts the PGA Championship.
World Golf Hall of Fame. If you're going to let two big-name, borderline candidates in (Sorry, Freddie and Monty), shouldn't you spread them out a little?
The Vijay Singh situation. This whole thing was just a mess from start to finish. First off, Singh admitted to using a banned substance. Yes, it has since been taken off WADA's list, but he admitted to using a banned substance while it was banned. It seemed like case closed, but the PGA Tour cleared him. Secondly, there's no real proof that deer-antler spray does anything!
Sunday TV coverage. Weather interfered with the PGA Tour yet again, but there's got to be a way to show live coverage instead of coming on tape-delayed an hour after anyone with electricity or a phone could learn the result. At least Derek Ernst had time to tell all his friends and family to set their DVRs.
The PGA Tour heads to PGA Tour headquarters for the Players. It used to be called the Players Championship. We don't blame you if you're confused.
Random tournament fact: There are 17 other holes at TPC Sawgrass' Stadium course other than No. 17.
WEEKLY YAHOO! FANTASY LINEUP
Our homer Wake Forest picks laid an egg last week. Sorry. Wait, what are we apologizing for? Some guy named DEREK ERNST won!
Starters -- (A-List): Sergio Garcia. His biggest win came here in 2008, a year after he was runner-up in the event.
(B-List): Zach Johnson. ZJ has broken par at TPC Sawgrass nine of his past 12 rounds and he finished T-2 last year.
(B-List): Bo Van Pelt. We're back on the "BVP is due for a win" bandwagon after a T-6 at Quail Hollow.
(C-List): Jason Day. After a close call at the Masters, the young Australian seems poised for his first big title.
Bench -- Graeme McDowell, Nick Watney, Luke Donald, and Lee Westwood.
THIS WEEK IN DUSTIN JOHNSON-PAULINA GRETZKY DISPLAYS OF PUBLIC AFFECTION
DJ sends Paulina flowers! What does the other Paulina pic have to do with anything? Nothing.
THIS WEEK IN TIGER WOODS-LINDSEY VONN DISPLAYS OF PUBLIC AFFECTION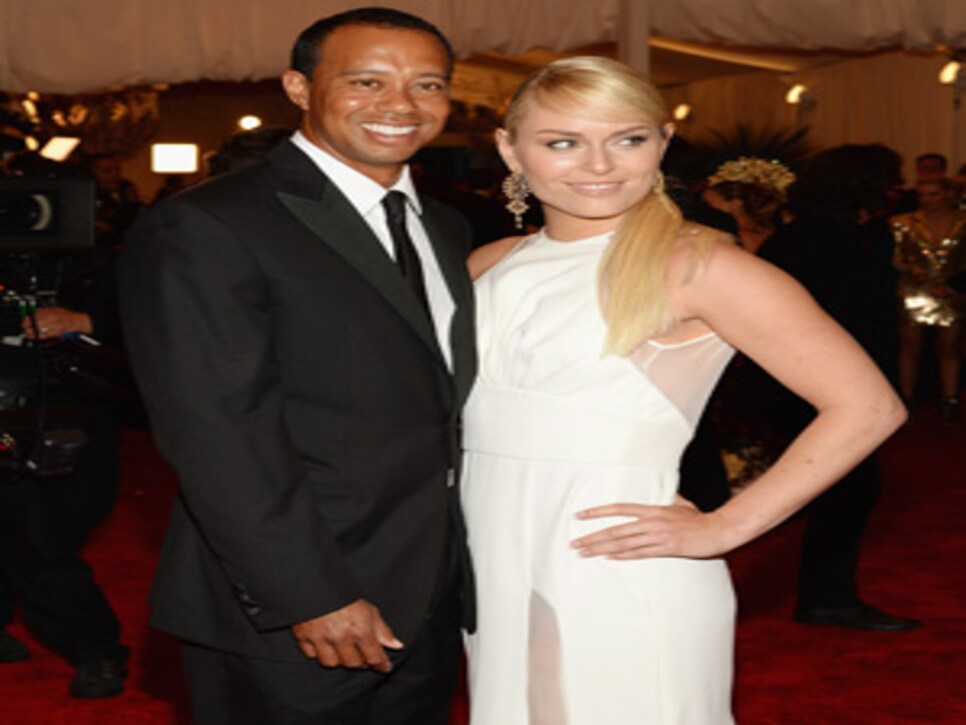 We joked about golf's newest power couple's lack of public affection last week, but they stepped it up this week by attending the Met Gala in New York together. Several surprises here. A.) It had to happen sometime, but this was a pretty publicized event for the couple's big debut; B.) The timing of it, since it's both the week of the Players and it occurred the same night of his friend, Fred Couples, getting inducted into the Hall of Fame; C.) It appears Tiger is wearing NO Nike apparel!
How bad were the greens at Quail Hollow last week? On the third hole on Friday, Sergio Garcia -- our pick to win the Players -- opted to chip a six-footer for par (below). He made it. Hey, we think we've found the solution to his putting problems!
RANDOM PROP BETS OF THE WEEK
-- Derek Ernst will not be recognized on the first tee on Thursday. By his playing partners: 2-to-1 odds
-- NBC, which owns the Golf Channel, will figure out a way to show live coverage on Sunday if tee times are moved up: LOCK
-- The phrase "watery grave" will get more air this week on NBC than during all other 2013 tournaments combined: LOCK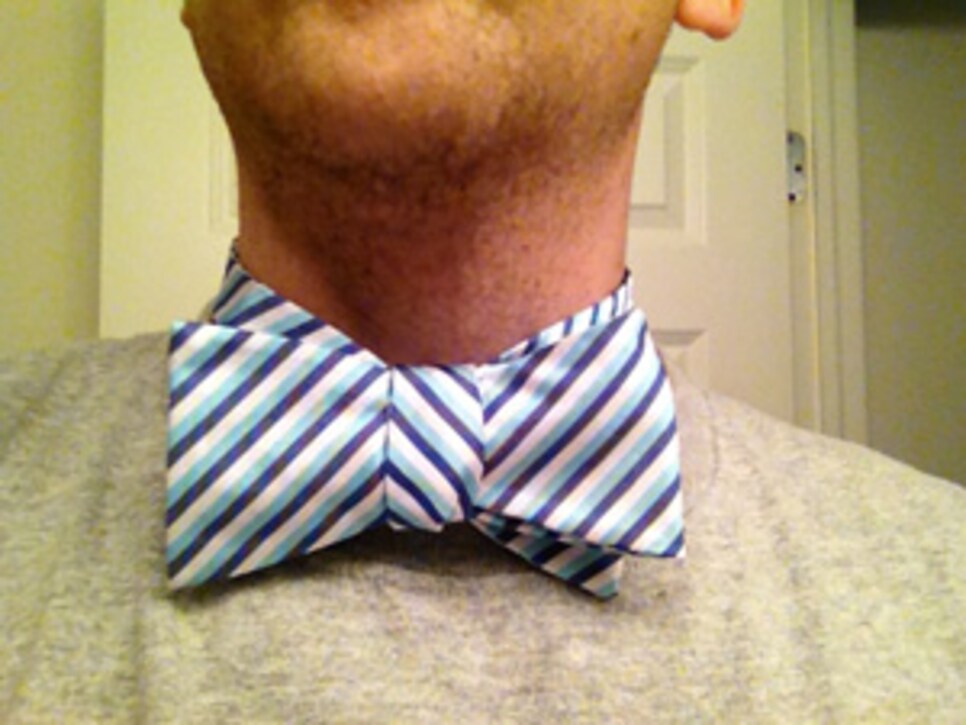 A 12-year-old broke 80 in both rounds at the Volvo China Open, becoming the youngest golfer to ever play in a European Tour event. Yet somehow, ESPN UK wasn't impressed. We are not impressed with ESPN UK. . . . TPC Sawgrass has gotten so much rain of late that the famed island-green 17th hole actually was an island green at one point. Here's video proof. . . . Tying a bow tie is HARD. A group of friends took on the task to honor a buddy getting married and it was a struggle. I eventually did better than what's pictured (and also shaved and put on a dress shirt), but this effort came after more than an hour of hard work and a mini-nervous breakdown.
RANDOM QUESTIONS TO PONDER
Who will give Tiger's Hall of Fame induction speech?
Why weren't we invited to the Met Gala? We can tie a bow tie!
Can deer-antler spray cure a slice?