The Loop
An old-fashioned Love story, Tiger's valiant try, Lindsey's working vacay, and the best lunch deal in the world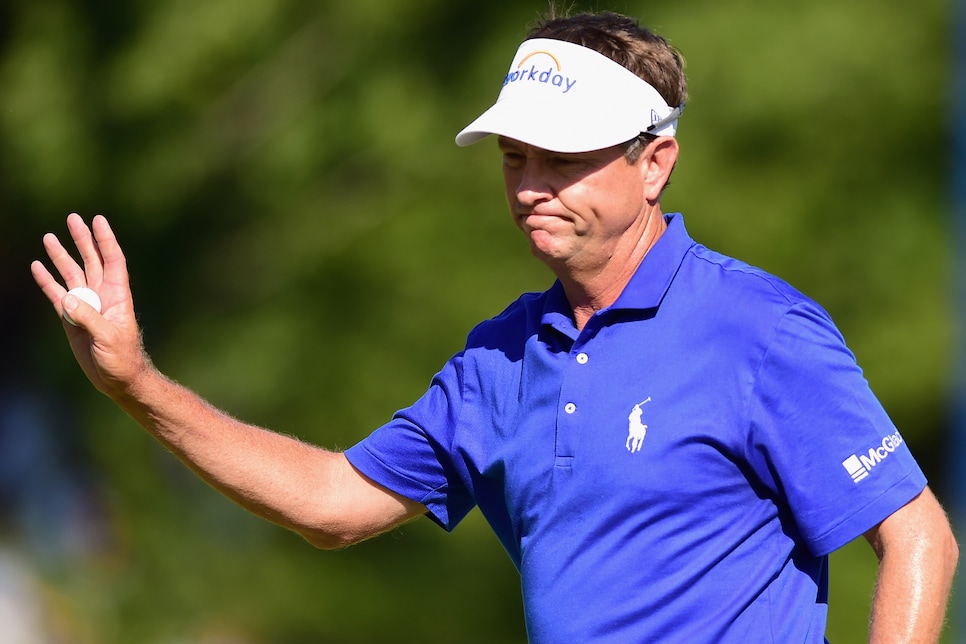 Welcome to another edition of The Grind, where we'll never again celebrate when Jim Nantz and Nick Faldo take the week off. CBS' top TV tandem was on vacay this past weekend and their backups seemed to be in a competition over who could repeat themselves the most. Yep, we know Sam Snead won the last of his 82 PGA Tour titles at Sedgefield CC. And yes, we get it: those are "DONALD ROSS GREENS." We're not going to name names, but let's just say the last name of the main culprit rhymes with "Maker-Pinch" . . . OK, now it's our turn to talk and we've never been so jazzed up to talk about golf the week after the Wyndham Championship. Let's get to it.
Davis Love III: A grandpa winning on the PGA Tour? How about that! (Said in my best Mel Allen voice so the old-timers like Love can understand). Love, 51, surprised everyone -- including himself -- by becoming the third-oldest winner in PGA Tour history with his victory at the Wyndham Championship. Congrats, Davis. Hope you celebrated with an extra glass of prune juice.
Tiger Woods: No, he didn't get it done on Sunday, but a T-10 is his first top-10 finish in two years -- and we liked the effort of playing in an event he knew he had to win. Woods played himself into contention and single-handedly made the Wyndham Championship one of the most-watched golf tournaments of the year. And with so many people writing him off as he nears his 40th birthday, it had to be reassuring to see someone 12 years his senior win.
Bryson DeChambeau: Jack Nicklaus. Phil Mickelson. Tiger Woods. Ryan Moore. And now, Bryson DeChambeau. That's the all-time list of players to win the NCAA individual title and the U.S. Amateur in the same year. The rising senior at SMU accomplished the latter on Sunday, crushing Derek Bard 7 and 6 in the 36-hole final at Olympia Fields. From the Hogan hat, to his bag of same-length irons, to testing his own golf balls, this physics major is quite a character. We're fans.
Tiger under pressure: To be kind, the 14-time major champ has shrunk in the biggest moments lately. Woods missed the cut at the last three majors of 2015 and his triple bogey, low-lighted by a hideous skulled pitch, on the 11th hole on Sunday quickly ended his chances of making a back-nine push. He finished strong, but that was after he had no shot at winning. Same thing at his previous regular tour start when he went 68-66-74-68. It's not just bad play in these situations, but tight play. Not pulling driver enough. Conservative approach shots. Timid putts. Forget about mechanics. Re-wiring his brain to being clutch is the next necessary step of Tiger's "process."
PGA Tour computers: Somehow, a computer error messed up the Presidents Cup standings. Even more amazing is the fact the problem took nearly a year to be caught. The mistake was that double points were awarded to events in the fall when that wasn't supposed to kick in until 2015. Robert Streb was hurt the most, falling from No. 11 to No. 16 in the standings. Apparently, even the PGA Tour is still having a hard time wrapping its head around the wrap-around season.
Martin Kaymer's 2015: With so many other enthralling storylines to keep track of this year, Kaymer's underwhelming season got lost in the shuffle. After winning the Players and the U.S. Open in wire-to-wire fashion in 2014, Kaymer didn't have one top 10 on the PGA Tour in 2015. And in failing to make the FedEx Cup Playoffs, he also failed to meet the tour's minimum requirement for events played, which means he loses his tour card for the 2015-16 season. Whoops. Maybe Martin needs to hire a personal assistant to handle his schedule.
The PGA Tour heads to New Jersey's Plainfield CC for the Barclays and start of the FedEx Cup Playoffs, aka everyone's favorite postseason to make fun of. There's nothing funny about a $10 million bonus, though.
Random tournament fact: The last time this event was played at Plainfield, Hurricane Irene knocked it down to a 54-hole event that Dustin Johnson won. That nasty Irene also knocked me out of my apartment for two months. I think the golfers getting a shortened work week came out ahead on that. Oh yeah, and Plainfield was designed by, you guessed it, Donald Ross. Oh boy.
RANDOM PROP BETS OF THE WEEK
-- This year's Barclays. . . (Goes to WeatherChannel.com to check the forecast) will be cut to 36 holes : 1 MILLION-to-1 odds
-- Jordan Spieth will win the FedEx Cup: 7-to-4 odds (Actual odds. Wow.)
-- Even Donald Ross would get tired of hearing his name during these telecasts: LOCK
As a Tiger supporter and a Wake Forest grad, this photo almost has too much awesomeness to handle. It wouldn't be a bad poster for Nike, either.
And then there's this from PGA Tour's Amanda Balionis:
Cliff jumping? OK, so that's definitely too much too handle.
European Tour Andreas Harto made a birdie on the 16th hole during the second round of the Made In Denmark event and then proposed to his girlfriend:
Nice job, Andreas. The mid-tournament proposal was a great idea already, but doing it mid-round? As someone who proposed to my wife on the day after Valentine's Day, I appreciate the extra surprise twist.
"I thought, `Keep pressing the pedal to the metal now, play Bryson golf.'" -- Bryson DeChambeau. BRYSON GOLF! Love it!
THIS WEEK IN DUSTIN JOHNSON-PAULINA GRETZKY PUBLIC DISPLAYS OF AFFECTION
THIS WEEK IN EX-GOLF WAGS
A rehabbing Lindsey Vonn went on a tropical vacation -- and all she did was work out:
From now on, I'm blaming my friends for the state of my abs.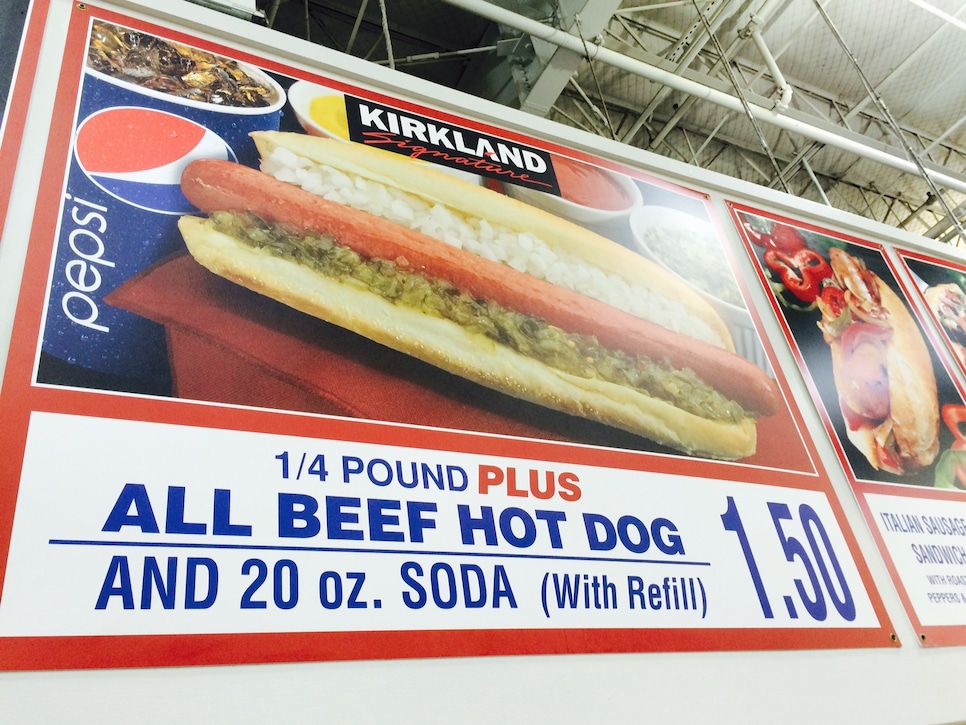 On the same day Davis Love III, 51, won for the third time in Greensboro, Lydia Ko, 18, won the Canadian Women's Open for the third time. We're not sure which accomplishment is more impressive. . . . Meanwhile, Stacy Lewis now has six runner-ups since last winning in June of 2014. She's officially the Jim Furyk of the LPGA Tour. . . . More people watched the third round of the Wyndham Championship on TV than watched the third round of the year's final three major championships. Looks like we've been underrating Jason Gore's popularity all this time. . . . Billy Andrade won the Champions Tour's Boeing Classic to pick up his first individual title since 2000. It's another Champions Tour miracle! . . . The best deal going in the world might just be Costco's glorious hot dog and soda combo (pictured above), which hasn't changed in nearly three decades. I paid $9.25 for the same thing at the turn on Sunday. But a buck fifty? That would have been a bargain when Davis Love III was a kid.
RANDOM QUESTIONS TO PONDER
Are DJ and Paulina ever going to get married?
Is Tiger ever going to get married again?
How many hot dogs have I eaten in my life?