The Loop
The Grind: Chris Kirk wins, Geoff Ogilvy scores, and Amanda Dufner says goodbye to summer
Welcome to another edition of The Grind, where we are still holding out hope to be one of Tom Watson's Ryder Cup picks. Our golf has improved greatly this summer and we are just oozing with patriotism. Most importantly, we really want a crack at competing with some of the game's best -- on the Ping-Pong table. So keep us in mind, Tom. Sorry, Captain Tom. Our number hasn't changed and we'll leave the phone on, but just know that reception can be spotty in the office so we might not pick up. Is there a number where we can reach you? In the meantime, here's what else has us talking this week.
Chris Kirk: OK, Chris, we're impressed. The 29-year-old University of Georgia product picked up the biggest win of his career by far and he did it by outplaying Rory McIlroy head-to-head over the weekend. Not intimidated by the World No. 1, Kirk shot 64-66 and didn't have a bogey the last two days -- something that Captain Watson had to notice. According to Golf Channel's Justin Ray, Kirk became the only winner on the PGA Tour in the last five seasons to be 10-plus strokes behind after the first round. He also gave an immediate plug for Callaway, of which fellow pitchman Phil Mickelson would have been proud.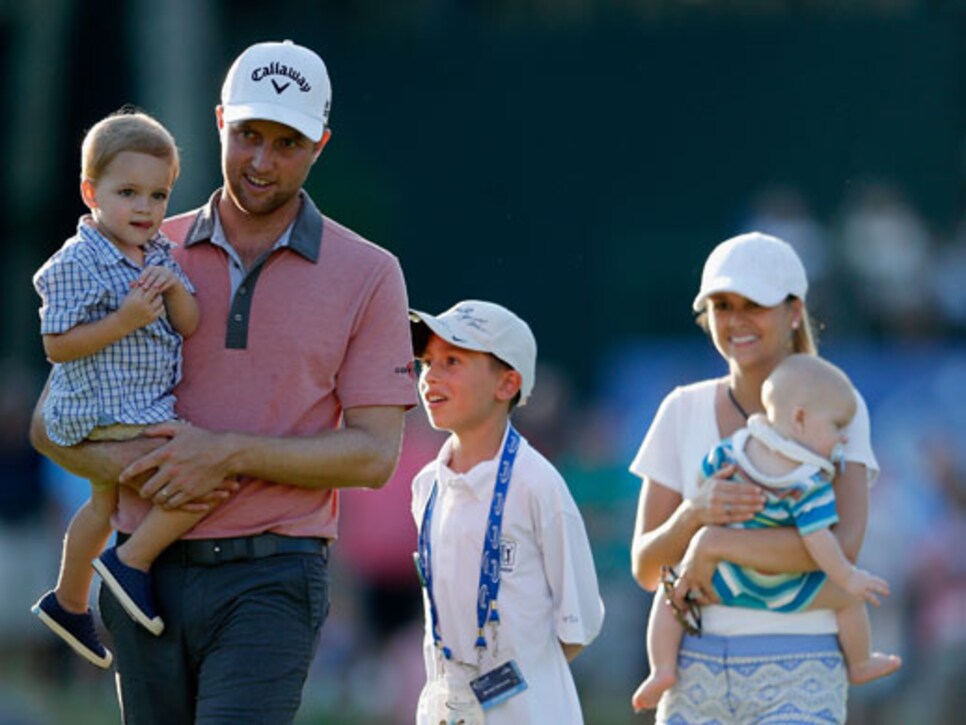 The FedEx Cup. Feeding golf families since 2007.
Geoff Ogilvy: The guy who needed a late-season win just to get into the FedEx Cup Playoffs and who needed a 15-foot par putt by someone else just to stay in them after Week 1 nearly took control of them after Week 2. Ogilvy shot a pair of 65s over the weekend at TPC Boston before settling for a T-2. Still, it's nice to see the 2006 U.S. Open champ back in good form. Now the Aussie looks poised to make his first trip to Atlanta for the Tour Championship in three years. This must explain why Ogilvy recently sold his home in Del Mar, Calif., for $6 million. He must be planning on upgrading with his FedEx Cup windfall.
Fred Couples: It had been a quiet past few months for Couples on the Champions Tour, but that changed on Sunday in Calgary. Freddie fired a final-round 61, including a chip-in eagle on No. 18, and then had a tap-in birdie on the first hole of the playoff to beat Billy Andrade. Poor Billy. The guy had a closing eagle of his own to shoot 62, but it wasn't enough to win his first Champions Tour title. That's got to sting a bit. (Side note: Was this a regulation golf course?)
Brandt Snedeker: Sneds won the FedEx Cup title in 2012 and had an even better -- at least, in terms of results -- 2013. But 2014 has been a disaster. With a recent T-5 at the Wyndham Championship (just his third top 10 in 25 events this year), Snedeker looked like he might salvage his season by making the Ryder Cup team, but he missed the cut at the first two events of the FedEx Cup Playoffs, including a 76 to end his season at TPC Boston. We wouldn't plan on packing for Scotland if we were him.
Billy Horschel: First things first, Horschel had a great week in Boston. His T-2 was his first top five of the season and first top 10 in nearly three months, but oh, what could have been. After a perfect drive on the final hole, Horschel had to be thinking about an eagle, a second PGA Tour title and a possible spot on the U.S. Ryder Cup team. Instead, he hit one of the worst shots you'll ever see a tour pro hit, leading to a bogey and leaving his Ralph Lauren wallet considerably lighter.
Europe's captain's picks: We're not criticizing any of Paul McGinley's selections (Ian Poulter, Lee Westwood and Stephen Gallacher), but the crop as a whole is a little suspect. Regardless of their previous Ryder Cup experience/success, picking Poulter and Westwood -- two guys with a combined three top 10s on the PGA Tour this year -- and Gallacher, who is 39 and has three career European Tour titles, shouldn't scare anyone on Tom Watson's squad. Then again, maybe we're just reaching for anything to produce some drama in an event that everyone has already handed to Europe.
The PGA Tour heads to Denver for the BMW Championship, aka that tournament being played at Cherry Hills for the first time. Only the top 30 on the FedEx Cup points list following this third leg of the playoffs will advance to next week's Tour Championship.
Random tournament fact: Phil Mickelson won the 1990 U.S. Amateur at Cherry Hills. This was Phil's biggest win of the pre-"Bones" era.
RANDOM PROP BETS OF THE WEEK
-- John Daly will be named a Ryder Cup captain's pick: 1 million-to-1 odds
-- Rory McIlroy will hit a 400-yard drive in Denver's altitude: 2-to-1 odds
-- TV viewers will hear a LOT of references to the 1960 U.S. Open: LOCK
We sadly say goodbye to the summer with this Amanda Dufner selfie: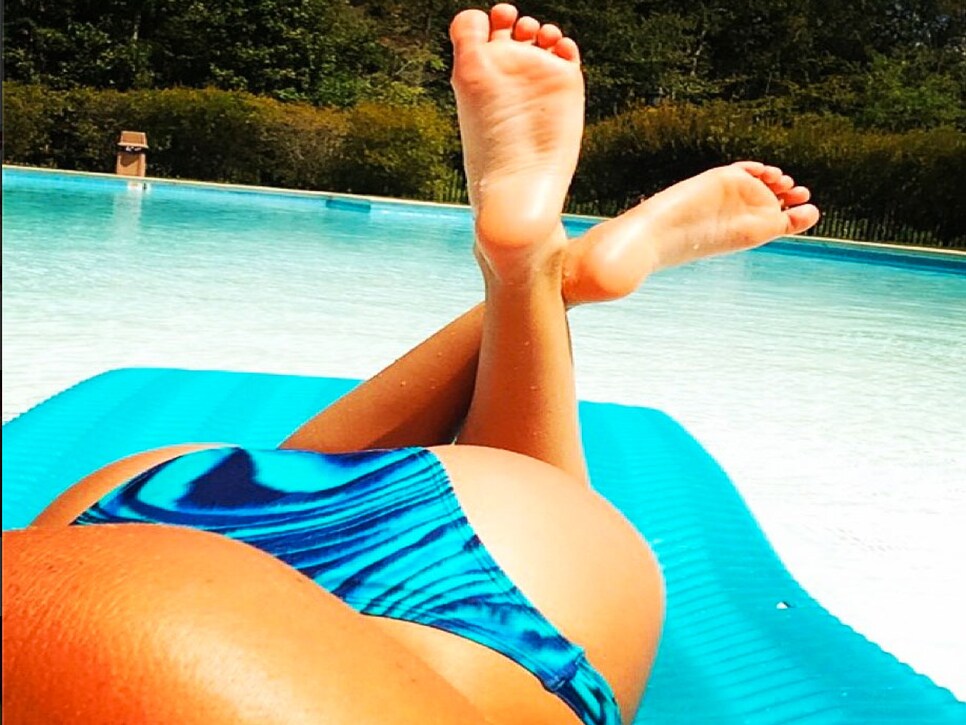 That is one impressive. . . pool. I mean, look at the size of that thing!
Amanda D is back! And this time, she's got a monkey on her head!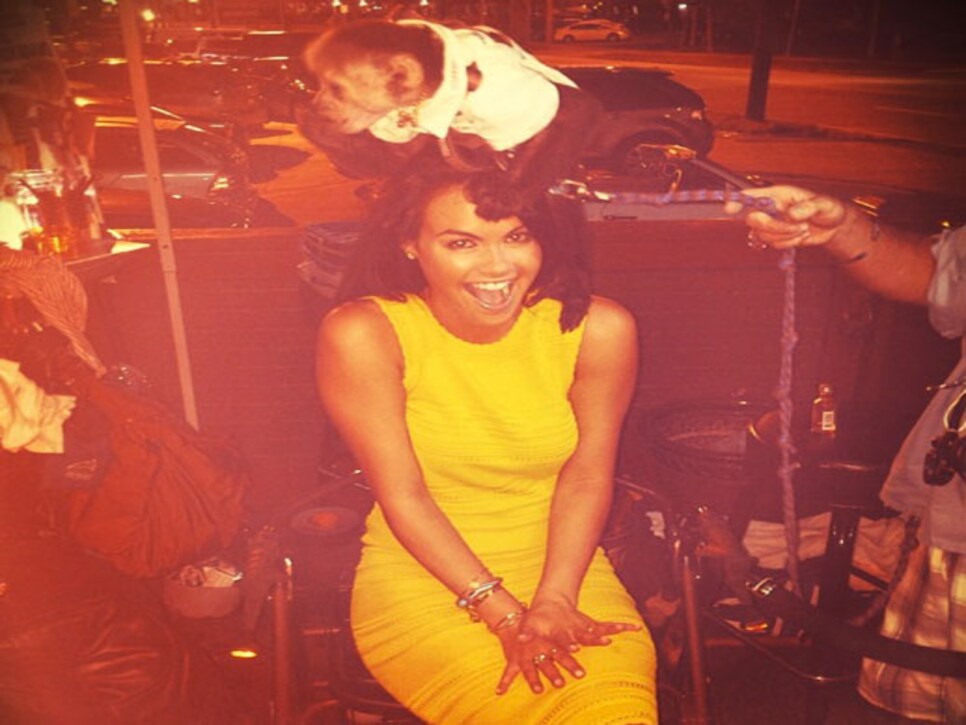 "I may be a little bit more calm than some other guys in that situation, but I'm still pretty much freaking out inside." -- Chris Kirk.
Kudos to John Strege for finding this amazing/inspiring clip of a 3-year-old Tommy Morrissey, who was born without a right hand.
ARCHIVE VIRAL VIDEO OF THE WEEK
In honor of Hennie Otto's win at the Italian Open on the European Tour, a look back at one of the best/worst meltdowns you'll ever see on a green:
What, it's not enough to just lift weights anymore, Lindsey?!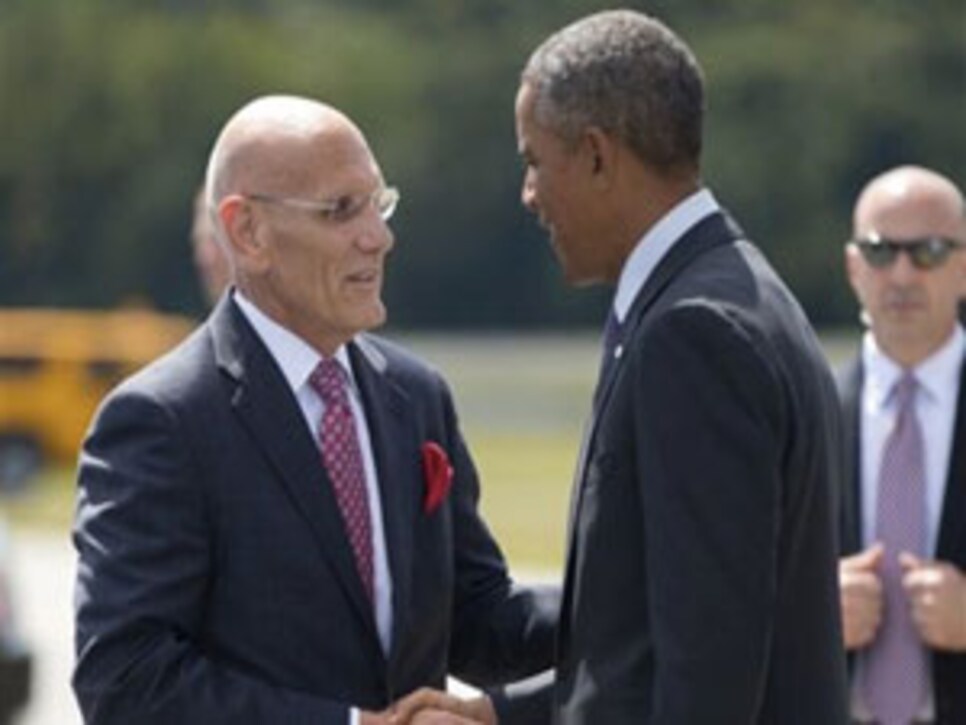 Austin Ernst picked up her first LPGA win at the Portland Classic, defeating I.K. Kim in a playoff. Kim, who famously missed a putt of about a foot that cost her the 2012 Kraft Nabisco, hasn't won a tournament in nearly four years. . . . Bud Cauley won the Web.com Finals opener to regain his PGA Tour card. That guarantees he'll be on everyone's "sleepers" list for next season. Again. . . . Vice President Joe Biden gave a speech about jobs while wearing a Sebonack Golf Club shirt. As Geoff Shackelford pointed out, this could have been a scene straight out of HBO's "Veep." . . . Speaking of politicians, that's my future father-in-law greeting President Barack Obama -- another Ryder Cup captain's pick hopeful -- as he arrived in New York last week. That's almost as cool as that time I got a photo with Paula Creamer last year. Almost.
RANDOM QUESTIONS TO PONDER
Does Joe Biden watch "Veep"?
Who would win a Ryder Cup football game?
Has Amanda Dufner done the Ice Bucket Challenge yet?